Registered User
Join Date: Jul 2013
Posts: 19
just got my first Jeep - 96 ZJ V8
---
Hi I wanted to start up a thread on the progress I make with my ZJ.
I got this ZJ in May, originally as a winter beater/daily so I don't have to drive my Bimmer in the salt etc. The Jeep I got is actually pretty nice, though, so it's not really going to be a beater after all.
Got it in May from some old guy who was the 2nd owner and had it since 1999. He didn't drive the truck too much, only just passed 100k in June. Also have all the maintenance records from the Jeep dealer where he had everything done, so it's history is well documented. It's in really good shape for it's age and the price I paid.
This is a picture taken on the day I bought it in Munich...
So far I didn't get a chance to work on it a lot because of lots of things going on at university for the last few months. Only got to do an engine oil change so far. It does need some more work, though. I already have most of the parts/fluids here, just waiting to be installed/changed. Just put in new struts for the back glass yesterday, so I don't have to prop it up with my head anymore
.
Next up is fluid change for both axles, which I'll hopefully get done in the next few days, as well as the tranny, T-case, brake fluid and coolant. Oil pressure reading is always at 20psi and never really moves much from there. Already got the new sending unit on my desk. Hope it's just that and not a problem with the pump itself. Kept the rpms low for the time being... Cruise doesn't work right now either only the light turns on on the dash... all the vacuum lines are intact, so I guess it comes down to the brake light switch, the vac reservoir or the servo itself.
Oh and the rockers need a little patch work, I guess
The stock Y-Spokes on it are awfully corroded and the previous owner just rattlecanned over the corrosion. So I set off to polishing the spokes up and I'm going to repaint the parts that were gold in some dark gunmetal color. Going for a similar look to the Orvis wheels.
here's a pic of the progress so far on the spare.
Hell of a lot of work to get them shining like this...
Only other thing I have done is I started to replace all the white Euro lighting and go back to US-Spec with amber parking lights as well as the sidemarkers. Still looking for a matching T10 socket or the whole US-spec harness as the Euro harness misses the sidemarker wiring. Those I bought on ebay have the 4 prongs but are smaller in diameter
. Taillights are missing the sidemarkers as well so if someone has a stock pair lying around or any of the stock lighting parts, I'd happily take them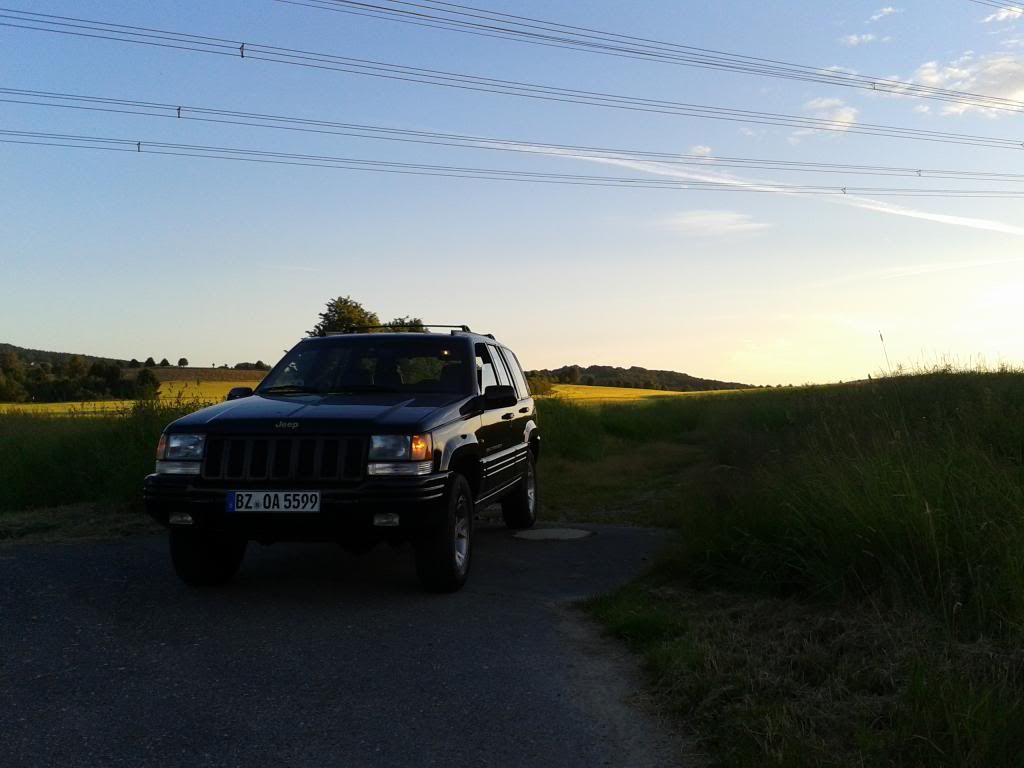 Not planning any other big upgrades, because I don't have a huge budget for this truck. Next up are new tires (Cooper discoverer AT3), a little BB, and a subtle exhaust for a little more rumble. As well as window tint, because for some stupid reason Euro spec ZJs don't get factory tint. Looks like a fishtank without it
Sorry for the huge post
I'll have some more updates in the near future...
---
96 ZJ Limited 5.2
04 325i MPG-Machine
Currently Active Users Viewing This Thread: 1

(0 members and 1 guests)