Last year in the month of April i had my 2003 Ford Ranger Edge 4x4 burn to the ground due to a bad cruise control unit that caught fire. Be aware, (they had a recall on 2001 to 2003 Rangers about 4 months ago on this part). I had recently put a new Duralast Toolbox in it (we grabbed it and set it away from the truck before it got to a blaze...,New offroad tires, Procomp Soft 8s(brand new), Pioneer speakers and headunit, and drop in bedliner. My insurance paid for everything except my personals inside which was iPod classic, very expensive Fuji Digital Camera, clothes, nice ax, a few knives and lots of other stuff. About a 2 weeks later after looking really hard for a nice TJ i found my 1999 Sport in Parkersburg, WV for $8500 with 74kmiles. Heres some RIP picts of my truck as it was burning. Yep i cried a little...But now i am extremely happy to have the vehicle i have always wanted and i enjoy the heck out of my TJ!!! Thanks for reading and now on with the build.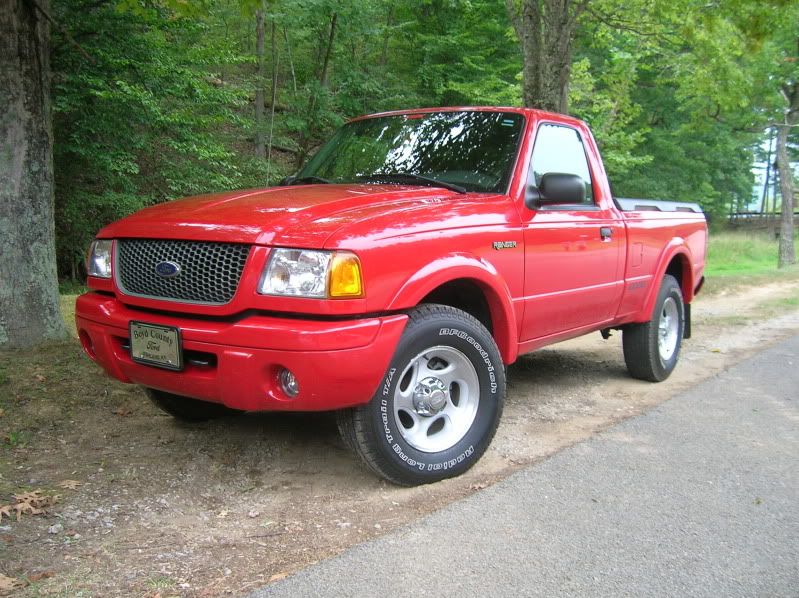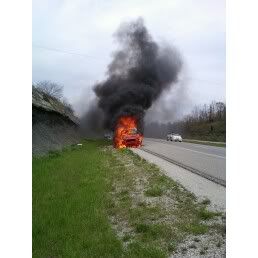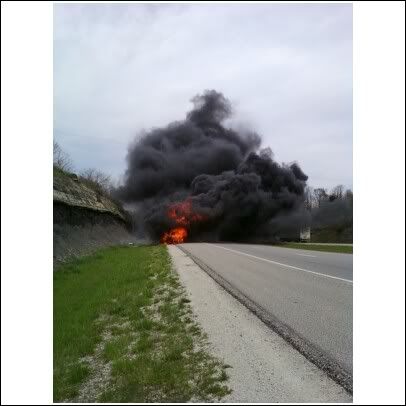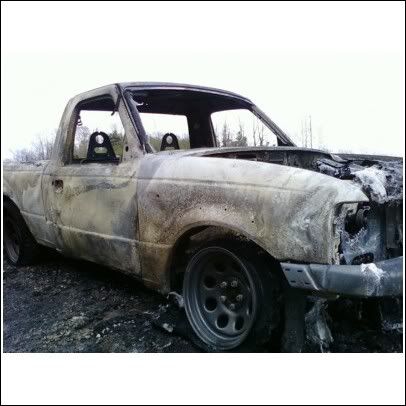 And here is the first week i had my TJ. I added a Fox sticker haha.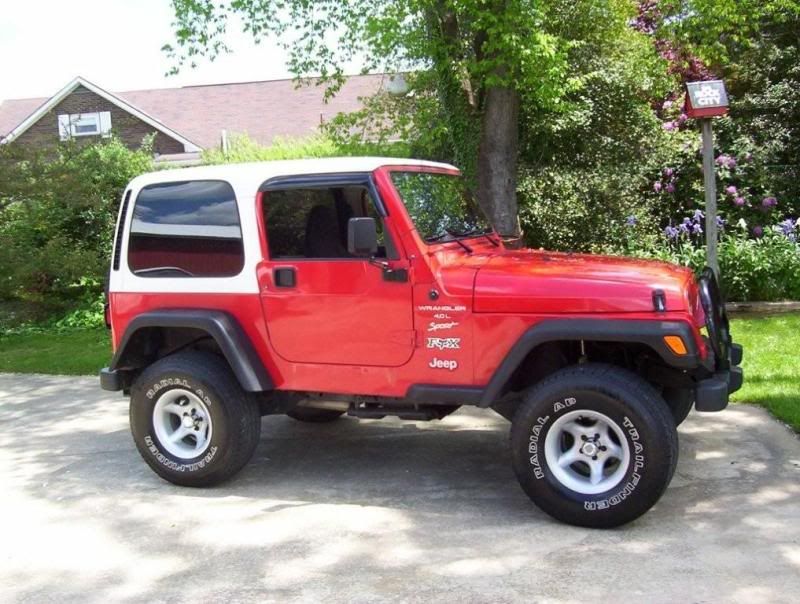 After about 2 months of owning it i had taken the brush guard off, added some Westin Driving Lights, clear corners, billet aluminum headlight/tailight/turn signal covers, Added my windshield decal that i made with moms machine, took the bumper ends off, and new mud terrains.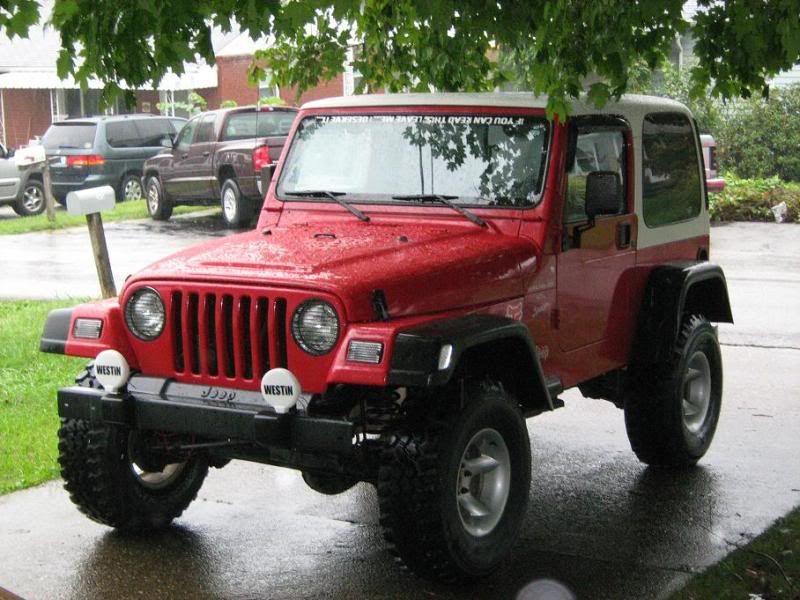 Then about a month later i had traded one of my friend who had an XJ at the time for his 100watt KC Daylighters because they wouldnt fit on his custom bumper but my Westins would haha! I also added some tow hooks and sprayed them red and put a Wrangler decal on the hood.
Then a few weeks later i decided the fenders were just a little faded and bought some Krylon Plastic paint and sprayed them, heres a pic with the flares off while they were being painted. Next time i will just leave them and tape it all off. Taking your flares of is a PITA!!!
That same week i finally decided to make my wheels black. Sanded from rough to fine in every little nood and crany, primer, gloss black, and then clear gloss. Only have one small chip after months of bad weather and trails...Not to bad for 25 bucks in supplies.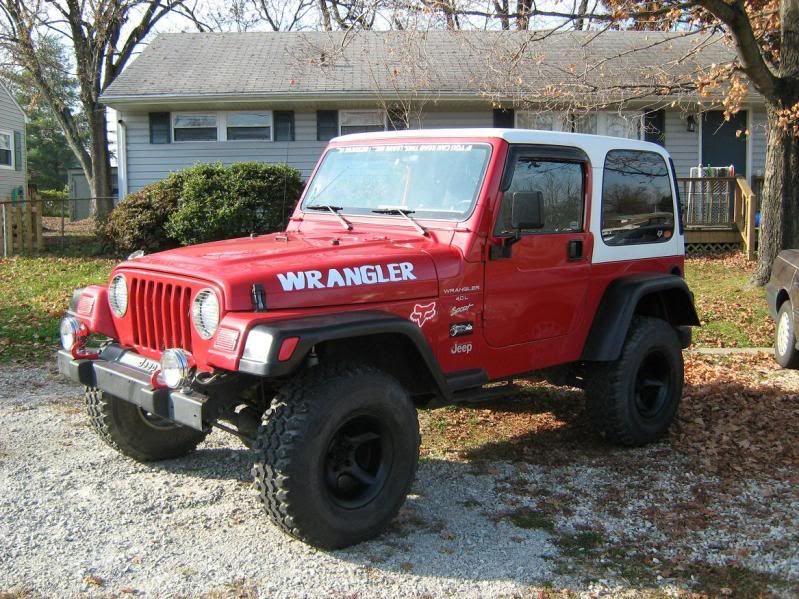 A few weeks ago i found a cheap soft top about 3 hours away and now i can go topless whenever i want. Tan wasnt my favorite but it works fine haha.
Here is how it sits today.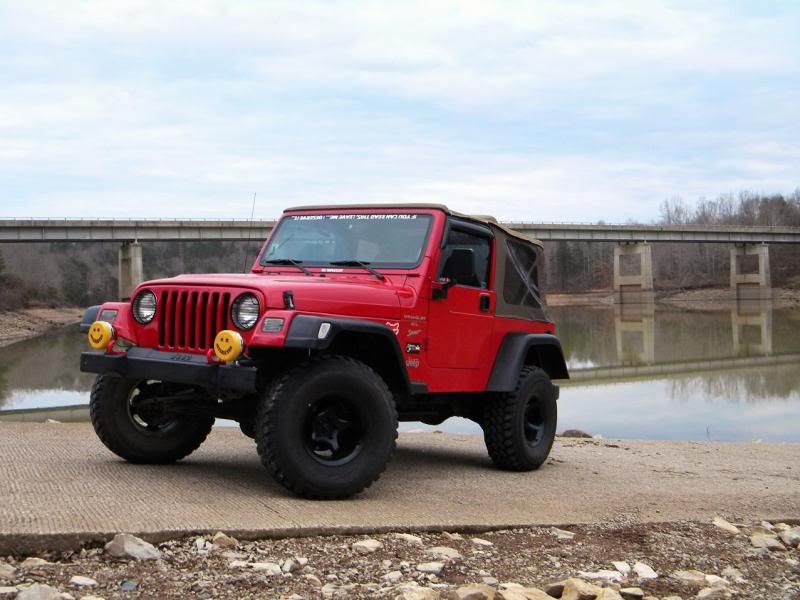 Thanks for checking out my build. Lots to come. I just had to sum up all the little things i have done over the past months and this will be the start to a nice DD TJ that i have always dreamed of owning!!!