Since I have one for my XJ ill make one for my MJ.
This thing has been in my family since before I came around.. It spent the last 20 some years as a hunting truck. After I T-boned a honda in my S-10 Blazer my dad gave me the MJ.
November 2005
So this is what I started with.
4.0 I6 5 speed tranny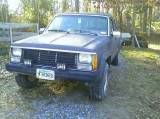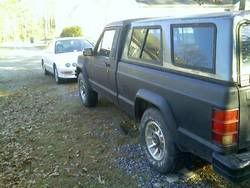 First thing I did was I got rid of the ugly camper shell. Then i got rid of the stock 215/75/15 tires and got some 30" knock off brand mud tires off craigslist.
November 2005
My First stuck..
My friend and I went on some trails around his place and i saw this damn stump so....i tried to swing around it but that didnt work..good thing is that i didnt tear anything up.
I burried it up to the axle.. couldnt go anywhere..
note: sorry for the crappy pics.. these were take on my retro cell phone