Hello All!
I have always wanted a Jeep, since my friends all had them in college and we would go off-roading on the Arizona trails.. I would tag along with my Dodge Dakota. I loved my truck and we always had fun and thats all that mattered to me.
Well, as the story progresses, around January this year I started getting the itch for a new truck or jeep because I knew I was coming up on a pay raise and would be able to afford it if I was smart about it.
I was looking at finding a nice used Rubicon, or a new Sport, which ever price worked out best. sadly after spending the month looking and always finding the perfect Jeep after it had gotten sold, and taking my truck to the dealership near me to get a trade in quote (which was horrible, as I had expected, but it was worth a shot). So after that day I gave up, realized that what I had was perfect for me, and it wouldn't be smart for me to get a Jeep..
Universe seemed to disagree with me.. 2 days after I went to the dealership on my way back to work from lunch, I got T-boned coming through a traffic light. The other driver was arrested for DUI. My truck took care of me. I got hit in the back passenger side door, I corrected by steering into the spin a little too much, I corrected all the way around (180 degrees) and got hit by the same car again in the back driver side door, pushed off the road and rolled over in between to very large light poles with cement foundations. When I say between, I was lucky, the first light was 3 feet away from the front of my truck, and the other about equidistant from the back of my truck.
I walked away without even a bruise, not even sore the next day (surprised me, as well as all my coworkers). Everyone had insurance, and everything got taken care of.
So now it looked like my dream of having a Jeep was going to be a reality after all! Within a week I found a great deal for a 2009 JK Unlimited Rubicon, everything I wanted as far as options go, only 10K miles, certified pre-owned still with warranty, for a fair price. I found it one morning at work, was able to call them to see if they still had it. Luckily the boss understood that good deals disappear quick and let me take the day off since I had to drive 3 hours to get to the dealership. Drove it home that night
NOW TO THE FUN STUFF
My plan for the build is do do all the little things first. As much as the lift is the first thing I want to do, I will have to save up to make sure I do it right and with good quality gear.
Completed:
IPF 989 Windshield Lights
- A-Pillar Switch POD
- Daystar Rocker Switch
CB Radio mounted above review mirror
- Uniden Bearcat 880
- Firestick II Spare tire carrier Antenna mount
Antenna X low profile AM/FM antenna
- I never use the AM/FM so even if reception is less I don't notice
Plasti-dipped the stock wheels
Rugged Ridge Mesh Grill Insert
Tuffy Security Deck
To Be Completed:
AEV Snorkel w/ Ram Air
Poison Spider Brawler Lite front bumper
Lights and Winch
Poison Spider Flat Fenders
Rear Bumper (Either AEV or Poison Spider, Jury is still out on that)
BesTop TrekTop NX
Kenwoon TM-281A Ham Radio
Roll Bar Handles
Rear Corner Guards
Skid Plates
Other Things as I think of them.
AEV 4.5" Lift
AEV Pintler Wheels - Black
38" Tires (or what ever I decide at the time)
With the lift, since it'll all be apart anyway, I am thinking about also doing the gears, heavy duty axels,
Things to Get Info On
These things are items I've heard other people talk about, that I want to remember later on, so I can decide if I want to use them as well..
Coast Driveline - Drive Shaft
BDS Adjustable Control Arms
Now to the Pictures
The day I got her home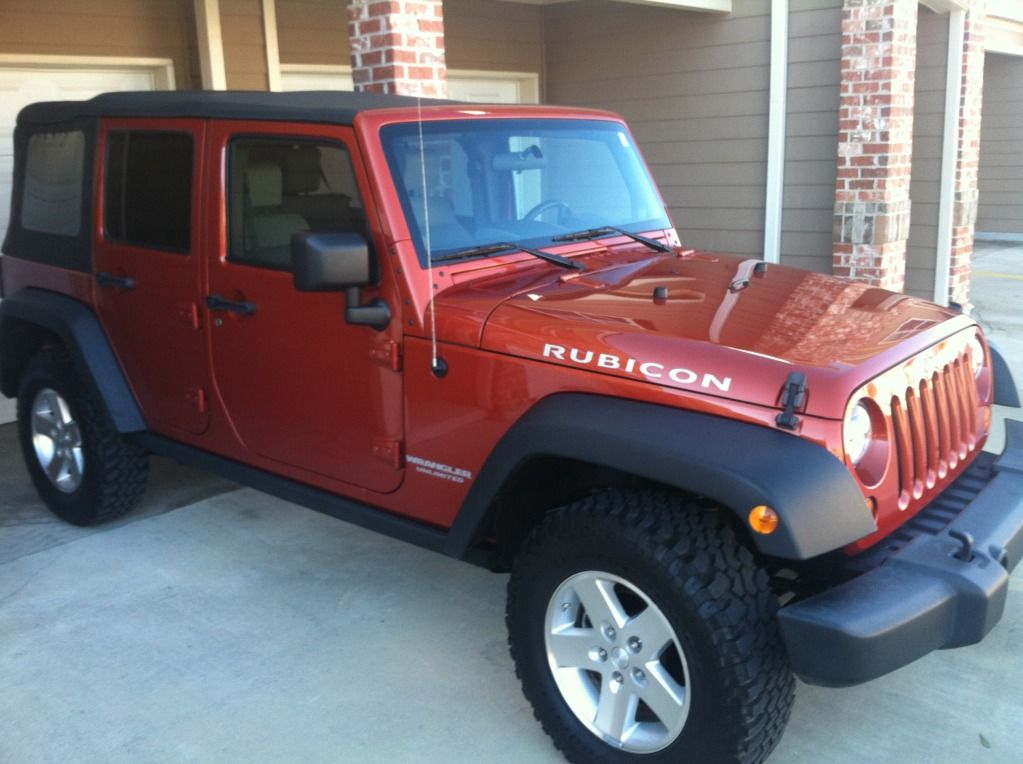 Most Current (Before Low Profile Antenna, and Mounting the CB radio unit)
I look forward to talking to all of you and getting ideas (whether they be good, bad, or ugly) and using this to track where I started and where I get close to ending (I don't think anyone is truly ever done, but you can get close!
)
Thanks for checking out my thread