jimbos big red build
---
I picked up this train wreck of a jeep for almost free, I had to swap the trans, T-case and rear drive shaft into a buddies Jeep but I was able to keep the rest of the "good" parts. It was rolled several times, roll bar ripped out and driver ejected.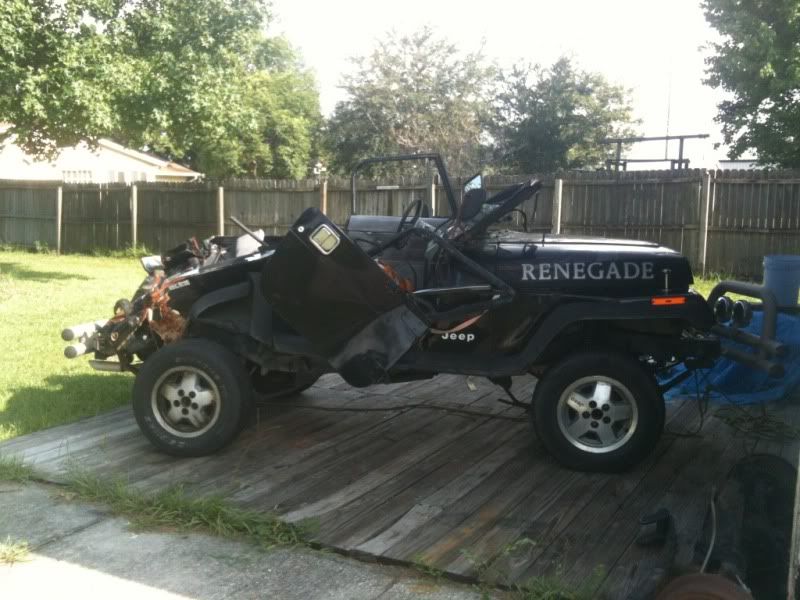 I figured Id reuse the frame, motor and axles and jusr replace the body parts that were destroyed. After getting it home and looking it over really well I saw the rear was shaped like a smiley face, the frame and several spots that were obviously bent. the only good parts from it were the sterring column, motor, gas tank, wiring harness, grill and radiator. So my hunt began! Do you know how hard it is to find a straight rust free frame and tub??? For me not at all. I found a local guy letting go of a frame and stock springs and some one from my local forum who sold me a 95 tub with family style roll bar.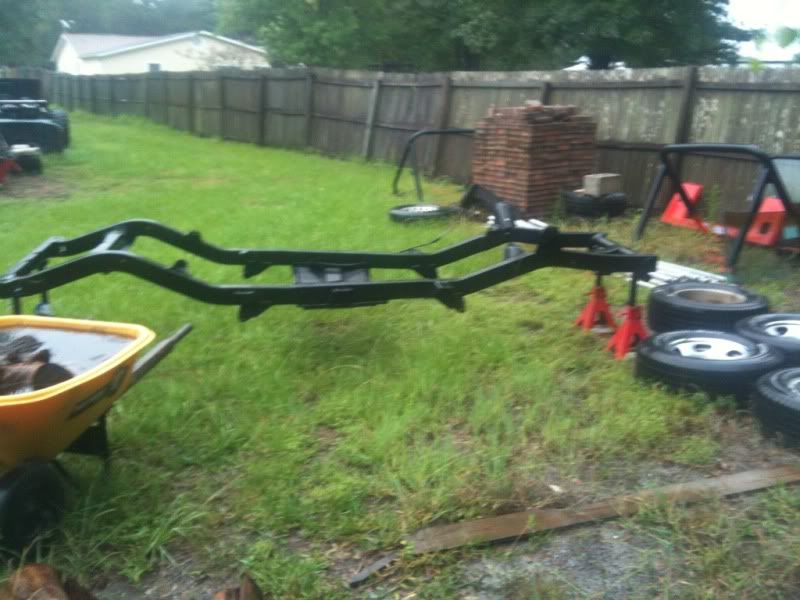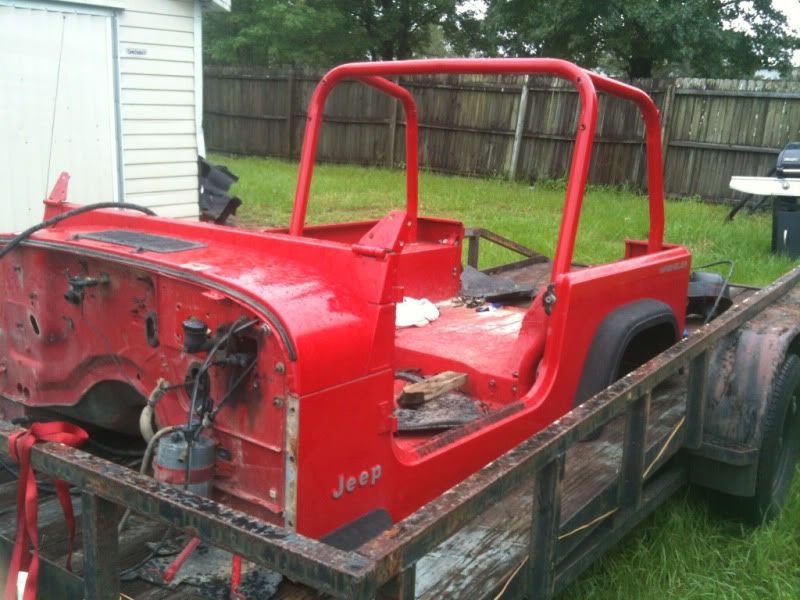 I cut up the old body with a sawzall and scrapped the frame, axle and tub for cash. The CL gods smiled on me with a set of 4:10 geared axles, good dash and tail gate. After an afternoon of wrenching I was able to put together this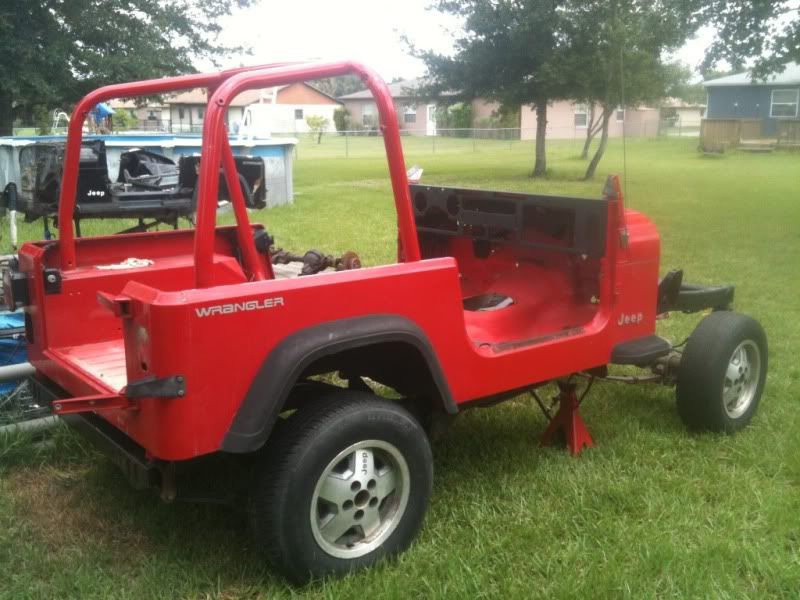 This pic I threw in to show of a sneak peek of my CJ behind the YJ
I felt crafty and decided to tackle some paint work.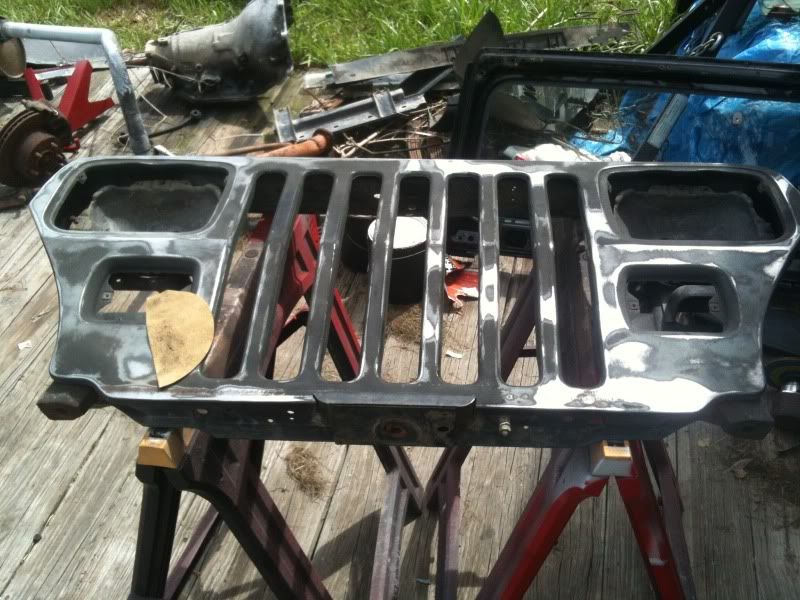 I still need to do a little wet sanding before I clear them. Ive been working a bunch recently so no time to work on the jeep but I have used the extra cash and been snatching up parts when they come up. Since I had no trans Ive been on the hunt for a AX-15 with a external slave.. I know Good luck! for weeks Ive been watching Search tempest and CL and the ones that have come up have been internal slave, or need a rebuild and they want $500 for em. Again a fellow on my local site posted up a complete exteranl slave ax-15 with all the needed components for $150.. Since you cant find a external bell housing for less then $100 I jumped on it. Sure it needs synchros and maybe 1st gear but its still a great deal.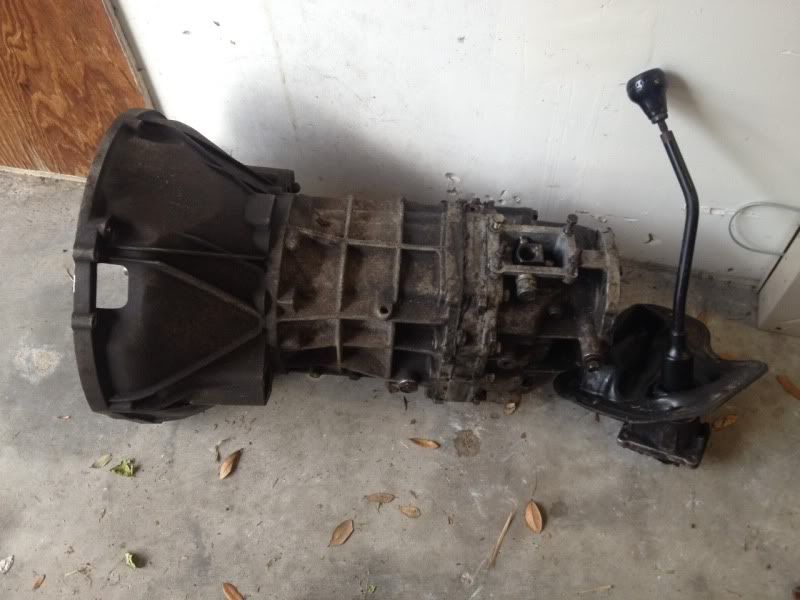 For tires I have some one holding a set of 33x12.5x15 BFG mud terrains so i needed a new set of rims since the stocks were too narrow.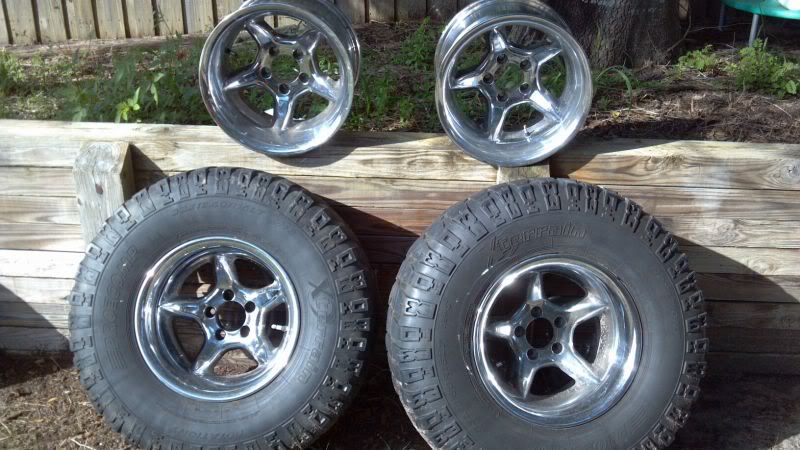 15x10 with 2 33" procomp's already attached! For seats I have some one setting me up with thier front, and rear. I already got a replacement windsheild frame and gaskets I just need to paint it, a set of 2.5" lift springs for pretty much free. Now all I need is a small list of parts and the time to get it all together.. Its not going to be too hard core but enough to let me sell my 9mpg gas hog.
What do you think??
---
88 YJ 35's 8.8 rear, family style roll bar, ax-15 external slave conversion, Custom double D fab dash 4" of lift taurus fan, Head light wiring upgrade, MSD 6al, JB conversions SYE, 258 with RV cam, Long tube headers, Borla exhaust. 1"mm, Auto meter gauges.