It looked like that for a while. Then I got a zactal offroad roof rack and bought a flowmaster 40 exhaust with a new cat and all new O2 censors.
Got charged way to much.
Collected a few speeding tickets and then got in a wreck while my license was restricted. I was towing a washer and dryer with bad breaks and got destracted. Locked them up and slammed into the back of a ford escort. I ended up climbing up into his back window totaling his car. All that happened to mine was it pierced the radiator and bent the front bumber in and bent the passanger side fender.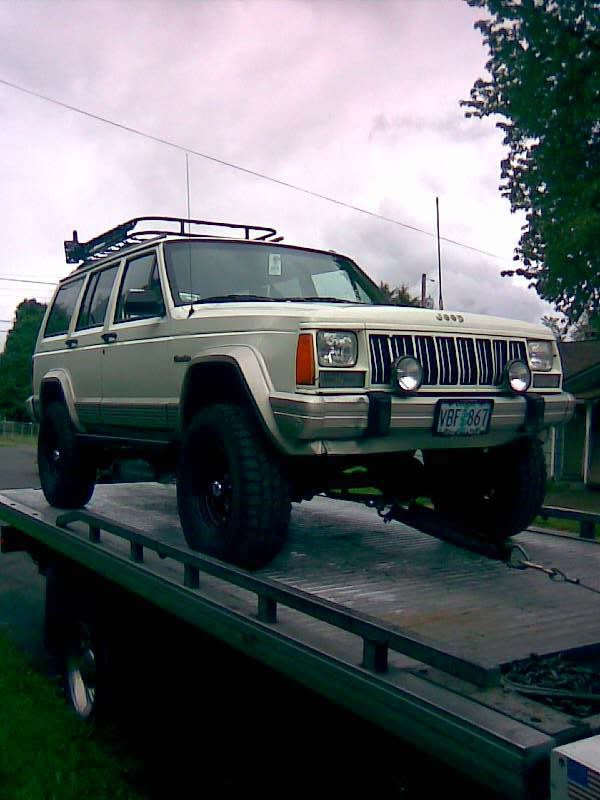 Well luckily my best friends dad own's a body shop.
Insurance tried to tell me my rig was toataled before they even came and looked at it.
Well I told them to send someone out and I got lucky. The guy they sent was a Jeep guy and he told me it wasn't totalled and gave me 1400bucks for repairs. Well it wasn't going to be that much so I upgraded stuff.
I got daystar upper control arms, 1 transfer case drop to get rid of the vibes, front pollyurethane bushings, 4-8" lift drop pitman arm, and new oem steering (wreck borke it)
This is it the day I got it back. The guy at the shop rebuilt my KC's for free.
Well it stayed like that for a while. Went to college. Dropped out 2 weeks later.
(Religious college) Signed up for community college the day I got home.
__________________
_=====ooooo
//__l_l_,\____\,_____
l_/-\_l__l_/-\_|lllllll|
_\_/==== |; _\\ \\_|;
_(o)_)___(o)_)--o-)_)
96 Jeep Cherokee 4" lift with 32" KM2's
94 Jeep Cherokee 3" lift with 29's!
JEEP Just Empty Every Pocket my life moto. :)
White Jeep Club Member #109
Jessie The Jeep (lots of pics)