Jeeves: '01 TJ Light Expedition Vehicle
---
This thread will be a chronicle of my first real Jeep build. Here's a bit of background:
I've been a JF member for over a year (never posted until now), and this is the third Jeep that I have owned. My first Jeep was a 1992 XJ Limited. It was completely stock with an automatic transmission, but ran like a dream for almost 5 years until I traded it in for the second Jeep. This one was a 1998 XJ Sport with a 5-speed manual. A PO had installed a lift and 31-inch BFG KO's. I never actually measured the lift, but it was somewhere in the neighborhood of 3-4 inches. This Jeep was not very well maintained, and there were many half-assed "mods" and unfinished projects. When I took it home, it was missing the air cleaner assembly and quite a few interior bits. A few trips to the salvage yard took care of this. I'm guessing the PO was in the process of making some modifications, when he/she got into an accident. The driver-side front corner had significant damage to the fender, quarter panel, grill, header panel, and bumper (the driver-side of the bumper was literally tied on with a rope). It had a tow package, and the PO had run the wiring harness out to the rear by bending the bottom corner of the rear hatch. I don't believe all four speakers worked at the same time during the entire period that I owned this Jeep; most of the time I only had one, if any. After a few months of ownership, it developed some nasty death wobble, so I had the front stabilizer, track bar, sway bar end links (the driver-side one was missing all together) replaced, and got new tires. The tires (General Grabber AT2's in 265/70/R15) were the best fix, as the Jeep was rock-solid after they were installed. I ended up selling the Jeep after only 14 months to make a cross-country relocation (CO -> OR) easier. And after 3 more months of not owning a vehicle, we are here...
A few days ago, I purchased a stock 2001 TJ Sahara. Here are some specs:
4.0L I-6
5-speed manual
99k miles
Sienna Pearl color with tan hard top
Tan/green interior
235/75/R15 Wildcat Radial A/T tires
Dana 44 rear axle
Bedlined grill
19-gallon fuel tank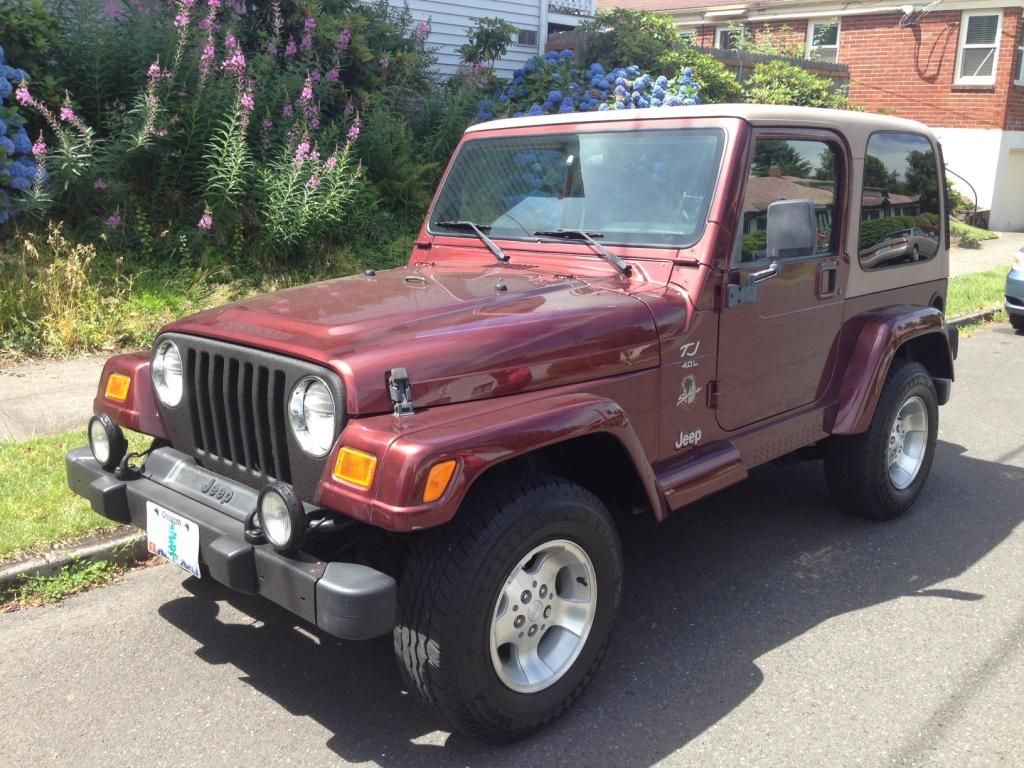 Overall, it's in great shape. No rust (other than the driver door handle), and the only modifications that I've found so far are the bedlined grill and an aftermarket stereo head unit. I didn't even own the Jeep for 48 hours before my fiancee and I took it camping. It wasn't anything too extreme: about an hour away with well-maintained dirt roads, but it performed like a champ.
I'll be the first to admit that I'm no mechanic, but I would really love to learn to work on the Jeep myself this time around. I do have an engineering degree, so I'm mechanically inclined, but I definitely lack the hands-on experience. The biggest obstacle will be the current living situation: studio apartment with street parking. This will heavily limit the work that I can do and the tools that I can purchase. I won't be able to undertake many multi-day projects, as I would be very hesitant to leave the Jeep in pieces out on the street. My overall vision for this Jeep is very practical. It must remain highway friendly, be able to handle moderate difficulty trails (no boulders or serious mud), and carry full camping gear for up to two people for several nights. Keeping these constraints and goals in mind, here is the initial build-up plan:
Phase 1:
Apply bedliner on faded mirrors and A-pillar trim - COMPLETE
Apply bedliner on chrome headlight bezels - COMPLETE
Apply bedliner on body-color fender flares - FRONT COMPLETE, REAR ON-HOLD PENDING WEATHER
Upgrade head unit (
Kenwood eXcelon KDC-X399
) - COMPLETE
Upgrade speakers (
Polk db5251 front
and
Polk db651 rear
) - COMPLETE
Subwoofer (
Pyramid WX65X
) - COMPLETE
CB Radio and Antenna - COMPLETE
Upgrade headlights (
Sylvania XtraVision H6024
) - COMPLETE
Soft top - Acquired but not installed yet
Phase 2:
JKS 1.25" Body Lift
Brown Dog 1" Rubber Motor Mounts
31x10.50R15 tires - General Grabber AT2s or BFG KO2s
Upgrade steering hardware - ZJ Tie Rod parts ordered
High-clearance Transfer Case Skid - Probably Rokmen
Recovery tools (Hi-lift jack, shovel, axe, etc.)
Fire extinguisher and mount
On-Board Air Compressor
Interior cargo rack
Rear cargo netting
Phase 3:
Rokmen Mercenary front bumper
Winch
Fuel canisters and mounts
Rear locker
Interior bedliner
Replace battery with
Diehard Platinum
Phase 4: Stretch Goals
BDS 2-inch Suspension Lift
33x10.5R15 tires
Extended-range fuel tank
Rock Sliders
Fender flares
Rokmen Rear bumper
Tire carrier upgrade
Two-battery configuration
Off-road and work lighting
Everything listed above is subject to change or move depending on budget, time, facilities, and knowledge. Progress will likely start out slowly while I take care of a few small maintenance things and do more research. As this is my first serious Jeep build, I would greatly appreciate any feedback and advice!
---
Last edited by TheCatman; 07-11-2014 at

03:49 PM

.