Registered User
Join Date: Sep 2010
Location: Atlanta
Posts: 153
Registered User
Join Date: Apr 2008
Location: Harrisville
Posts: 1,674
That is pretty righteous. Throw a Supra motor in there now. Or hell, an old rotary.
---
2010 KK Renegade
USN Jeep Club #115
Registered User
Join Date: May 2010
Location: Topeka, Ks
Posts: 710
Do you have a video of it autocrossing?
Registered User
Join Date: Jun 2010
Location: Lakeland, FL
Posts: 306
Looks cool. I think my YJ handles pretty well, considering what it is. Mines got nearly stock 235/75-15's. With it lowered and some meats I bet it really carves the corners! Awesome idea for a fun ride.
4 Wheel Station
Join Date: Sep 2009
Location: Riyadh, Saudi Arabia
Posts: 607
Quote:
Tell me more about the Euro bumper ends. On my list of things to do is to fab up a filler for that area to keep air out of the fenders, and to install a front air dam to keep air out from under the car. Do you know where to get the parts you mentioned?

Thanks,
Andy


BTW I am working on a video of the car...
I don't know where you can get them. you might want to try the dealer. it's an overseas part.
here's a pic of my TJ in Saudi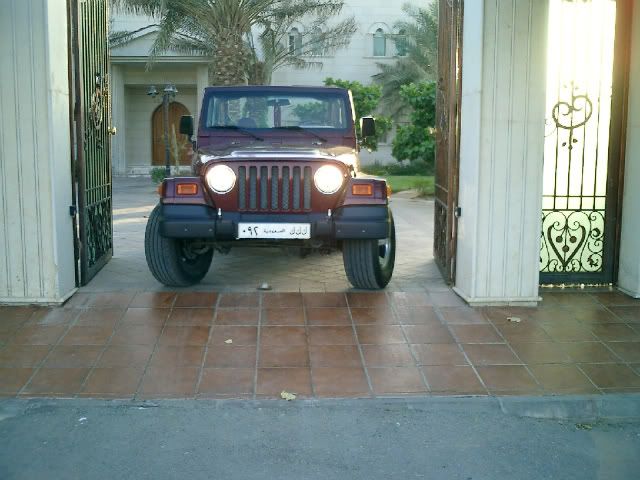 JK
another pic I found on the web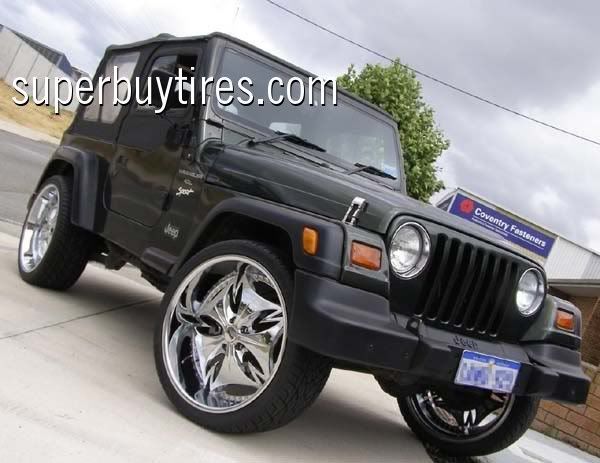 i'll have to dig through my pics to find that TJ I was telling you about earlier
---
Instagram: Lo2aYJP
To view links or images in signatures your post count must be 10 or greater. You currently have 0 posts.
To view links or images in signatures your post count must be 10 or greater. You currently have 0 posts.
JK Build thread (soon)
J8 Build thread (soon)
Brute Build thread (soon)
Quote:
This hobby is not about who can shop the best, it's about creating things that did not exist before. It's about giving a machine a soul and making it an extention of your persona.

There is always someone who can spend more than you can. Don't measure your self worth against others. You can create, you can be fast and you can fail. It's all part of life.
Registered User
Join Date: Apr 2014
Location: Phoenixville
Posts: 1
Sorry if this revives a dead thread, but I had to say Thank you to this owner ...
---
I wanted to say I love this Jeep.
Yes, I know I'm new to the jeep community here, and I do like Jeeps of all kinds.
However I come from a musclecar background, being raised around GTO's and Hemi Chargers all my life. I love cars of all types, well except the over blinged Caprices I see online. But a favored passion of mine is liking vehicles that scream 'different'.
As different as my owning different cars thru my years from a 1970 Gto with 455, a 1980 Buick Turbo Regal, and a 1989 Plymouth minivan with a turbo 2.5 and a 5 speed. Got it from a friend but I was broke so I had to return it to him. That was gonna be my Srt4 Voyager.
Seeing your Jeep with the vette suspension was an eye opener, as it reminded me of a srt6 Wrangler photochopped and featured in a jeep magazine somewhere, and I never forgotten it.
Which brings me to my own ideas of getting myself a Wrangler, and either turbo'ing it or dropping a ford 302 into it with a stang suspension and wheels, exhaust and such, and make it a cruiser.
Thank you for showing me your Jeep, and showing me what can be done with patience, plenty of tools, and a high dose of caffeine straight into
the brain.
I know a lot of people may give you flack for not having a rock crawler 4x4 that can crawl cliffs at 3 mph at almost 90* incline. But I Applaud you sir, bravo.
I was just wondering if you wanted to show how you removed the suspension, boxed the frame and other pics or tidbits, as I am going to get help with my Wrangler when I build it.
God Bless ya,
Kimonoskunk
Quote:
I'm new to the site, and I thought I would post what the Jeep looks like that I have in my garage.

It is a 97 Jeep Wrangler TJ that has been gutted of the 4wd and fitted with modified C4 Corvette suspension. It is about 600lbs lighter than a stock TJ, is about 6" lower and wider. It is sitting on 17" x 11" rear wheels with 275/40 17 Kumho Exsta XS tires and 17" x 9.5" fronts with 245/40 17" tires. It has a full 4" of bump travel with the QA-1 adjustable coil-overs and rides very well. The gas tank is 4 1/2" off the ground and has a reinforced skid plate for protection. Right now it is running a modified Jeep 2.5 liter engine and a custom 2wd 5 speed transmission. The stock transmission mount/skid pan was replaced with custom chassis X bracing that incorporates the new transmission mount as well as torsionally stiffens the chassis. I have taken it to the track and it does very well, and is a blast to drive.

Hope you enjoy it!
Currently Active Users Viewing This Thread: 1

(0 members and 1 guests)