so I thought I would own my TJ forever, and never own a JK. but then that all changed. one day it got into my head to upgrade, and after some time I finally did. I searched for a while, and came across a Call of Duty special edition. I looked at it twice at the dealer and decided to buy it October 9, 2014. It had just a hair over 22,000 miles and was super clean. this was the only used Jeep that met every single thing I wanted in my new Jeep. manual, Rubicon, hardtop, nav, etc.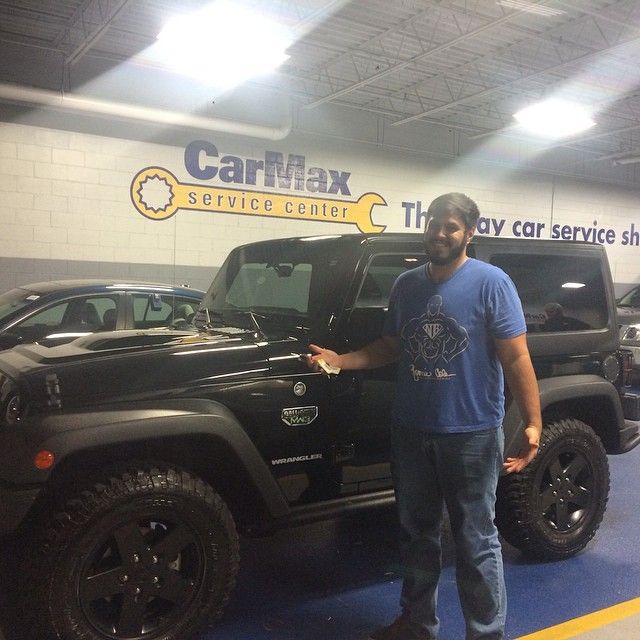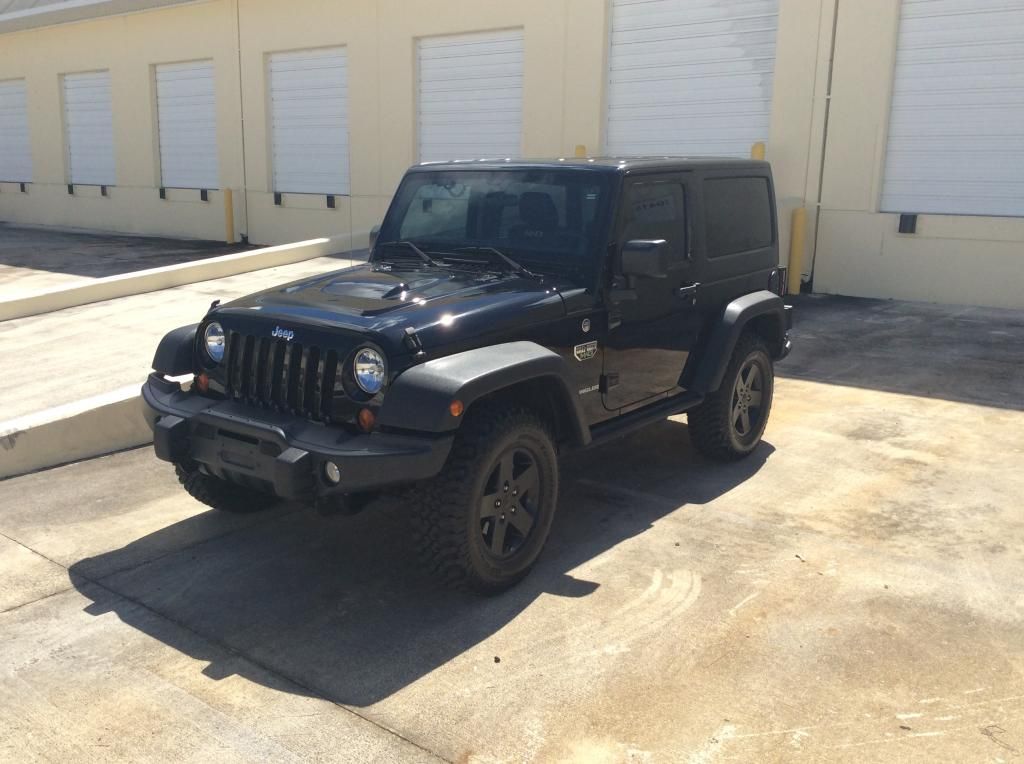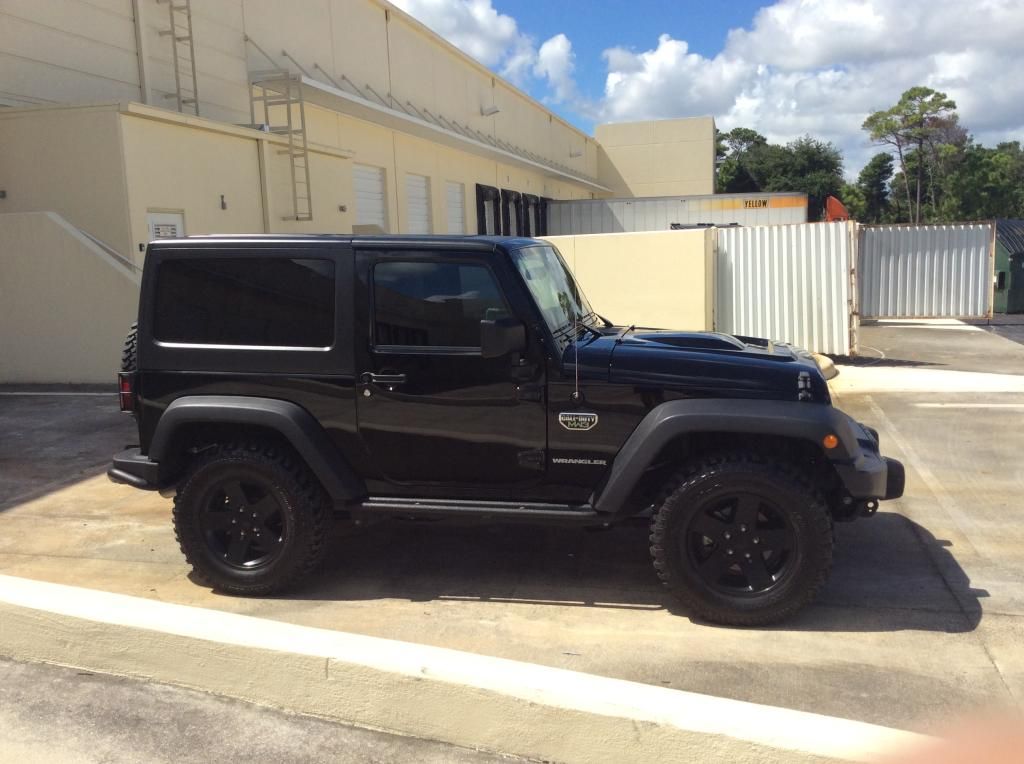 while my boss was checking it out, he noticed the numbered plate. I found out I had number 1504 of 3500 COD special editions, so that was pretty cool.
So then, I was just loving it and driving it a ton. We drove it on a small trip to Disney and really enjoyed the comfort of the new Jeep over my old TJ.
Late November/early December, I did basic things like adding a CB up behind the rearview mirror and a rugged ridge hi-lift mount.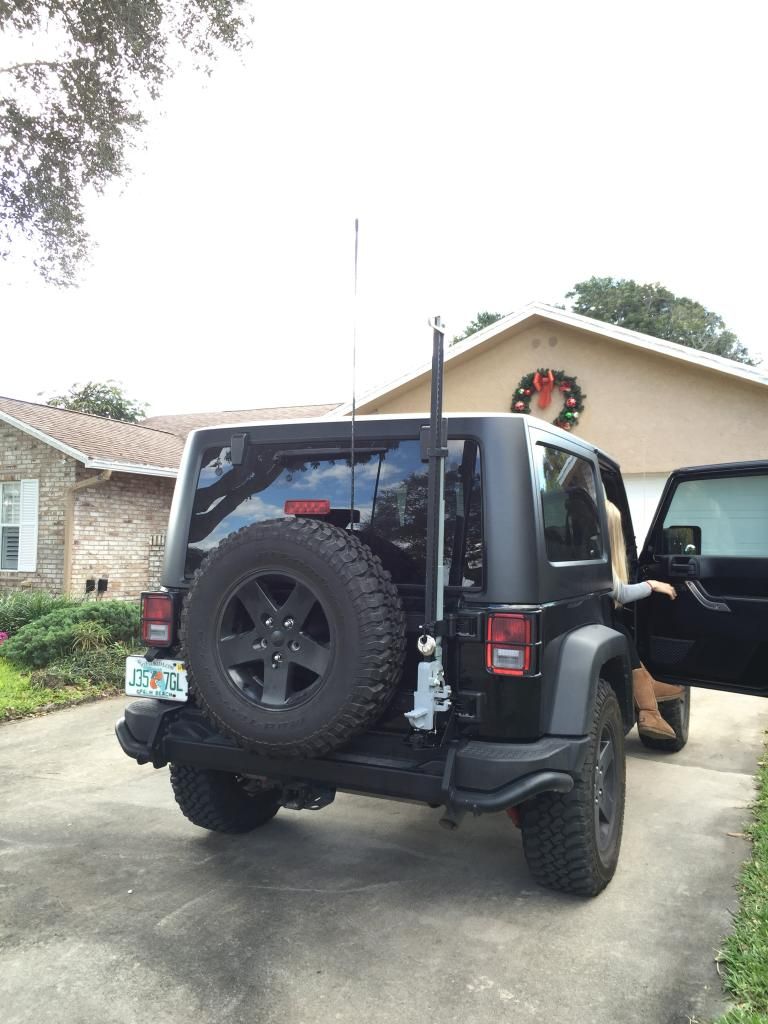 middle of december, I got around to buying the AEV winch plate that didn't come with my COD AEV front bumper
and the new gen smittybilt 9.5K with synthetic rope. in this pic, I hadn't installed the fairlead and rope yet.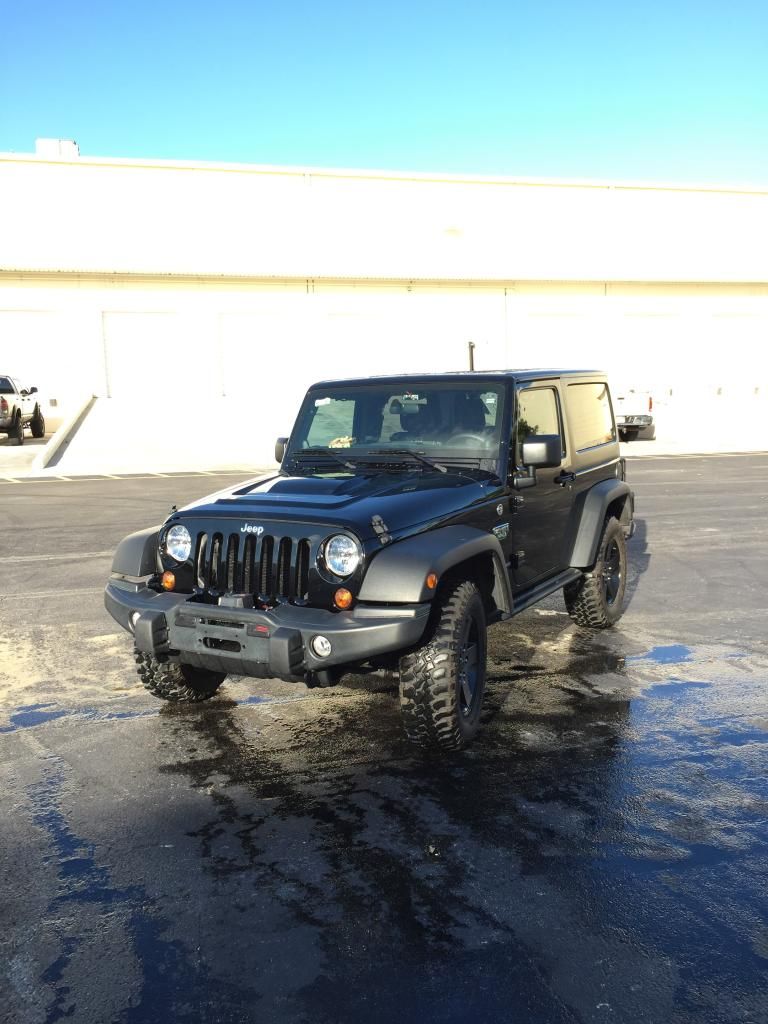 Right after Christmas, we took it on our first big trip. We drove about 1,100 miles to my girlfriend's aunt's house up the mountains in west Maryland. GPS didn't do us right with the crazy mountain roads up there.
We were expecting to see tons of snow, as her family had told us that by that time there's always a lot for the rest of winter. I was super excited to see how the Jeep would do with lots of snow. Well our luck was that this would be the ONLY snow we saw.
I did wander around their mountain neighborhood while we were there. some of those roads farther out got really rough and steep, and roads that were on the GPS ended up being some light wheeling. being that I was alone with only my winch and no experience with driving on ice, I was very cautious. it was really cool when I had to use all the features that I bought the Rubicon trim for. some of the ice covered the entire trail going back uphill and I had to use 4x4 with lockers to get back. The one bad thing was I got a little too comfy around some bushes and put some pretty decent scratches all over both sides of the Jeep and hardtop...
Well, we came back home after new years and really enjoyed the trip in the Jeep. BUT, I felt that some noises I noticed were becoming a bit louder so I decided to take it into the dealer to get it looked at. with some back and forth convincing the dealer, they took it in to check the throwout bearing and a few other small issues (radio, etc). they agreed to give me a rental and I ended up with a loaded
brand
new Grand Cherokee. this thing 100% caught me off guard. If I ever leave the Wrangler game and look to SUV's, I would strongly consider one of these. I was shocked with how nice it was
After a bit of back and forth and running around with the dealer, they gave back my Jeep after they replaced the throwout bearing and some piece in the AC.
two other friends had also just recently gotten their own 2-door JK's, so we took our Jeeps to a small off road park about two hours away from home.
While we were there, the clutch was working fine and that was great. but when I went to turn off traction control, nothing would happen. then I started pressing other buttons and nothing (hazard, power outlet, etc). in 4-Lo, I tried to turn my lockers on, also nothing. I realized at the dealer, when putting the Jeep back together they must have left a plug for the harness off somewhere. I was pretty unhappy about wheeling with traction control on, and no lockers. It made driving in sugar sand horrible. I took it back to the dealer that Monday and they took care of it quickly.
Since I've had the Jeep back, I haven't had any new issues. The only thing I never figured out was a "swishing" sound sort of like water from somewhere low like under the tub. The dealer had nothing really to say about that, and I'm still pretty unsure about it. I hope that doesn't end up being an issue later.