Quote:
Originally Posted by
Danno6102
Nice meeting you today! Love the cj grill!

You have a laser buddy huh? Hint hint...
Nice meeting you as well! Had you not said something I wouldn't have put two and two together - your jeep was muddy enough it wasn't really recognizable!
Yes, I am picking up what you are putting down - we may be talking in the near future.
Quote:
Originally Posted by
Jeffro06
I didn't see you today....but then again my Jeep was parked for half the day.
So you wouldn't have know what to look for to find me anyway.
Well, it wasn't for a lack of trying. I spied 2 yellow TJ's and neither of them were you.
Well.. I for the most part had a less than desireable day. BUT, the Jeep went every place I pointed it, although somewhat mild after my first incident..
My son and I drove down to Attica Friday night at stayed at Hotel Attica(IIRC) and stayed with a group of 3 other guys from my local Jeep club. There was one other air mattress not shown. It wasn't the worst nights sleep I had ever had...but pretty freakin close.
Saturday morning woke up to 13 degrees!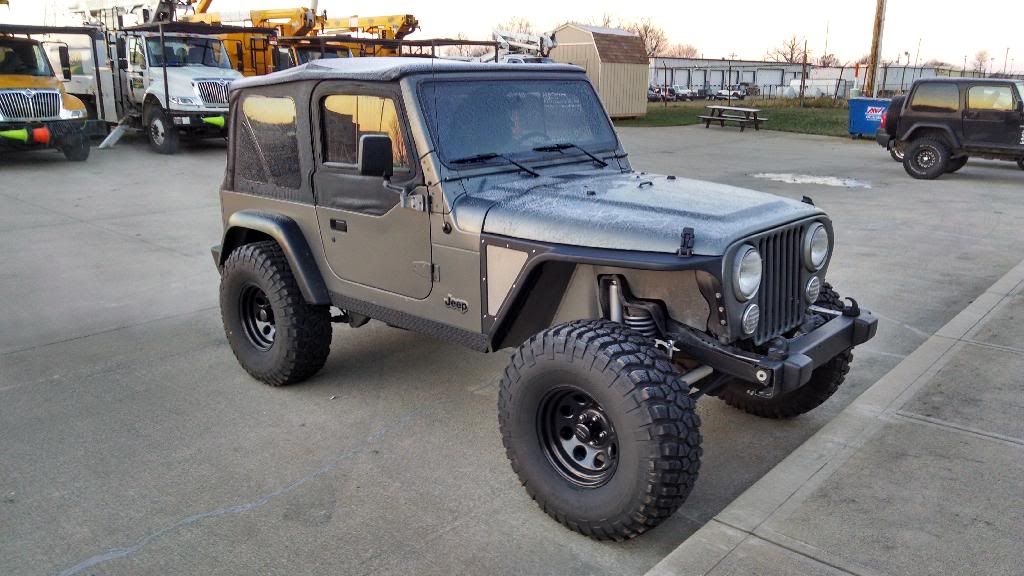 Had to get a starting photo of my buddy before we got after it
Another pic we tried to duplicate from last year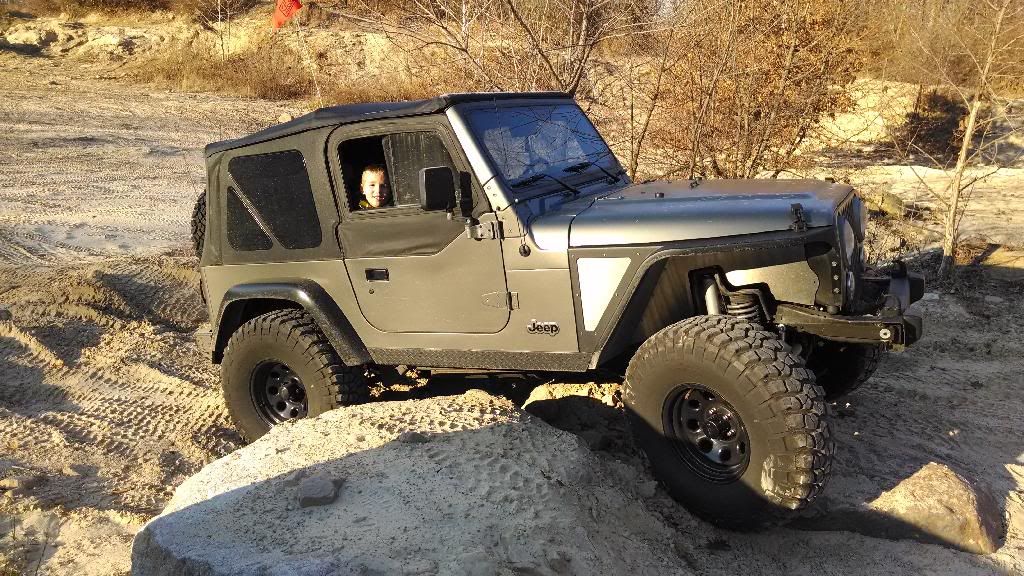 Some posing
Here is where things went south. Shame on me for 1. Being Cocky. 2. Not waiting for others. Notice the big rock under the front?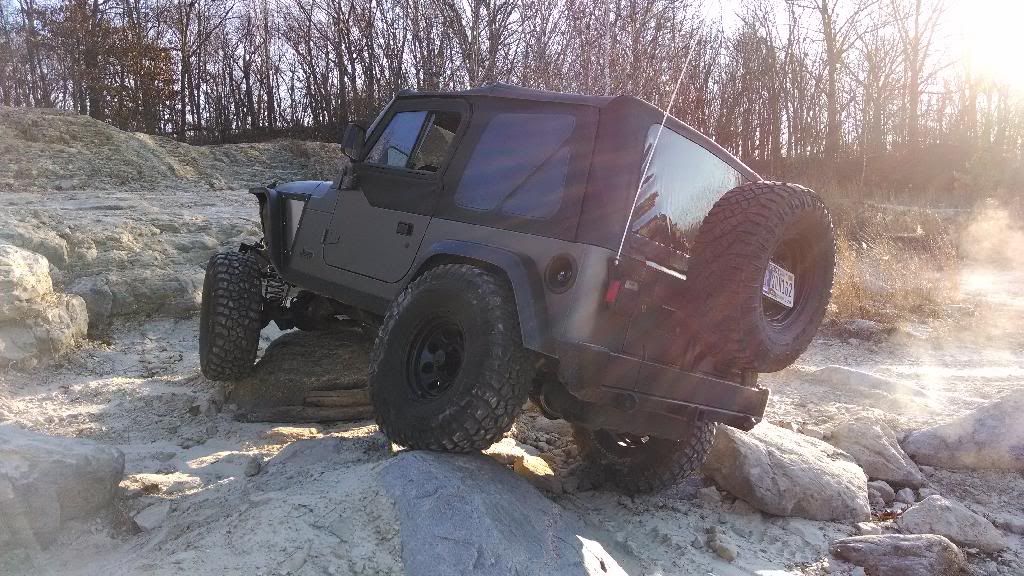 Yep, I got hung up. Driveshaft, oil pan dented, trans pan dented, front of skid in a U shape now, exhaust pushed up. Awesome.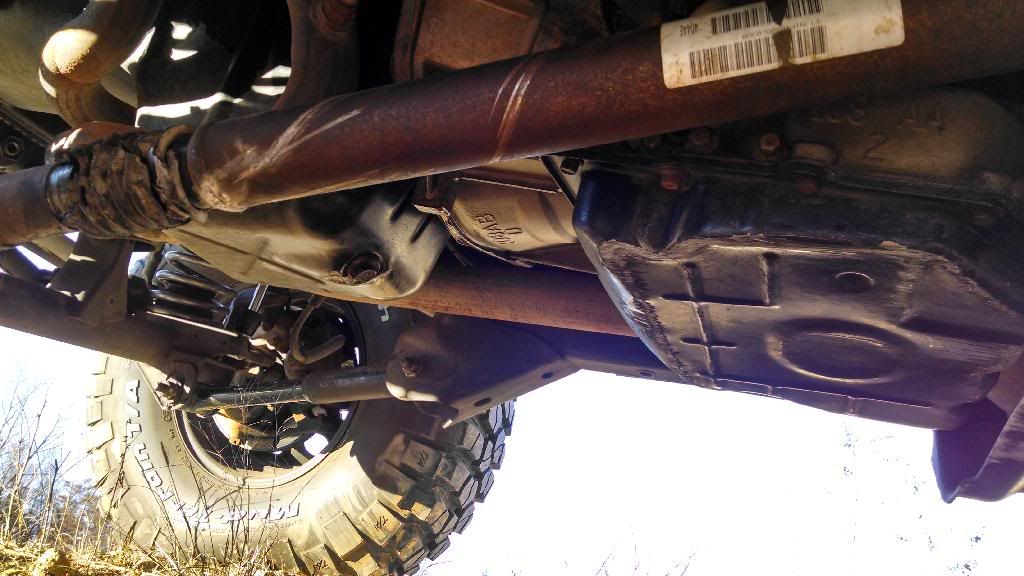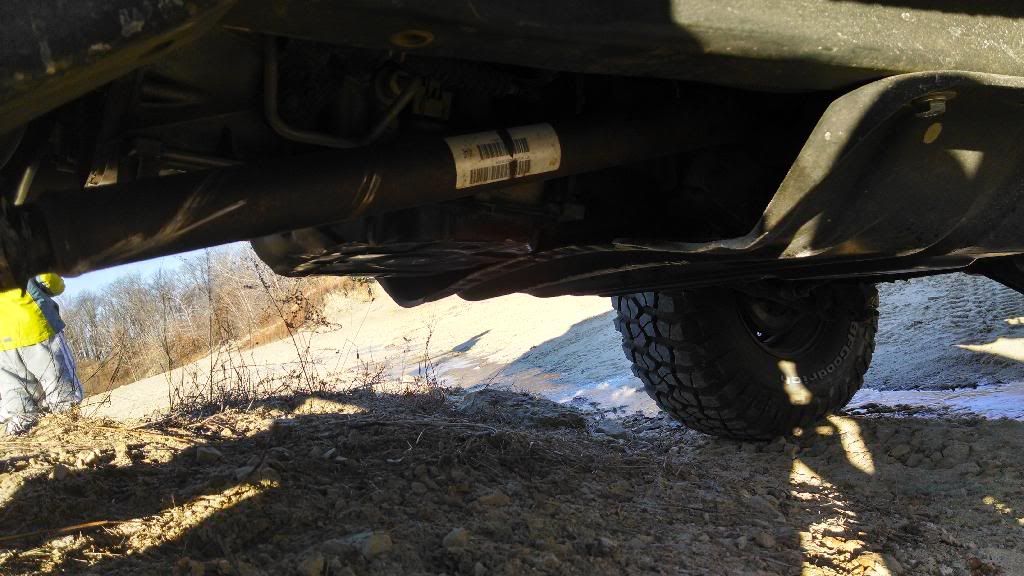 After that took it mildly easy. Went down barbed wire and dropped into the ravine. Got to the end to get out and a tree was down, so had to turn around. Jesse, the guy that bought my last LCG TJ showed up and had never been there before, so showed him around here and there.
Irony picture number 1.
I am sure this little crawl has a name, but I don't know what it is.
After that, pretty much headed up front for lunch. Irony picture number 2.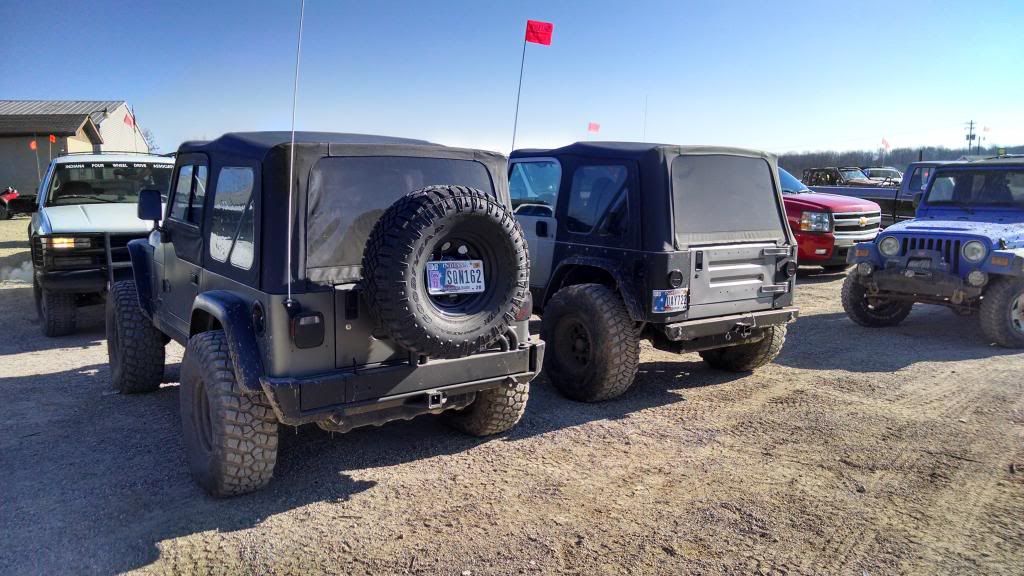 Speaking of which, Here has what my old Jeep has been up to. Jesse put some black KMC wheels on it, some color matched full doors, and other than that just odd n' end stuff I didn't get to. Jeep looks really good. I do miss it, but not saturday - the stick shift, the all the time locked axles. I fell in love with the auto and selectables..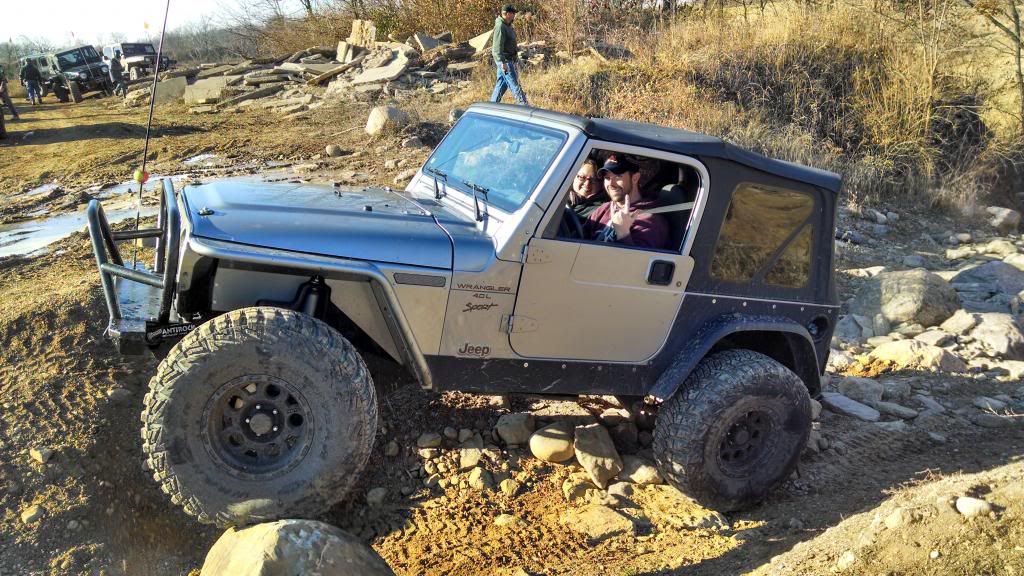 So after lunch we didn't do a lot if I recall, a mild trail or two, mostly took pictures. Found this wild wolf with a collar running around!
When degan got out of the jeep the dog got all sorts of excited and ran over to him - so he obviously lived in a home with kids. That was neat to see.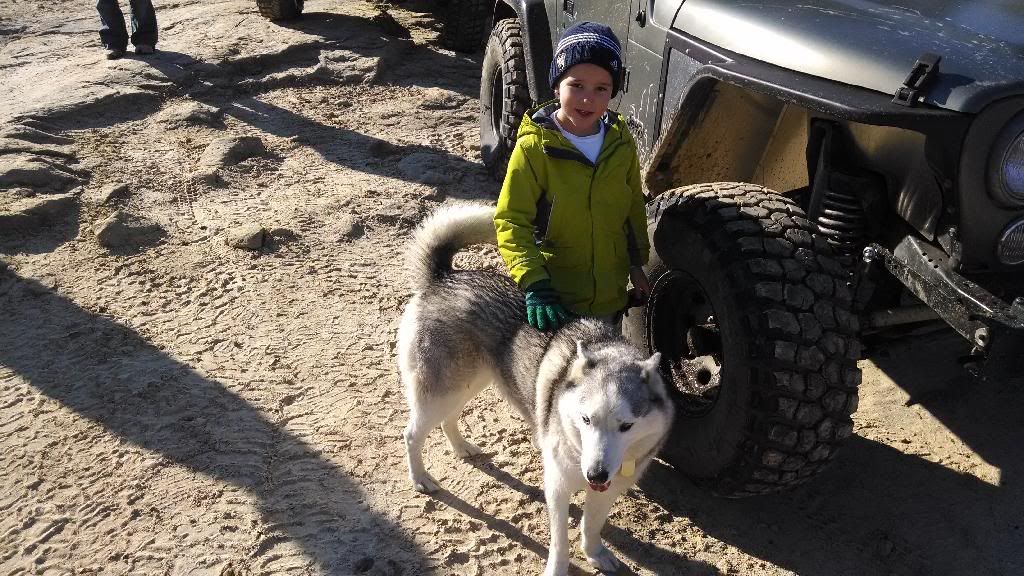 While I was watching people in the quarry, Degan was being a boy.
We headed back to the office around 1 or so. My fun day continued when I forgot to put my valve stem caps back on and water had frozen in ends. Had to borrow a lighter and get those cleared out so we could air up. Then more photos. Deeg was quite delighted for the two monster trucks that were sitting out..
Dad even got in on the rare photo opp. I know what your're thinking - but I am married, sorry.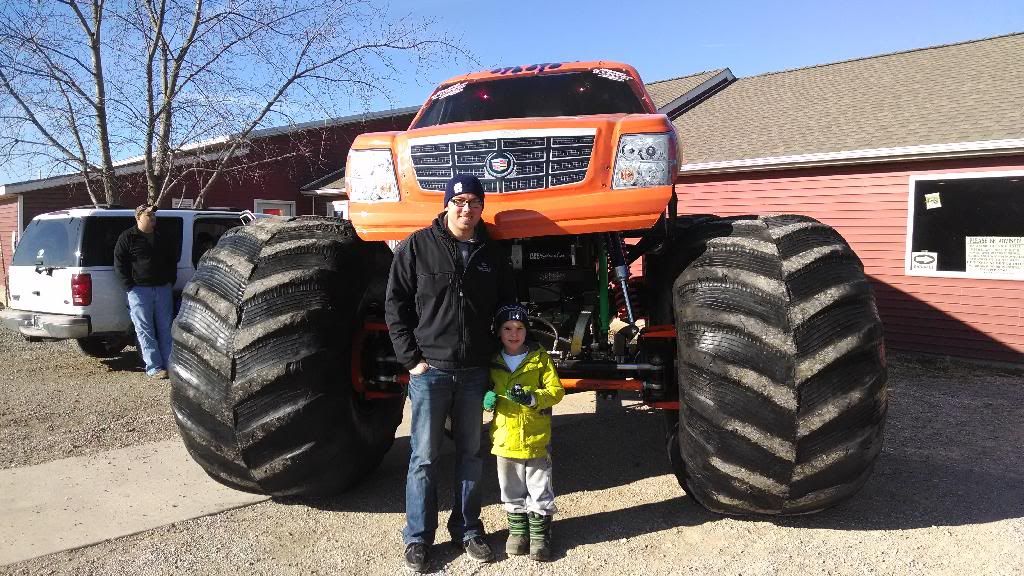 Again, in a bit of a ritual, an ending photo.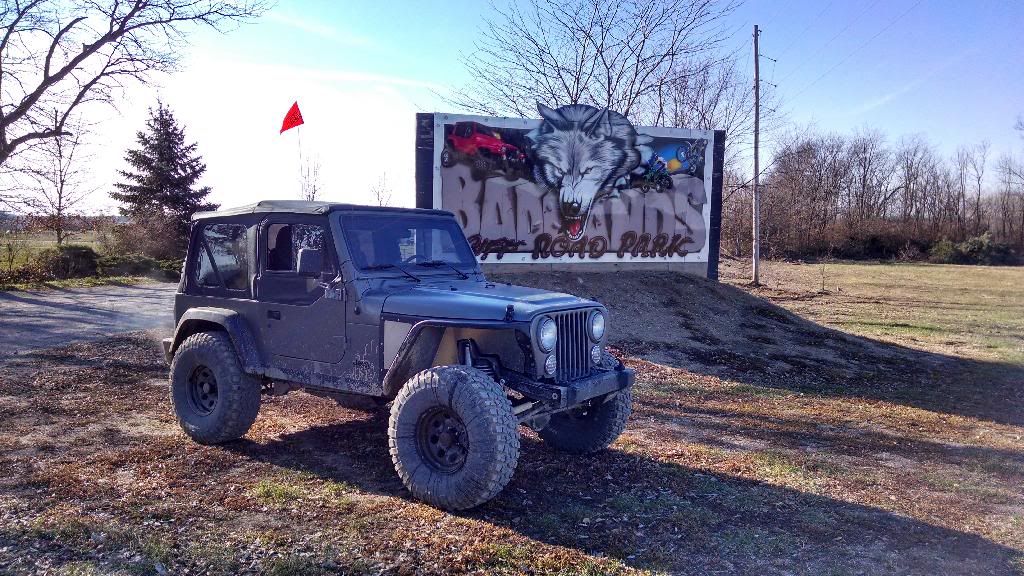 So now. I may push off gearing a while as I now need to buy myself a new belly skid. I looked through the "so you want a flat belly" thread. I don't want to do a body lift - not because I think it's hard or whatever - I just don't want to be sitting an inch higher.
Several people chimed in on my last build, but now it is time to revist the skid thing. The Rokmen skid is possible - but then I need a 1/2" body lift. Also looked at UCF no bl skid - that seems economical. Looked at DV8 - super nice and economically priced, but it needs a 1" BL.
With the UCF I am not sure if I re-use my stock mount, or if I have to buy their low pro? Then I don't know if I can get a flatter skid but purchase the low pro mount? I'd also like to not have to purchas the cable shifter if I don't have to. Looking for economical. Flame on.