Registered User
Join Date: Aug 2013
Location: Tucson
Posts: 5
Looks like an awesome project! Glad to see the Ballistic Mounts!
---
BALLISTIC FABRICATION
520-888-4441

To view links or images in signatures your post count must be 10 or greater. You currently have 0 posts.

www.ballisticfabrication.com
Registered User
Join Date: Oct 2012
Location: Gobles
Posts: 30
I was making a decent amount of progress there for a bit, but things have certainly slowed to a crawl. House projects and OT have been getting in the way. Not all of my distractions have been boring though, I did get a new (to me) motorcycle: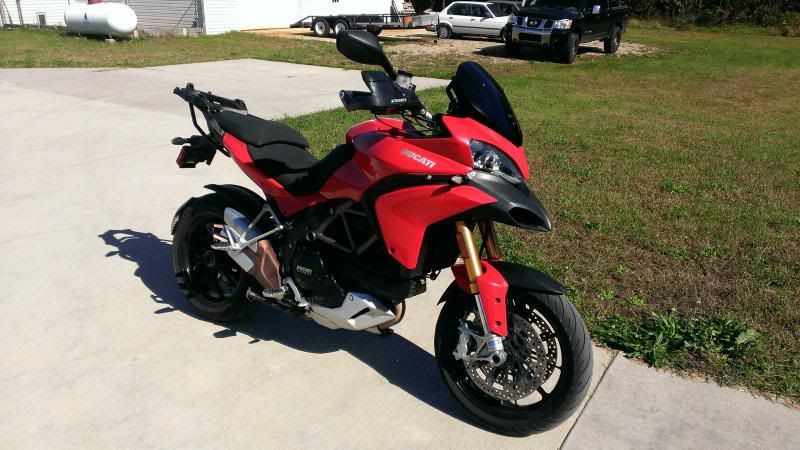 The little bit of work I have gotten done on the Jeep recently was getting the skidplate mounted:
However, while trimming the excess with the angle grinder pictured, I attempted to burn the garage down:
Note to self, don't point the angle grinder sparks at a cardboard trash barrel filled with rags that had wiped out a parts washer. By the time I noticed it, the flames were touching the ceiling. I threw on a welding glove and dragged the barrel to an area with no other combustibles. I was trying to make it outside, but the heat wouldn't let me. While it was burning itself out I decided it wouldn't hurt to take a picture.
I'll probably jinx myself saying this, but right now it looks like I'll have some time to work on the Jeep this weekend. Maybe I'll get some brackets welded on an axle/frame.
Currently Active Users Viewing This Thread: 1

(0 members and 1 guests)