I decided to start this thread as a place for me to keep track of my progress on my Jeep build. I really do not anticipate too many comments (it's a fairly boring build). Constructive comments/suggestions are welcome.
Build goals: My goal for the Jeep is to make it a little more expedition-capable than it was when stock. I sometimes do some rocks, nothing extreme, but would like to get over an obstacle (or few) within reason. I've decided to keep the 33" tires for a while and mostly add to the comfort of traveling/driving. I'd like to be able to build shelves in the rear for my gear and someday a frige, as well as get a roof rack bracket set so I can transport my kayak. Primary goal now is to get it ready for the Rubicon Trail in Sept 2014.
Username: gorillamel
Year: 2008
Make: Jeep
Model: Wrangler
Trim: Rubicon (2-door)
Color: Forest Green
Mileage: 77,147 (when purchased Mar 2014)
Pinterest ideas page:
http://www.pinterest.com/gorillamel/...p-wrangler-jk/
Sold the Xterra to pay off car loan for a car I bought for my parents.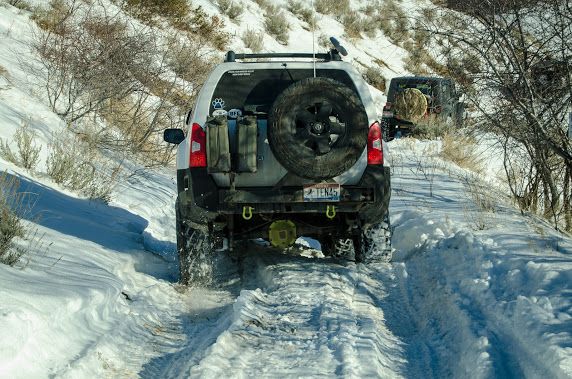 Then realized the 2013 Fiat 500 S did not properly suit my lifestyle. Therefore, I traded it in for this:
This was the first manual transmission I have ever owned, which means driving it can certainly be full of laughs and grinding gears.
I made it into my work parking garage all on my own!
I do not plan to do any heavy wheeling with this rig until I learn to comfortably drive it, hahaha. -->Note: since I took it to Moab May 2014, I think I can now say that I have learned to drive it, hahaha!
MODS
Suspension:
-->
Stock JKUR springs on JKR
-2" spacers all around
-JKU springs all around
-Some unknown brand of shocks
-Polyperformance
front
&
rear track bar
bracket
-Terraflex track bar
-Polyperformance
high steer kit
with
tie rod end adapter
-Rubicon Express rear brake line bracket
Tires/Wheels & Armor:
-Cragar soft 8 4.5" backspaced black steel wheels 17"
-315/70/17 Cooper Discoverer ATPs
-Spare (mounted on rear) 255/75/17 BF Goodrich
-Stock skids
-Stock sliders/rails
-
AEV front bumper w/ winch plate, stock fogs
-Replaced parking brake shoes (
thread
)
-Replaced parking brake at handle parts
Electrical, Powertrain & Driveline:
-8000lb WARN winch
-(2) IPF Driving lights (mounted on front bumper)
-Front and rear Dana 44 axles
-Front and rear tru-lok e-lockers
-Electronic sway bar disconnect
-4.1 gear ratio (crawl ratio in 4lo is 73.3:1)
Interior:
-Flip switch mounted on dash for driving lights
-Midland WX1001(?) CB (mounted next to stick shift on passenger side)
-fire extinguisher
-rubber floor mats
-rear seats removed
Exterior:
-Firestik CB antennae mounted on tire carrier
-misc stickers (for added hp :-P)
-Yakima A1 gutter mount towers with 78" bars (for the kayaks)
-Factor 55 ProLink
-Bestop soft top: Windjammer, Bikini and Duster
-OR Fab rotopax tire carrier- yet to be installed
-OR Fab rear tube bumper
Suspension components (that I got for free)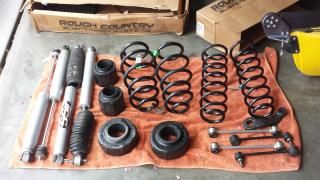 Polyperformance Front Track bar bracket (BEEFY!)
Rubicon Express Rear Brake line bracket
Front bumper/winch (w/some Moab mud)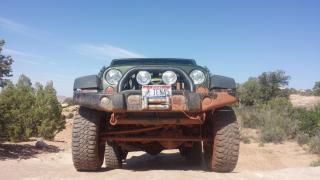 Installing front springs/shocks (effing hated that bolt up there):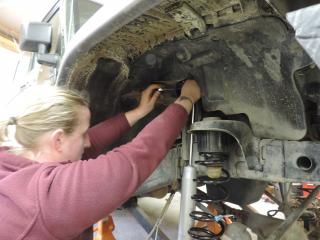 Rear cargo area with goodies from Brown Santa!:
Other Accoutrements:
-Shovel w/ bedlined handle
-Hi-Lift and tire adapter
-SOGfari Survival set (machete, knife, hatchet, shovel/pick)
-Yellow galoshes
-various other survival necessities
-Q air compressor
-survival gear in Plano sportsman trunk
-Roller derby gear
-15lb CO2 tank from
Instant Air Supply
Future Mods:
-Extend rock rails to sliders
-Roof Rack (prefer Gobi, but too expensive. Probably Kurgo)
-Bluesea fuse distributor
-More lights
-replace missing Rubicon stickers??
-AEV geometry correction brackets
Before the lift (top) and after (bottom):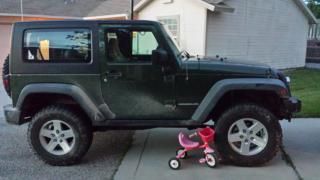 I netted about 3-3.5" of lift from the spacers and JKU springs