Forgot to mention that I inherited the 4" Rough Country lift, Mickey Thompson wheels and brand new 35" Pro Comp Mud Terrain tires. My buddy dropped cash on 5 tires and then traded it in. They wouldn't be my first,second or third choice but they had one thing going for them: they were brand new. However, the RC lift was inherited by me was also inherited by my buddy. I have no idea how old the lift is, but I thought I was ahead of the game by buying a Jeep already lifted
I've since learned that I would have been better off buying one bone stock but you live and learn. The components are worn and the front springs sag like a mother but it's getting me by til I can replace all the components piece by piece.
I realized pretty quick that the bling Mickeys had to go. So I taped em up and shot some Rustoleum Industrial Enamel on em. I was quite leary about spray painting wheels but they turned out decent. Little did I know that spray paint would later play a major role in the look of my rig
Here's a few pics of the Mickey all painted up with nowhere to go.
[IMG]
[/IMG]
[IMG]
[/IMG]
[IMG]
[/IMG]
[IMG]
[/IMG]
[IMG]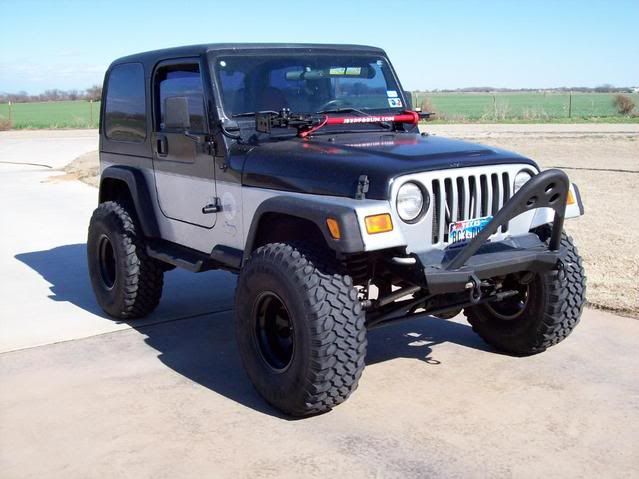 [/IMG]