Fun day today
---
Me and some buddies went out today for a little fun in some pits... here are some pics if you like. Im too lazy to post them on here so here is the link. Im glad i just recently bought a 20 foot chain to help my friend out some lol
They are from today and last weekend.
http://photobucket.com/albums/y51/BradB511/
---
"lift your Jeep...fat chicks can't jump"
Registered User
Join Date: Dec 2004
Location: Appleton, WI
Posts: 104
What's your password????
(Can't see the pics)
And another thing, I hope you really didn't use a chain. I hope you meant to say tow strap
without
metal hooks.
---
Always do what you said you would do drunk. That will teach you to keep your mouth shut. Ernest Hemingway
98 SE 44 Front/Rear geared 4.88 - Ox Locker in the rear - Trutrac in the front
35 MT - On board air - In cab winch control
Latest Dent 8/23/2009
Old Guy Jeep Club#1024
Registered User
Join Date: Jun 2004
Posts: 362
Take the chain back and get a "recovery strap" with no metal hooks!!!
edit the options for your album and make it AVAILABLE to public please
---
2000 TJ Sport, 4.0L, 5-spd, RE 3.5" with all 8 adj arms and adj trackbars with 35"s, D30 w/ Lockright, 8.8 rear axle, sye and CV driveshaft, M.O.R.E. 1" BL and MML, IPF headlights w/ H4 FATBOY bulbs, PSC power steering skid, rock-it man rockers, uniden pro 520xl WITH PA :)
Future mods: 4.88s and ARBs?, belly up, dif guards, Gastank Skid.
Registered User
Join Date: Feb 2004
Location: Rowlett, Texas
Posts: 390
ok the account is public and i am still going to buy a strap... my dad just bought me the chain cuz i snapped the other strap i had.
---
"lift your Jeep...fat chicks can't jump"
Registered User
Join Date: May 2003
Location: ChiTown, IL
Posts: 1,069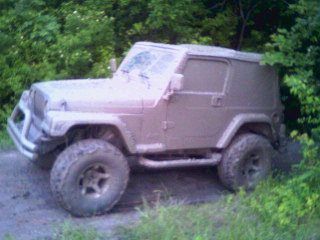 Awesome.
---
DR. Z MUST BE STOPPED Club Member # 1
CJC website:
To view links or images in signatures your post count must be 10 or greater. You currently have 0 posts.


2000 Sport Manual.
Mods: RE 3.5 / JKS 1.25" BL / M.O.R.E. 1" MML / Rough Country Adjustable Trackbar / Dunlop Rover 33s Cragar 397 Soft Wheels / Winch / Nates4x4 Front Bumper & Rear w/ Tire Carrier / RE .75" Spacers / P.O.R.C. SYE / RE CV DS / Nth Degree Adjustable Rear Upper Control Arms / SkyJacker Front and Rear Lower Arms
Registered User
Join Date: Feb 2005
Location: Va
Posts: 1,305
Registered User
Join Date: Sep 2004
Location: Santa Barbara, ca
Posts: 207
You had the top and the doors on, thats no fun.
looks like you had a blast
---
-Jeremy

1978 CJ7, front and rear locker, 31'' BFG mud Terrain, superior axles. RE 2.5" lift. 304 V8. Warn M8000.
Registered User
Join Date: Mar 2002
Location: Chelsea, AL
Posts: 172
A good saftey picture from Mark A Smith's Guide to Safe, Common Sense Off-road Driving. You get one when you sign up for a Jeep Jamboree.
---
1990 XJ LIMITED 4.0 AUTO 4.5" LIFT JKS QUICKER DISOS 33 X 10.5 BFG MT RAVINE WHEELS FLOWMASTER CAT BACK
Currently Active Users Viewing This Thread: 1

(0 members and 1 guests)