Now for the aforementioned carnage....
I went wheeling on Thanksgiving Weekend,
My Jeep HAD been making some "clunking" noises for a littel while, but I had just assumed it was the LCA joints gone bad.
They WERE bad, but were not the source of my noise.
Any time I would accelerate hard, or if I was in 4WD and climbing a hill, there would be a *clunk*clunk*
...not in regular intervals, but solid and deep sounding. Felt like (at the time) like the whole front end was shifting forward and back underneath me. Under a normal load, going downhill, or coasting, it was fine.
It wasn't till later in the day on this outing that with the help of another Jeeper (thank you SpecFab)
It was determined it was my motor mounts.
I hadn't even considered them, as they are barley over a year old.
If you remember, it was back in mid-July of 2012 that I swapped out the old ones.
Here's a couple pics from that:
(new on the left - old on the right)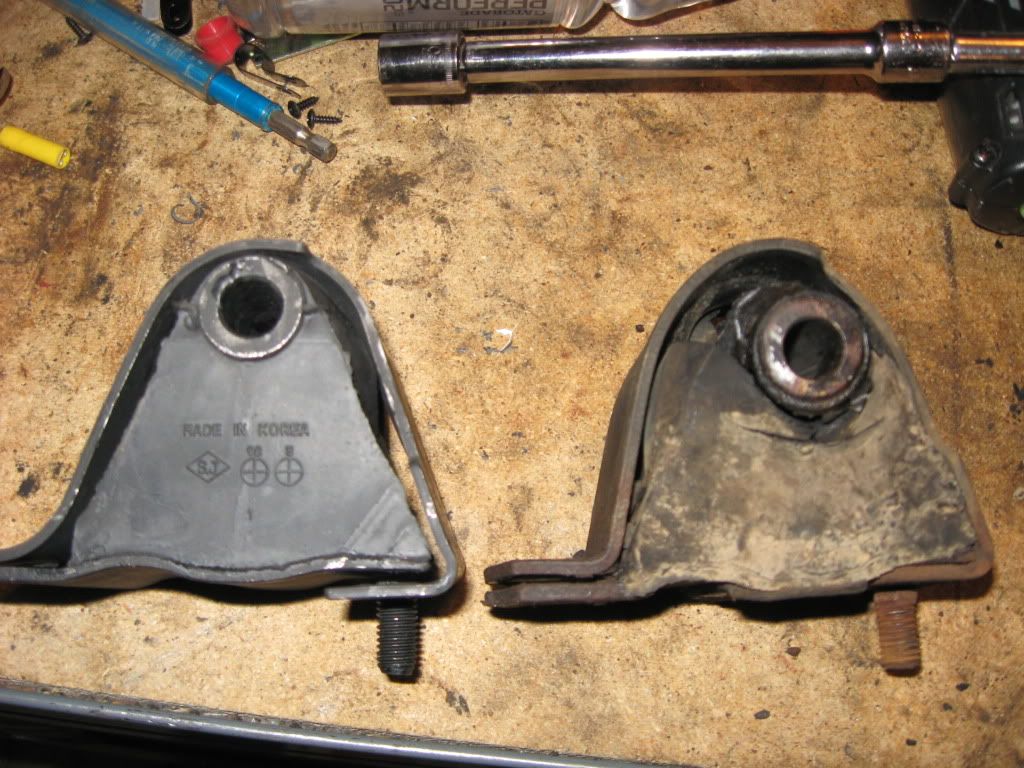 A Closer look once that real bad one was pulled out:
Now....
Here's what they look like today (December 2013)
Drivers side
Yes the top of the metal housing of the mount itself is snapped in two:
Passenger side:
That's right, virtually no rubber left.
So with these being barely a year and a half old, and having around 10 or so GOOD wheeling trips on them, and a fair amount of freeway miles as well..... I'd say this is a good argument for WHY you upgrade to something more than just an OEM replacement.
This is really making me wonder what my tranny mount is looking like.
In any case, I have narrowed it down to a few choices:
IronMan 4x4 Fab
Brown Dog
M.O.R.E.
Not 100% sure which direction I'm going to go yet, but you guys will be the first to know.
Either way, I will most likely be swapping out the tranny mount at the same time just for peace of mind.
---
5+" of lift, 33's, OTK, Armored, Lighted, Chipped, Winched & Locked up Front.