was when my 97 tj sport rolled off the line.
i got this thing when tjs were the rarest of jeeps around.
pretty sure i dont have a stock picture from way back, they look pretty much the same in that stage anyway.
pizza cutters
soft top
half doors
a/c
am/fm
70 amp alternator
4.0 and ax-15
one of the earliest photos of my jeep. my dad bought his 2 weeks after mine. we have wheeled allover the west since. at this point i have a cobra compact and eldorado tires on silver star jeep wheels. i got a great price on them but didnt keep them long because i was about to be bit by jeep adventure. plans for my highly polished jeep would change radically over the next decade or so...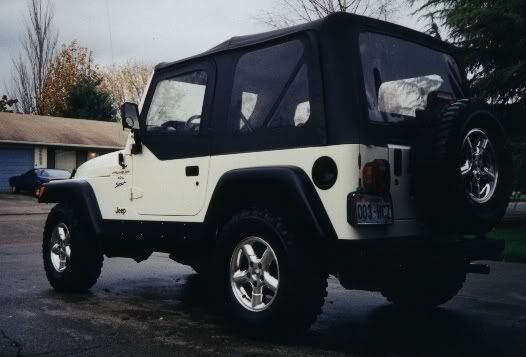 the first fab job. dome brew rock rails... i had finally drilled some holes in my jeep. a lot of them and after that it didn't hurt so much.
the first flex!
we went in parades hauling veterans of foregn wars. it was an honor to throw on the magnetics i made and haul those old boys around for a few hours.
with the new wheels and 32" bfgs i also had true-tracs installed in both ends. i felt like a jeep god! i even bought a olympic bumper and tow hooks for the front!
this led to jeep jamboree usa events. i was really hooked once i got a dose of the friendships i made there. some i still meet every year.
there's the winch! and a m.o.r.e. cage.
we found some mud, snow, deep water. during this time we really exposed the jeeps to some harsh elements.
here's the old man emu kit i think
before that was the rubicon express buget boost.
for a while i had a mongrel suspension always changing stuff.
tom woods sye install in this period
the last picture with the dana 35 to be replaced with an 8.8
during this time i was running a teraflex first gen longarm. this proved to be my worst blunder. it was a terrible suspension. the only good parts were the re uppers and the currie uppers... nothing made it better.
more to come....