Registered User
Join Date: Jun 2016
Posts: 17
Dionne's 05 TJ Build
---
So this is my first Jeep have owned other worthy off road vehicles but finally caved in the TJ. I got an amazing deal on a 2005 TJ with only 65,000 miles on it so i decided it would be a great base to begin my build. Im creating this thread to kinda help keep track of everything I have done. A lot of this will be catching up to where i am currently, but plan to keep it going as i improve my TJ.
So, I picked up an 05 TJ sport that already had a 4" suspension lift and 31" tires that were pretty much shot.
The first thing I did was put a set of Cooper STT MT 33x12.5x15 and some maintenance i.e. new valve cover gasket, new water pump, thermostat, fan cluch, radiator.
[IMG]
[/IMG]
I then went into upgrading the front suspension, haven't gotten to the point where I need a long arm kit yet so i decided to upgrade the suspension a little at a time started with Savvy upper and lower front control arms as well as a currie anti-rock swaybar the connivence and performance from the anti rock is rediculous
[IMG]
[/IMG]
[IMG]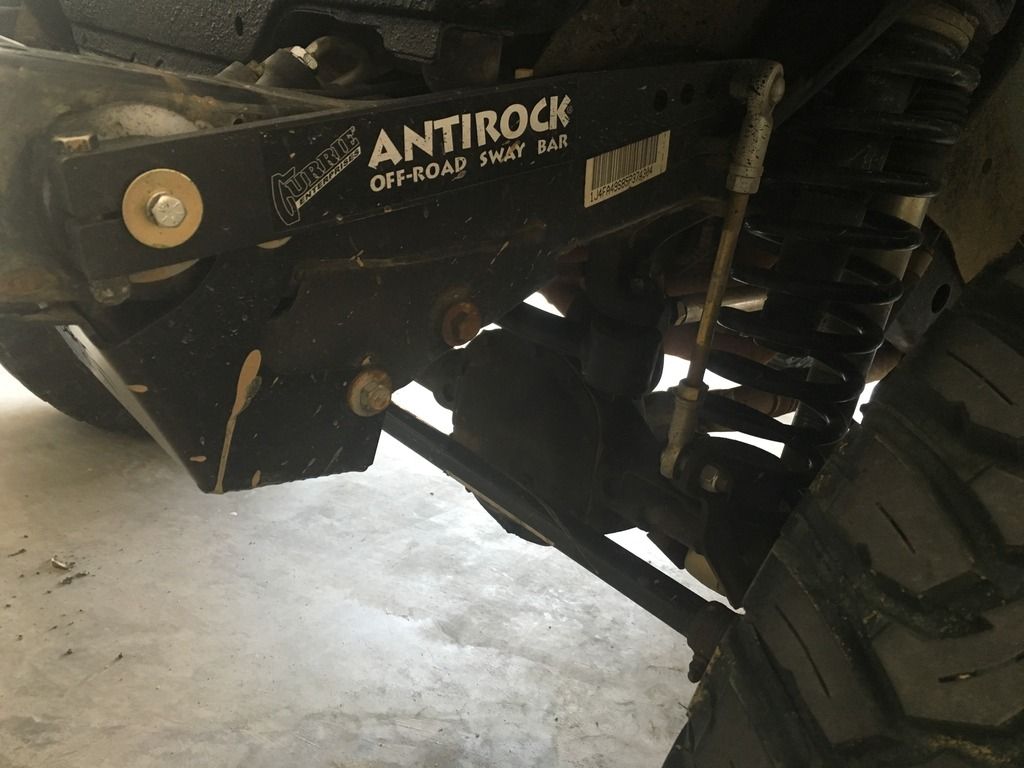 [/IMG]
I plan on doing the rear in the near future but probably at the same time I do a tummy tuck and knock it all out at once.
And you know all the intro upgrades wouldn't be complete without a light bar installation
[IMG]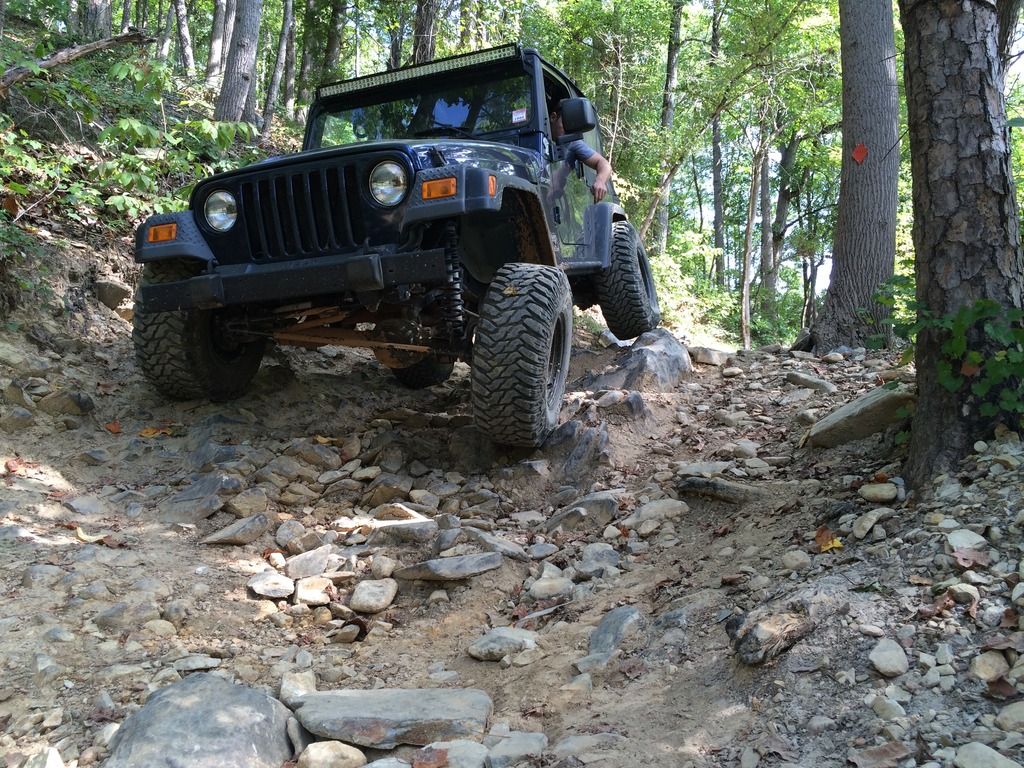 [/IMG]
Even with the minimal parts added to this vehicle was able to make it through all of Daniels out at Uharrie using just my wife as my spotter.
But after that trip i realized I should probably carry so self recovery gear (didn't need it then but could have easily) so soon after installed a hi-lift jack and some storage in the back to have some tools on hand.
[IMG]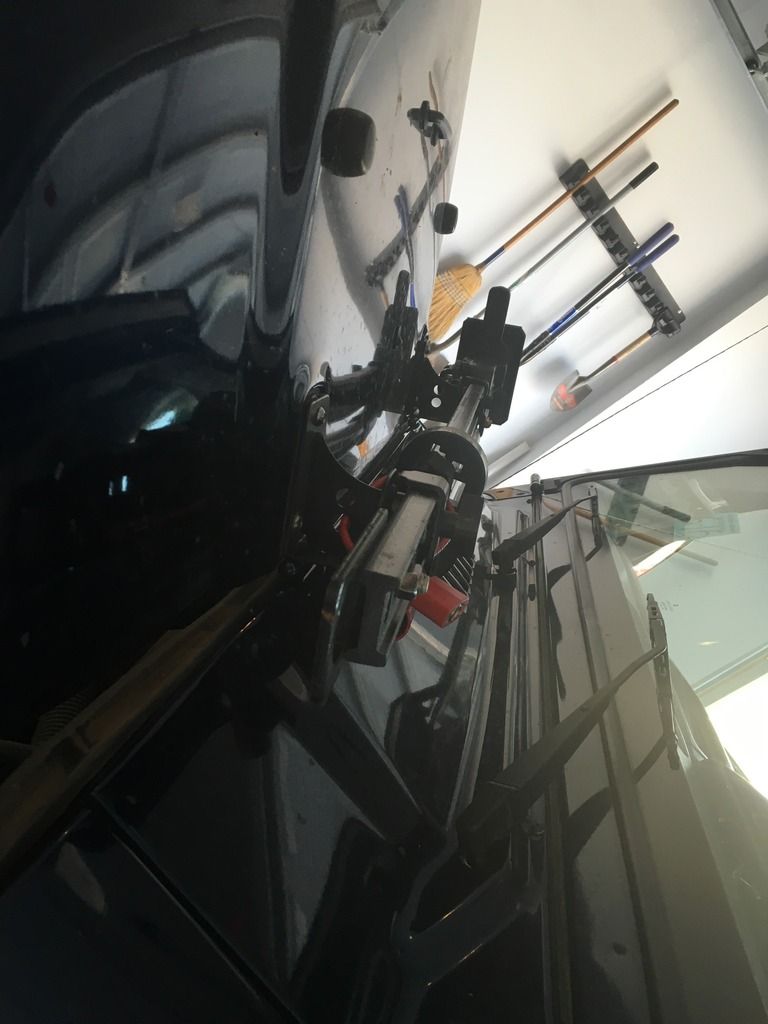 [/IMG]
At this point I was happy at how it was handling but the PO had removed all of the carpet which was fine button the driver side i had worn through the paint so I decided to Monstaline the inside of the tub as well as install round truck lights in the rear with brighter reverse lights
Prep being the most important thing i feel like I did pretty good
[IMG]
[/IMG]
[IMG]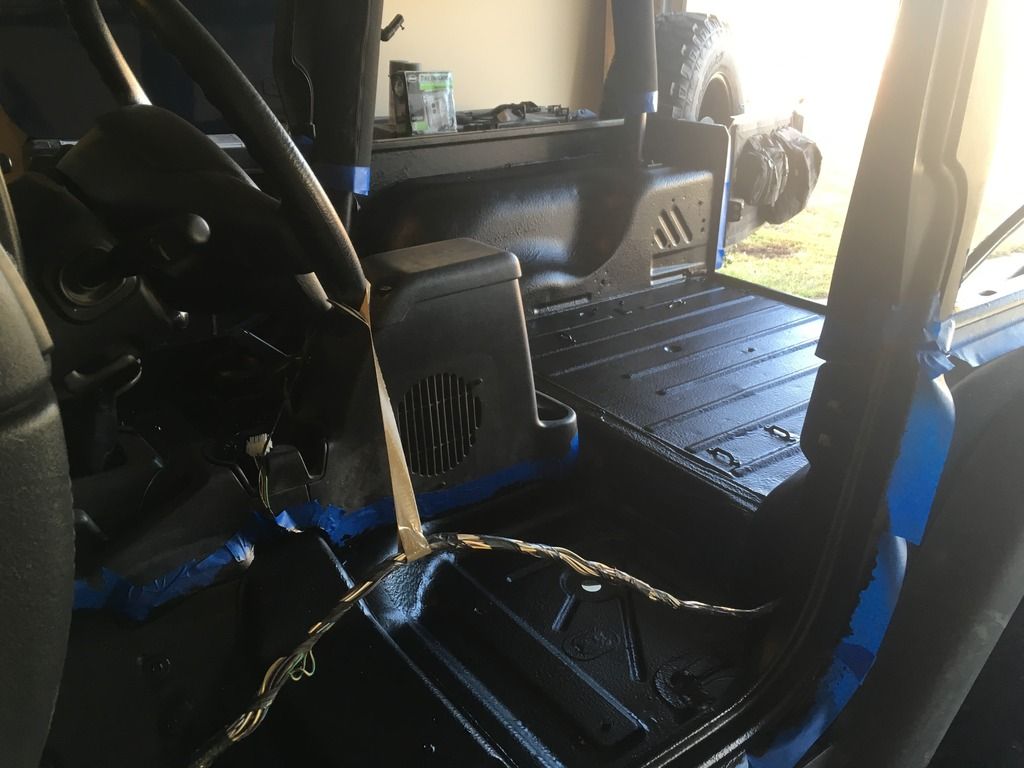 [/IMG]
[IMG]
[/IMG]
Now was time to save money for some bigger and better parts...as well I moved to Colorado so you time was spread pretty thin else where.
Once I got here and set up and started looking for body armor as well as better recovery gear besides the hi-lift.
I settled on a Poison Spyder Comp Stinger which i initially painted black which eventually began to bubble
[IMG]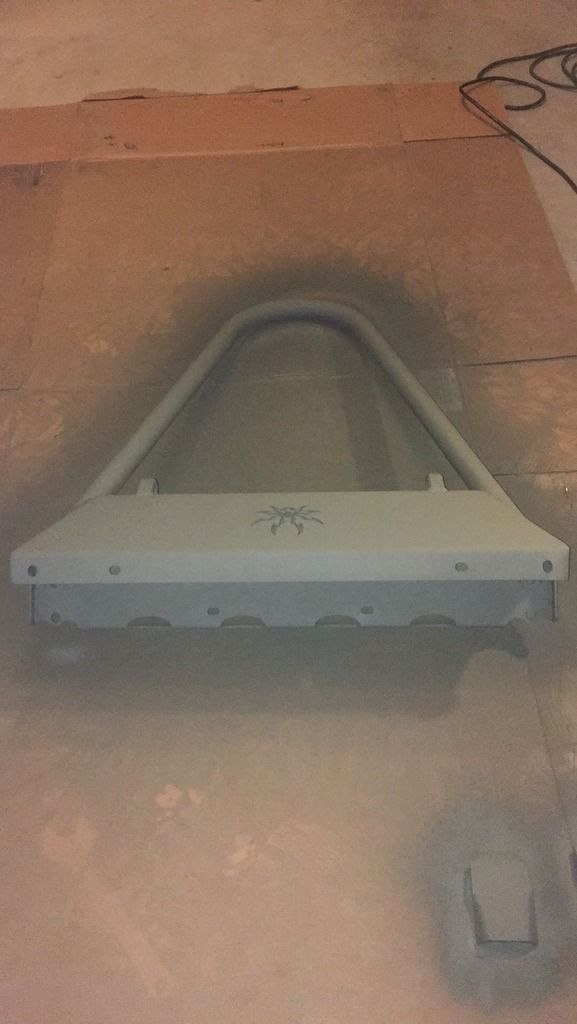 [/IMG]
[IMG]
[/IMG]
[IMG]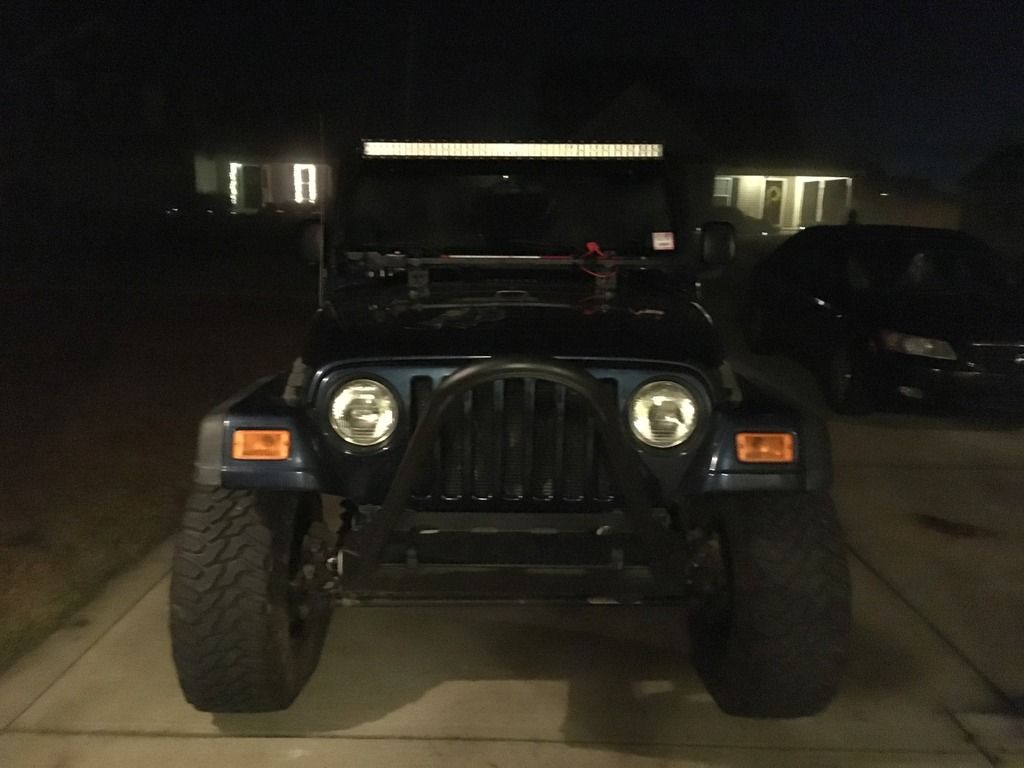 [/IMG]
Now I had the ability to mount a winch I started looking for one and ended up getting a smittybilt 2X0 10,000lb waterproof winch
[IMG]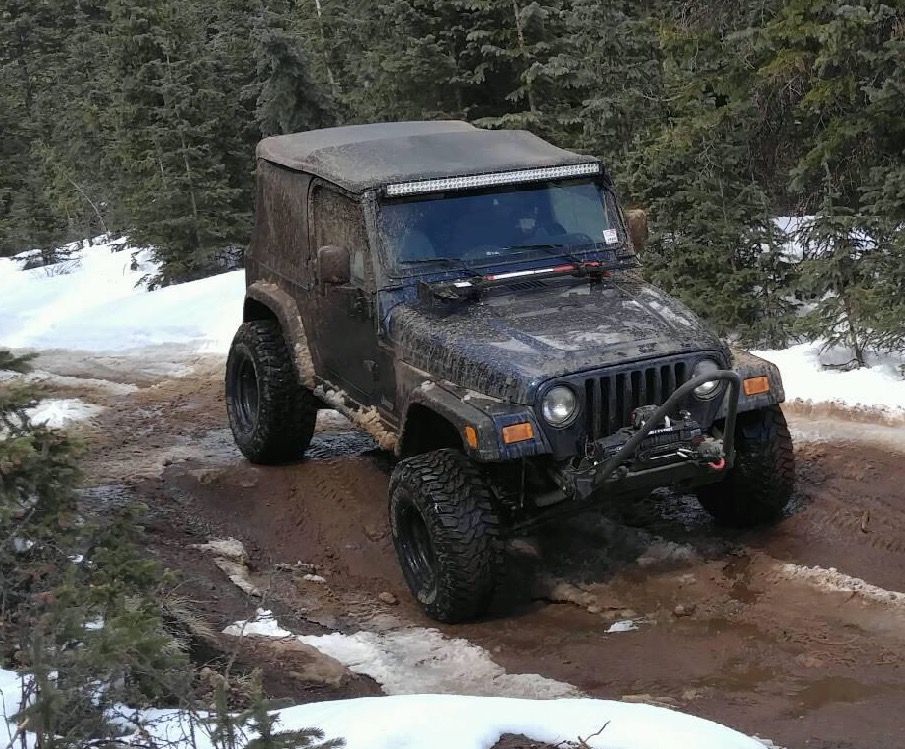 [/IMG]
Now i moved to Colorado in January so the tiny rip in the back didn't bother me it didn't let any snow in but when May came around and it began to rain and i couldn't wash the back window because it would flood the inside with water i decided it was time to get a new top. Would love to have gotten a hard top but can't seem to make myself pay $1200 for a used one so I went with the next best thing a frameless soft top (which I am loving this time of year, especially how easily the rampage top is to change back and forth).
[IMG]
[/IMG]
Now just recently I found a local guy who does powder coating and very reasonable prices so I took off my stinger and sandblasted it and he was able to powder coat it for me
[IMG]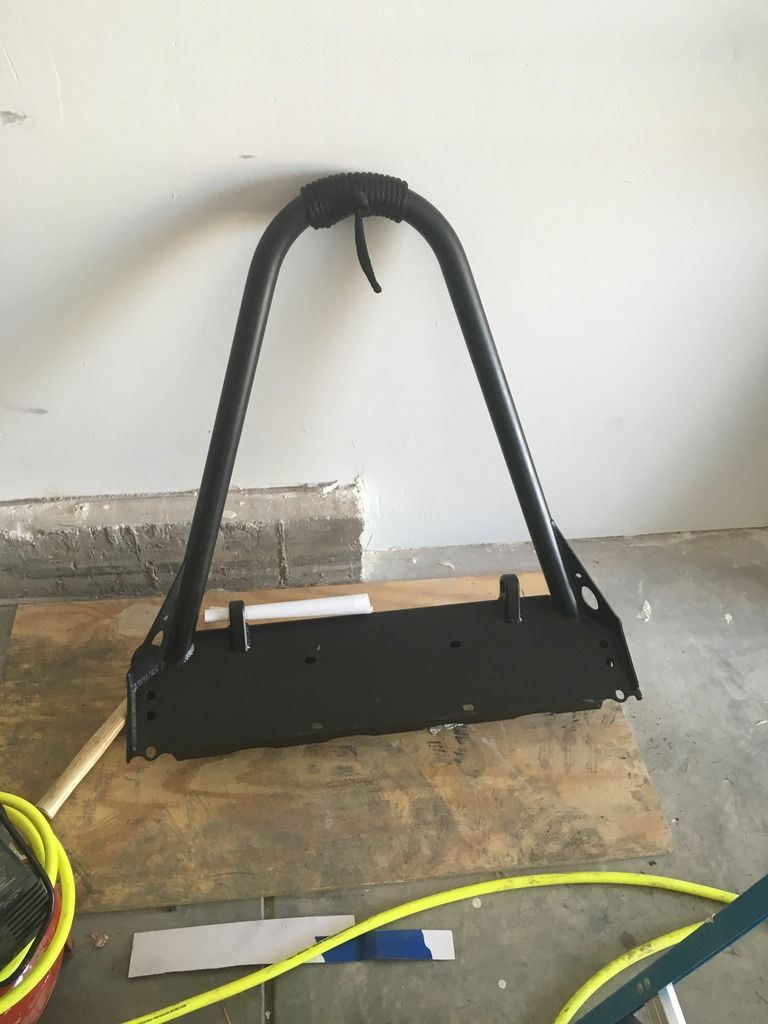 [/IMG]
as well as a new low profile rear bumper that i picked up from Barns 4wd
[IMG]
[/IMG]
[IMG]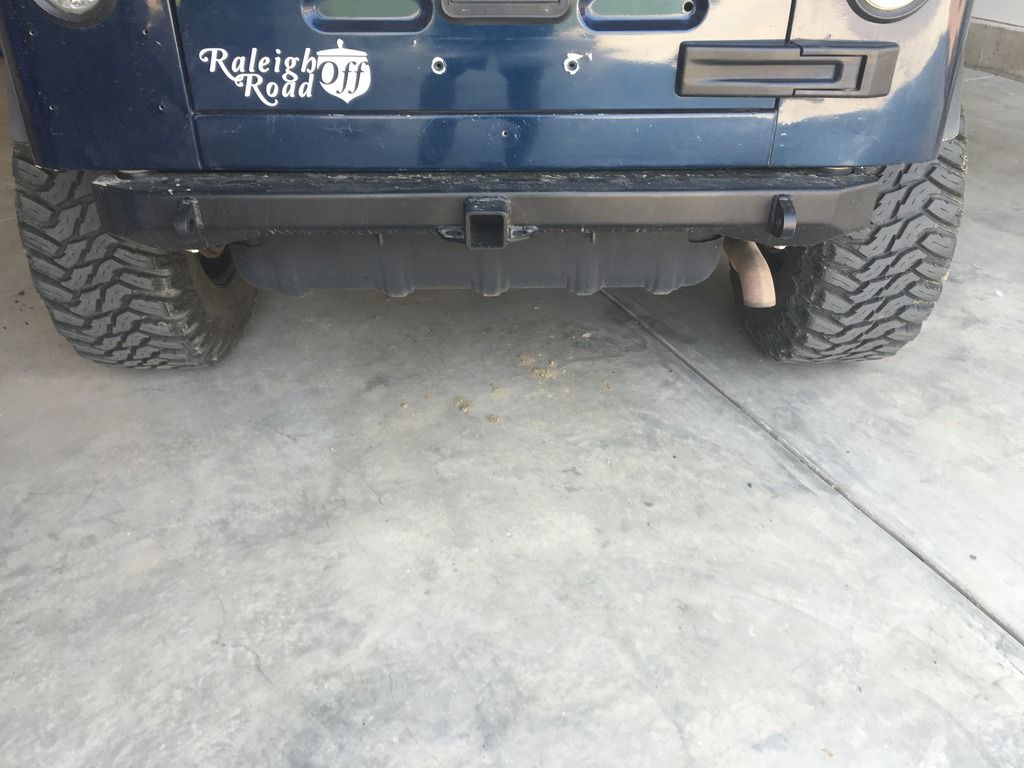 [/IMG]
Which now catches me up to today which I am using the pint of Monstaliner that I had left over from the tub and spraying the front grill. Here in Colorado they love to cover the road in a dirt/rock mix when it snows which I assume to be much better at preventing rust on vehicles but the box shape of the jeep especially in the grill region has just been eating rocks so I decided to beef it up a little bit.
[IMG]
[/IMG]
3 coats later
[IMG]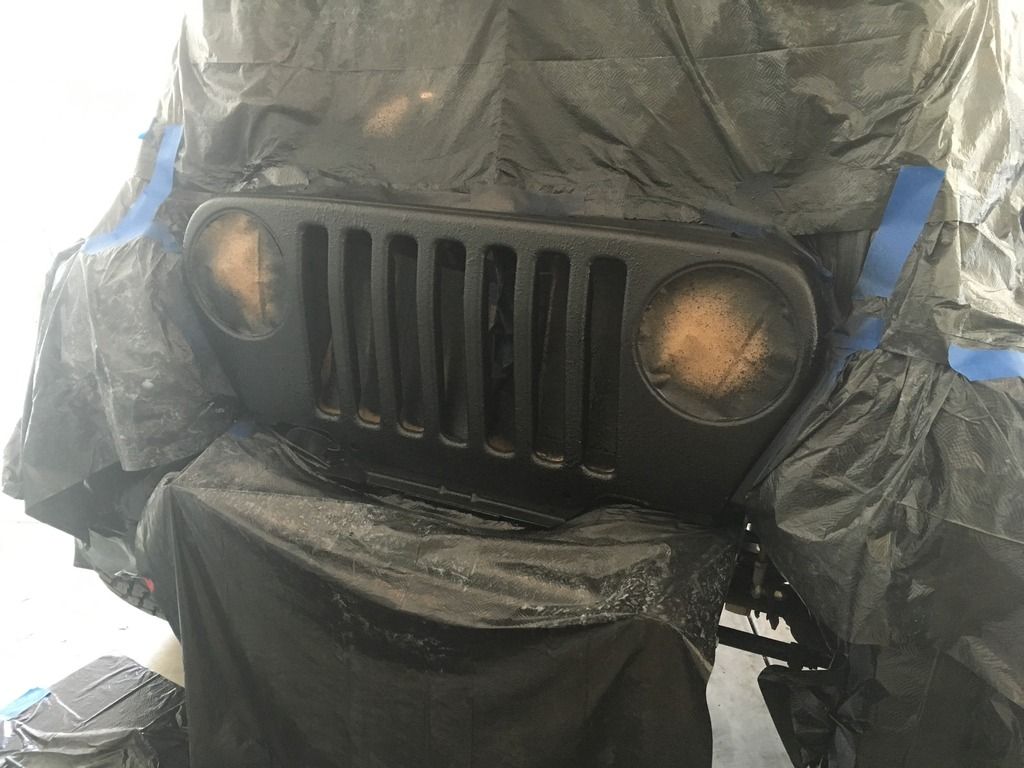 [/IMG]
[IMG]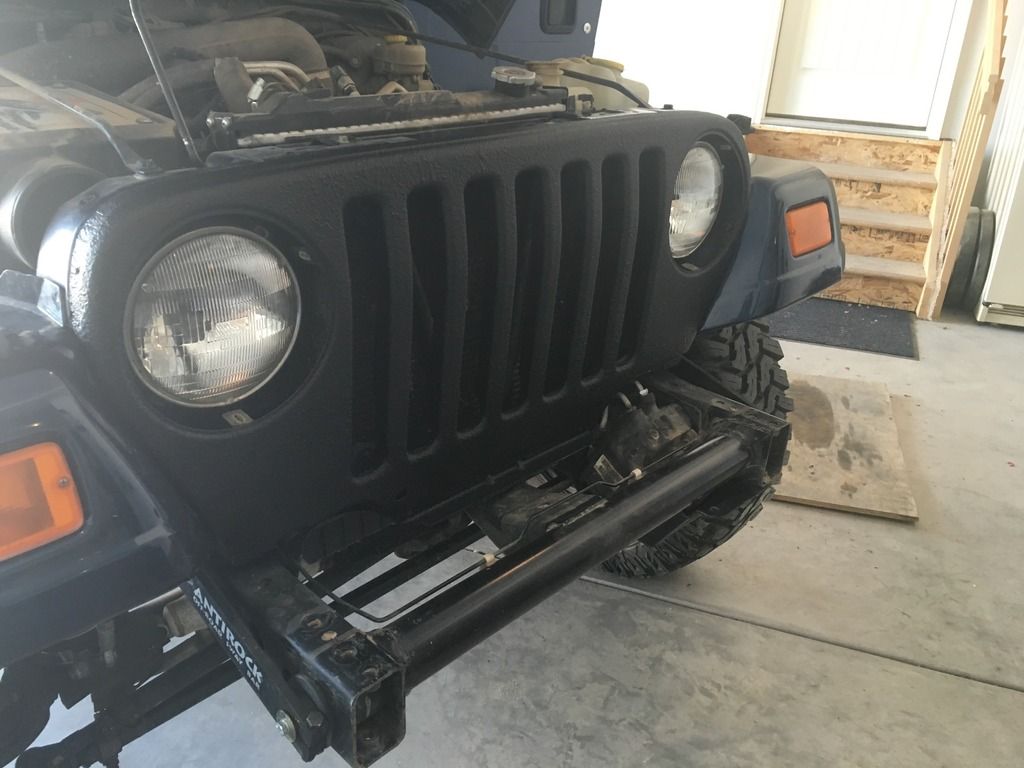 [/IMG]
I will try to keep updating this as I continue to upgrade my jeep.
If you have any questions about anything i have done just let me know
Registered User
Join Date: Jun 2016
Posts: 17
Currently Active Users Viewing This Thread: 1

(0 members and 1 guests)