Alright, these pictures are from this weekend, bit of a time hop. Loosening the idler pulley, found out the idler pulley needs to be replaced, the bearing is shot.
All other pulleys seem to be in good shape. Alternator is a reman and has maybe 10 miles on it right now, fixed it right before the deep sleep. Also need to do something about that temp sensor. Theres an aftermarket gauge in the car because the one on the original cluster broke when I tried to install (wait for it, wait for it) electro-luminescent glow gauges way back when. I now know this is not a good solution and will need to get a new cluster (or find a way to fix the gauge) and put just the original temp sensor back in.
AC system has been evacuated, and here I am starting an AC delete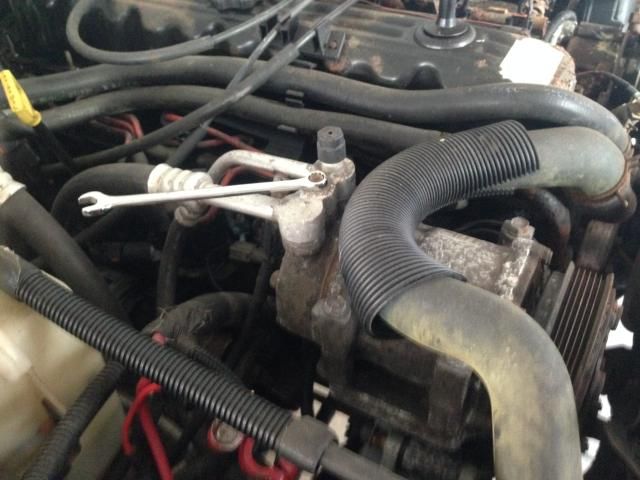 When I was driving back from prom, I got into an accident that punched in the condenser and radiator. I repaired it all myself with a new bumper and radiator but never bothered with the condensor. But now, the bearing on this compressor is making some nasty noises, much like a bad idler pulley, so it needs to go. At some point I might replace all the lines (once I can figure out those damn fittings)
AC compressor out:
Mocking up the AC delete bracket:
But my AC delete bracket never came with the short mounting bolts to attach it to the bracket, and the adaptor sleeves dont fit nicely. Knowing this is a pretty important part to have lined up properly, I've taken measurements of the bracket and will get proper bolts. I will also either cut down the sleeves they give or I will turn my own sleeves on one of the lathes in the machine shop I have access to. Joining our Baja SAE team and learning how to machine parts has really opened a new window in that respect. From subwoofers and auto headlights to self-fabricated Jeep parts, yup college can change people.
A bunch of parts I found in my shed that will fit on the XJ: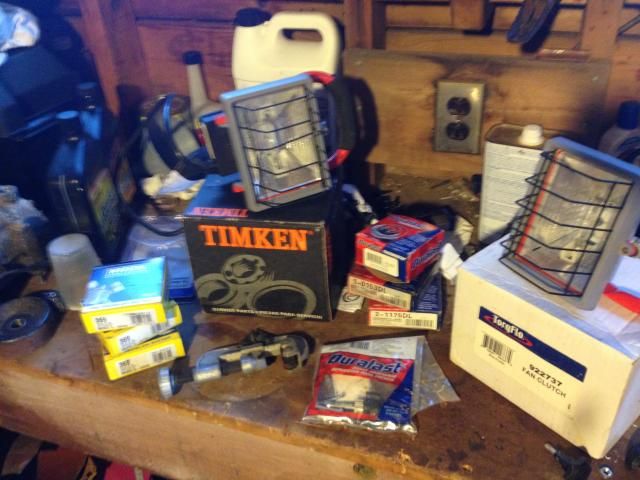 Timken wheel bearing (for the drivers side, passenger side has already been done) Catch, one of the 12-point 13mm bolts on the driver's side has been rounded off by my ingenious buddies back in high school. I am going to probably take an angle grinder to the ear where the threads are and just break the bolt free and tap it out. Torqflo fan clutch (doesn't need it but hey, shiny parts), bunch of u-joints, some brake hardware, and a pipe cutter for... brake lines... more on that later.
Okay, so this is a huge drivability issue...
A couple years ago I decided to just start up the XJ and go for a drive, after it sat for 2 years. Yeah it didn't go over so well. I'm guessing somebody took the wheel off at one point and didn't torque it because a couple minutes into my drive, the wheel started wobbling and whattaya know it fell right off. I could only see two studs. When the tow truck guy arrived, I managed to get the wheel sort of back on, enough to let it roll. And as he loads it up on his flatbed he tells me he smells fuel, and I look underneath and the damn Jeep is dripping fuel from the rear axle area. So I also went looking for that leak today and I think its got to be either the regulator or the plastic line between the regulator and the stainless line, ordering the plastic line to start.
Took the rotor off, found the studs!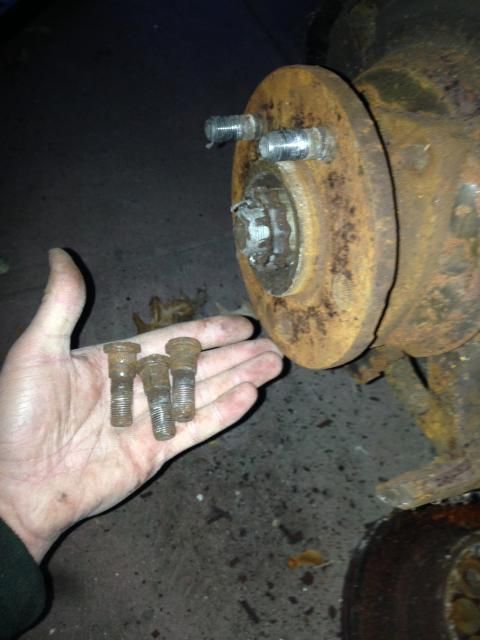 Pressed them back in place so that this could be a rolling chassis again:
These studs were binding up between the hub and the rotor and making it difficult to move. The threads are pretty chewed up and I wouldn't trust them to drive on. No worries, I have that new in box Timken to replace this hub. Will need a full set of lugnuts though.
Then I noticed this rotor isn't too happy: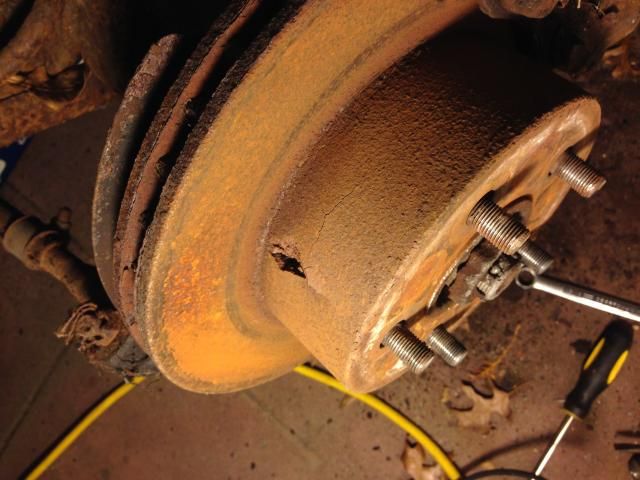 Must have happened either when the wheel fell off or due to one of the studs bouncing around loose under there as we tried to load the Jeep on and off the tow truck. No matter, the rotors are done anyways and I'll be ordering some new centric ones off rockauto among other things.
So. Even though its still stuck at my parents house, the XJ shows hope. I will be returning either in a couple weeks or in January hopefully. My roommate is going to help me tow it out of my parents place to our garage up at school where I can work on it. I hope to have it running and driving by February.