Registered User
Join Date: Oct 2011
Posts: 605
A college kid's '97 Wrangler with 4 angry squirrels.
---
Well everyone I've been on the forum for a few years now and have been a Jeep owner for a little over one.
The Backstory: A couple of years ago shortly after getting my license and a 2000 Honda Accord to drive I decided I really wanted a Jeep. The Honda just didn't do it for me. I tried to convince Mom to get me one but she told me I had a car and that if I wanted a Jeep I had to buy it myself. So I worked my tail off and saved like crazy. In August of 2012 I found a '97 TJ about 45 min from my house. It was in good shape, had 106,000 miles on it with a 5 speed. It also had the splendid 2.5 liter 4 cyl. However I talked the guy down to $3500 and I finally had my Jeep.
About the motor. The 4 cyl has been a love / hate relationship for me. The thing is ridiculously reliable, doesn't burn any oil, and runs like a top. So part of me likes it for that but sometimes I just want more power. Usually on the highway. We'll get back to this later.
Right after I got it: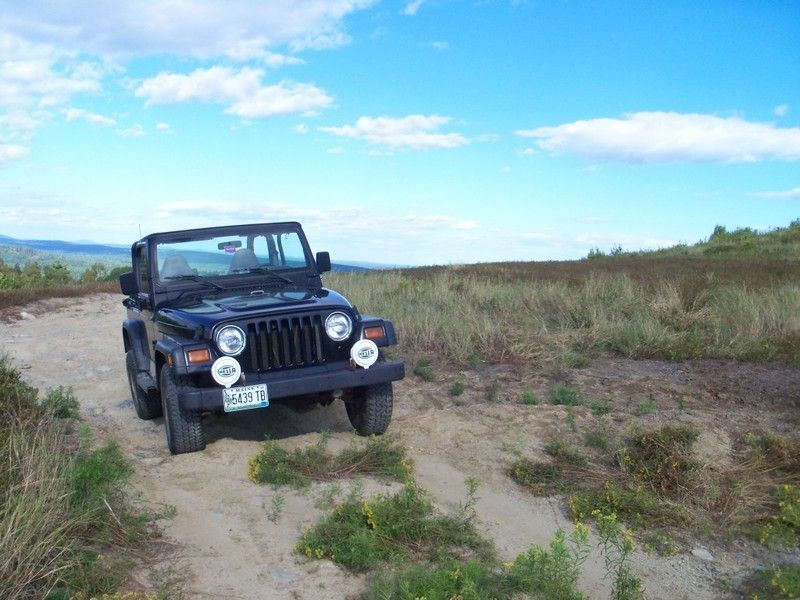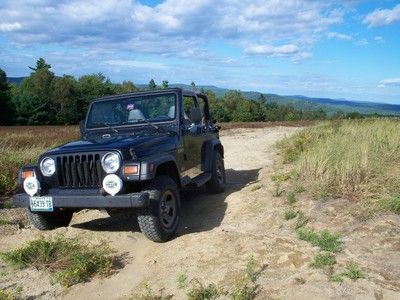 I will post more in the morning to get it up to speed
---
1997 TJ, 2.5 4 cyl, AX-5, Hella 700's

Black Jeep Society, Eagle Scout Jeepers
Alright so as I got to know my jeep I decided that a hardtop would be really nice for the Maine winter. I began looking and I found one at a dealership near my house and ended up buying it for $500. I threw a coat of black spray paint on it to cover up the faded gray and put it on. The rear defrost and wiper are really nice in the winter but I love the soft top in the summer.
Not a good pic but here it the hardtop right after I got it
As time went on and I drove it more I began to realize that the frame wasn't quite as solid as I thought it was initially.
Before winter set in I had a local body man "fix" it. Luckily it didn't cost much because he simply welded a piece on the outside of the frame. However this got me through the winter.
During the winter I loved driving it in the snow. It took some getting used to due to the short wheel base but I loved being able to go through snow like nothing. (Big improvement over the Honda) I even pulled out an F250 with it when he got stuck plowing my driveway.
When summer came around I put the soft top back on and drove the crap out of it. About mid summer I needed to get an inspection sticker and I knew it wouldn't pass with the frame. So I bite the bullet and bought the full center frame section from Auto rust. This was the one that includes the skid plate mounts and the control arm mounts.
The frame before being fixed. It was rather bad.
My boss has an awesome shop with a lift and was gracious enough to let me use it for about 2 weeks. I cut out the old with the plasma cutter and fitted the new pieces. He then welded them up for me. While it was on the rack we noticed that the u joints in the front axle were shot.
He showed me a neat trick to pop the wheel bearings out by putting a socket in between the u joint and the axle housing. Then using the power steering to pop it out. Makes it so much easier. We then changed the joints and put it back together.
Here it is up on the rack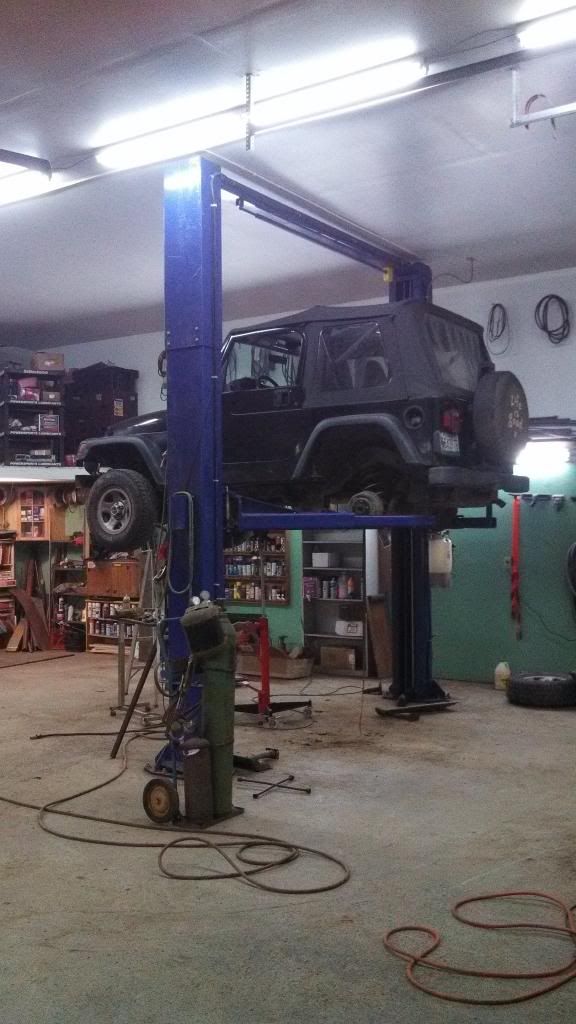 ---
1997 TJ, 2.5 4 cyl, AX-5, Hella 700's

Black Jeep Society, Eagle Scout Jeepers
After I got the frame under control I started doing fun stuff to it. I started by peeling off the stupid chrome rocker things. Then I put the hardtop on for the winter and drove it up to school. Once I was at school I knew it was time for tires. I was planning on getting Duratracs in 31's but Sams club was sold out of them so I got MT/R's with Kevlar from them in 31's.
This is right after I had them put on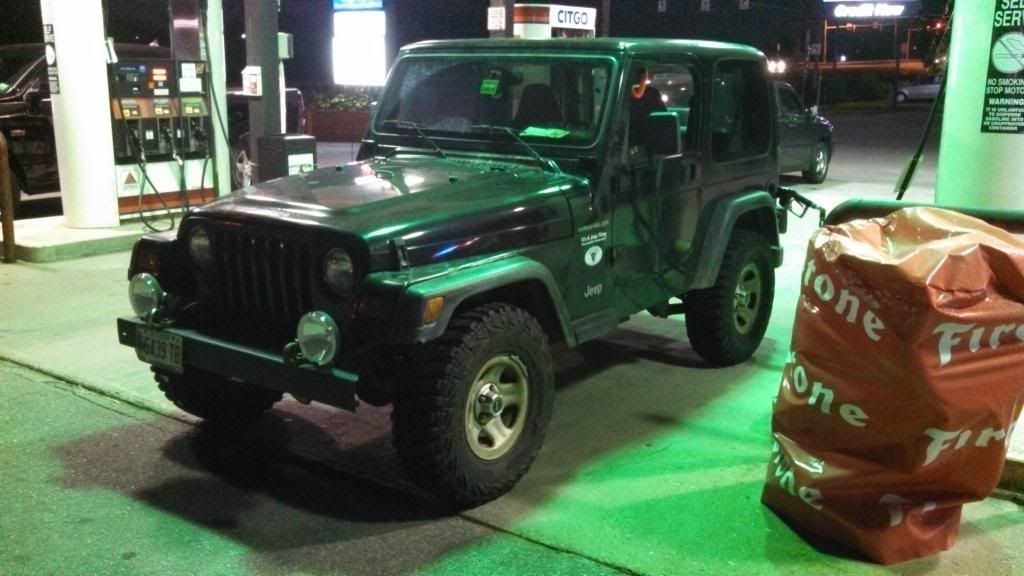 I would strongly recommend Sam's Club to anyone needing tires. They were much cheaper than anywhere else around me
---
1997 TJ, 2.5 4 cyl, AX-5, Hella 700's

Black Jeep Society, Eagle Scout Jeepers
Next I knew I wanted to lift it and since funds were tight and due to their great warranty and some good things I heard from friends I went with a Rough Country 2.5 inch spring lift with the N2.0 shocks. The install went great. I even got all four rear upper shock bolts out. I soaked them with PB blaster. And when I say soaked I mean like, half a can, soaked. I sprayed them every half hour or so for a day. I also made sure to never seize them before I put them back in.
This is the girl flexin after the lift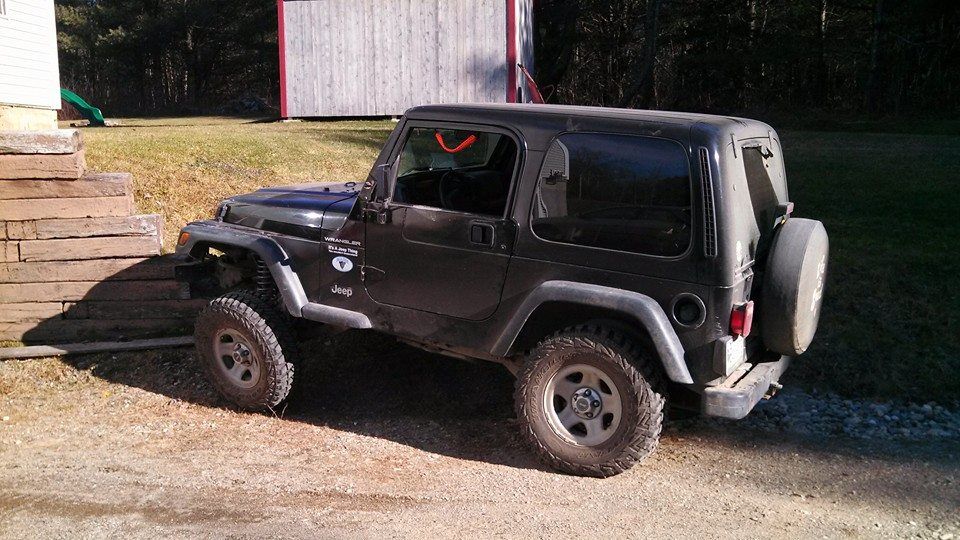 ---
1997 TJ, 2.5 4 cyl, AX-5, Hella 700's

Black Jeep Society, Eagle Scout Jeepers
So just so everyone knows the general direction this thread is headed. I want to put 5.2 in it with either an AX-15 or NV 3500. I will also put an 8.8 in the rear. Beyond that I have a list on excel of things I want to put on it. This may be slow moving since I am on a college student budget. Short term I'm sure I will have some updates around Christmas since my list was all jeep parts haha.
---
1997 TJ, 2.5 4 cyl, AX-5, Hella 700's

Black Jeep Society, Eagle Scout Jeepers
Been driving and enjoying the heck out of my jeep lately, used it a lot during school screwing off on the local logging roads camping and shooting and such. I got a winch for Christmas so that is on her which has made me a lot more daring. As of late I bought an Exploder 8.8 with 4.10's and a limit slip. If anyone reads this thing I'd love some tips on worthwhile upgrades and the best brackets and such to swap it in
---
1997 TJ, 2.5 4 cyl, AX-5, Hella 700's

Black Jeep Society, Eagle Scout Jeepers
Registered User
Join Date: Jul 2014
Location: Knoxville
Posts: 17
Thanks man! Just got back from Mass with it. Took it down for the 4th and it ran awesome. Hummed along at 65-70 with zero issues. I'll post some new pics soon and will hopefully have some updates. Gonna be doing some work to it soon. Also gonna use this thread for my axle build so you will be seeing that
---
1997 TJ, 2.5 4 cyl, AX-5, Hella 700's

Black Jeep Society, Eagle Scout Jeepers
Currently Active Users Viewing This Thread: 1

(0 members and 1 guests)