I started this last year but decided to start over and re-organize. This is an evolving project and your input is appreciated. Look over the pics and let me know if you see any immediate problems with my general direction or thoughts. Also feel free to offer any suggestions on what you might do to make the most of my efforts.
Thanks
Travis
This is my woods and hunting jeep and Saturday with the top off run around town jeep. I do not rock climb and the trails around here are rutty with water and mud and mostly flat (N Florida). I want to build sound trail rig that is road worthy but looks millitaryesque. I may, in the future, engine up but for the time being the 258 will serve me fine I think. The following are the main parts are from a compilation of jeeps and parts left over from the years.
Frame - 1989 YJ frame
Body - 1989 YJ tub and misc CJ-7 front clip parts and CJ-tailgate conversion
Suspension - Rubicon Express extreme YJ 4.5" lift
Motor - 1979 258 IL 6 cyl (the engine, tranny and T-case are all out of the same 79 CJ-7 rust bucket)
Tranny - 1979 T-18a (6.32 low gears)
T-case - 1979 Dana 20 (might consider ditching and installing Dana 300)
Front Axle - 1977 Wagoneer Dana 44 with pass side diff, disc brakes and locking hubs.
Rear Axle - 1988 Wagoneer Dana 44 Axle with center pinion with drum brakes.
33" tires
HISTORY
I bought this YJ back in 1994. It ran but needed some repairs. I put a SYE on the NP231 and installed a 4.5" RE extreme lift. I drove it for about two years. It took a back seat to other things for about the last 9 years. I like the YJ frame as it is beefier and wider than a Cj-7. It has a solid frame and tub but other than that there is nothing about this jeep that interested me. I pulled the drive train and am getting rid of everything other than the NP231 that already has the SYE installed and Double CJ drive shaft. Both are in great condition and could be used for a Cherokee/Comanche build.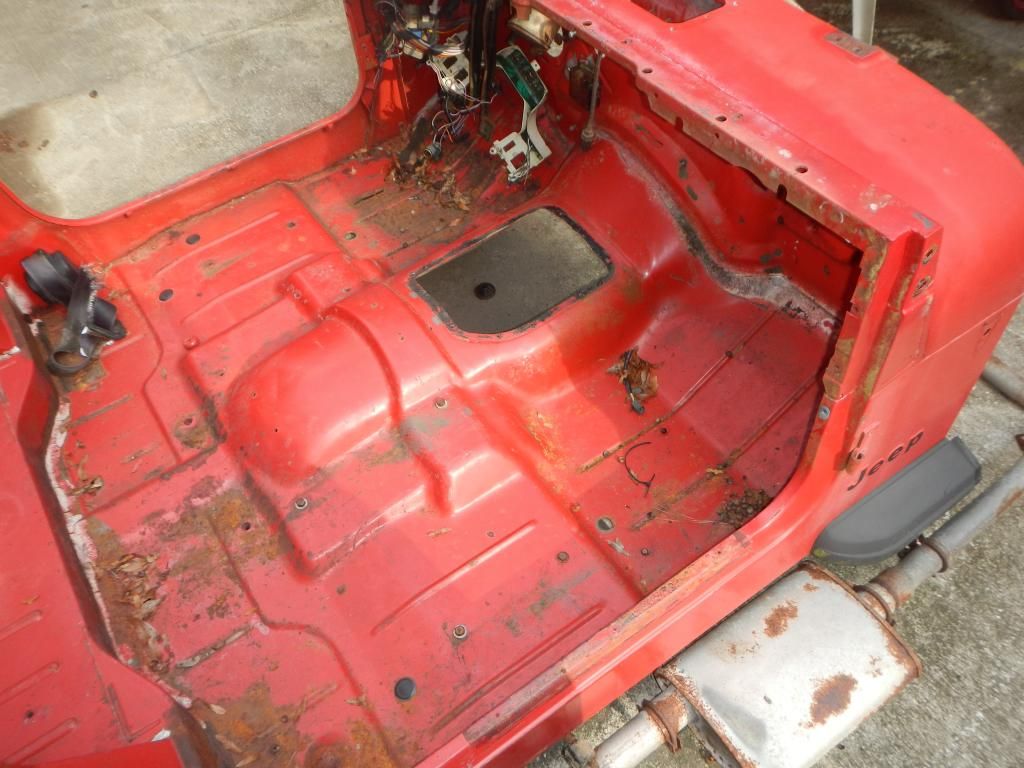 My T-18a and Dana 20 out of a 1979 CJ-7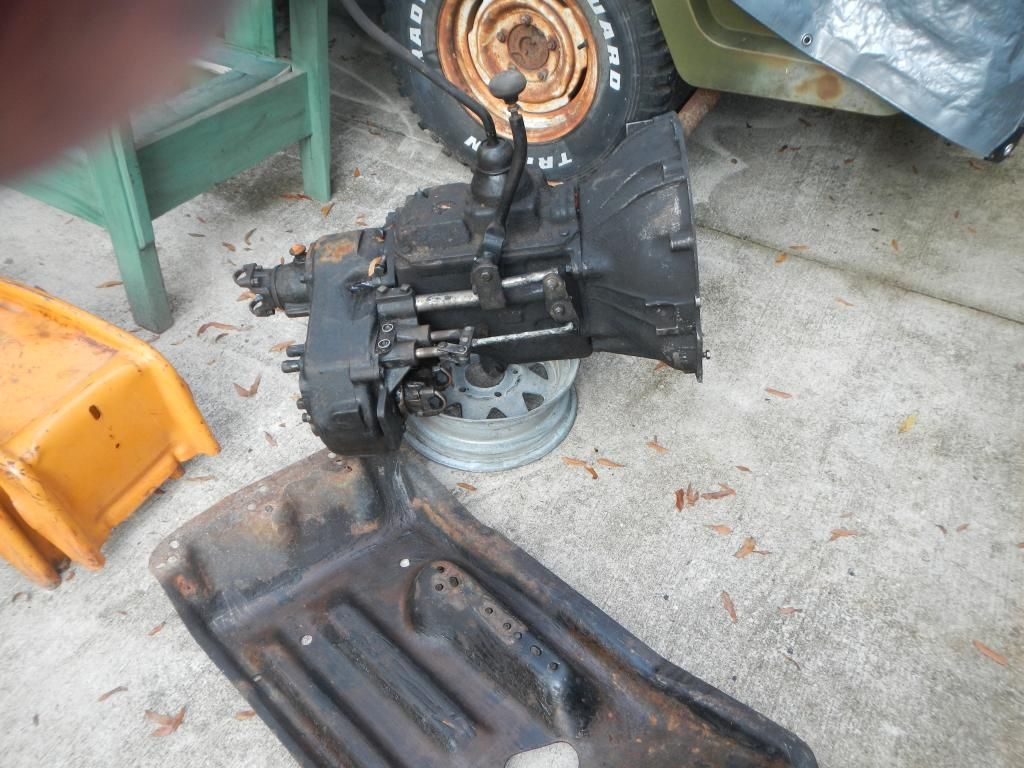 Just seeing what the T-18 A and Dana 20 look like.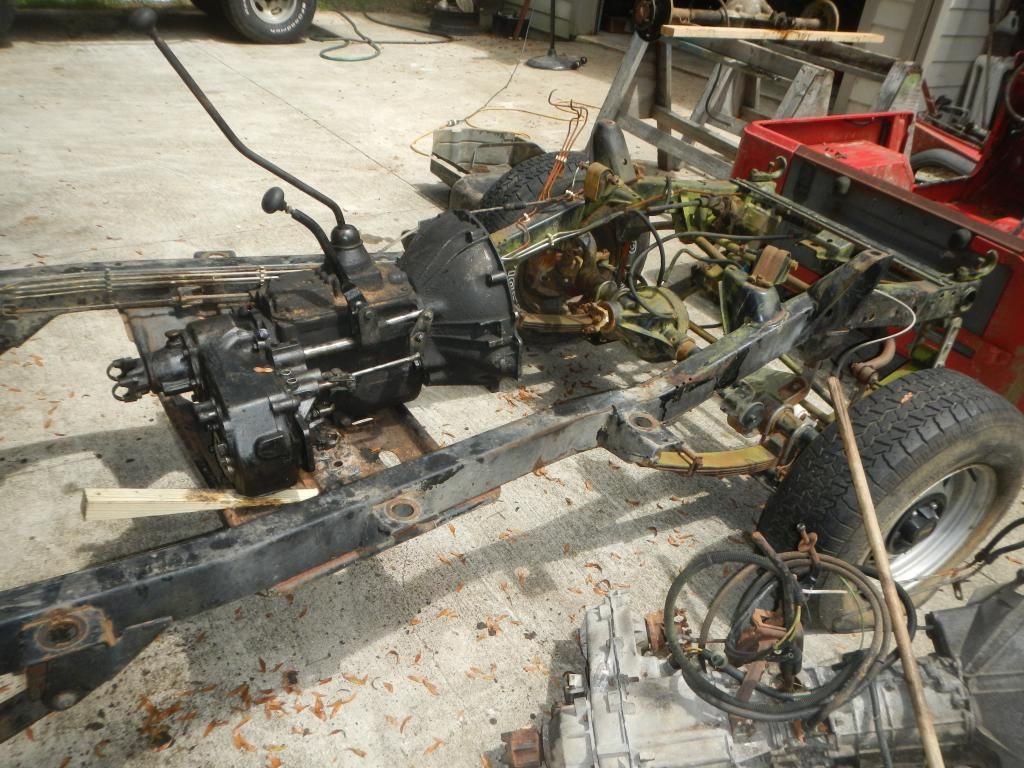 Axles and wheels in the frame.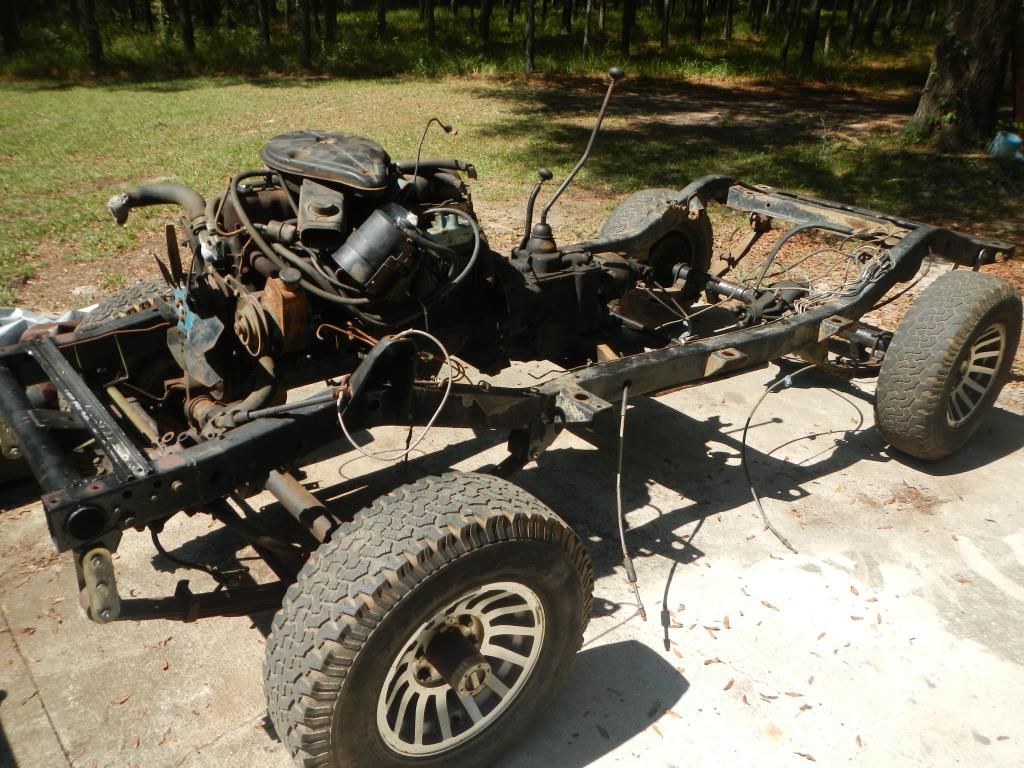 AXLE SWAP TECH
Original axles:
Rear- Dana 35 with 61" between WMS's and 40 3/8" center of spring perch to spring perch.
Front - Dana 30 with 60 1/2" between WMS's and 30 3/4" center of spring perch to spring perch.
Swapped axles:
Rear - Dana 44 with 58 1/2" between WMS's. This swap is easy. The Dana 44 spring perches can be relocated. Once I have the engine/tranny/T-case lightly installed I will check pinion angles and weld spring perches and new shock mounts in. if WMS distance needs to be wider I can use wheel spacers.
How much of a difference will this make?
Front - Dana 44 with 61" between WMS's and 31 1/2" center of spring perch to spring perch. Ok here is where the engineering and your help comes in. Unlike the driverís side Dana 44 that come out of later year Grand Wagoneers that have some diff area that you can grind on to compensate for the 1" difference between the wagoner" and YJ's respective spring perch dimensions, my axle (passenger side diff) has nowhere to grind (see pic. To move the u-bolt inward the needed 1/2 " puts it into the diff cover bolts.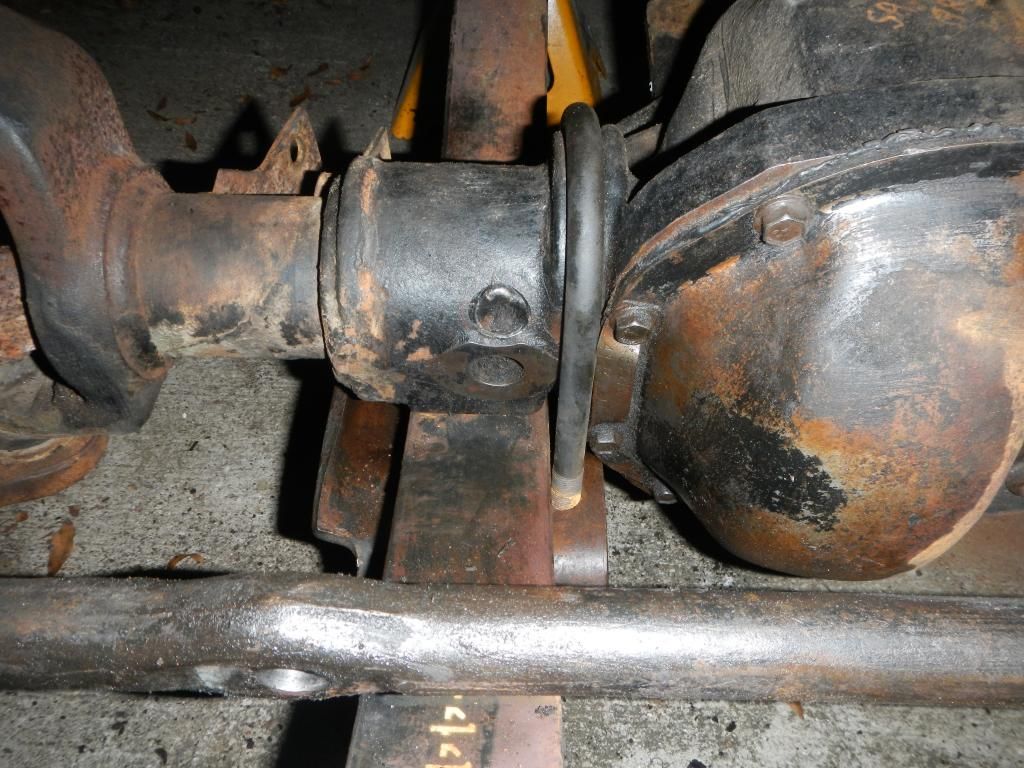 I am most likely going to cut and turn this axle due to lift and location of the T-case relative to the diff. In looking over the relative geometries of the 1977 waggy D44 that I am using compared to a 1988 waggy D44 front axle that I also have. It looked like the 1988 long side inner axle was actually shorter than the 1977 long side inner axle. So I pulled both long side inner axles and found the 1988 inner axle to actually be 1" shorter than the 1977. The 1977 is in rear and the 1988 is in front.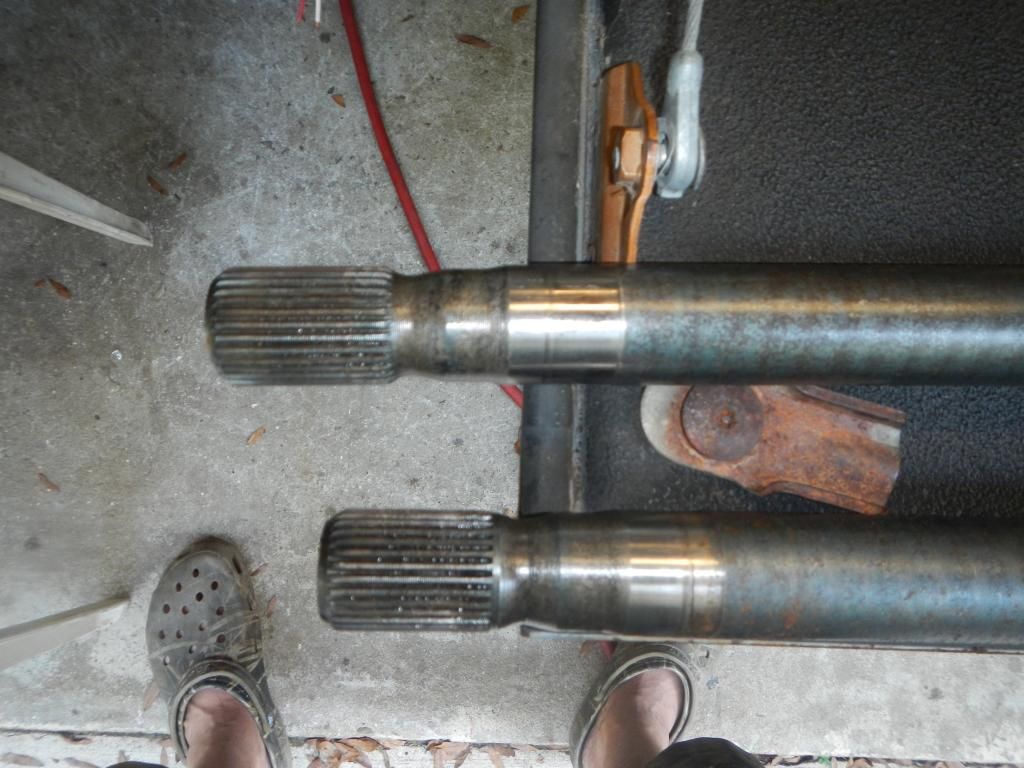 Outer axles look to be the same
So here is what I am thinking. I leave the passenger side of the 1977 axle mounted where it wants to be as shown in the picture above (this makes the pass side wheel mounting surface at about the same as the original axle)and then move the driver's side spring perch inward 1" and cut 1" off the driver's side tube (I am already planning on cutting and turning anyway)and rebuild the 1977 D44 using the 1" shorter long side inner shaft from the 1988 axle. This gives me 60" WMS and the spring perches are right where they need to be and the axle is centered in the frame. Plus I should be able to stay with stock parts.
I installed the motor/tranny/Tcase in to just see what was what.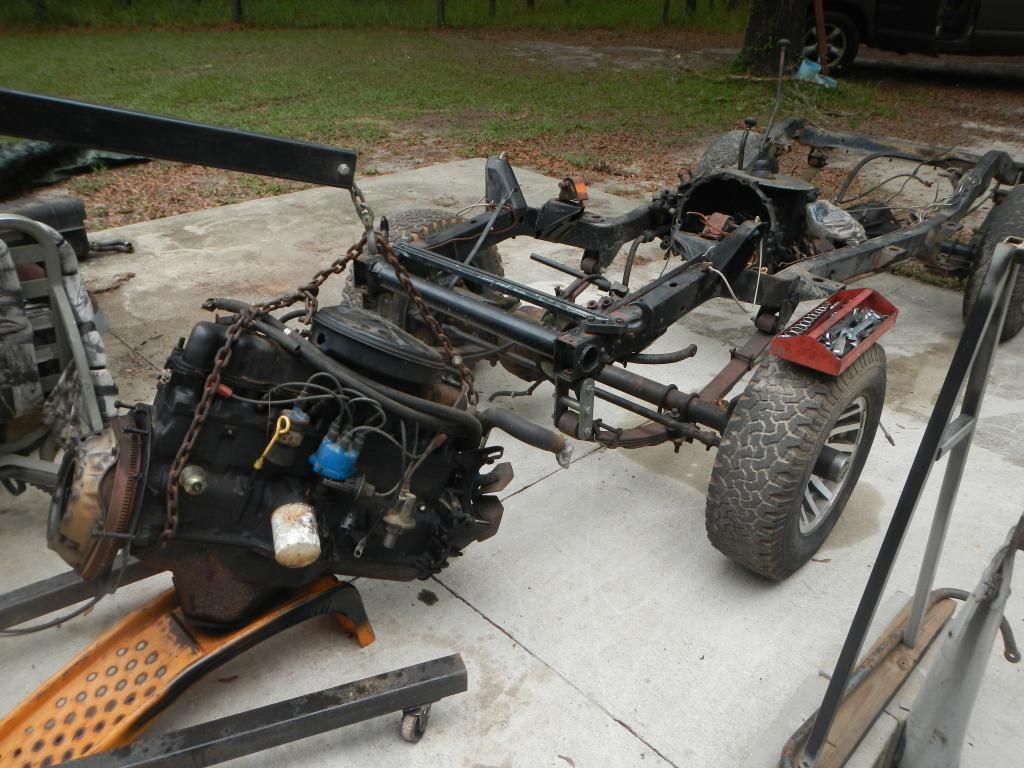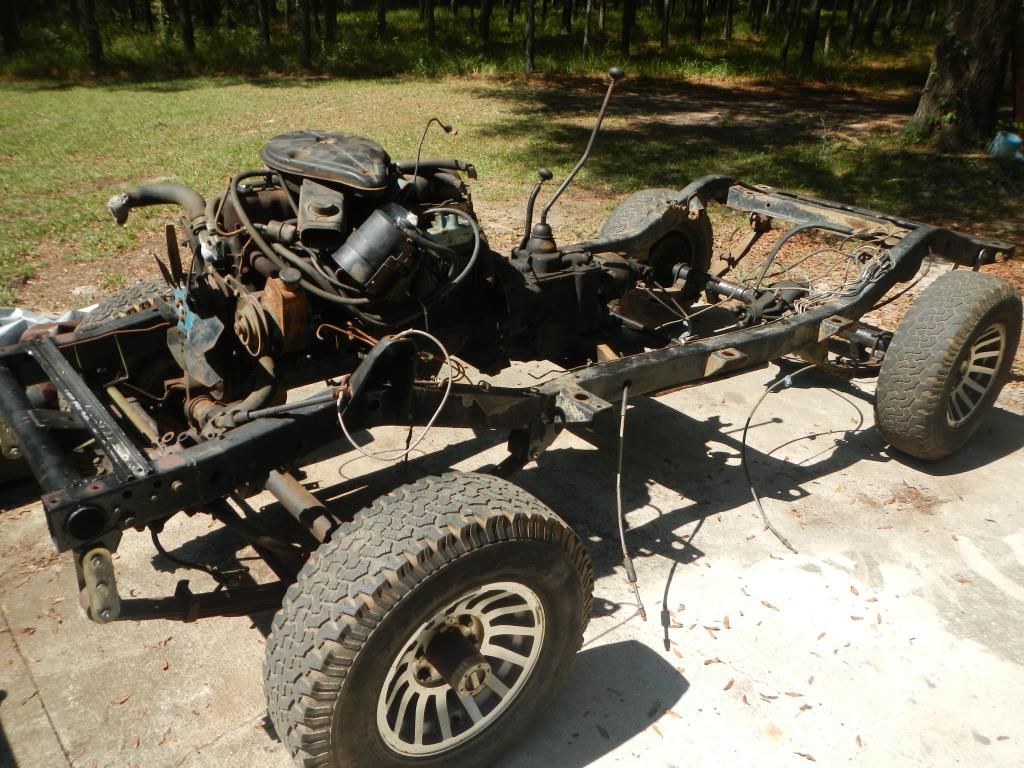 Front axle and t-case output line up nicely and drive shaft does not look tro have any problems with skid-plate interference
Rear output centered up real nicely
Frame mods if any are next so feel free to tell me what you would do.