Registered User
Join Date: Mar 2013
Location: Doylestown
Posts: 58
A cherokee reborn
---
Well this is the build of my 2000 xj. My dad bought it new in 1999, and drove it daily til' 2009ish. After that it sat in the driveway and we would take it for a cruise occasionally to make sure it was running.
Fast forward to 2013, we decided it was time for her to go, in hopes of purchasing a cj or tj. The problem was that all the potential buyers were scared off when we told them it had 310,000 miles on it. So rather than selling it for pennies my dad gave me the keys. Since I already have a dd (04' STI
), a trail rig is in order.
Here it is before I started working on it: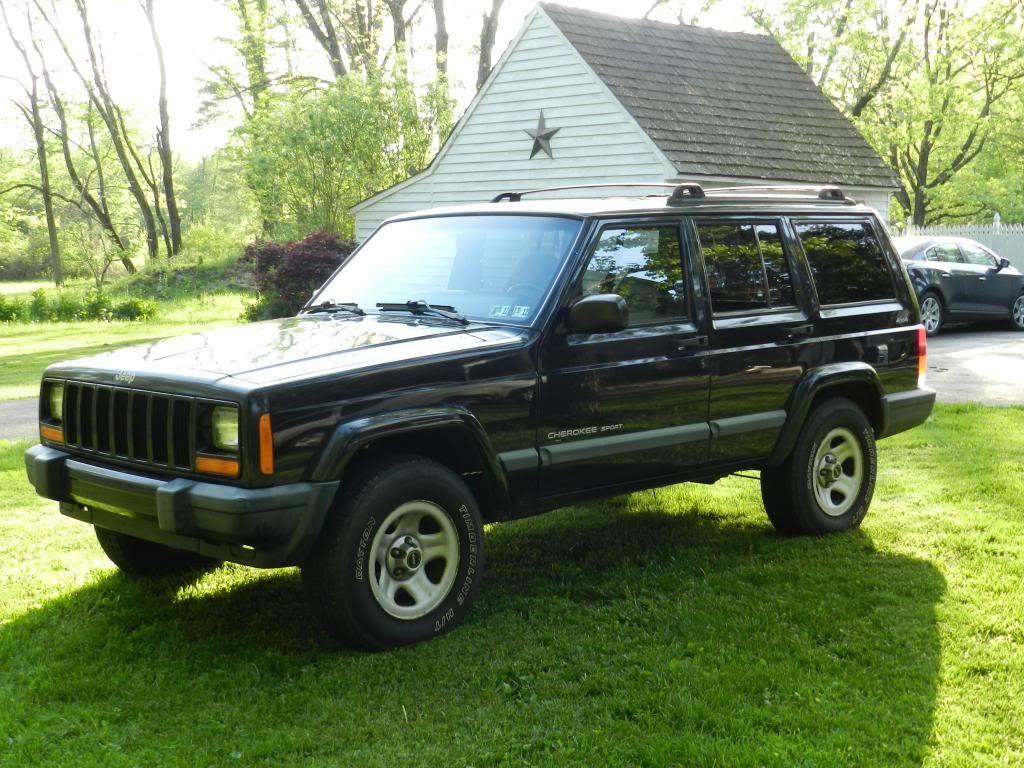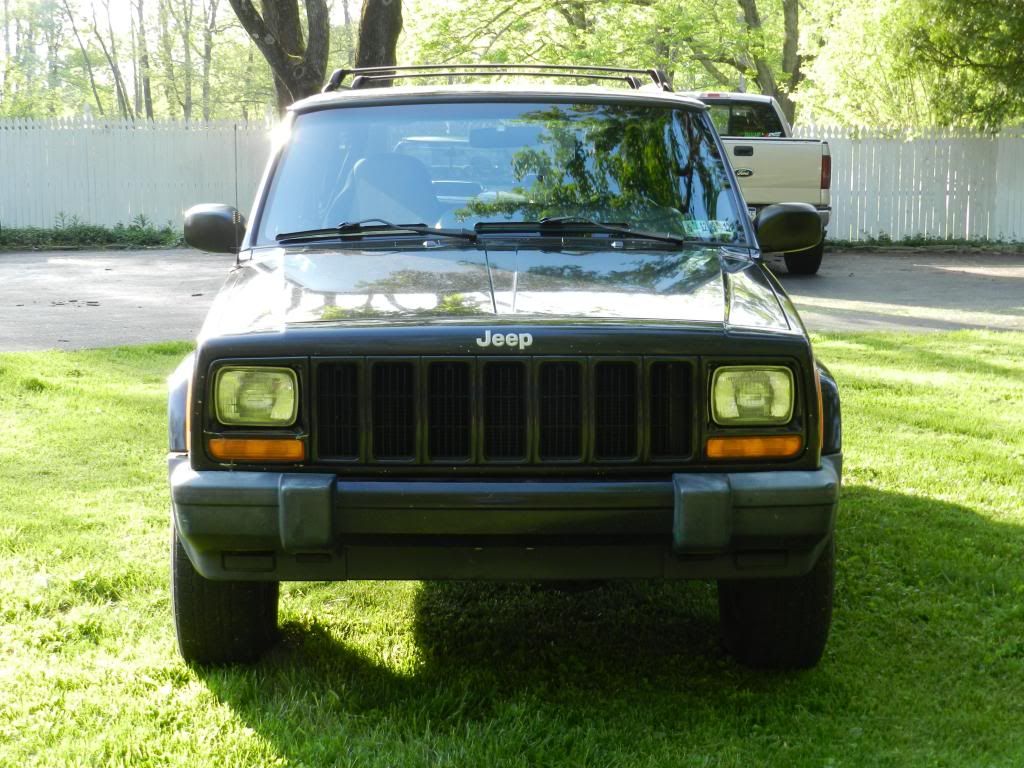 Here's the plan:
-Dana 44's (Waggy front, scout rear)
-Dana 300 t-case
-"Frame" reinforcement
-4.5-6.5" of lift
-36's, maybe 37's
-Hydro assist
-Hybrid cage (once I get a bender)
-Maybe a chop top if i'm feeling froggy
Got her in the shop and started dismantling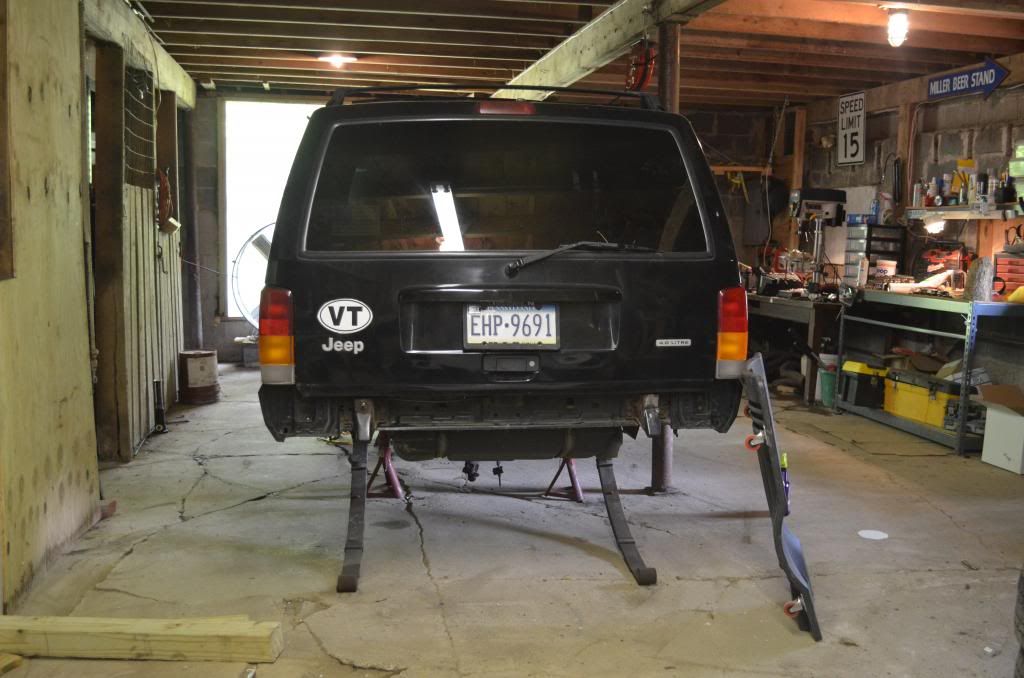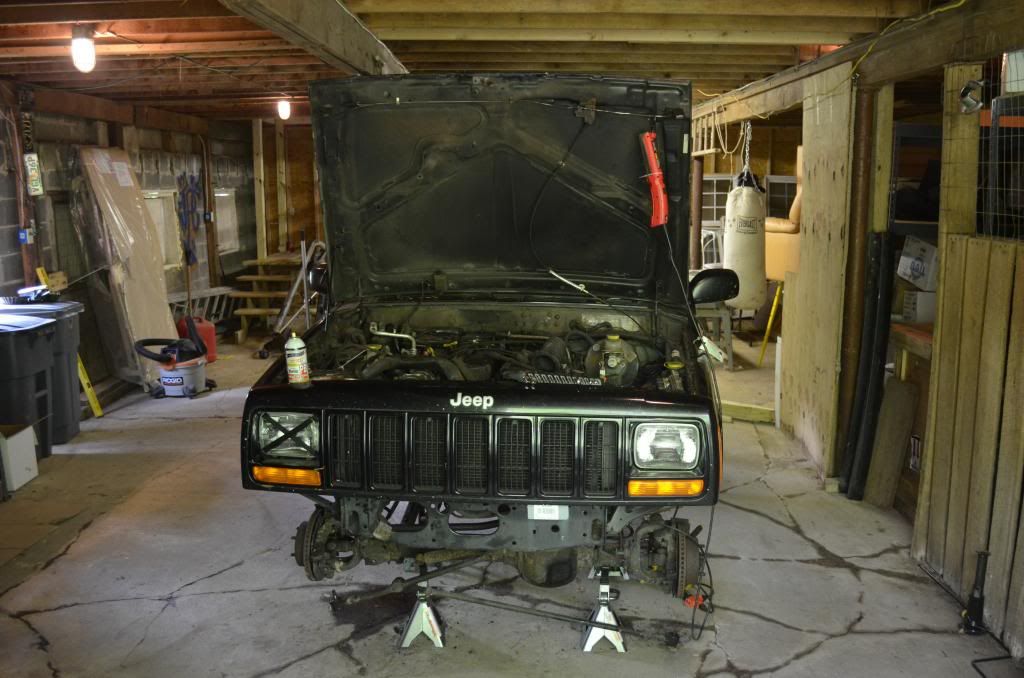 While I wait for my axles I started cutting up my fenders. The plan is to keep the COG lowish and still clear 36's. The jeep had a date with the cutting wheel.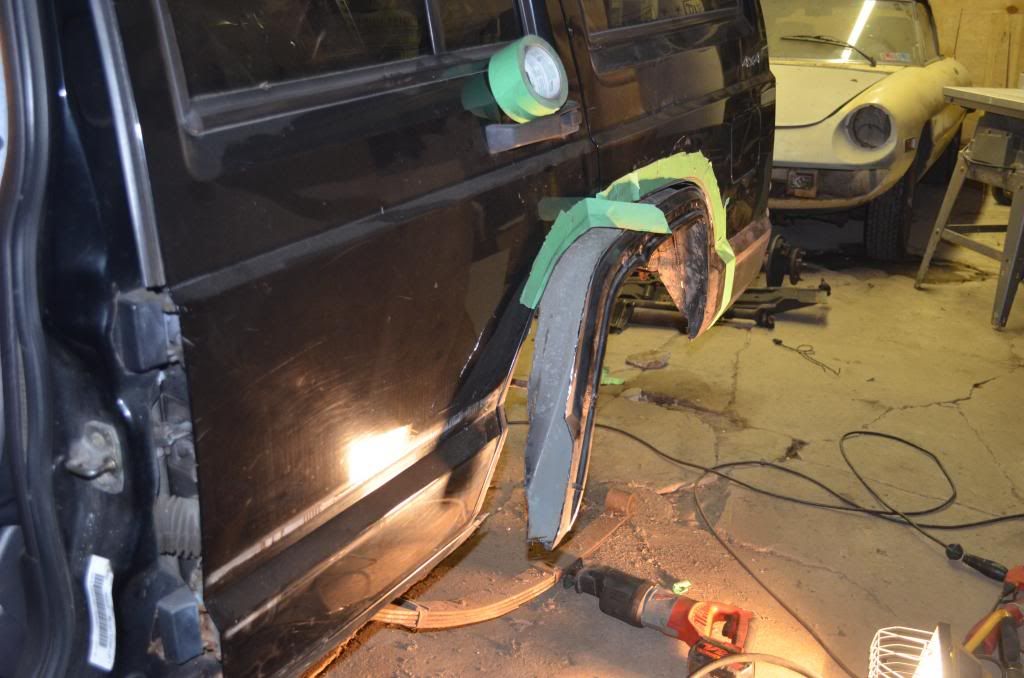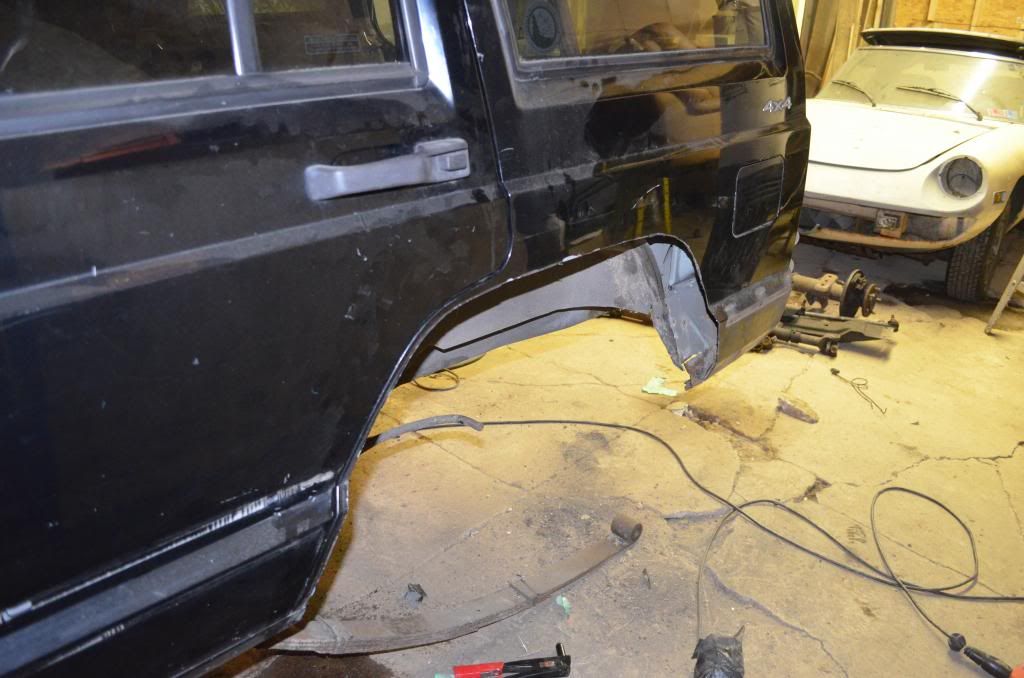 Tacked in a piece of 18g sheet and started grinding it down.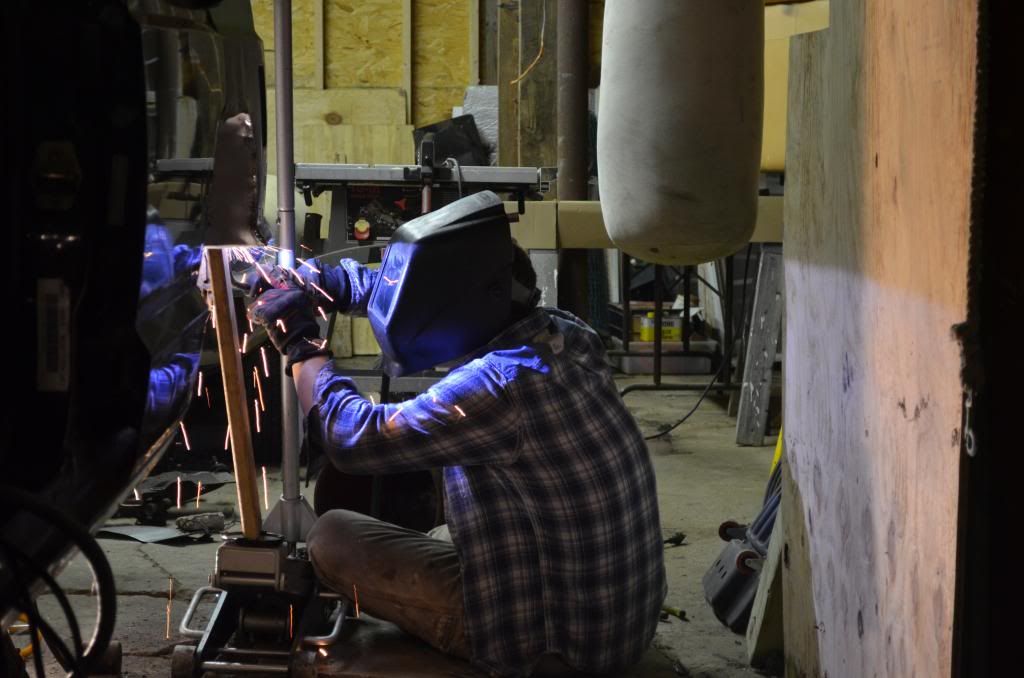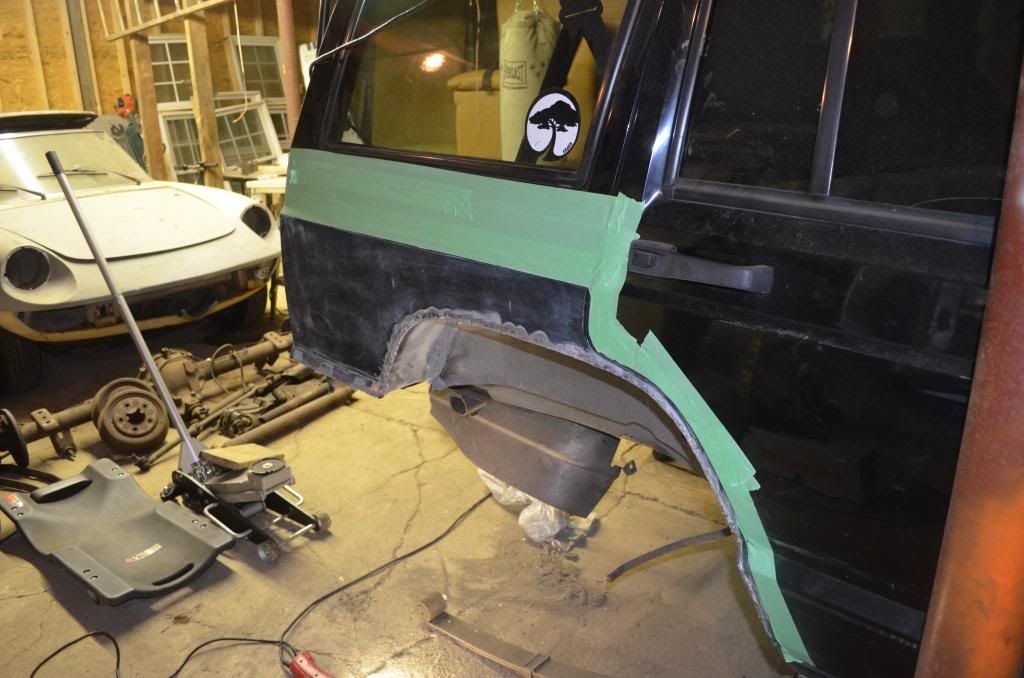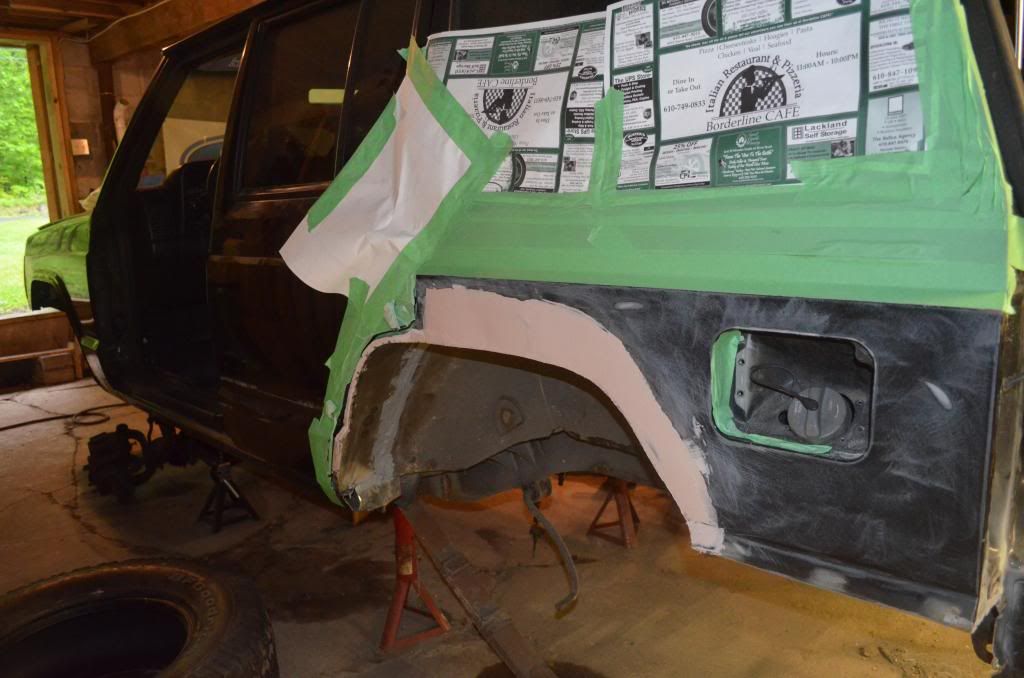 Some seam sealer and a little mud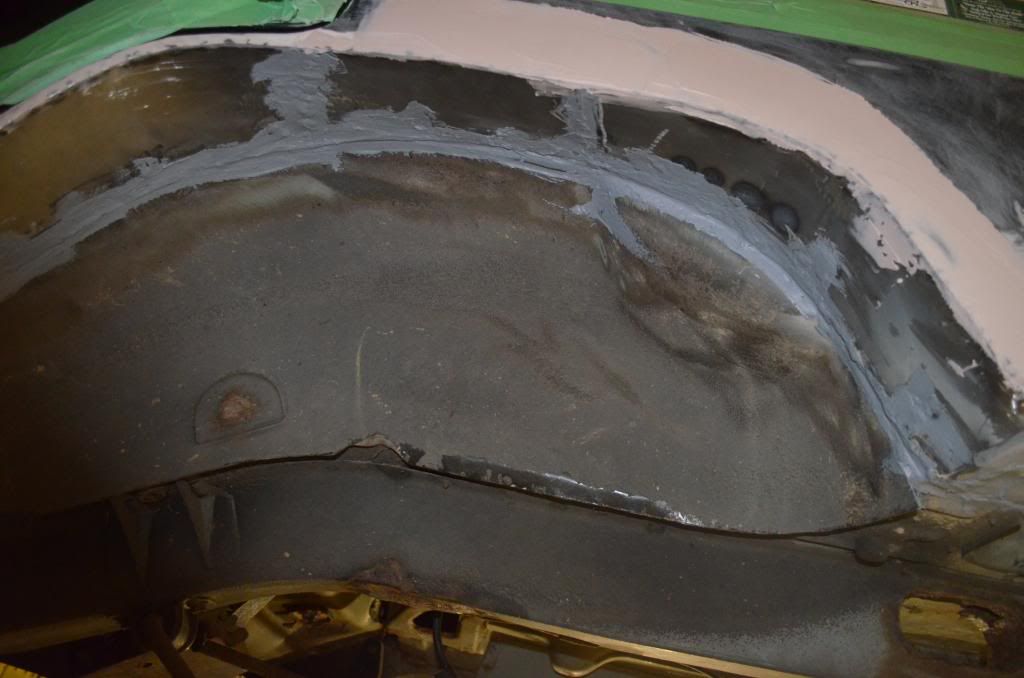 Primed and undercoated
Bed lined (the bottom part will be finished later, there is a support beam keeping the door closed)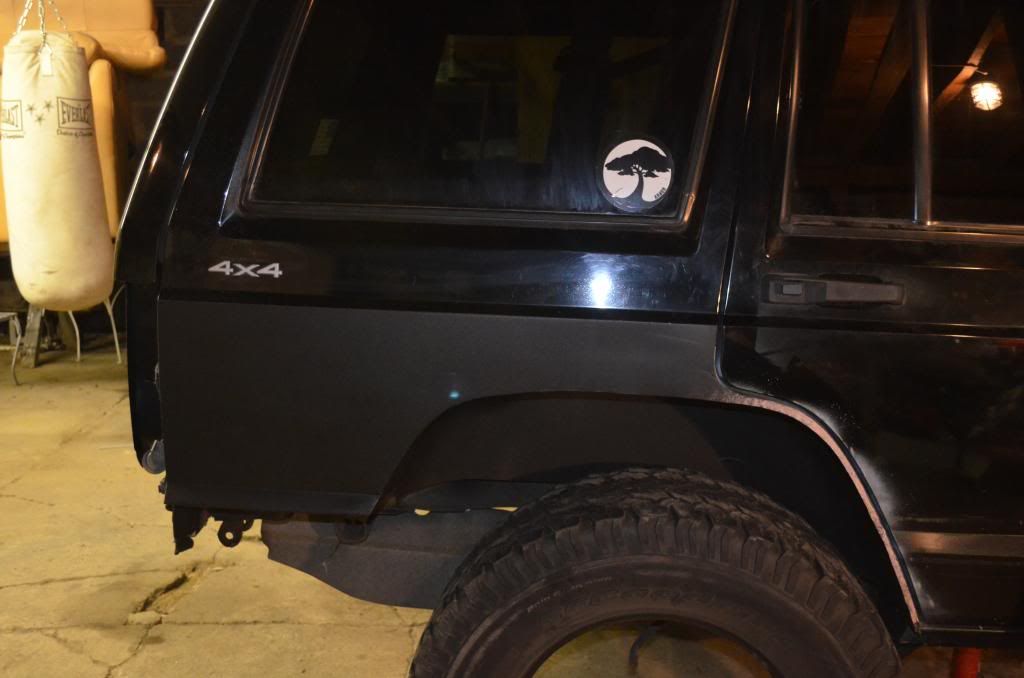 Pulled my interior as I continue to wait for my 44's
Finally got these bad boys!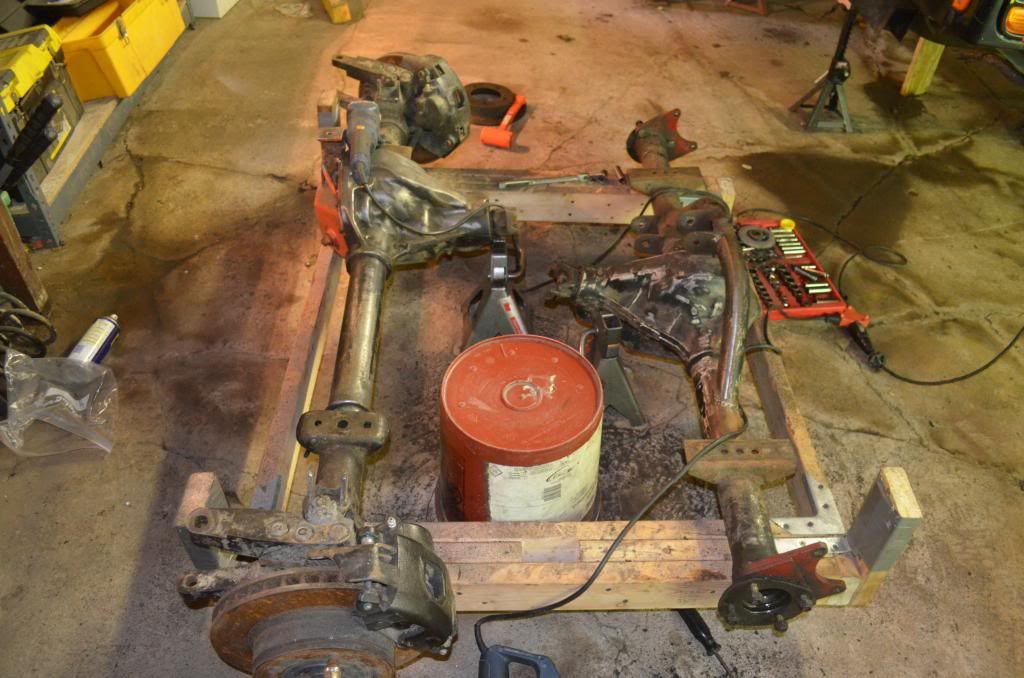 Well this is where I am as of now, and I will keep you guys updated as I continue to plug away. Peace
Registered User
Join Date: Jul 2010
Location: Burlington
Posts: 935
Awesome! Looks great Jake! Cant wait to see it move forward and make it to VT for some wheeling! The axles cleaned up nice! I cant believe how good of shape the body is in! There isnt even rust on the rear leafs! Are you going to reuse those making a hybrid pack or are you gonna get some lift springs? Pretty awesome garage you got there too.
When you planning on trying to have it done?
These are the XJ springs I used in the back of my cj. They are pretty soft and work awesome so far!
http://www.ebay.com/itm/Pro-Comp-531...item4d099450af
Im using those along with 1.5" Rubicon Express SOA springs in the front just so you have an idea of what you may need in coils to make it sit level if you wanted to use those. Granted thats with all my cage width. Here is the stance with that setup. They were just stupid cheap and work great so figured id throw them out there.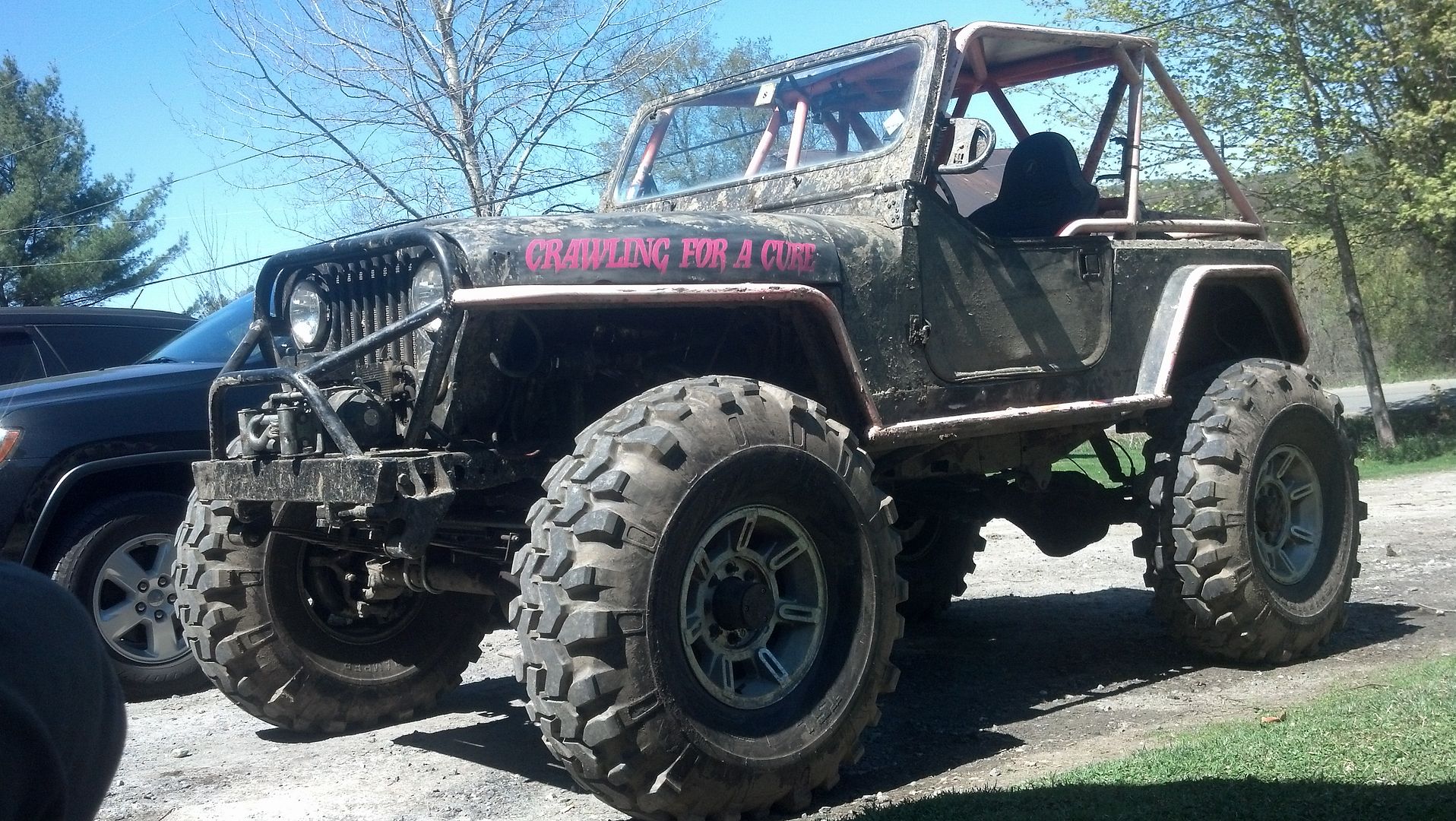 ---
Wheel - Wreck - Wrench - Repeat!

The VIN says its a 79 CJ
Registered User
Join Date: Mar 2013
Location: Doylestown
Posts: 58
Thanks Devin! Yeah the thing was babied its whole life, I almost felt bad cutting it up, and the axles cleaned up awesome. The plan is to have it ready for a shakedown before August, i'm hoping that is somewhat realistic. Still gotta figure out a car trailer situation to haul her up north, but its in the works! The barn isn't bad, definitely a nice place to play with my toys.

The plan was to do a hybrid pack but who knows, the lift springs are pretty cheap, so that is probably the way it will go. I would run 1 1/2" shackles so like 5" or so total, I can match the front with the right coil.

That thing looks so sick, I gotta get a bender soon!
Registered User
Join Date: Jul 2010
Location: Burlington
Posts: 935
I have about the same shackle in the rear. 1.5 over stock. So then yeah, order up those bad boys, get some shackles (I got my shackles and everything else like that I can through summitracing.com but whatever your favorite place is will work), get the rear perches welded on and the rear done. Then do the front to match.
When you get the rear axle under it, perches set on, and ubolts on just snug everything up and get it centered. Usually measuring from the disk brake bracket to the perch on each side works best. Let the jeeps weight down on the tires so the springs sit where they are going to and get a jack ready to place under your pinion to adjust the angle. You need your front driveshaft AND the front output yoke from your np231. That will slide on the back of your dana 300. Once that is done you want to angle your rear pinion up to be pointing at your rear output yoke since you are running a double cardon shaft. Still dont weld it yet.
Now measure the distance from yoke to yoke and measure your driveshaft and see what has to be changed whether its shortening or lengthening. Cut your driveshaft in half and drive a piece of 1.75" tube in the driveshaft. Its a snug fit so it will be strait. Then slide the other half of the driveshaft on and place fit it under the jeep before you weld it back up. If you are shortening the shaft leave about 1/4 of an inch between the two half so you can see the tube bellow. Then weld from one half over the tube to the other half welding the driveshaft halfs to the tube and to eachother.
Once that is done, bolt the driveshaft in and adjust the rear pinion angle so its inline with the drivehshaft. Then measure left and right again so you are perfectly center and weld it all in! Odds are with that aw4 auto you probably wont need a double cardon front driveshaft so the yoke on the Dana 300 front output will be fine.
Once the jeep is sitting on all four tires so its at its final resing place its time for the TRACTION bar, not to be mistaken for TRACK bar. Take the shackle from the kit and find a place that the shackle can hang up under the jeep. Some ppl mount it right to their trany cross member. I built a seporate cross member for it out of tube. This traction bar kit is the way to go. Ruff Stuff will pretty much have everything you need for this swap and doing the front. You just have to specifiy which size tubing you'd like to use and what length tubing. 1.5" for the top should be fine or get the longest piece of 1.75 so then you have some left over to do your driveshaft. They have pics there too showing how the kit works.
This is the traction bar kit you want.
http://www.ruffstuffspecialties.com/catalog/AWKIT.html
They also have shackles too if you want to just place 1 order through them.
http://www.ruffstuffspecialties.com/.../Shackles.html
This is probably worth getting for the rear axle, even tho you have perches to cut off and reuse. This way you have the new ubolts and plates.
http://www.ruffstuffspecialties.com/...g/D44HDSS.html
This just might be another option instead of using ballistic fab brackets if what you need is in here.
http://www.ruffstuffspecialties.com/...ngOptions.html
When it comes to the front driveshaft, if you dont have something sufficient laying around then get ahold of Tattons driveshafts and give him the length you need. Nice HD extended slip driveshafts shipped for $150. Just tell him you have 1310 joints on each end and it length from yoke to yoke. I'm running one of these up front with the 12" slip for my shackle reversal but you will be fine with the regular 6 or 7" extended slip he does.
Tattons Driveshafts
1-801-685-0056
As for a bender check this guy out.
http://www.probender.com/probender/B...ic-tube-bender
My buddy started with the JD2 but sold that and went to this. The die changes are simpler and it stands verticle so it doesnt take up so much room to bend tube. Just buy the bender and dies. 1.5 and 1.75 will do you. Then get a ram from Harbor Freight. Of if you want it all from the same place you can order it from them too. I think its a little cheaper from harbor freight thats all.
Good luck and keep the progress pics coming!! Just ask if you have any questions and I'll do what I can to help
---
Wheel - Wreck - Wrench - Repeat!

The VIN says its a 79 CJ
Currently Active Users Viewing This Thread: 1

(0 members and 1 guests)