Building a teenage dream Jeep, on a teenage budget - My YJ Build
---
Short (boring) story:
I'm 16, bought a used YJ for $1k (of MY money), diagnosed broken piston ring, and broken fuel pump. Fixed the fuel pump for free, buying a new motor for $200. Many body rust holes, buying a new body for $275, and repainting for around $300. She is lifted and running on 35s, bald though they may be. I plan to put the motor in and swap the bodies and having a running beast by June. Aiming for lowest cost possible because I'm still in highschool and have barely any money.
Long (more interesting) story:
Lets get a few things straight first. I'm 16 (almost 17!) and I recently purchased a well used 91 YJ, with my own hard earned cash. No parental support involved here (well, monetarily no support. My dad drove with me and helped me out, but its all my own cash). The Jeep bug bit me a year or two ago after being introduced to them by my mom who is a Jeep fan, but out of practicality never was never able to buy a Jeep for our family of 7. I suppose the Jeep obsession has been a genetic trait, because my Uncle (on my moms side) is a huge Jeep fanatic (he's had one since he was 16). Now prefacing all of this, my parents didn't let me get my drivers permit until I was 16 and 7 months, and by PA laws that means I can't get my license until June 22nd of this year. In about the beginning of February 2011, I began casually browsing craigslist and the local classifieds for any sign of Jeeps in my price range, which wasn't much at the time. I quickly realized that I was going to be very hard pressed to find a Jeep (I was looking mainly for wranglers) that would be in suitable condition for under $2000. I then lowered my standards, thinking that since I can't get my license until June, why not buy a fixer upper, for cheaper, and have fun fixing it over the spring and beginning of summer. Well at this point I started looking more avidly, but still couldn't find anything Jeepy for under $2000. I had all but given up on Jeeps when I found an 83 CJ7 for $1200 with a plow. But the owner never returned my calls. Back to searching, and this time I started looking more at trucks and such. I had narrowed my searching down to a toyota 4runner and a ford ranger. Then I stumbled upon a few cheap Jeep listings. Most of them were out of my price range, or never got back to me. After waiting a week or two, I was starting to lose hope at all for having a Jeep as a first car. Then I got an email back from a guy with a red 91 YJ, and he only wanted $1000 for it, or $2000 with a whole bunch of extra parts (motor, axles, leafs, body). I was skeptical at first because of the low price, but after inquiring some more, he seemed like a decent guy. Undoubtedly this would be a fixer upper, as it was not running at the time, being diagnosed as a fuel pump problem. I looked the guy up on facebook, and found out that he was basically an avid redneck. He fixed cars on a regular basis, went 4wheeling quite a bit, and loved the mud. Well I loaded up my life savings and took a trip down to Maryland to check out the deal with my dad. Got there, and inspected the Jeep. Everything was pretty much as he had described, nothing really off. Rust holes behind the doors, some rust on the tailgate, solid frame, all major parts were intact, a lift kit of unknown height or brand, and a set of balding BFG 35s. After taking a trip to check out the local Uhaul, and conferring with my dad, I decided to buy the Jeep without all the extra parts, and save what little money I did have for what I would need in the future. I figured I could patch the rust holes, fix the fuel pump, and then assess what was next. Packed the big baby up, which was great fun because the stock tie downs on the uhaul trailer were nowhere close to large enough for the monster tires. After a 3 hour drive, finally got my baby home, and the work began.
First thing I did was to get a battery. Once I got a battery, I of course tried to start her up. All the electrics were in working order, and the engine cranked over but didn't start. I bought a fuel pump, and swapped that in, and tried to start up again. After the fuel pump had primed several times and pressure began to build, I noticed fuel streaming from a pinhole leak in the fuel pump leads. A faulty pump! Well this led to a closer inspection of the old pump, thinking I could swap parts and create a working pump. I realized the only thing wrong with the old pump was a 1inch piece of fuel line that was shot. I replaced that piece of line, and presto, the old pump was back to working order! Got a refund on the "new" pump too! Now the Jeep would start up! But she was running pretty rough, and couldn't idle below about 2000 rpm without stalling out. Spent hours testing all the electricals, spark plugs and wires and such, and determined that it wasn't a problem there. I got a compression tester, and did a compression check on each cylinder. I successfully diagnosed the problem as a broken piston ring in cylinder #5. Well I just so happened to come across a friend of a friend of a friend who was parting out a 91 YJ, not even 2 minutes from my house. I took a trip over there, and found out that he would sell me his working motor for $200. A steal I figured, and I could replace my motor, and then fix the piston ring over the summer and sell for profit.
In the meantime of all the testing I had done to diagnose the aforementioned problems, I had ripped out the rubber bedliner, to reveal a totally rusted through driver's floor pan, and that the seatbelt mount for the driver's side was completely gone (rusted away) and the passenger side was starting to go. There was miscellaneous rust in other places too, like some spots on the passenger floor, and the fenders. Well the guy with the motor also happened to have a body that was in nearly pristine condition with virtually no rust (
right?) and he only wanted $275 for it. This gained me the advantage of no longer have to piecemeal patch the old body, and I could now custom paint the body to my dream Jeep's color, yellow
.
All of this took place over the time of about 6 weeks, and I had done some minor work other than all the diagnosing in the mean time. Keep in mind that I'm still in highschool, working 2 jobs (neither of them are paid, 1 is a working lease at a horseback riding barn where I ride, and the other is an internship at a computer repair shop that becomes a paid job in 3 weeks), doing school, and trying to fit in a life in my spare moments.
So what I HAVE done is replace the busted hood latches, take out the rubber floor liner and seats, test the aftermarket Sony head unit and speakers, test the KC Daylighters that were mounted on the also aftermarket bumper, inspect my tires (which will just ever so barely pass inspection), sort through the mess of wiring that the PO did, bought mazda seats that I plan to fab brackets for, and search around for a cheap soft top since the one he gave me barely qualified as more than a ripped rag. And of course dream about all my future upgrades.
My Uncle has filled me in on all of the Jeep novelties like the Jeep wave, and the mentality one must keep when working on a Jeep ("this makes no sense at all....ohh right, it's a Jeep"), and helped me out with quite a few mechanical issues. My dad and i are working on this together as a project, with the goal of finishing by June 22nd, license date!
So right now my planned projects are:
-Identify my suspension lift
-Equip myself with a new soft top
-Install the new motor (when it finally is removed from the donor Jeep)
-Strip the new body, and paint it yellow
-Swap bodies
-Rewire the electrical system to a comprehensive state
-Keep an eye out for a set of 35s or 33s that are in better condition than mine
-Fix my coolant leak
-Wire a killswitch for theft prevention
-Rewire the stereo system
-Rewire the KC lights
-Install a new (non rotted...) center console
-Install an interior light on the roll cage
-Install a Corbeau 3pt retractable harness (it acts like a 4pt but has a Y connection behind the neck)
-Fab brackets for my mazda seats
-Not break my bank
-Make some money in the meantime!
So for those of you who want ideas on how to mod your Jeep and keep the costs as low as possible, watch me, I'm going to do just that. So far I spent $1100 on the Jeep (1k plus gas and uhaul), I'm going to spent $475 for a new body and motor, and about $100 of miscellaneous parts, $10 for new seats, and I will spend about $300 to paint it. $1985 for a running YJ, not bad IMO! If anyone has some good free/super cheap mods, I would be greatly appreciative. This has already been a great learning experience for me, and a good bonding time for me and my dad. And me and my Jeep
.
PICTURES!!
From the front (missing one light, the other is in my shop)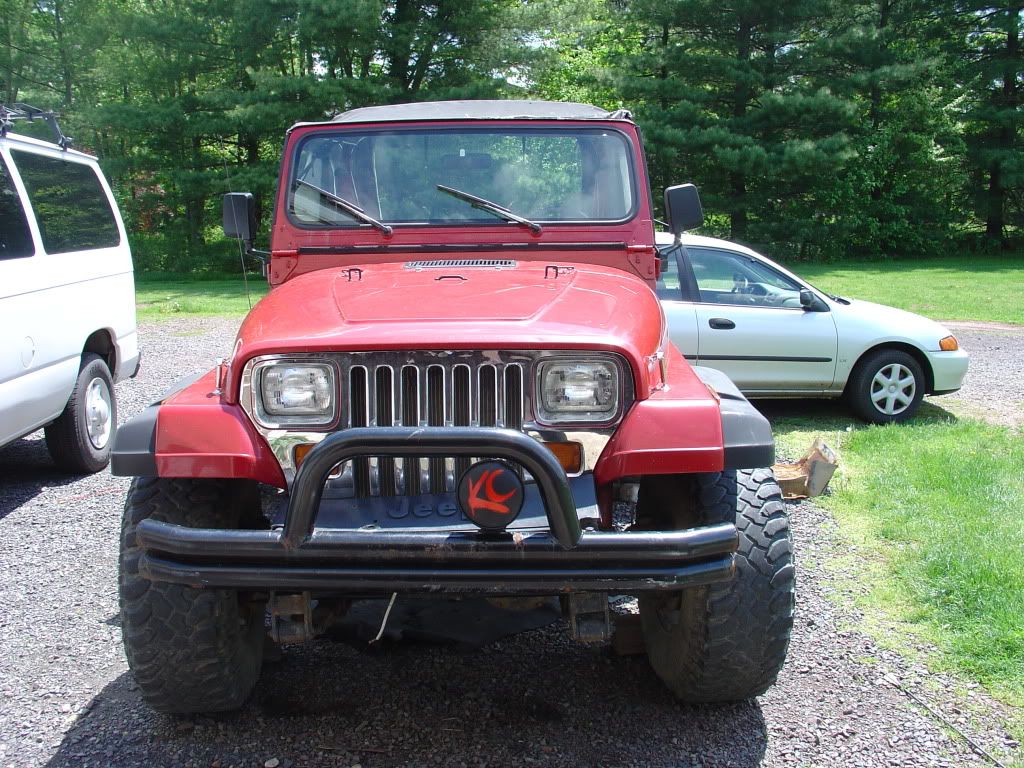 front suspension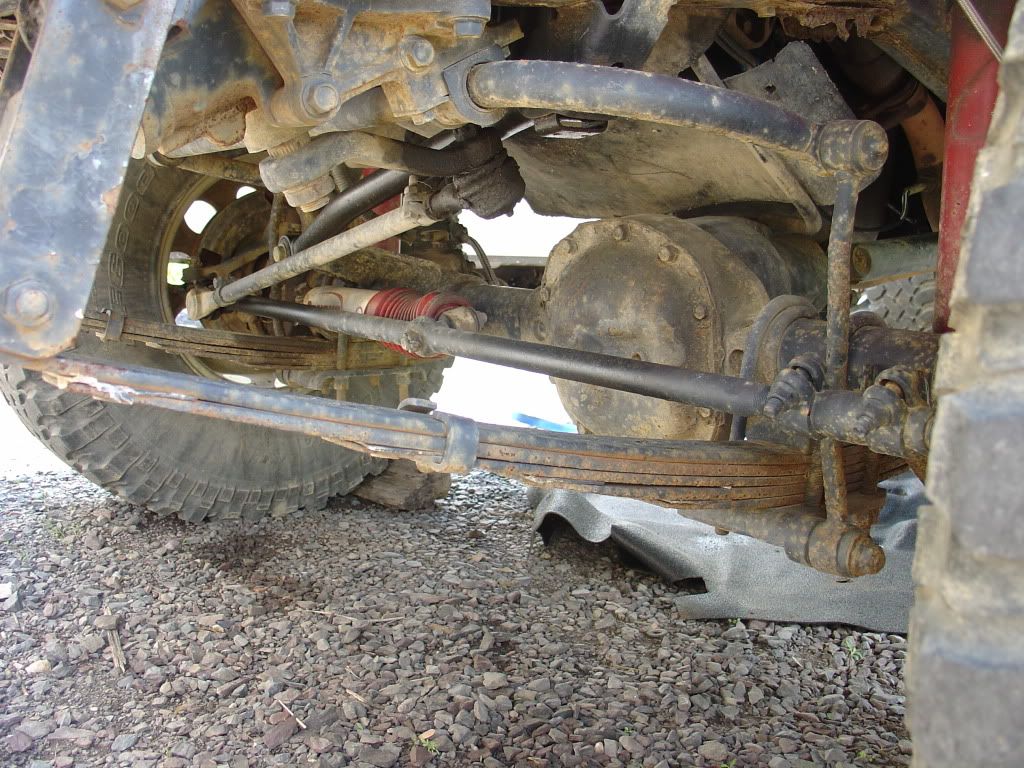 from the side, crap top is just there to support the tarp when it rains



passenger rear, extra wheel is the totally unused spare!



interior, stripped of seats and liner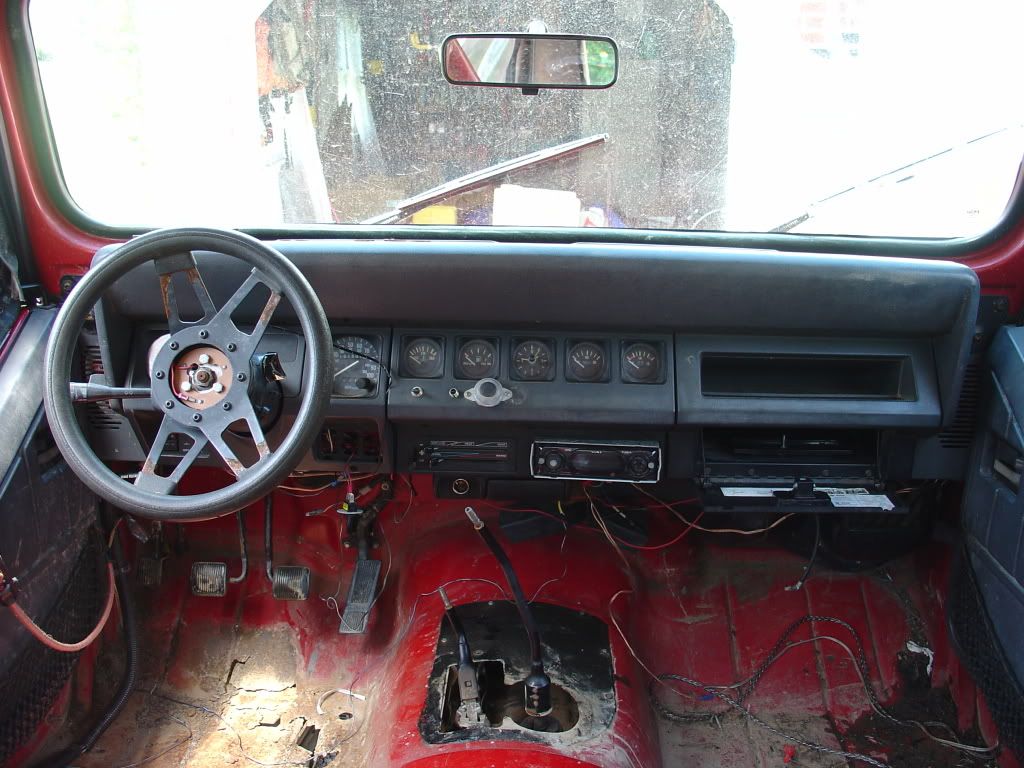 drivers side floor pan...or what used to be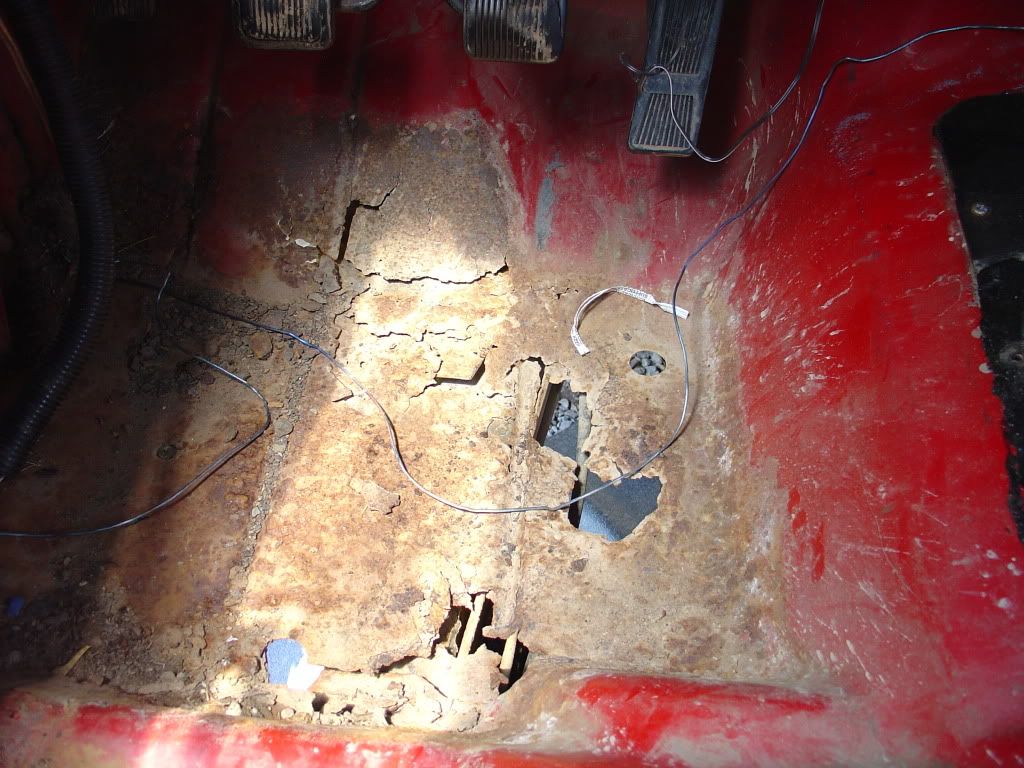 drivers side seatbelt mount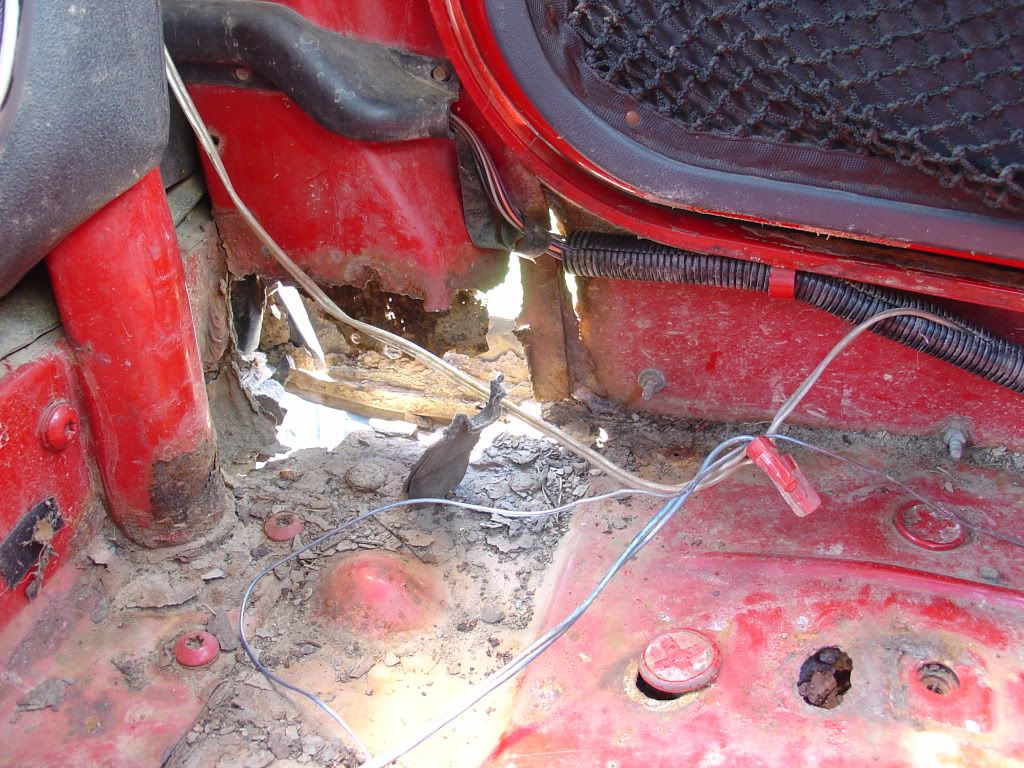 drivers side rust hole from the outside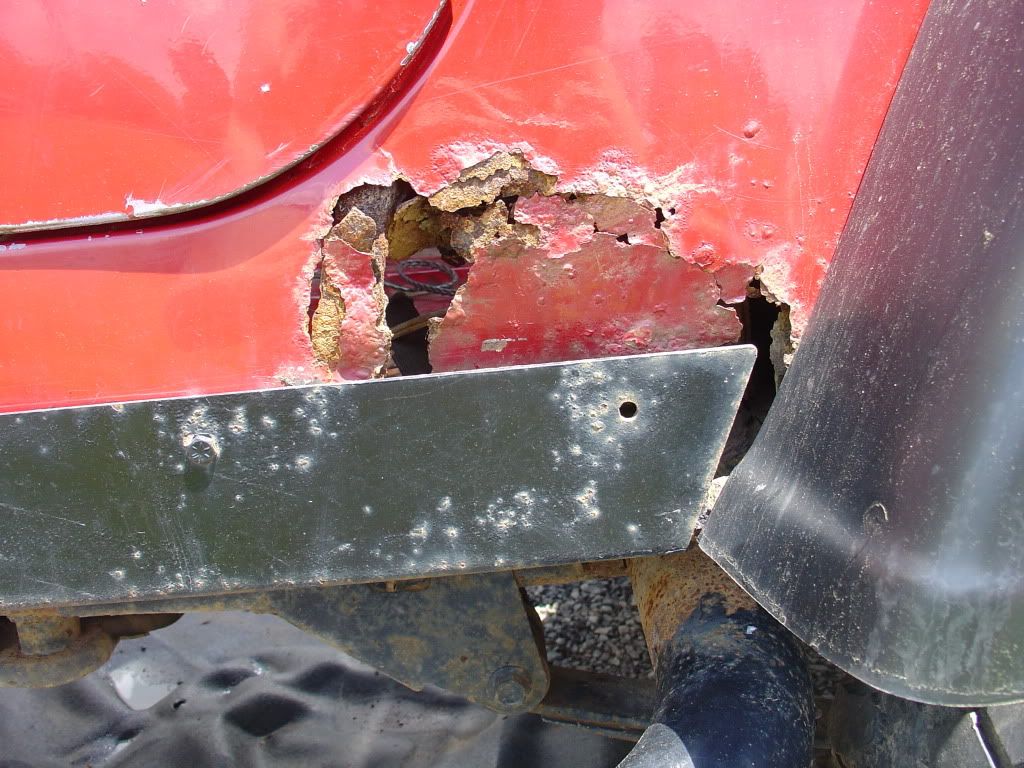 engine...missing a few miscellaneous hoses



front passenger side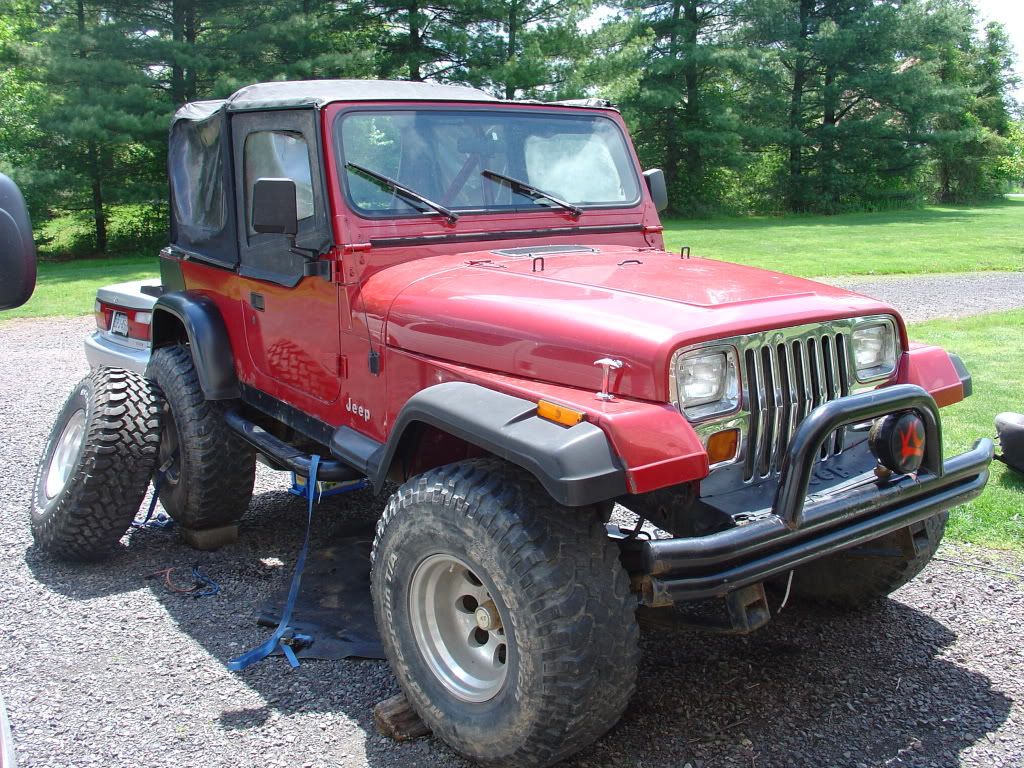 my new mazda seats, they so comfy!