Okay everyone, I should have started this thread a long time ago, but when I first got this Heep, I had no idea that I would get so into building it up. Therefore, I did not take many pictures, so I will try to find as many stock (or as close as stock as I can find) pictures and pictures to now. At the time we got it, it was not running. So we had to put the Heavy Chevy 2500HD to work and pull it home.
The PO said that the starter was bad, but when we got it home, he was wrong. We were really dreading having to buy a new starter, but we got the Jeep anyway. So we started working on it, pulling things apart, and we figure out, that all it was, was a crankshaft sensor. A quick, easy, $47 fix, an oil change, and she's running like new with 172k on the clock. The interior is in excellent shape, like brand new. The PO had put a Kenwood headunit in it, and also put all new Kenwood coaxial door speakers. It was in great condition outside, too. Just one or two scratches on the driver's side. Oh, and did I mention we only paid $500, yeah, five hundred dollars for this beast?!
But I'm gonna stop talking, I know you all don't want to hear me rant. Also, a warning to all, since I'm 16, and don't have a job (anymore) this build will be VERY SLOW! But I will update it whenever I do something to the ZJ. Thanks for looking everyone!
The picture the owner sent me, notice the faded bumper/cladding: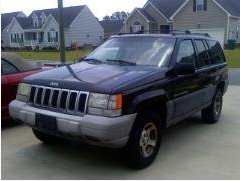 The first thing we did, was get rid of that ugly, faded, cracked, cladding, by painting it. We used Dupli-color Bumper and Trim paint. I know this ain't the best picture, but you get the idea.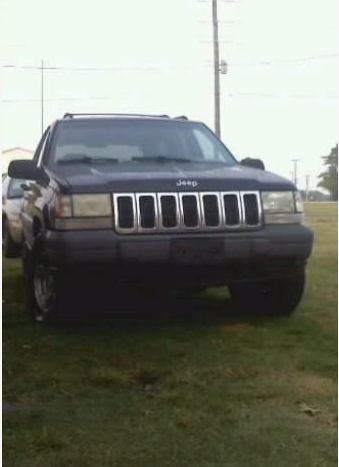 DO NOT buy the dupli-color bumper paint. It sucks balls! The dupli-color ended up peeling off within a month or two, so dad made me buy the SAME sh***y paint, which ended up peeling off again.
**Anyway**, the second thing we did to the Heep was put in a sound system. My uncle gave me two JL Audio 10w1v2 10inch subwoofers, with a 250w JL amp. We made a custom box, dual ported, and then instead of carpeting it, we used truck bedliner on the outside. It's different, and no one else has it (that I've seen).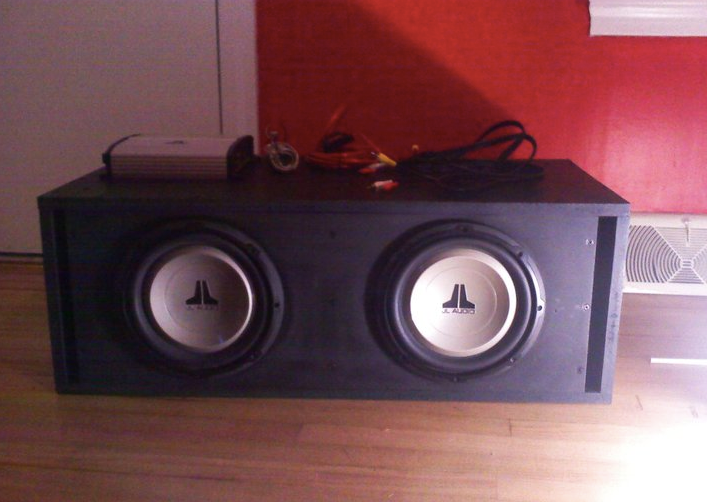 Here's a pic in the jeep.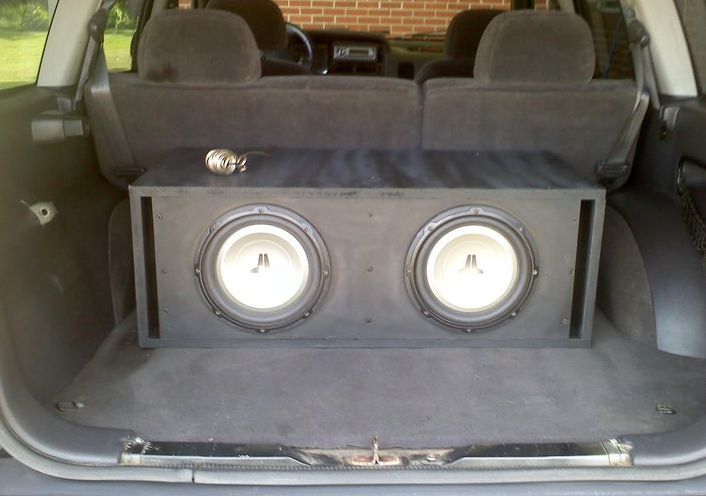 Guys, I'm sorry for the lack of pics, it will get better lol. Anyway it stayed like that for awhile, then Christmas came. Santa brought me a Rusty's 2" Budget Boost (with shocks), Rusty's tow hooks, and a Skyjacker Steering Stabilizer. Boy was I happy!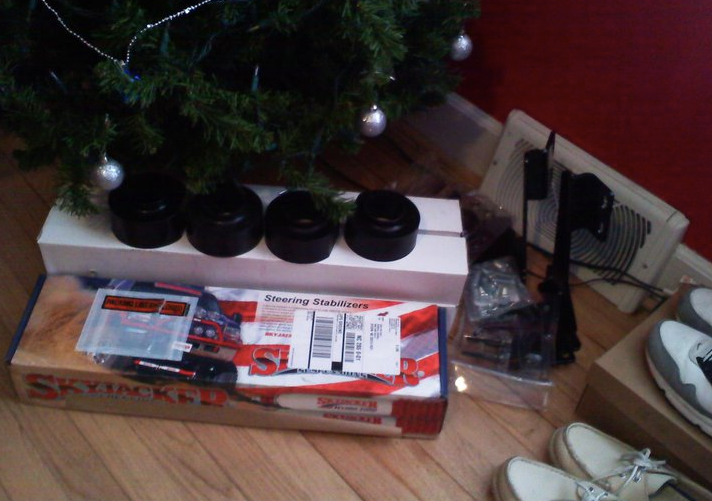 After that got put on, a friend of my dads had a TJ he bought, that had Mickey Thompson Classic II's (they were 15x10, very wide), mounted on 31x10.50r15 BFG A/T's. He let me put them on to see if I liked them. pics: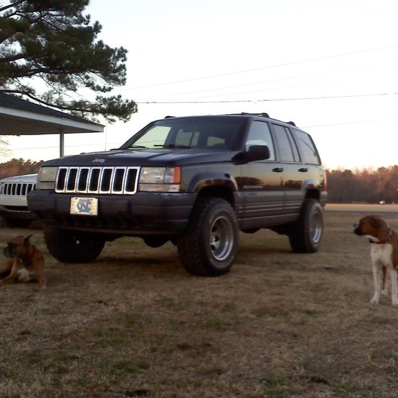 At this point, I was really, loving my ZJ. BUT, we took the M/T wheels off. And the tires.
Don't get me wrong, I LOVED the look, they just stuck out too wide for my taste. SO, me and my dad took the stock canyons off, sanded, primed, and painted them black. I took a bunch of pics, but somehow lost every single one of them. Sorry guys.
Well, it looked pretty stupid sitting on stock tires (which were mismatched sizes anyway
) so, I found a guy in a town not far from me that was selling 4 used Nexen Roadian M/T's. They had about half tread, exact sixe i needed, (31x10.50) and the best part is, I got them all for $100!
This pic shows the painted wheels, the tires I got, and where the bumper paint chipped/peeled as mentioned earlier.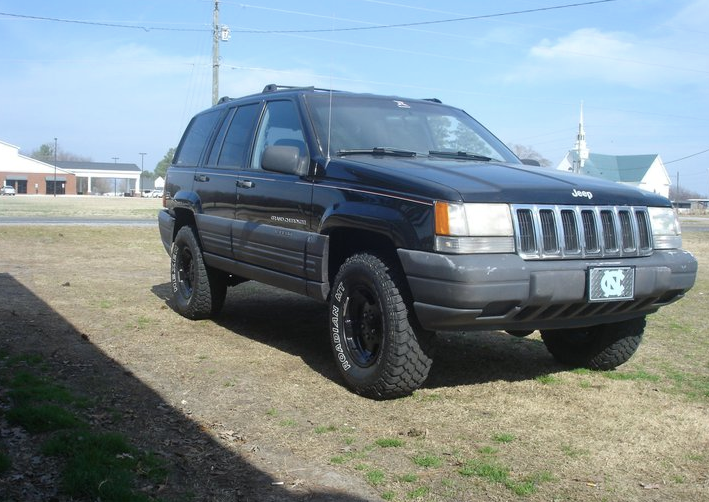 and I just thought this was an awesome pic
;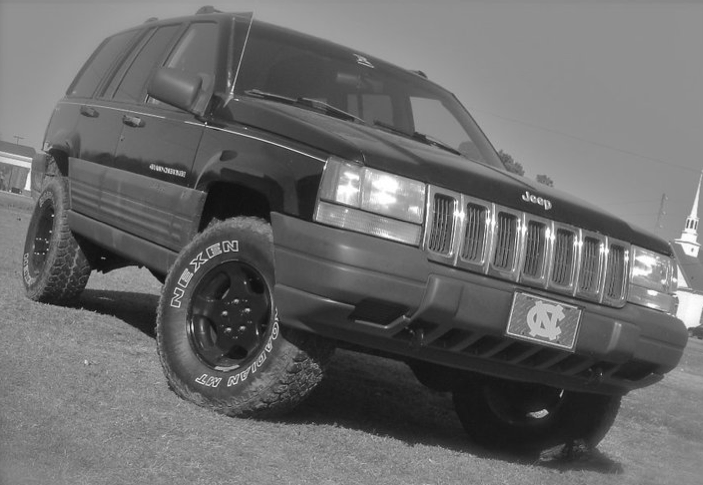 and I also took it and got it a little muddy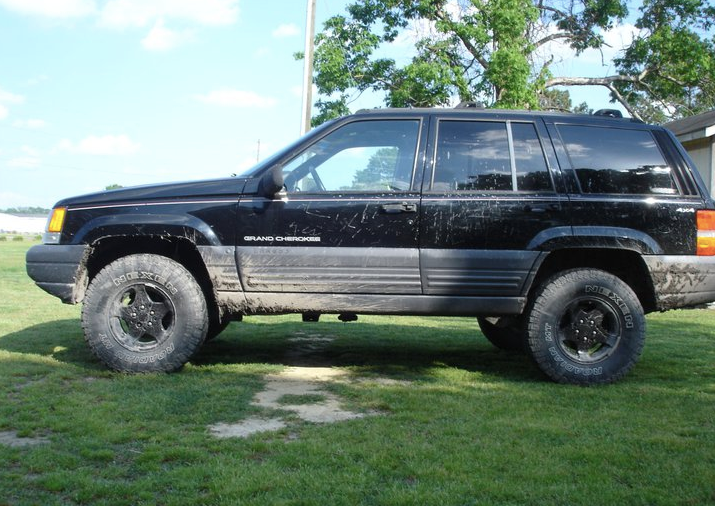 So I rode around like that for awhile, then Me and Dad got around to painting the cladding/bumpers again, this time using Krylon fusion. Pics;