Spent some time going through things on the new ride and did a little maintenance. Not too much that I think I need to address right now since it steers easily and seems to run well. Here is what I noticed
- The front driveshaft has some witness marks from where it has contacted the trans skid. Seems that when the trans was replaced, the dealership reinstalled a new skid plate.
- Sway bar heim joints are just so slightly loose. An anti-rock will replace it before too long.
- Possibly a very small amount of play in one of the steering linkage joints. I'll monitor it for now since I want to do the Currie setup. The linkages on this thing are so flimsy...I can deflect them by just pushing on them.
- Tiny drip from the bottom of the oil pan. Looks like I'll have to tackle the pan gasket and rear main seal. Done it on my YJ...not looking forward to it, but its not a terrible job either.
Maintenance wise I did the following today:
- New wipers all around
- Oil change and Tcase fluid change
- New Serpentine Belt
- New spark plugs (Autolite APP985)
- Air cleaner was replaced by dealership
- Brakes were done by dealership
And my first "mod": Switched out batteries between the YJ and the LJ. Diehard Platinum: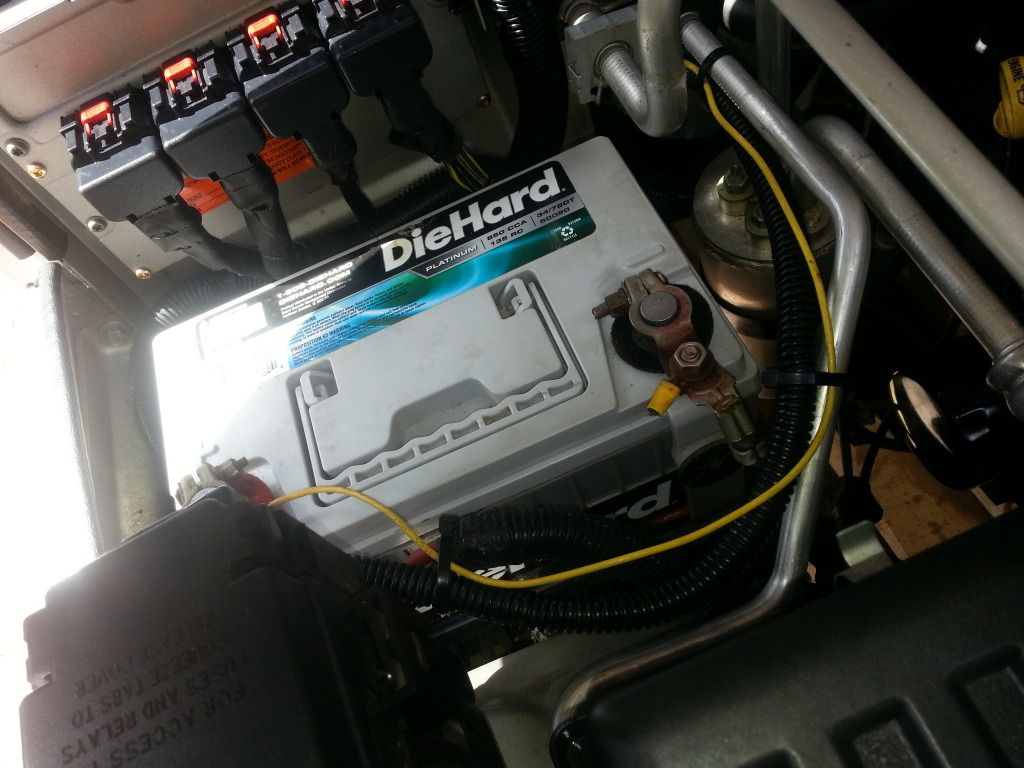 I'm going to try to drive the Jeep as is for a while, especially while I am trying to sell the YJ. The only thing I want right now is a soft top setup. I don't want to get too crazy with this build, but I want a solid, reliable Jeep that can run most trails and serve as daily driver, and I want to be somewhat weight conscious. Here are my initial thoughts:
- 35s of some flavor
- New wheels...not sure what yet, but a little more backspacing
- Regear to 5.13 (this is a must...Jeep is currently quite sluggish)
- Derale trans cooler with fan
- 1.25" body lift
- Flat belly/Underarmor
- CV rear drive shaft
- New front bumper...a little narrower and less weight
- Currie anti-rock and steering
- Blackmagic brakes (already have this, need to install)
- Warn M8000 w/ synthetic line (currently on my YJ) to reduce weight over heavy hydraulic winch with steel line (55 lb vs 103 lbs)
- Weld tube steps to the current rock rails
- Savvy Gas Tank Skid
- Different rear bumper/tire carrier setup to hopefully reduce some weight