Registered User
Join Date: Mar 2013
Posts: 288
The Black Stallion
---
Yup, you guessed it, a black TJ build.
This is it when I brought it home: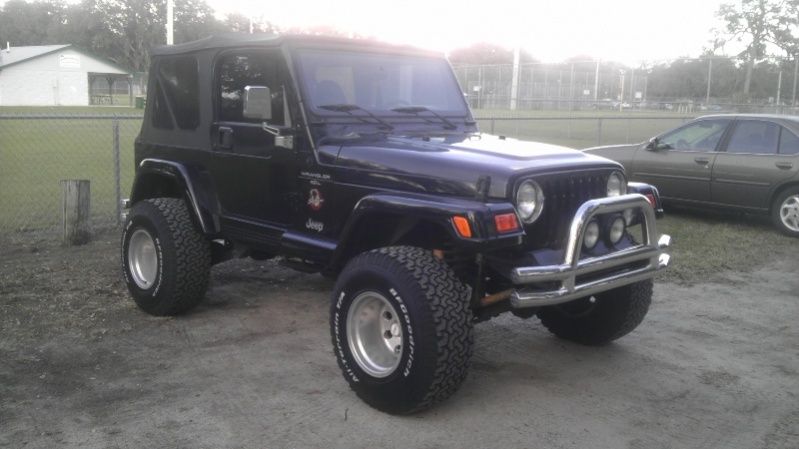 It already had 4" springs and 33s. Otherwise it was a pretty much stock 2000 Sahara. Since then I have mostly fixed things that were either done wrong, not done at all, or broke prematurely such as u-joints, ball joints, Heater Core and a re-manufactured transmission.
This is what I have added so far:
Currie Poly adjustable bump stops
Metalcloak Aluminum Arms all the way around
JB Conversions HD SYE
Tom Woods drive shafts front and rear
Converted it from a Manual to an automatic with an AW4 late last year.
Front Aluminum Antirock
Brown Dog Motor Mounts
The plan changes and evolves as I learn more and more about the capabilities of the Jeep and what I want to do with it. This Jeep will also be handed down to my daughter (now 12) who already drives it and wrenches on it. I want a solid build that is also reliable and can be fixed even if she's away from home at college, etc.
My wishlist
(which seems to change constantly)
HP30 Front
D44 Rear
3-Link Front
4-Link Rear
Metalcloak or Poison Spyder Front Fenders
1" MML & 1.25" BBL
Savvy 3" Springs
Savvy Aluminum Rocker armor
Savvy Corner Armor
OX Lockers front and rear
4.88 or 5.13 Gears
35" Tires
Revolution shafts front and rear
And this is what it looks like today: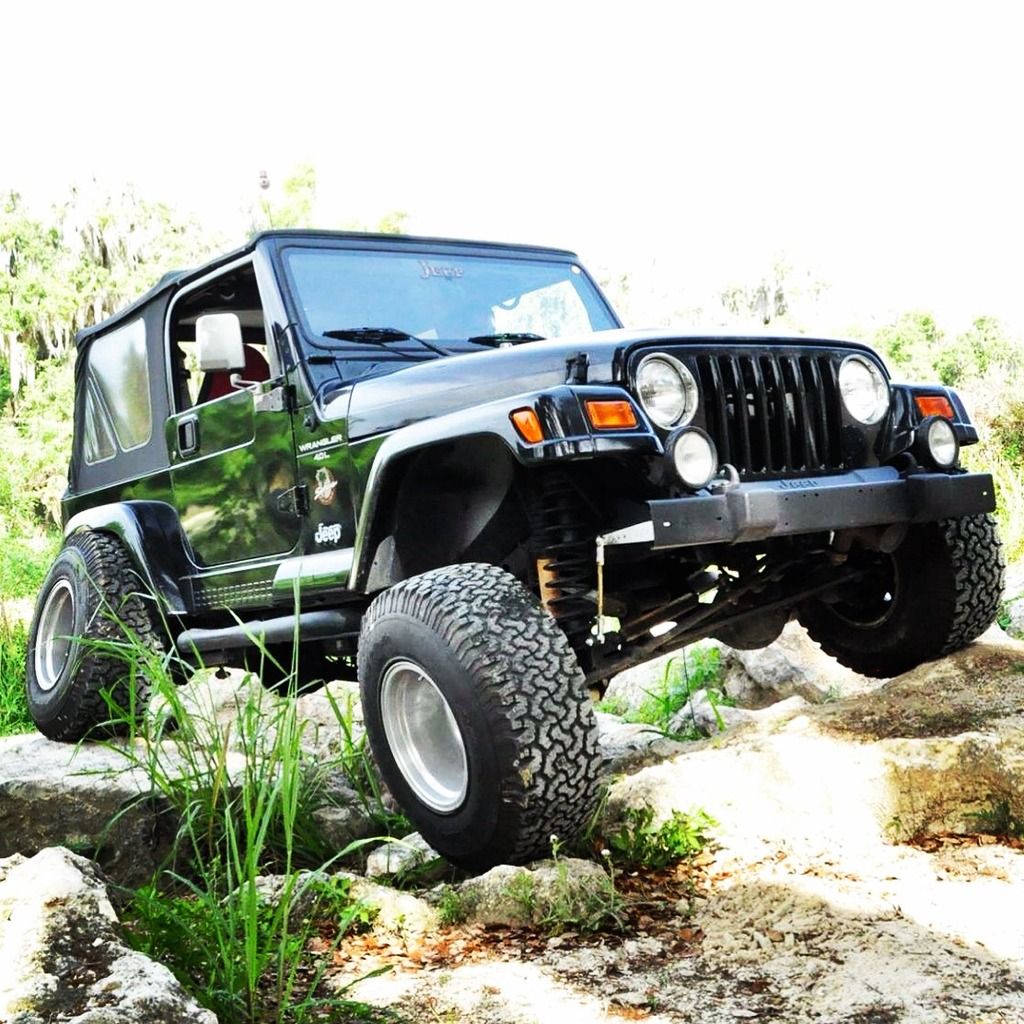 Registered User
Join Date: Jul 2014
Location: Riverside
Posts: 539
Is it the pic or do or are your wheels the same width as your tires?
Quote:
Is it the pic or do or are your wheels the same width as your tires?
It is not an illusion. The wheels are 15x12 and the tires are 12.5. That's how I bought it. I'll get new wheels whenever I go up on tire size.
So this is what I have acquired so far:
I scored an HP30 for $100 a couple of weeks ago. Come to find out, this gem was in the pumpkin: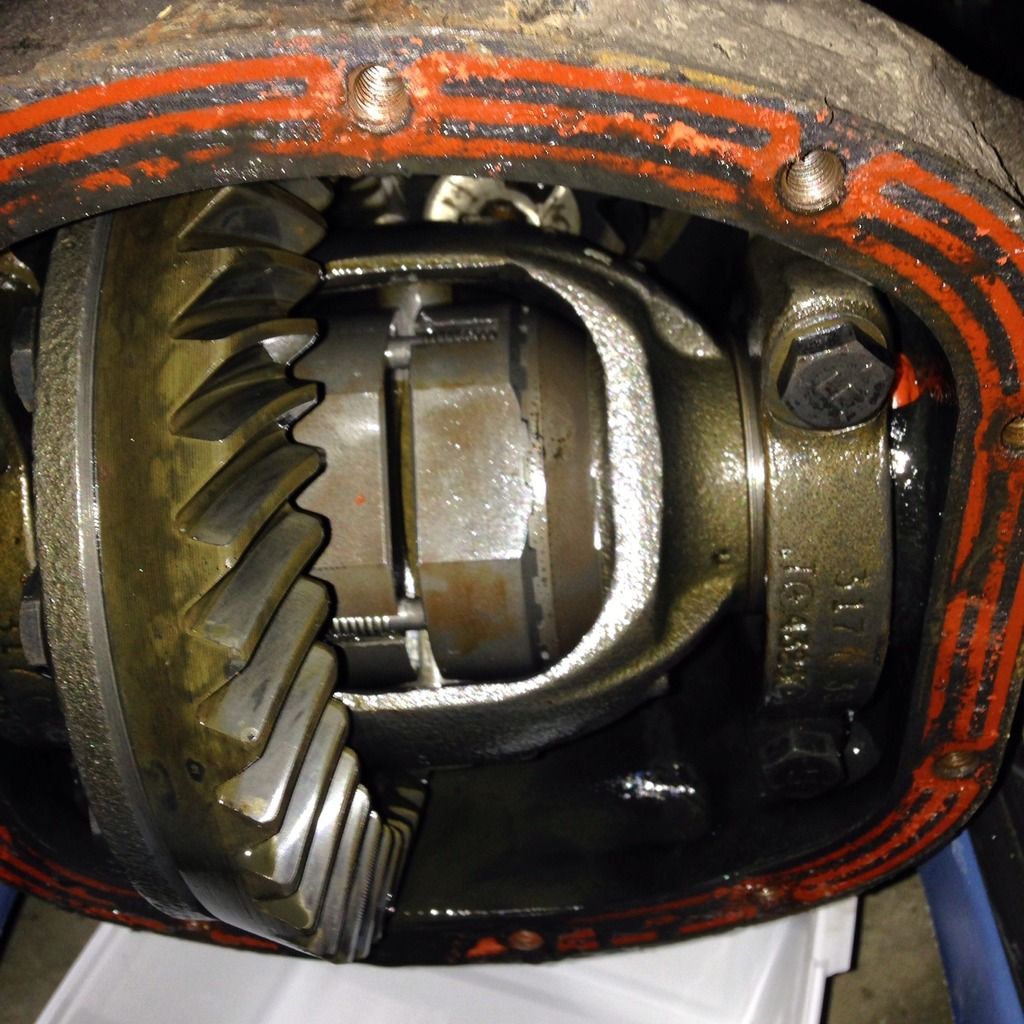 I'll pass along all my internals and re-gear it and should be good to go with little effort (I hope). Maybe the Metalcloak UCA joints will be out by then...
The 44 however its a bit more complex. I bought an entire axle off an LJ. However, the pinion is bent and the driver side tube is dented (and slightly bent). It came with Alloy USA shafts, a spare stock shaft, brand new 4.56 gears and Master Install kit. So overall it wasn't a bad deal. I sold the gears to recover a bit of money and the rest sits in my garage. Recently I bought a housing from a buddy who decided to go for an 8.8 instead of building it so I got the housing. This one is straight but needs UCA brackets. Not sure which way I'm gonna go on this. My long term goal is a four link rear but I am not sure I am ready to do everything else that is needed to accomplish it at this time.
What was left of my Jeep budget just got slashed. On the good side though, I just ordered a Trektop NX to replace my 10 year old top. If this top is half as good as it seems, I will be a happy camper.
---
Semper Fi
Forgot to post yesterday. My 4.88 gears came in. Thank you Ricky for all the help.
---
Semper Fi
Currently Active Users Viewing This Thread: 1

(0 members and 1 guests)