Registered User
Join Date: Dec 2011
Location: Buffalo
Posts: 57
Basic Budget Build
---
I figured I'd make a build thread for this thing to keep me motivated! We'll see if it works.
Anyways, 1992 YJ, 4 banger, 5 speed. Currently has a 2.5 inch r/c lift (yea, like I said.. budget) 31" general grabber at2
Previous owner painted it Rustoleum camo tan, which I don't mind but I'd prefer a bright color. I plan on painting it Omaha Orange when finally all said and done. The goal is to pull the body off the frame, replace the body mounts, chassis saver the frame while I'm in there. Also have to replace the rear main seal, and probably some brake lines. I'll also have to convert a pair of XJ seats I got to work with the seat risers. (currently have black vinyl... which sucks in the summer). Oh, I also have to cut out a fiberglass patch the previous owner installed on the back driver side corner with some actually steel.
Timeframe on this thing is to have it completely done by the Bantam Jeep Festival in June! My two friends, one with a TJ and one with a CJ, are planning on convoying down to PA in the jeeps, which will be cool.
Here's what it looks like right now.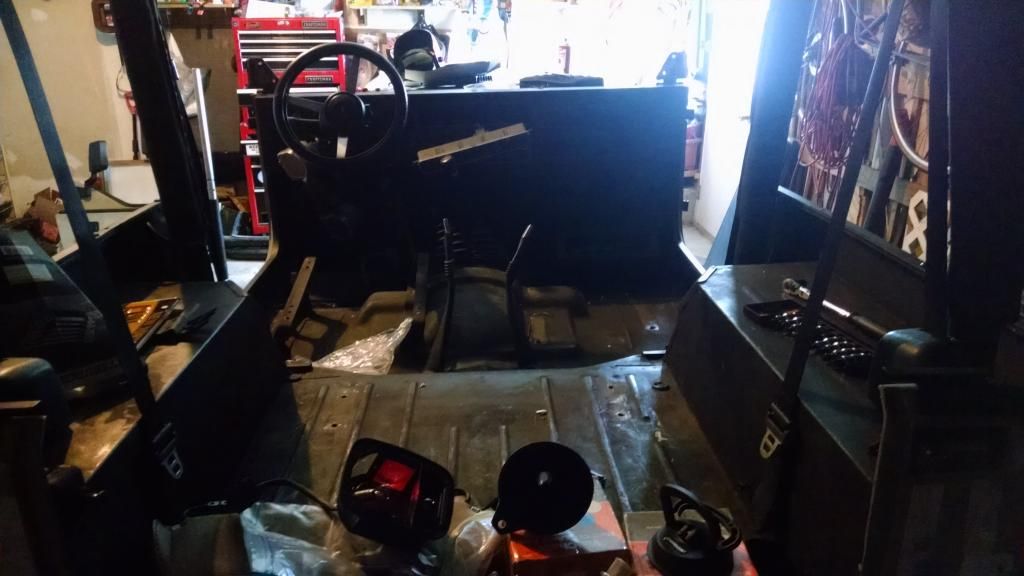 Thanks for reading guys! I'm not gonna go too crazy with this thing because I am a college student on a budget! Hopefully this keeps me motivated and if you have suggestions just let me know!
So today we made some progress... First, I wanted to remove the windshield frame hinges, primarily to be able to attach mirror relocation brackets, but also to see if there was any rust underneath.
The bolts for the lower half are screwed into nuts on the inside of the tub, behind the dash. They are also embedded into a bunch of seam sealer gunk. This stuff is kinda a pain to get out.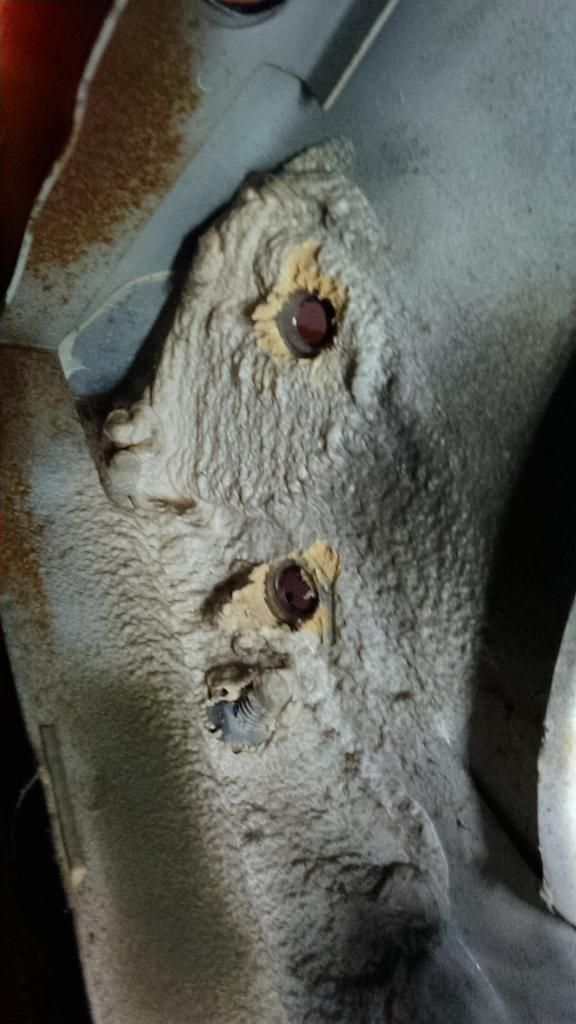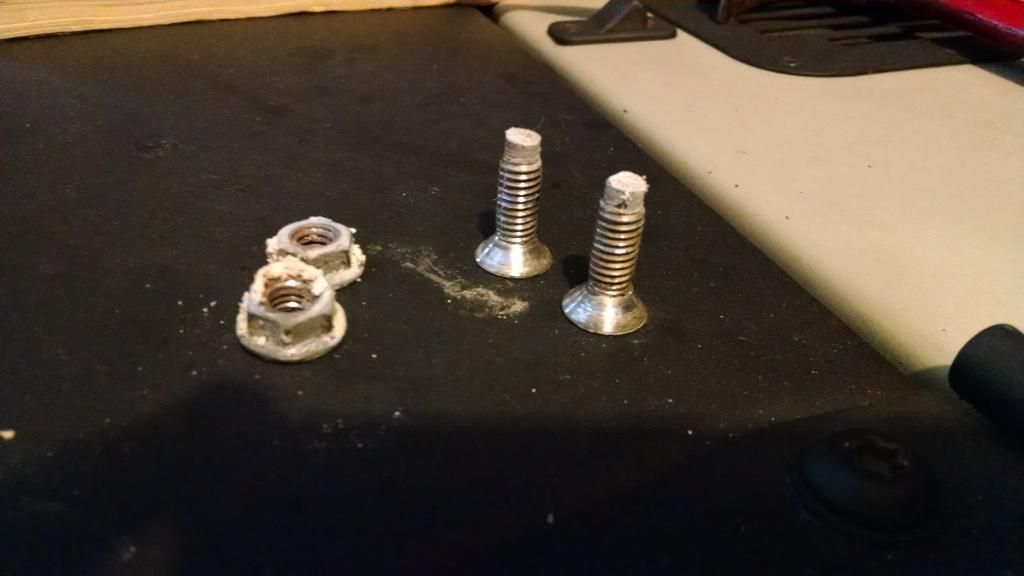 So after getting the hinges off... this is what was under...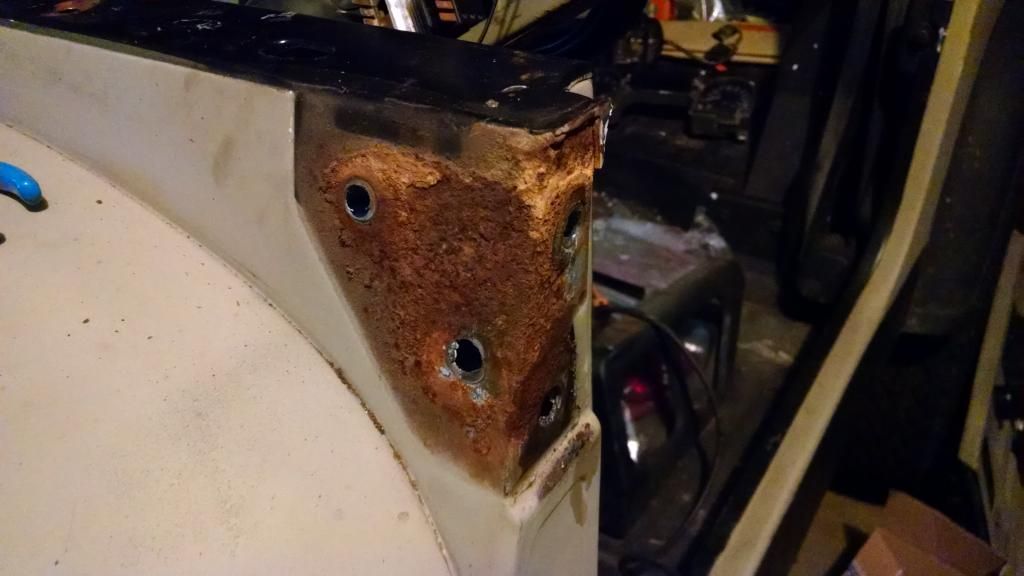 Not too bad... it's salvageable with a wire wheel and some paint. The torx I'll probably replace with hex head bolts though.
So after this, we moved on to the fenders and front clip. We removed the hood, which wasn't really a problem at all. The fenders weren't too bad either but we did break one bolt. Some of the bolts were kinda a pain to get to. You have to remove both the washer fluid bottle and the coolant overflow bottle. We also removed the battery/fuse box tray.
And then the radiator and grill. Again, not too much of a problem here. We pulled them together as one unit. There was one big bolt holding the grill to the frame. It was corroded quite a bit
Kinda worried about what the rest of the body mount bolts will look like...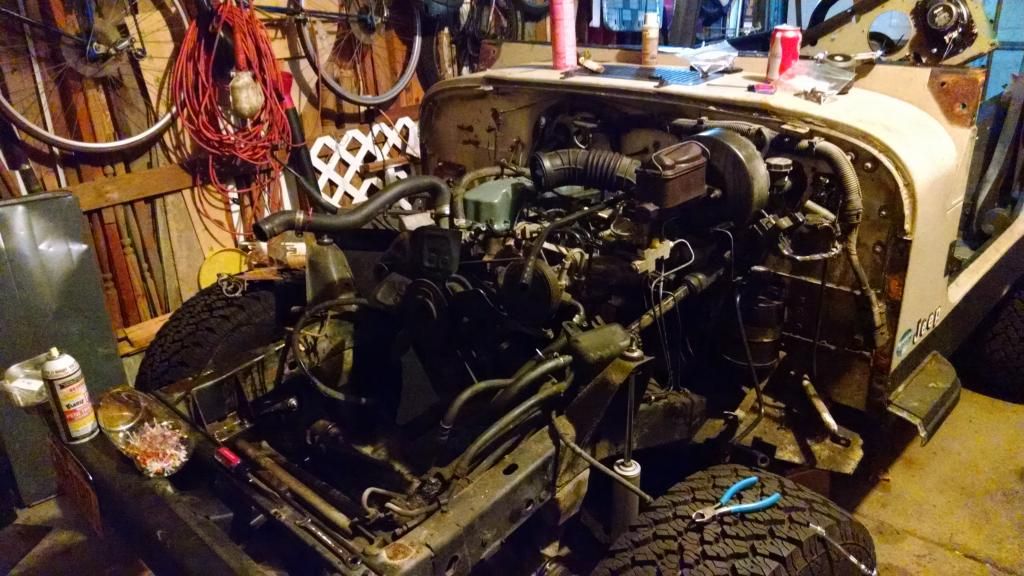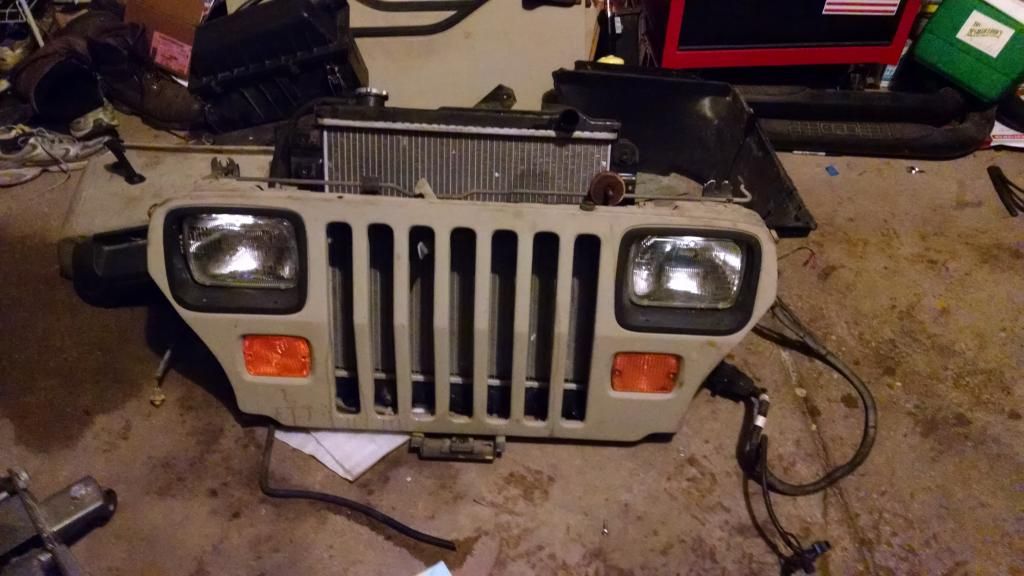 And we WERE going to take the roll bar off tonight too! But then this happened...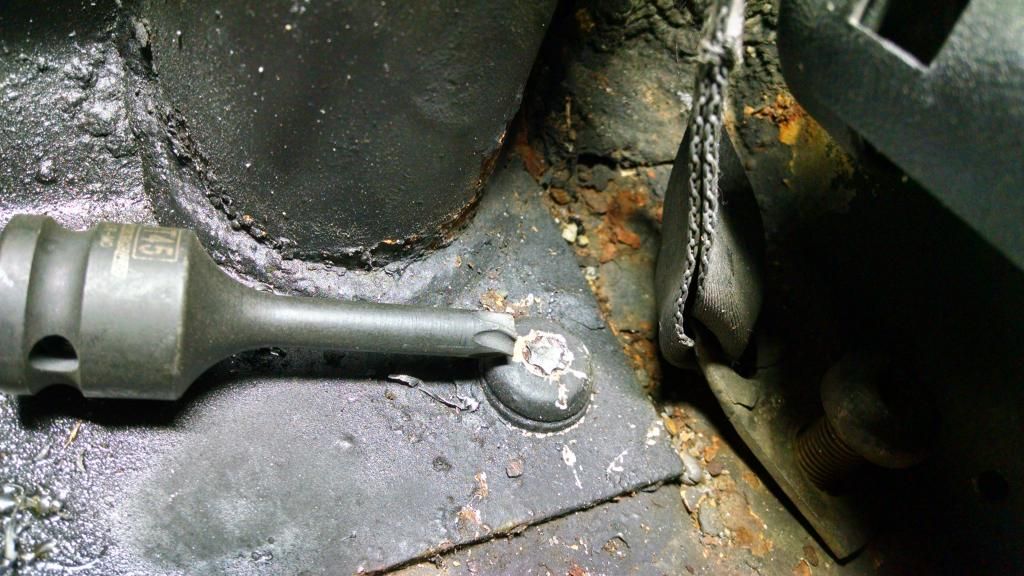 No problem.. I'll just use the other one I have... But then...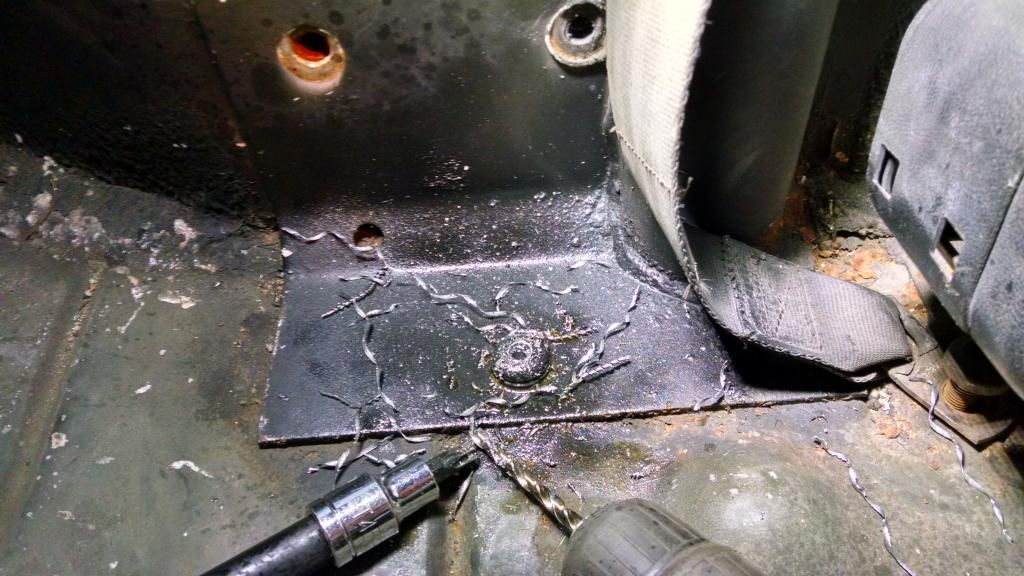 So that's where we left it tonight... This roll bar is gonna be a ***** to get off.... Welcome to buffalo!
So today...was frustrating. Got my white face gauge overlays and needle paint in the mail, so I immediately tried to git-r-dun . Long story short... I wrecked all of my needles on my gauges... Luckily, I have a second set of gauges from a buddy of mine
Problem: the gauges are Canadian and have metric...
Question: do the gauges have a set "zero" point. I.e. can I just shove the needle back on and have it work or do I have to do trial and error, plug the gauges in, check if they're right, take them off and adjust the needles, repeat.
Oh and to be clear am trying to take parts from two non-functioning gauge clusters to make one good one
Registered User
Join Date: Feb 2002
Location: Salt lake UT
Posts: 114
those torx head bolts are a pain in the butt! that sucks on the gauges. hopefully you can make one good one out of the two, good luck!
---
95 yj
Jeromy
Quote:
those torx head bolts are a pain in the butt! that sucks on the gauges. hopefully you can make one good one out of the two, good luck!
Thanks I'm gonna need it! It wouldn't be the first $200 mistake I made on this thing
Alrighty so got some work done with this warm weather! First of all, we continued to prep the body for removal. Removing ground wires, fuel filler neck, and some other things. Still having difficulties in removing the roll bar due to the torx bolts being rusted and stripping... Will probably weld on nuts and try that technique on the remaining ones.
I also felt like replacing the crappy old discolored and rusted exhaust manifold!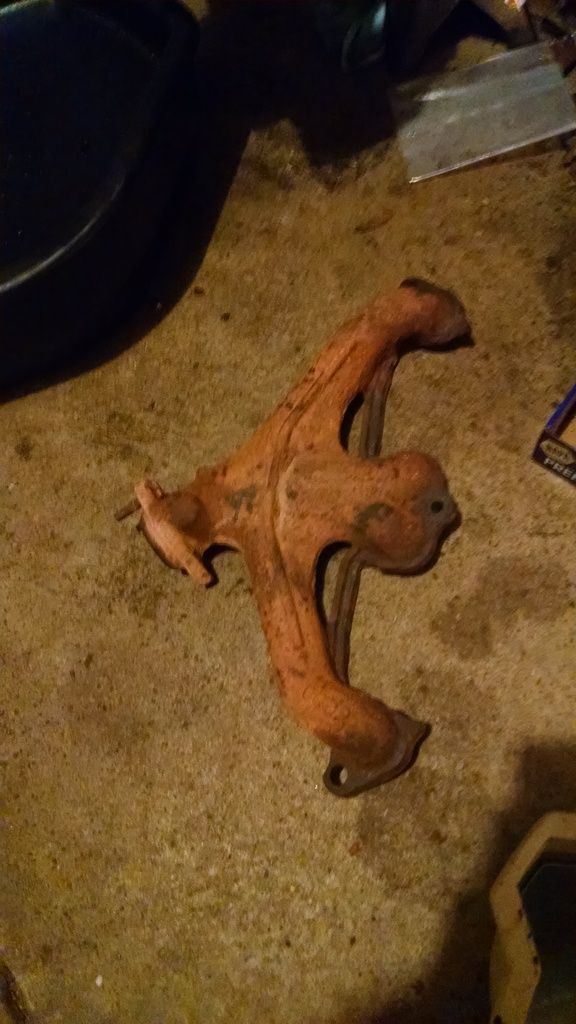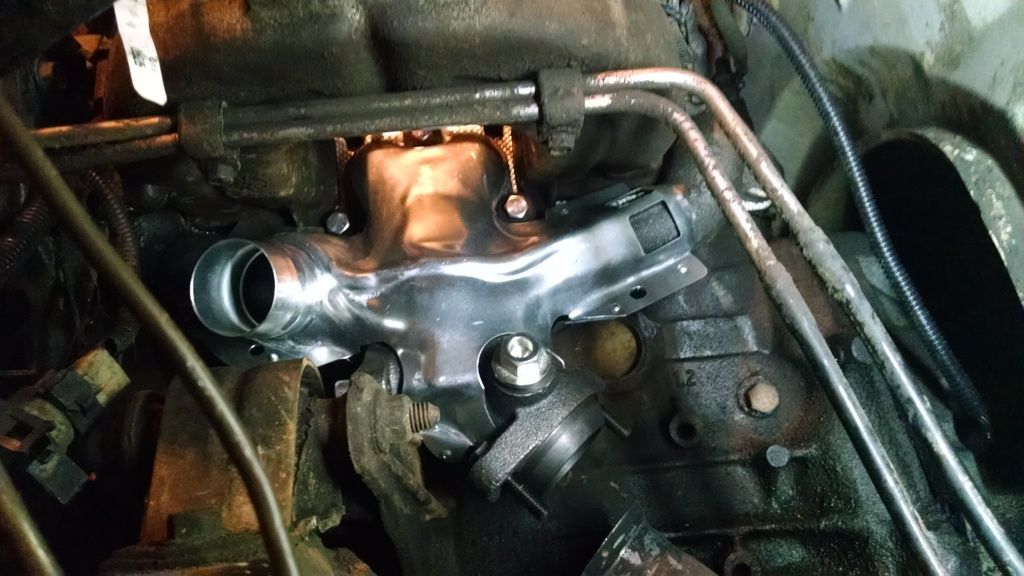 The new one has a cool heat shield! I did find that the stud closest to the firewall must have broken off at some point. Fortunately, it looks like somebody got most of it out. Unfortunately, it looks like they also broke of a drill bit or something inside the threaded hole. I still have probably slightly more than a quarter inch of usable threads left. I plan on just getting a shorter bolt to fit in there. Does anyone have any experience with this? I feel like it may not tighten correctly or could make it proaned to stripping? Not really sure.
Moving on... Also went around to removed all the body mount bolts!!! Yayy!! I only broke off 3 out of the 10. Well, 2 out of ten. The last one... The captured but inside the floor support twisted with the bolt when I tried to remove it, and tore through the rusty floor...
I know that somebody makes those floor supports that can be welded in. Will either do that or try to repair it myself... Luckily the bottom bushing disintegrated so I cut just cut off the bolt head for now.
So that's where I'm at. Spring break is next week which means all my buddies will be home to help me lift off the tub !!!
Currently Active Users Viewing This Thread: 1

(0 members and 1 guests)