Well I guess it's time to start a build thread...even though I haven't built anything on it yet.
Well I'm 18 and got my Jeep in June 2011.
1998 Jeep Wrangler Sahara. Moss green with tan interior.
D30/35 with 3.07's and the 3spd auto.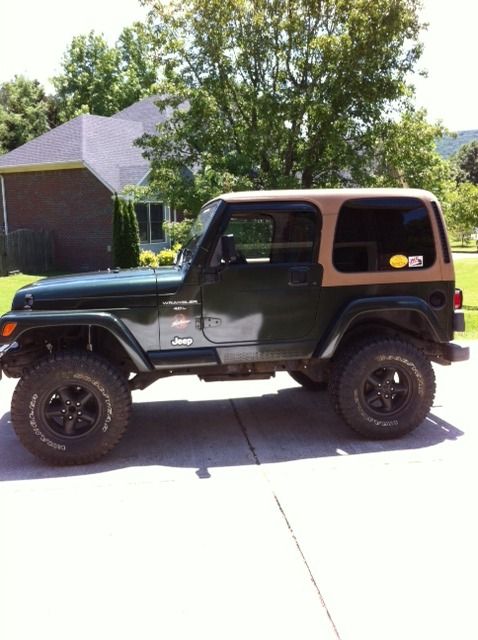 Most current picture.
Currently have:
BDS 3"
Bilstein 5100 shocks
JKS 1.25" BL
BD 1" MML
1.5" RC wheel spacers
33" Duratracs
Future plans:
Steering:
Currie full HD steering with Savvy tie rod
Currie tie rod flip
Extended sway bar mounts and gussets
Currie anti-rock front and rear
Brakes:
Black Magic pads with Centric rotors front and rear
Axles:
HP30, chromo's, Spartan, trussed, sleeved, C gussets, Spicer 5-760 ujoints
Ford 8.8, LSD, BTF truss, sleeves, Yukon C Clip eliminator
Driveline:
JB Conversions super short SYE with Carolina driveshaft
1" Brown Dog MML
B&M transmission cooler
B&M remote transmission filter
Mopar Deep pan
Dirtbound Offroad quad fan electric fan
Suspension:
3 link front and 4 link rear
MC Duroflex joints
Poly 4-link brackets all around
BTF 4 link truss
Artec/custon 3 link bridge
Outboard 12" travel rear with 6" up and 6" down
Extended front mounts with 12" shock with 6" up and 6" down
Armor:
Undercover Fab Deep Cover UHC skid with LoPro
Savvy gas tank skid
Savvy rockers
Savvy full corner armor
Savvy tub sliders
Savvy aluminum tailgate armor
Undercover Fab front bumper
Genright rear crossmember bumper
MC Overline front fenders
Interior:
Cobra CB/PA system with 4' Firestik antenna
On board air
Cruise control
In cab winch controls
Scangauge II
Novak NP231 shifter
Blue Monkey speedo healer
Lights:
Savvy LED taillights
HID Projectors with halos from
HIDProjectors@gmail.com
Recovery:
Engo 10k winch
Multiple D-rings
2 20k lbs tow straps
Tires:
285/75/16 Duratracs
16" Moabs
Sound:
Alpine CDE-121 with Powerpack amp
Polk DB521
Polk DB651
NalinMFG speaker adapters
2 RockFord Fosgate 10" shallow mount subs under the seat
Well I think that should do it for now. Basically I'm building a DD that is still very well built and capable offroad.
This build will take years but when it's finished IMO (obviously) it will be one of the best DD/Trail Rigs out there. If you have any ideas or anything feel free to post them up!
EDIT: Changes are current as of 2/7/13.