Hello everyone, my name's Tanner... I drive a 1999 Silverado 1500. My girlfriend has always wanted a Jeep, so I bought her a 4.2L 5 speed YJ with 166K miles a couple months ago. It has 33's on it so I'm assuming it's mildly lifted but not 100% sure. I live outside of Austin and found the Jeep online at a dealership in Houston... I ended up buying it sight unseen and had it shipped to my work.
After making the initial drive home I realized it needed some work. It has the usual 4.2 lifter tap, no biggie. But there seemed to be alot wrong with the dash. The gauges, climate control, and radio were not working. So I looked to the fuse box which is where I found the fuses literally falling out. I ordered a used fuse box/wiring harness from ebay and began to pull the dash apart to remove the old one. When tearing the dash apart I found that the metal dash plate had rusted through towards the middle of the dash, so I have ordered a used one of those as well.
That's kind of where I stand right now... since the Jeep is kind of a toy (she DD's a 2002 Jetta), I have decided to bedline the tub so I have started gutting the interior. Needless to say, the girlfriend is not happy with my decision to go from "I have to change the wiring harness out" to "I'm gonna make this Jeep badass!"
The list of replacement parts I have ordered goes like this:
-Roll Bar pad kit
-Speedo/Tach gauges in better condition (and 10,000 less miles
)
-LED dash lights
-Delo400 oil change
-Metal dash frame
-Alpine 4x6's
-Fuse box/wiring harness
-Bedliner tub
And in the near future:
-Nutter bypass
-Motorcraft 2150 carb
I must say, this car is the easiest I've EVER had to work on, I LOVE IT. If I didn't love my truck so much and have so much invested in it, I would sell it and be a Jeep man forever.
Anyways, here's some pictures:
A couple pictures from the dealership
Dash torn apart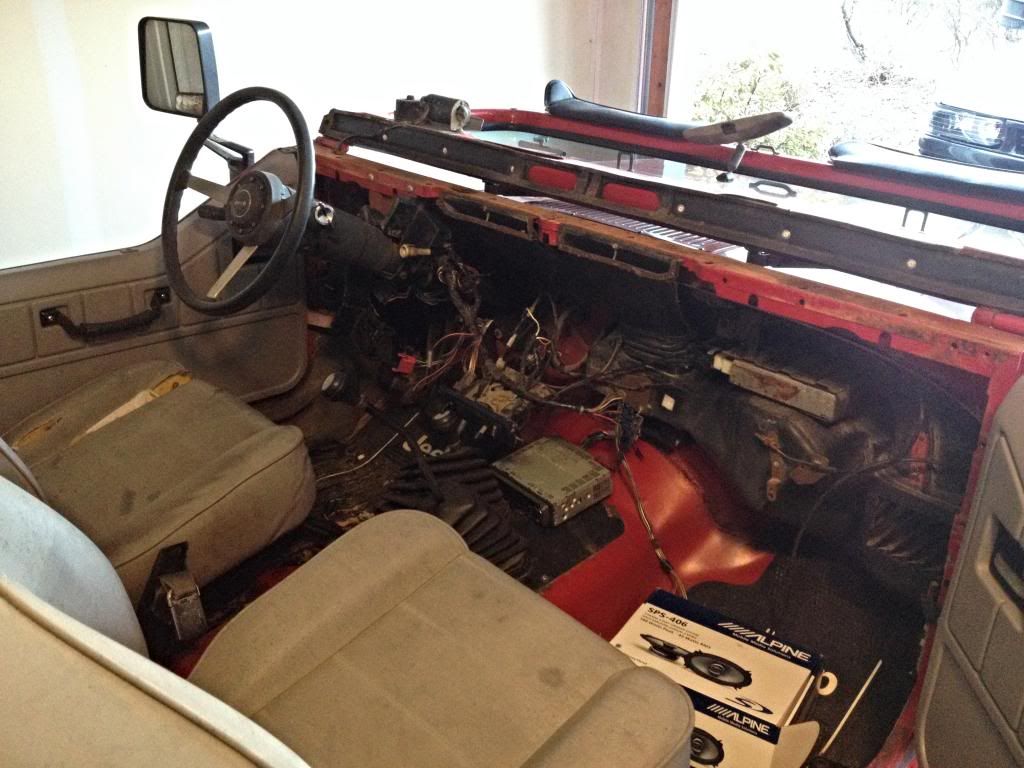 Only the seats remain