Ok, so we got the lift on last night. We finished her up at about 2:30am, it took us right at 8 hours but we would have been done way sooner had the lower control arm bolts came out easier.
Here is everything removed from one side. The lower control arm bolts were a pain in the butt so we ended up using a combination of a Port-a-band and a grinder with a cut off wheel to just cut them off and replace them with new grade 8 bolts. A little note that wasn't included in the instruction booklet about removing the stock strut is that in order to access the nut from the top on the passenger side, you need to remove the air box. I'm sure most already know that but I figured I'd share that.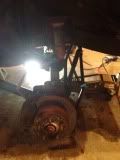 Here is a picture of the new control arms, shocks, and springs mounted. The installation of these is pretty straight forward except having to man handle the axle in order to get the springs in and the control arm bolts to line up if they are being a pain.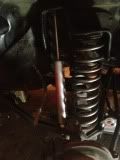 This is a picture of the new shocks and springs installed on the rear. The main problems we had here were getting one of the new holes drilled on the track bar re location bracket because the drill wouldn't fit. Luckily I had a smaller drill and bit that barely fit. Also, Reaching the upper shock bolt on the passenger side was a bit of an issue. We just had to use an extra long extension (about 5 extensions put together haha).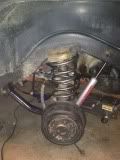 And here is her today on top of Viking Mountain in the snow. She did fairly well other than it pulls to the right a little because it is out of alignment. I also have to install the 4WD linkage fix that came with the kit. I also did the transfer case drop which literally took me about 5 minutes.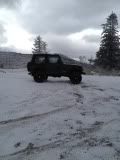 Up next on the list are some new tires (not sure what I want yet), front and rear bumper with a swing out tire carrier, winch, high lift jack, and some rock sliders. There will probably be a good bit of time before the next additions while funds increase.