98 XJ DD and weekend warrior
---
Decided it's about time I started one of these things. I got my start in Jeeps back in May 2007. I picked up a 00 TJ SE that was beat to hell and back, but still ran great and was exactly what I needed at the time. I bought it stock w/ 31's on it, but ended up replacing them once they wore out. I put on a new top, Skyjacker 2" BB, JKS Quicker Disco's, and Krylon'd the flairs. By the time I sold it I actually made money off of it even with all the parts added on.
I sold the TJ then almost a year later and missed having a Jeep the day after I sold it. I finally got in another one then back in February this year. The day I picked up my XJ. Drove down to Lynchburg, VA and back in a day, around 12 hours on the road total.
Picked it up for a fair price and had a 4.5" lift installed, 32" BFG MT's, JKS Quicker Disco's and a front lunch box locker. It also had the HP D30 front and C8.25 29 spline rear. I know there is a couple of other things I missed, but that's the jist of it. After driving it like that for about a month I decided it was time to change out the rear springs. They where starting to sag pretty bad and where sitting on blocks. Needless to say it was the right decision to swap the springs. I purchased RE 4.5" leaf springs. Swapping them out I found this.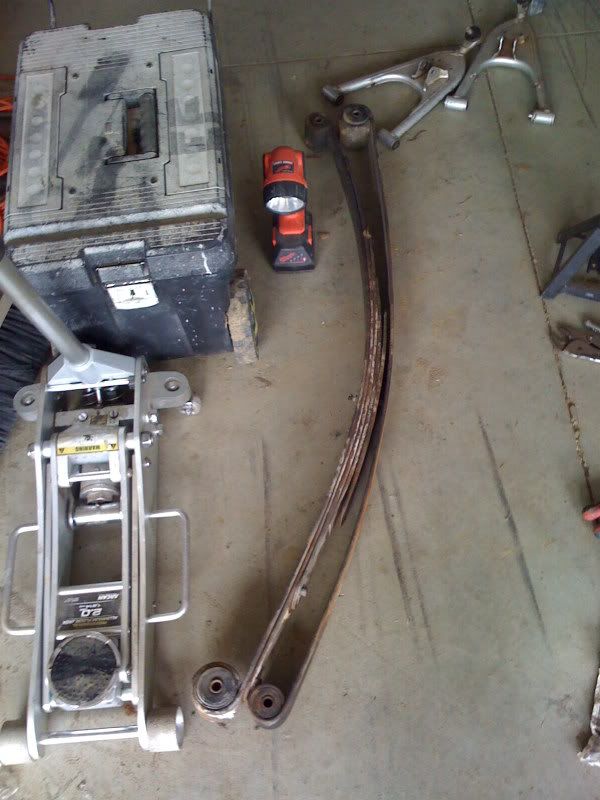 It then sat much nicer and I was pretty happy with it. Soon after that I put on a set of AJ's Super Square Rock Rails, and got a chance to head up to Rausch Creek
Most of the pictures are on friends computers due to my fiance riding with me and not being able to snap pictures of my Jeep while in action. I'm currently in the process of building a roof rack for it. That brings us to today. While I have plans for it, it's all a question of if it will ever be done.
Potential Plans
Ford 8.8 rear
ARB rear locker
4.56 gears
35's
Gas tank Skid
AJ's Winch bumper
TNT Long Arms w/ belly pan
SYE
bump it up another 1-2"