Ok, After several years of drooling over posts of others doing this swap, I have finally pulled the trigger and will be doing mine. It will be a long process and I don't really expect to get into the meat of it until after summer, but its finally going to happen. I still have a lot of unknowns on it that I will figure out along the way and hopefully with the help of others that have done this.
I bought light roll over 02 Tahoe as a donor. There wasnt really much evidence that it went over hard, only one scuff on the top drivers side rear, which is why the rear glass busted. Wasn't really convinced that it went over really. I will be pulling everything off of it that I think I can possibly reuse for the build and part out the rest. Anything left over will hit the crusher. I am hoping to get enough cash back on parts to just about cover the costs of the drivetrain.
There wont be much progress on the swap part for a while, for now I will just be working on getting the Tahoe apart and gathering the rest of what I need to get everything up and running again. But here are a few pics of the Tahoe donor to get us started.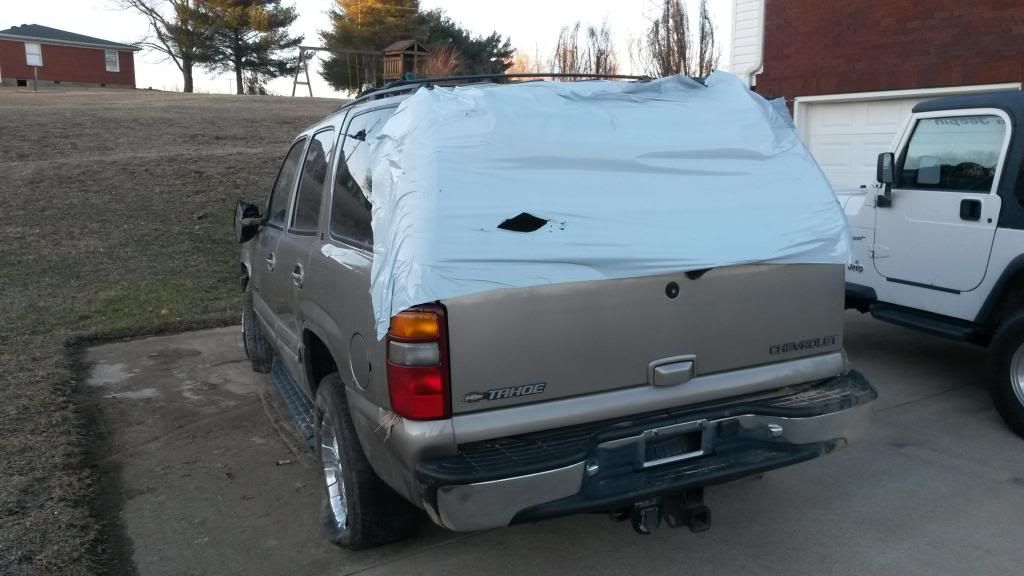 I tried to crank the engine over the other day but it only made about half a turn then made a loud metallic pop, not a backfire. Thought for sure that I shot a rod through the block or something. Today I went out and pulled all of the spark plugs and cranked it over by hand. Number 6 cylinder was full of oil, so I guess it really did go upside down. Number 5 cylinder plug came out a little oily, but it didn't puke oil like #6 did. It turns over good by hand with the plugs out, so Im hoping that I didn't hurt anything. I will try to post up a list of plans sometime in the near future, and probably a few pics of the Tahoe coming apart just for fun.