I had a 00' Tj with 31's that i loved but got rid of to pay off bills. I always missed it and wanted another jeep but wanted to do it all cash.
I decided YJ's were in my budget becuse i wanted a DD/ part time trail rig.
I found a decent little candidate on CL. 2.5L 5spd, had 180k on the clock but ran and rove great.
So ere she is about a week after i got it just over 2 years ago.
So what now?
Well, I took off the stock front bumper to make room for my yet to be determined custom bumper. I did get some 3/4" d ring shakles for the front tow points.
I also determined that I have a pinion seal leak, and an axel seal leak.
I just ordered a new diff cover to get rid of the stock "plug" cover, and a spartan locker for the d35.( Bad idea I know but it worked out great.
I yanked the rear end apart and change the seals, install the locker, install the diff cover and change/check all the rear brake hardware as well.
I thought someday maybe a lift and some bigger tires than the 30's that are on it.
First time with the top down....
Front bumper off. I cut out the bottom captured nuts as one broke out already. Leave the holes for drains. Welded angle brakets on the sides of the rails to mount my new bumper to. Also still use the factory top bolt as well. This way I should be able to put the factory bumper back if I ever choose to. I doubt I will but...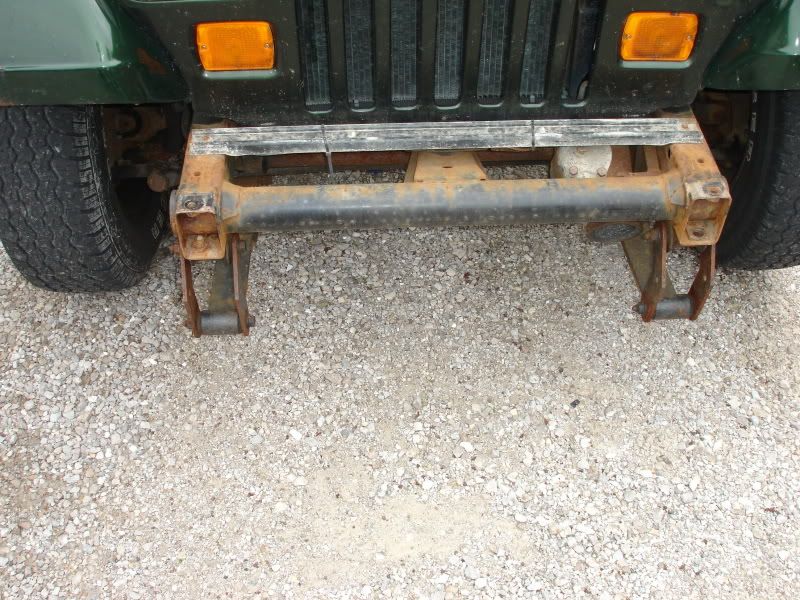 I also got some of the frame tub under coated on the passenger side. The before pic is the driver side but the passenger looked the same.
Wire brush, cleaned a lot, more wire brush, rust inhibiting primer, and truck bed line spray.
Alot more to do but...
Before:
After:
Oh, BTW i did know the front booms were backwards. PO on that one.