And her she was the first day that I got her home.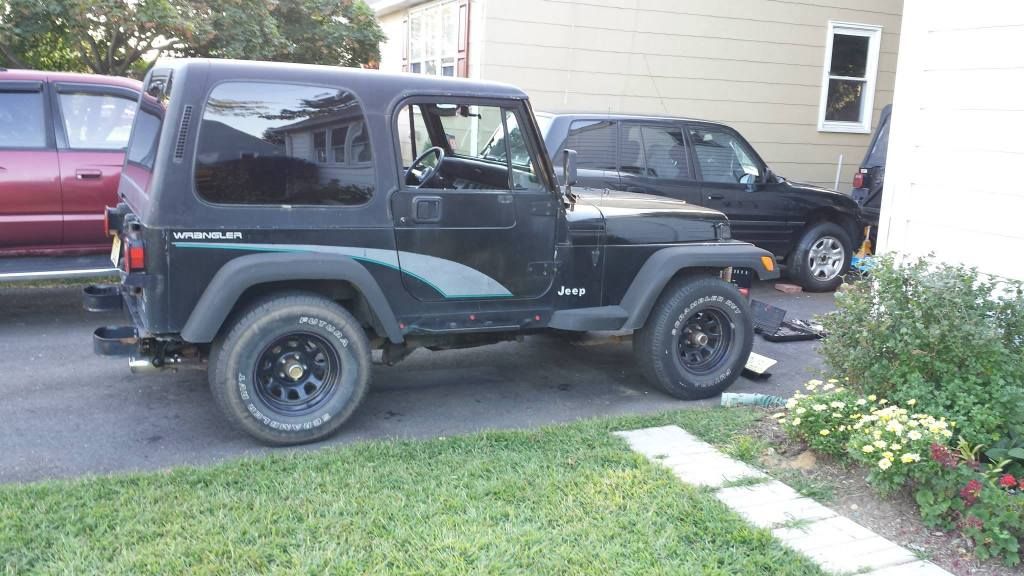 Pretty much bone stock and in need of ALOT of TLC but thats what I wanted.
Pretty much no driver side floor pan, instead a rubber mat.
Cracked Header and crap exhaust.
Shot suspension.
Bald Tires.
Rotted Frame Sections.
Perfect vehicle for me to really dive into head first.
So before I go into the pictures this is what she currently has on and done.
Banks Tourque Tube (Sidewinder) header
Flowmaster Pro 10 Seriers Single Chamber to Banks 2.5" Tailpipe with 3.5" Tip (She Crackles when shifting and sounds like a V8, I will record it if anyone wants it)
K&N Cold Air Intake
MSD Wires and Coil
95 YJ Dual Brake Diaphragm
83 Ford E350 Master Cyclinder
Front Powerstop drilled and slotted rottors with Hawk LTS Pads
JCR 1 Ton Steering UTK
Dana 30 HP with 4.56 gearing, Detroit Locker, 4x4 Posi Lock
Tom Woods Drive Shaft and an SYE
Ford 9" W/ 4.56 Gearing & Tru-Trac Locker
4" Rough Country Lift Kit with additional 1" Boomerang Shackles
1" Red Daystar body lift
6" Total
Interco Truxus MTs 35x12.5
Smittybuilt Front & Rear Rock Crawler Bumpers. With Tire carrier.
Daves Custom Boat Side Rockers
Monstalined Tub and Rockers
Red Dash LEDs
LED Reverse Light
1.5" Rear Spacers to make the Rear match the front
Infinity Bass Link Subwoofer
Sony Head Unit Mounted In Lock Box
Smittybuilt Cargo Net
Entire frame, axles, and many parts were sanded down to bare metal and painted with multiple coats of Por-15 Rust Preventitve paint...I love the stuff from using it on my Cherokee, I swear by it.
All brake parts, every single piece, every line and fitting from front to back along with parking brake cables are brand new. She locks up no problem.
So Enough of the typing, lets see some progress and PICTURES!!!
Current