Registered User
Join Date: Jun 2010
Location: Shepherdsville, KY
Posts: 31
93 YJ Clean and Simple
---
This thread is for my dad, he picked up his first jeep in febuary, as soon as he drove it all the jeep bugs crawled out from under the seat and bit him. All of the work is being done by him and yours truly (his son). It has came a long way in a short time but hopefully will go a lot further.
Heres the night we brought her home. Traded a 95 chevy z71 for her. Its a 93 160,000 on the 2.5l. Runs pretty good, doesnt seem to have been off road much.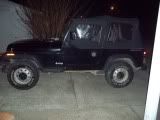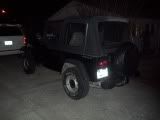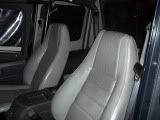 Kinda rough, first thing we did was strip the interior and clean it up, no pics though. Updates later tonight.
Right after we got her, we had a LONG period of cold weather here in KY so the first day it hit 60 the top was off. Heres some pics.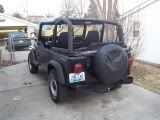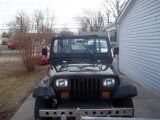 Ordered the 15x10 soft 8's and the 33x12.5 wrangler duratracs. Had to see what theyd look like next to the jeep. Also started on the body work taking care of some of the rot.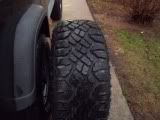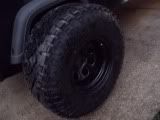 Then the paint started. Went with chevy red and decided to try something a lil different with the paint did a black rocker stripe and a hood blackout.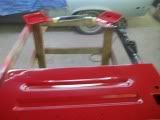 Couldnt resist sitting the tires up next to it, lift is up next.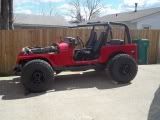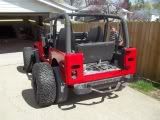 Got the rough country 4.5 lift on, took all day but got her done without much confusion.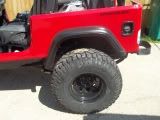 Then the front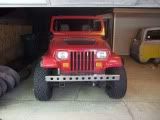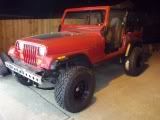 Still need a windshield and put the top back on but its gettin close to bein back on the road again.
This brings us to present state. Got the windshield in, top, tailgate doors all on. Back on the road finally.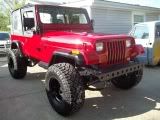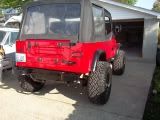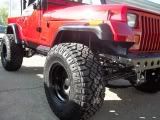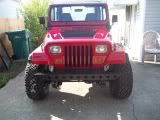 Up next on the list is a new front bumper, winch, a rear bumper with spare tire carrier, and a new top. Been thinking of possibly doing a tj soft top, does anybody have any experience with this mod?
Registered User
Join Date: Dec 2010
Location: Madison
Posts: 326
Holy small pics!!!

lol looks good though
Sorry bout that, i cant figure out how to make em bigger. I posted em the way the sticky says with photobucket. And thanks.
Registered User
Join Date: Apr 2011
Location: Pequannock
Posts: 74
how high is the bottom of the door with the lift and tires? i want to do the same thing to my 89. looks great man keep up the good work
Registered User
Join Date: Apr 2009
Location: PA
Posts: 51
That's one heck of a paint job ...looks great!
Im not sure how high it is ill have to measure it for ya. Ill try and do it tomorrow if this rain slows up. Thanks skreed.
Currently Active Users Viewing This Thread: 1

(0 members and 1 guests)