I have some time this afternoon, so I thought I'd start my build thread.
I've been wheeling for a while but never in a Jeep. My wife has always wanted a Jeep, so when her old boss decided to finally sell his 89 YJ 5 speed, we jumped on it. He has had it since new and was his baby, so we know it was great shape. Have all the receipts from the dealership to present. Kind of funny going through them, seeing how he was getting bent over by certain shops...
The plan is to have a streetable Jeep for my wifeto drive every once and awhile, but capable on the trail.
My current 4x4 is a pretty heavily built up Blazer. Yota axels, 4:10, welded rear, detroit up front, 4.3l Vortec, Racerunners blah, blah... Very good rig with all the bugs worked out. I`m probably going to sell it, but its tough. Lots of time and effort went into it. We call it Frank because it has so many different parts form different makers. We`re especially proud of the John Deere fender flares...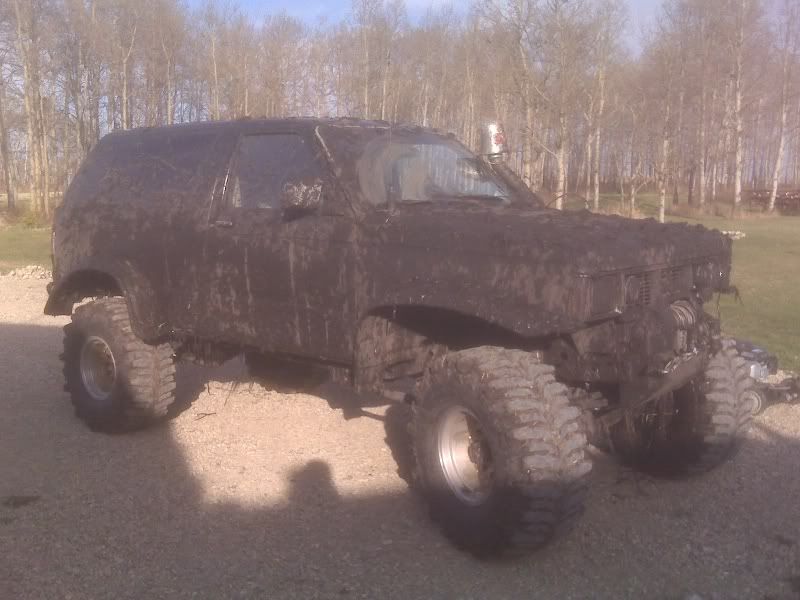 Anyway, we bought the Jeep and I quickly realized that the 4.2 needed to go. We found a 2001 Jimmy with a 4.3l Vortec on kijiji that was smashed but still had the motor and was in good shape. So we tore into it last weekend and got it out. What a pain in the a55! These motors are in there tight to begin with, but add a little tweakage to the front passenger side, and its in there good! Finally got it out after lifting the body off the front motor mounts. Cost me $500 and I should be able to get my money back parting out whats left.
Crappy cell phone pics. I will take proper pictures soon.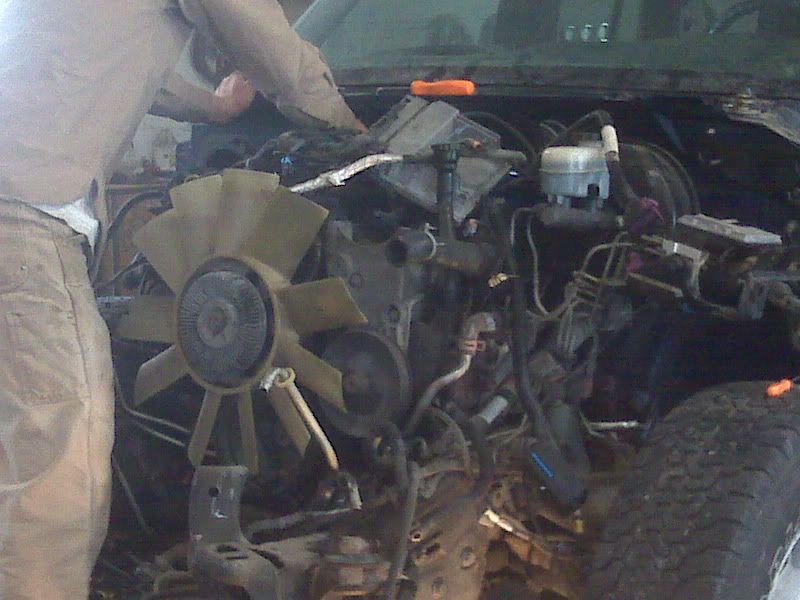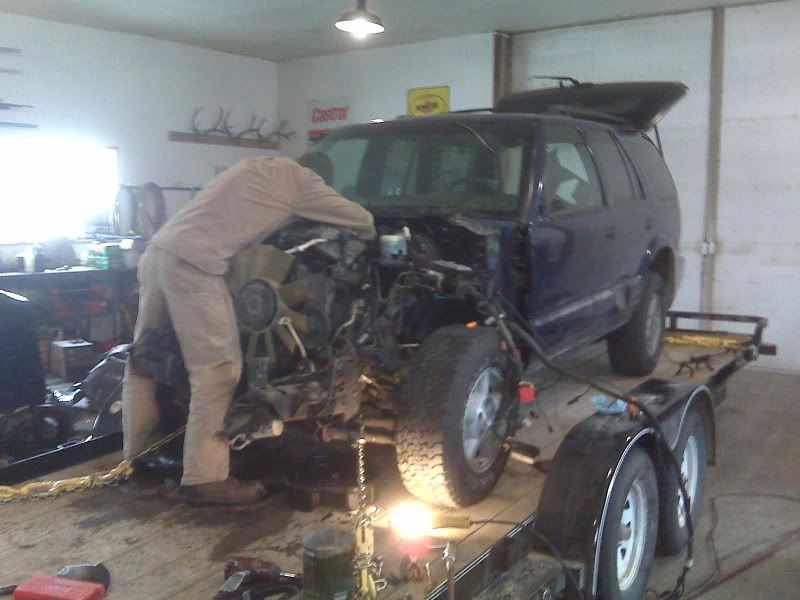 After much though, I decided to keep the Jeep manual and sell the auto and tcase from the Jimmy. I like gears.
After we install the motor, we`re putting in a Ford 8.8 with 4:10s, regearing the D30 front to 4:10 and beefing it up (not sure how yet...). Next will be a SOA done right. Tires will be 35s with offset (to be determined later) steel wheels. I prefer steel.
I ordered up Metal Cloak arched fenders and flares font and rear, as well as the rear armor. My buddy who`s shop we are using, is going to build some aluminum bumpers front and rear to match the fenders. Should look pretty good and be strong.
Its an ambitious build, but luckily my good buddy is a mechanic and has a fully stocked shop close to my house. I'm hoping to have it finished by early summer. I got a Valentines day present from my wife that we are expecting our first, so I need to spend all my money on parts now, rather then later... If she knew how much I`ve already spent, it would not be good.
Any and all thoughts, suggestions and opinions are welcome.
More pics and posts to come....