It needs and engine because of this hole right here. Also the radiator sprays coolant. But it still starts and runs, not that it could last much longer.
So we pulled the radiator and grill to make the engine removal easy. Pulled all the cooling lines too, since im going to change it over to an open system. There isn't much left in the way of the entire engine and trans coming out, a few bolts, everything else is undone.
Ive started to paint the grill chrome trim pieces black since they didnt look that great.
It was getting darkish but threw on my jcr bumper to see how it would look and i think its found a new home.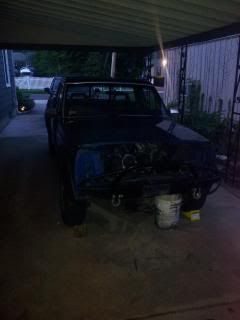 [/URL