Registered User
Join Date: Dec 2013
Location: Citrus Heights
Posts: 69
87 Laredo with Renix 4.0, Ford 8.8 and fresh paint
---
First off a quick introduction. I've been a mechanic for the last 12 years specializing in agricultural equipment and spent last 3 years working in a shop where I was able to get into custom fabrication work. I am married with a 2 year old son and daughter on the way. Recently I left the mechanic world to join my wife working from home as Real Estate Agents and now have the time to work on my projects.
So back in September 2013 I bought an 87 Laredo with no motor, previous owner had intentions of doing a v8 swap. The body and interior were in really good shape for the age of the wrangler.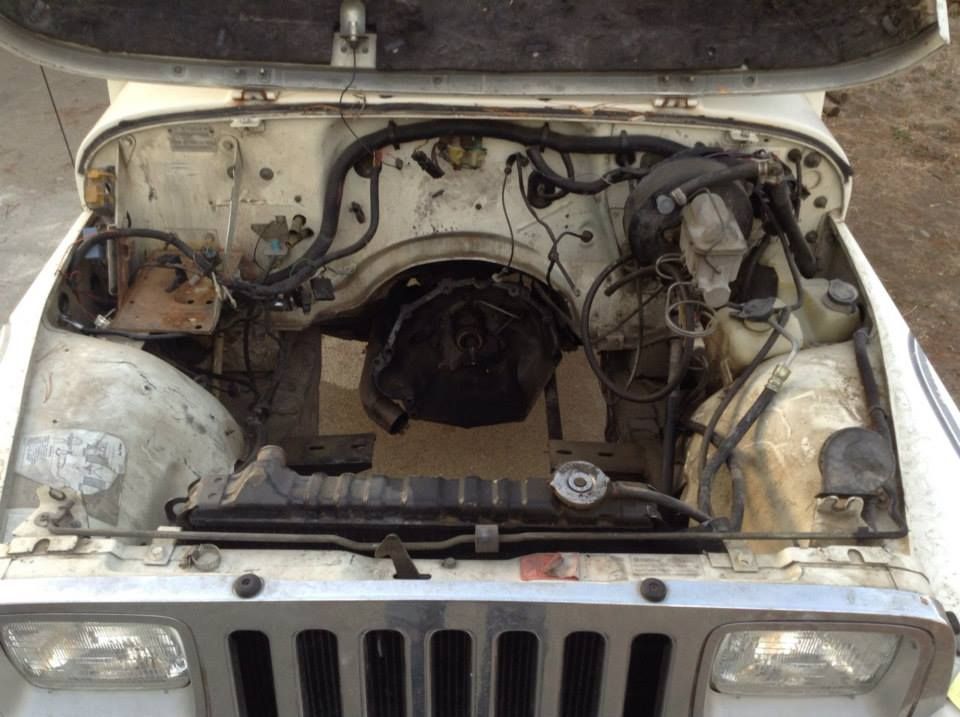 Next I started looking for motor options. I already had a set of v8 motor mounts welded in the YJ but I wanted something that would be easy to keep smog legal here in Cali. After some digging it turned out that one of the guys at my local tire shop had a 4.0 renix out of an 89 Cherokee with the auto trans and transfer case sitting in the back of the warehouse and would sell it to me for $180. It had the ECM and wire harness but the person who pulled the motor had cut the harness at the back of the head. So after a day of soldering I had a harness back in one piece. The next order of business was making sense of all the wires. I pulled the stock harness out of the YJ and pulled all the split loom and tape from both harnesses and started sorting out what wire to keep, toss and splice together.
What I kept from the 4.0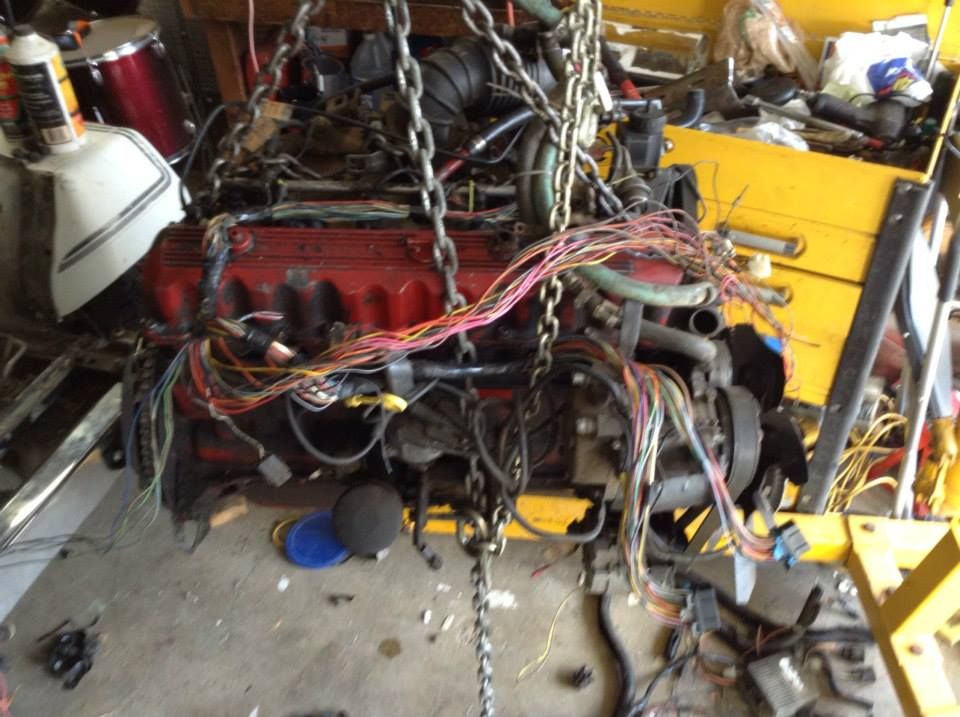 What I kept from the stock YJ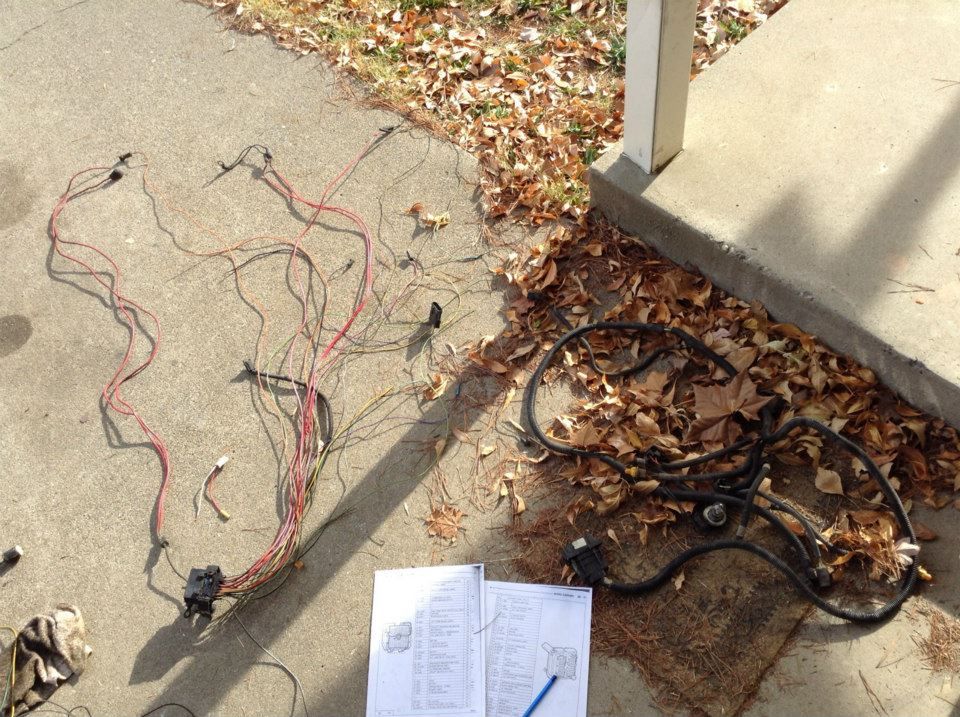 What is now scrap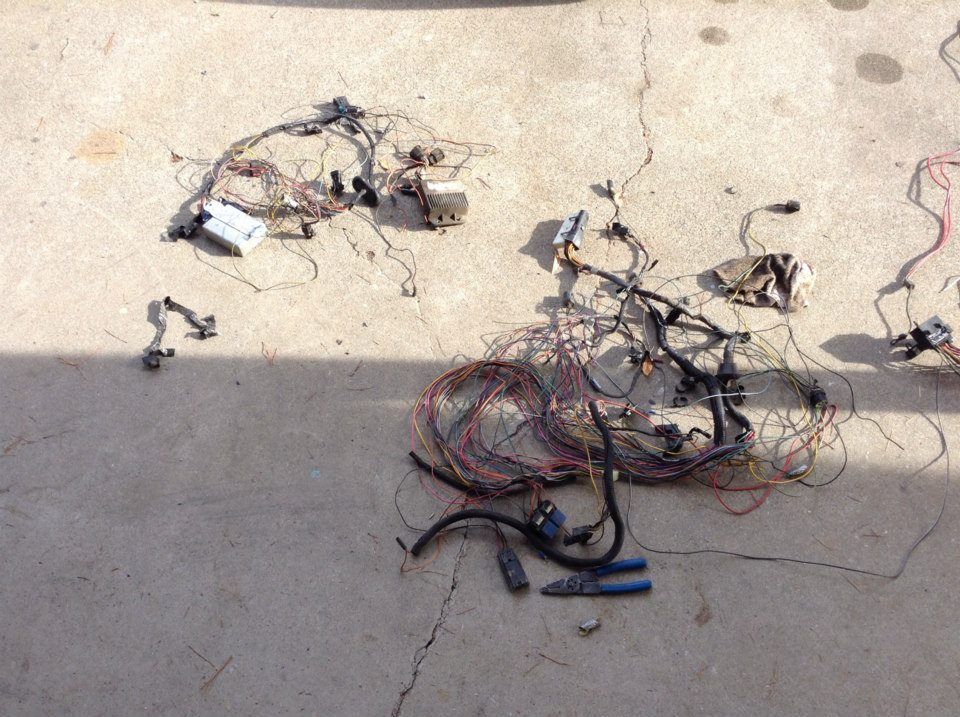 I then cut the V8 mounts out the Jeep and got a set of stock mounts from JW Jeep. What they gave me was two sections of frame that still had the mounts welded on them so I had cut those off and clean them up nice. I pulled the radiator and grill off the jeep to make the install easier. Then I got the motor in and and bolted to the trans with the trans mount in place. Once that was hanging nicely I bolted the frame mounts to the engine mounts and let them rest on the frame while checked all my angles and then I welded the mounts to the frame. I had checked measurements I took off a YJ at the salvage yard to make double check where I was welding the mounts but figured if trans was sitting on it's mount and the engine was resting on the frame with it's mounts then that was the best place for it.
Measure twice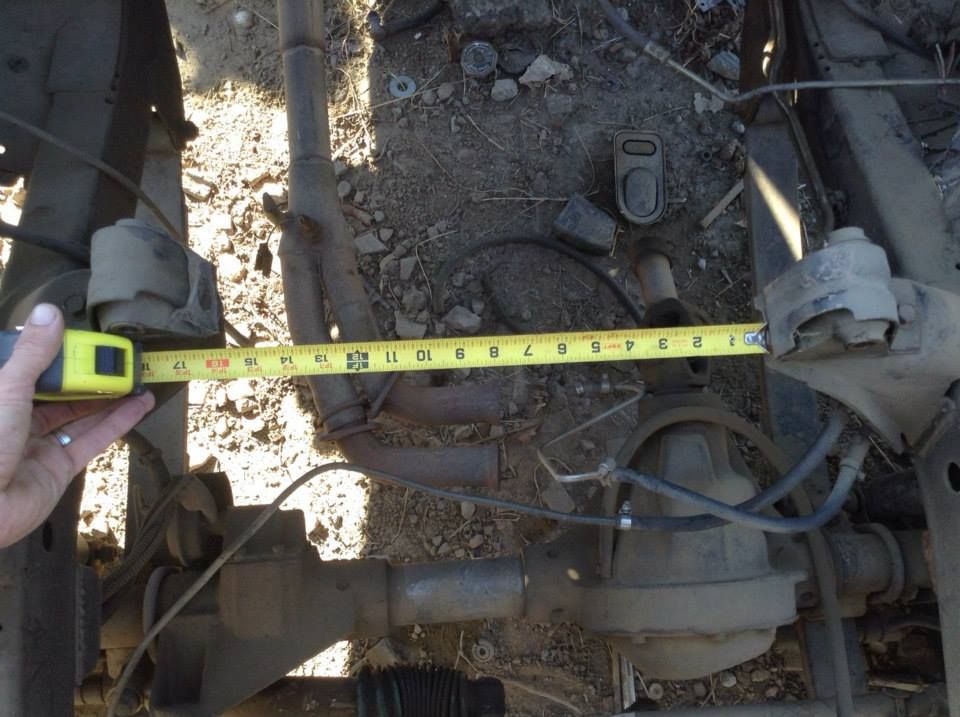 Weld once (best I could do with a stick and limited space)
Sitting on it's own weight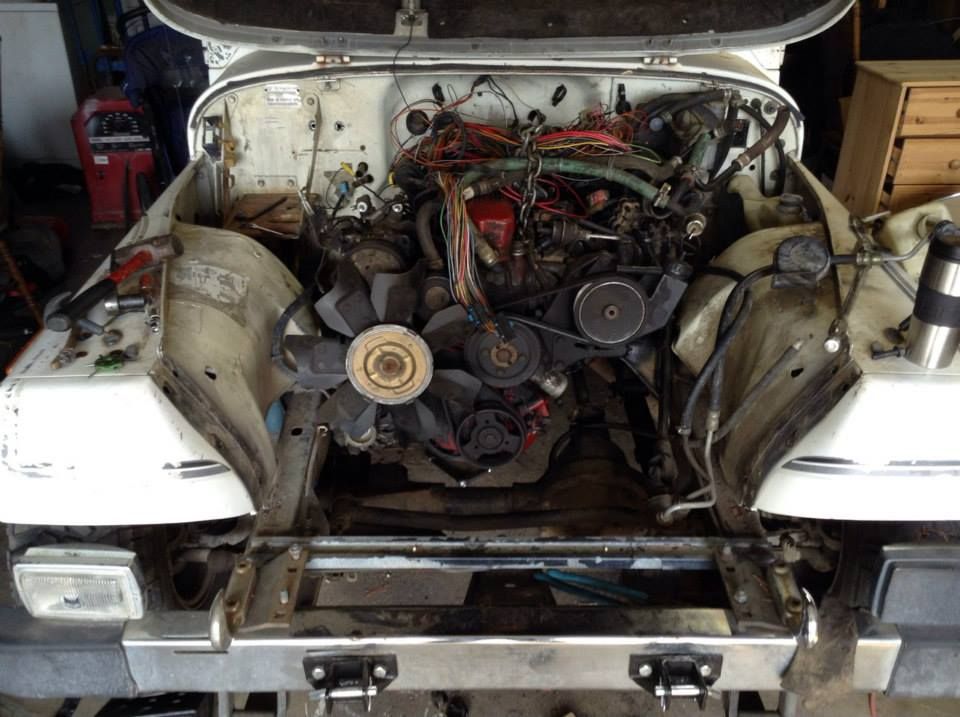 Then began the fun of getting wires routed around the engine bay and ECM mounted. Also had to cut down the air box and fiberglass in a new side to it so it would fit between the power steering and fender, I could have gone remote mount reservoir and maybe have been able to keep the stock air box intact but I am on a tight budget on this one.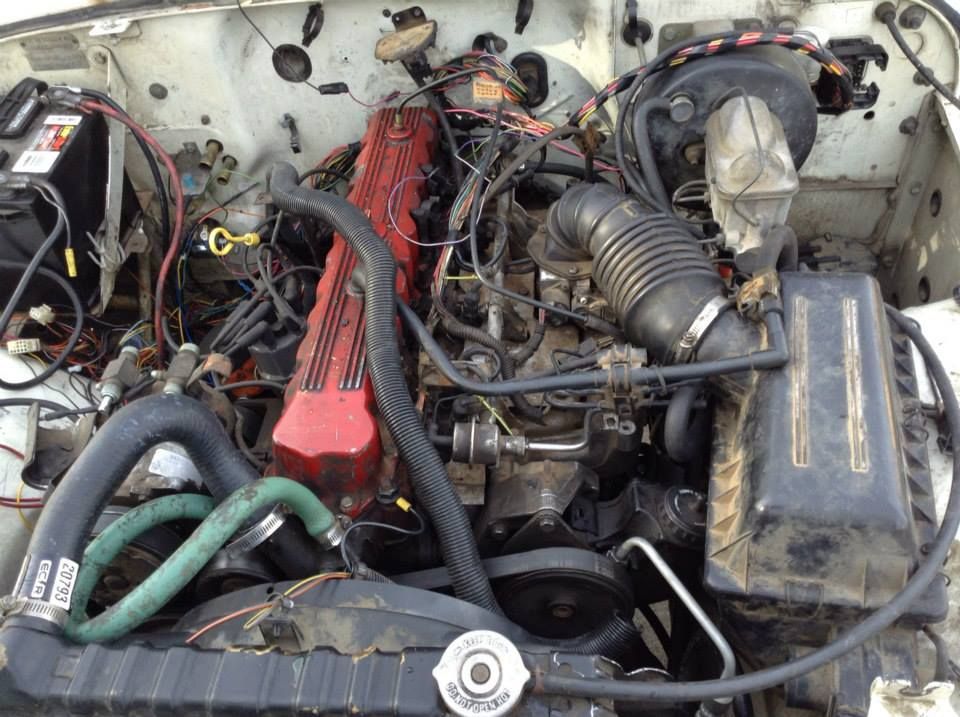 Then wrapped it in tape and put the split loom back on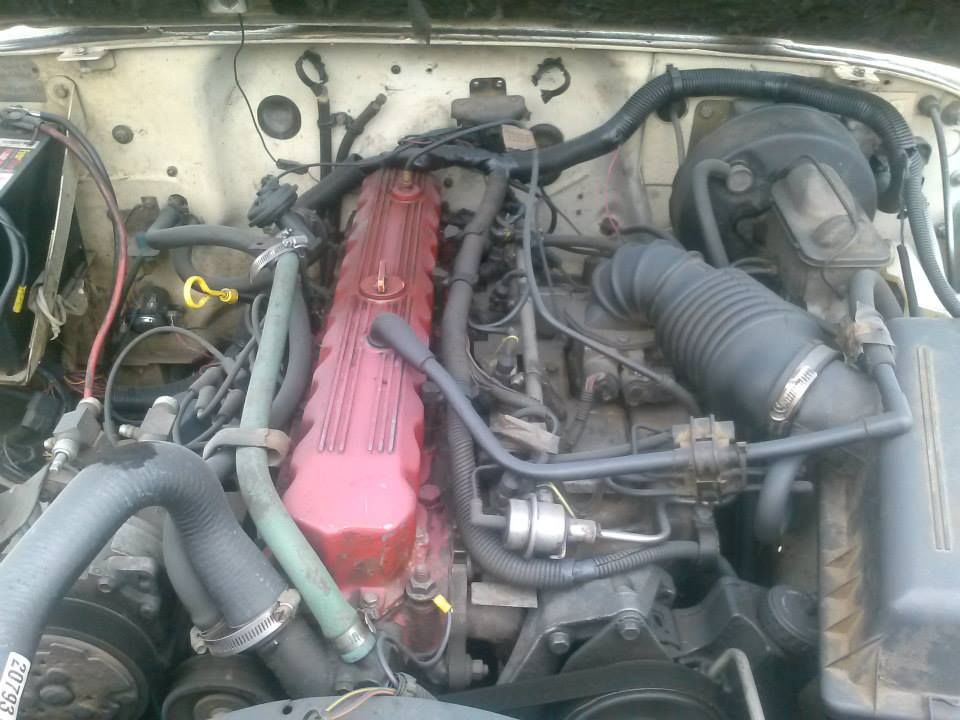 So now it was time to go to the ref and get a smog certificate and get the swap approved. However the rear axle was making a funny noise and on further inspection found that the ring gear had lost a bolt that bounced around who knows how long and and chewed on the pinion pretty badly. I had plans to go 8.8 when I get around to doing a SOA so instead of dumping money into the d35 I went to pick n pull and got an 8.8 out of a 97 explorer with 3.55 gears, disc breaks, lines and parking cables for $175. Sorry I didn't get any pics of the 8.8 swap but I will write it up when I do my SOA. The smog ref found a split vacuum line fitting so after a quick stop at the parts store the ref gave me the "a ok" on the swap. Anybody looking at doing a swap that needs ref approval I recommend cleaning the engine and engine bay of all grease and oil, covering all the wiring in split loom and keeping all documentation of parts purchased that are smog related such as 50 state cat receipts and what not.
The reward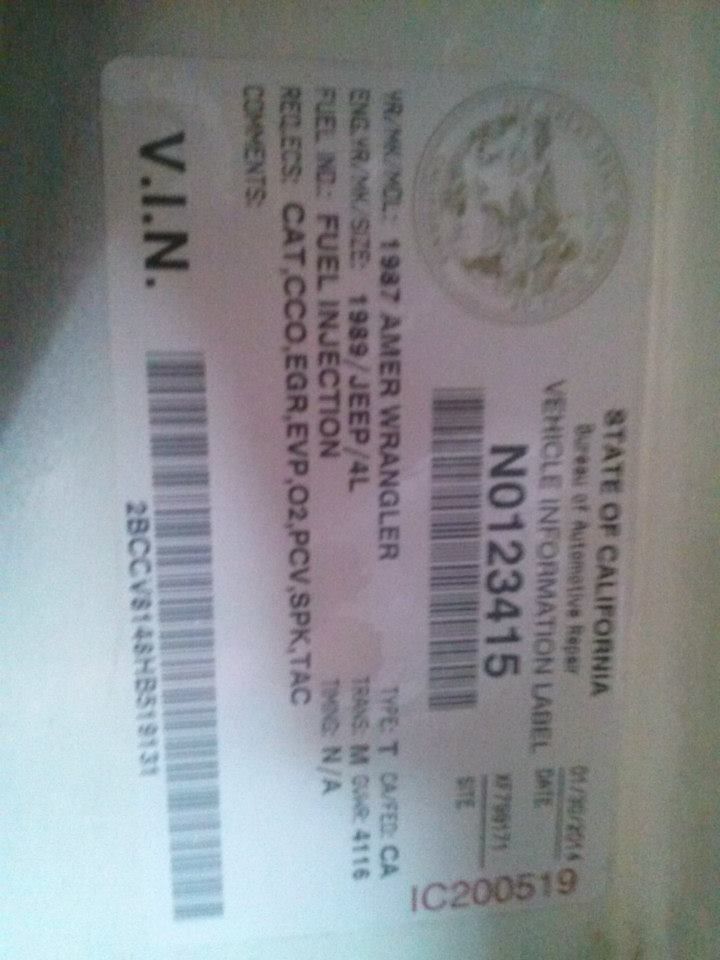 Now it was time to focus on the peeling pin stripes and faded paint. To remove the pin stripes and decals I recommend a pin stripe eraser wheel, it is a giant eraser (like whats on a pencil) that you toss in the drill and go to town with it. Once the stripes were gone it was time to scrub it down with a scotch pad to get down to a good clean scuffed up layer of paint for the new paint to stick to. I was not going for a perfect job. I did sand down the worst of the chips but other than that it was spray and go. It's a Jeep that will see plenty of rocks and trees soon enough. I shot the Jeep with CAT water reducible paint, like I said I used to be an ag mechanic and have sprayed many a dozer and equipment trailer with this stuff. It's $50 a gallon and covers exceptionally, 3 coats of white and still have half a gallon leftover.
First the black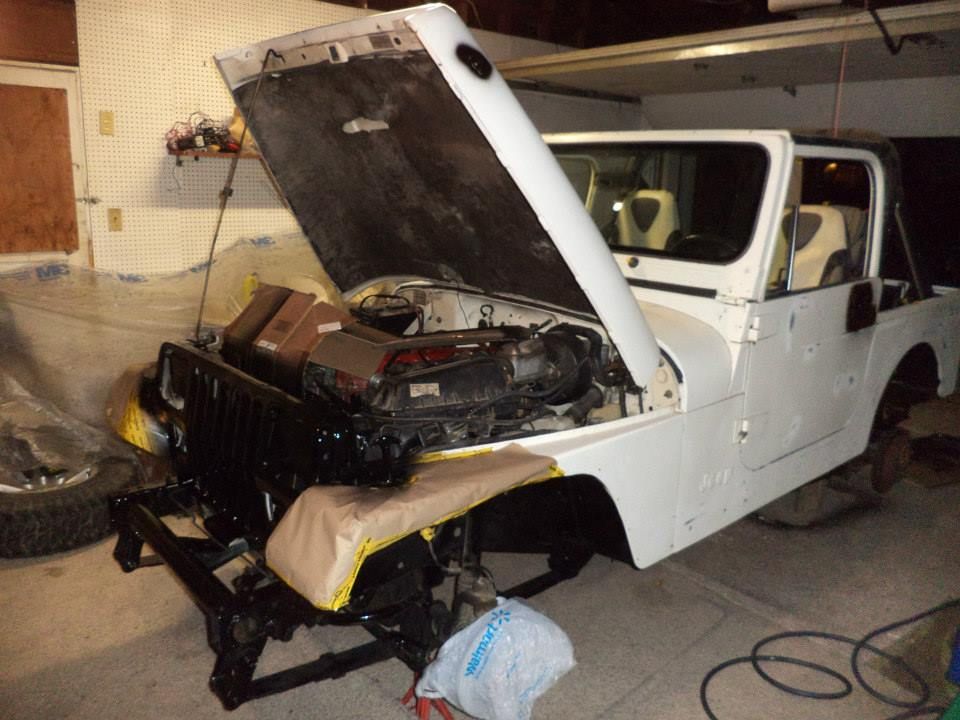 Then white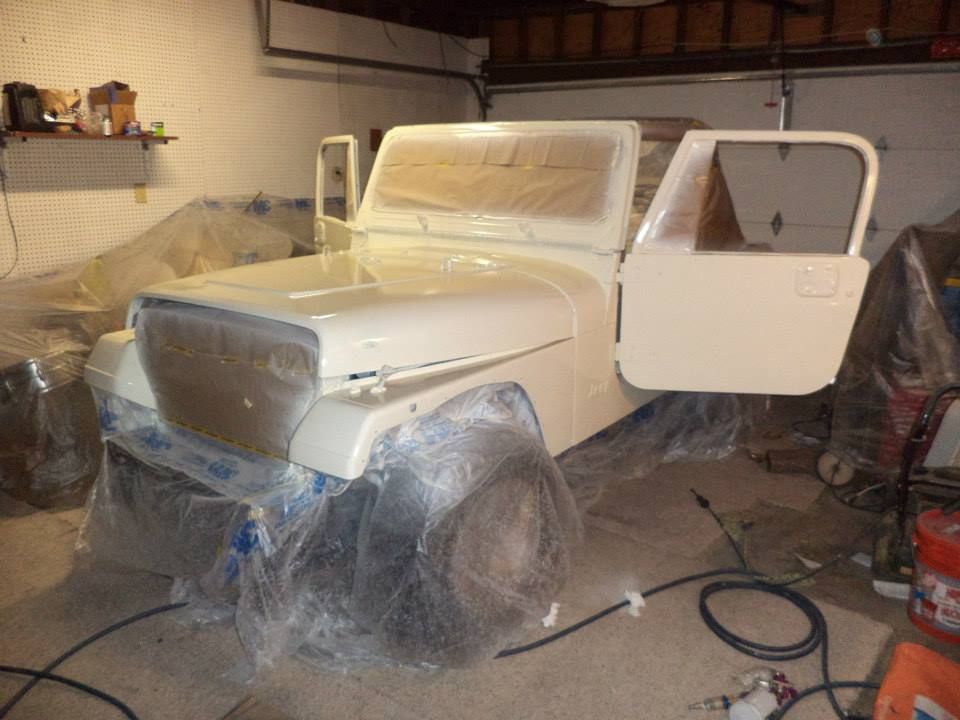 Then the best mechanic in the world helps with reassembly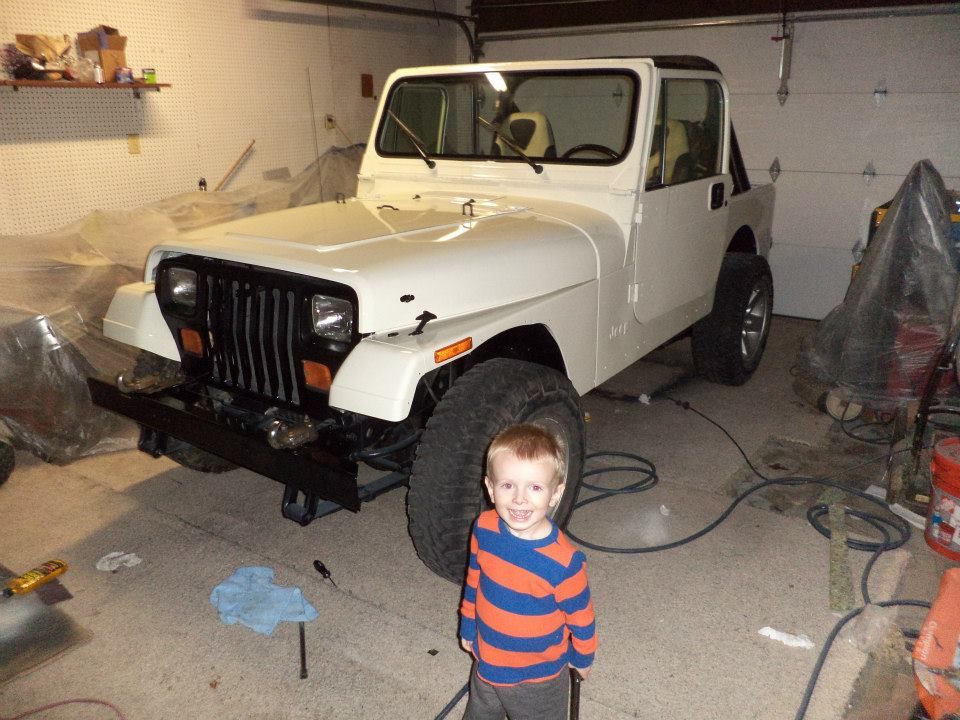 New flares
New decals just arrived in the mail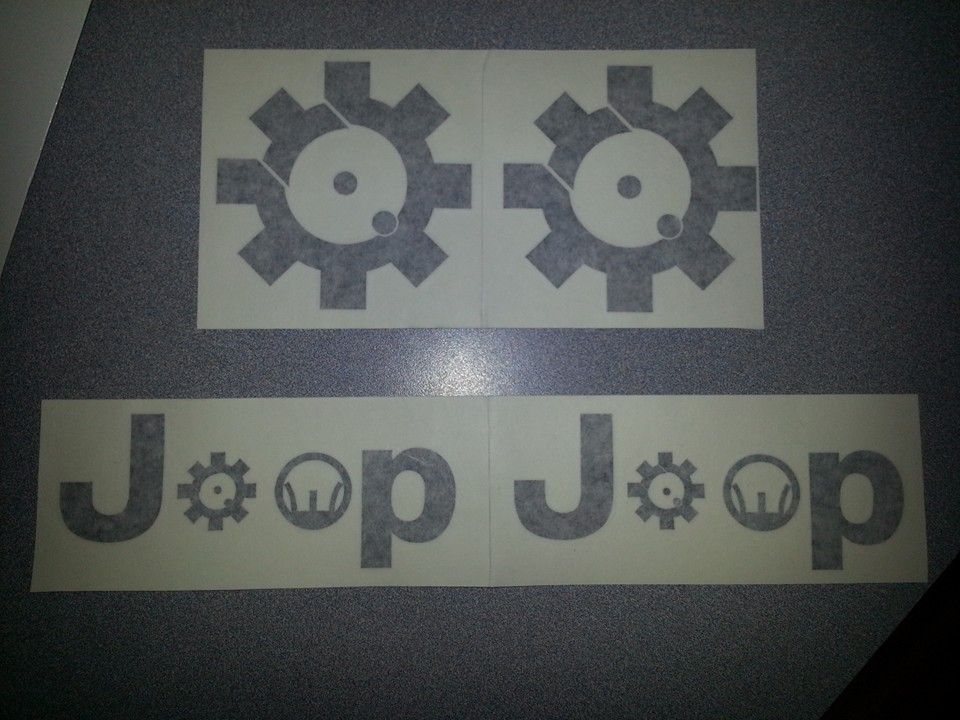 I will get the decals on today hopefully. I got them from thatstickerguy.com. Shot him an e-mail and asking about the custom design and the next day they were on his website ready to ship and three days later at my house.
It's been a fun project so far. I plan on building a rear bumper/tire carrier and doing a SOA once the funds are available including a SYE. Any questions feel free to ask. I also did the electric fan swap from a ford tarus with relays from FRY's and permanently shifted the front axle disconnect to the engaged position by removing the e-clip sliding the fork over and re-installing the e-clip. I'm sure I left plenty of stuff out but as I think of it I'll try to update this thread.
Registered User
Join Date: Aug 2012
Location: Susanville
Posts: 88
Looks great! Looks like you really know what your doing great that your getting to use your skills on your own project!
---
Just "Ledoux It"

My build thread http://www.jeepforum.com/forum/f22/high-desert-yj-1903466/
Yeah this is my second big project for myself, the first was a black and gold 78 trans am (smokey and the bandit). I restored an old John Deere 420 crawler, 54 Chevy pickup and 64 Willys pickup for the last place I worked as part of their 100 year anniversary. I'll see if I can get some pics of them.
---
My build thread
http://www.jeepforum.com/forum/f22/87-laredo-renix-4-0-ford-8-8-fresh-paint-2112993/
Registered User
Join Date: Sep 2012
Location: Prudhomme
Posts: 382
Paint turned out real nice!
Thank you. I've used that CAT paint on a lot of equipment and it's very forgiving.
---
My build thread
http://www.jeepforum.com/forum/f22/87-laredo-renix-4-0-ford-8-8-fresh-paint-2112993/
Currently Active Users Viewing This Thread: 1

(0 members and 1 guests)