begin wall of text:
So the LJ has +/- 130,000. Long story short old motor blew so a new one goes in. I have just received my freshly rebuilt LQ9.
It has the 317 heads and an LS6 cam. In the previous post the motor is between the frame rails, however sadly the mounts
have just been ordered so it's not actually in yet.
The transmission is the 4l80e. It will be mounted to the np231 then stock axles. Still to be ordered shortly is essentially everything else.
Transmission to xfercase adapter, transfer case mount, slip yoke eliminator, various other transfer case junk, drive-shafts, radiator and fan,
and lastly all the other stuff I'm missing. At this point it's not that I don't have plans to lift, It's that my budget for the Jeep is done as is
imaginable. Beyond all the stuff I just mentioned, I will be talking to local exhaust shops to see if an entire system can be made up cost
effectively or whether I will have to order headers and have them do from the headers back.
Things I need to finalize. Not just what fuel pump, but fuel system in general and power steering. Also torque specs for any and everything
related to the motor and transmission. I just realized that most of the text above would fall under needing to finalize technically, but hey,
here's to redundancy
and a *****in' new motor
I will not be integrating into the jeep harness or computer. I will be running aftermarket gauges in the stock dash. I am going of the visual
in my head right now, so bear with me. But the plan is to mount the gauges on the black part of the cluster that traditionally has the
numbers and info and fun stuff. The entire vehicle will be rewired by me. I am already predicting this dragging out. My goals for wiring are
for it to be simple and accessible, making it easy to fix. This is half way accomplished for me. The motor came from the builders with a
stand alone harness that includes the transmission. It has provisions for all accessories including outputs for gauges, fuel pump, etc.
The only thing I will focus on wiring at first is obviously making it run, but also be street legal. The stereo will probably be one of the first
things i focus on as well for fairly obvious reasons. Total time frame for wiring is a couple weeks maximum because I can't stand to drive
a half assed ride.
That may or not have been coherent, it felt like it came out as a jumbled up mess, but there are just so many things to take care of it's
hard to remember it all without my notes and spread sheets. That being said:
The goal for this build is to be reliable/worthwhile/cost effective vehicle. I believe this motor transmission combo fit those criteria best.
I am sure I left out some details, if you want to know in advance how it will work ask away, it will only make my build easier. Other wise
stay tuned and all will get sorted out eventually. Overall there is no solid time frame other then ASAP. ASAP allowing for it to be done
right. Since reliability is important over everything else, doing it right really will be the only way. Having said that, I know I will do tons
of stuff wrong. But oh well, nothing that can't be fixed and nothing I can't learn.
No real work was put in today, so random pic of the day is as follows:
Pic of 317 Heads With casting number: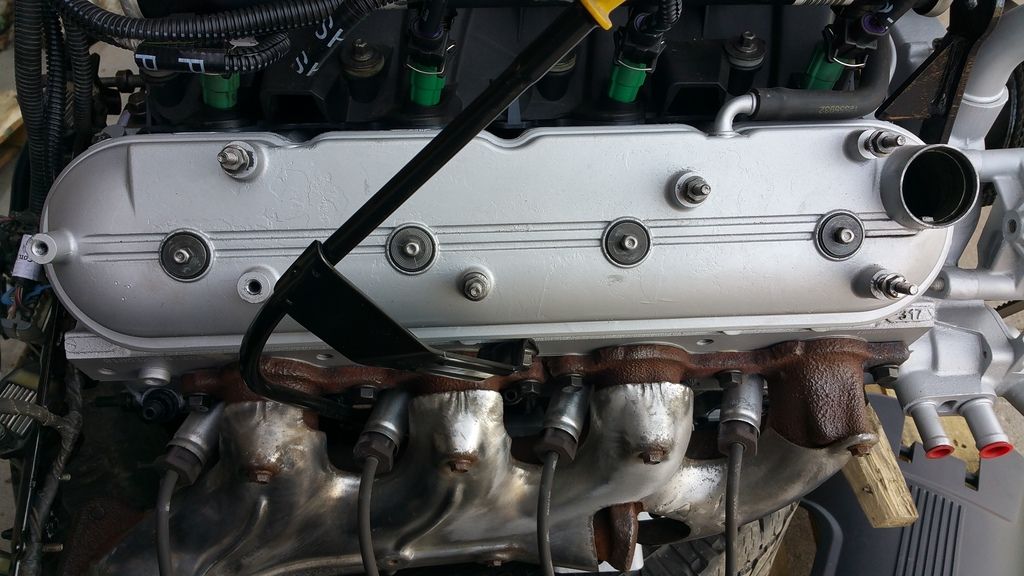 post-saving-pre-proof-read edit: you can also see the 42 PSI Big Green fuel injectors in this pic