The time has come for my Rubicon to get some upgrades.
This is how it sits currently: Completely Stock....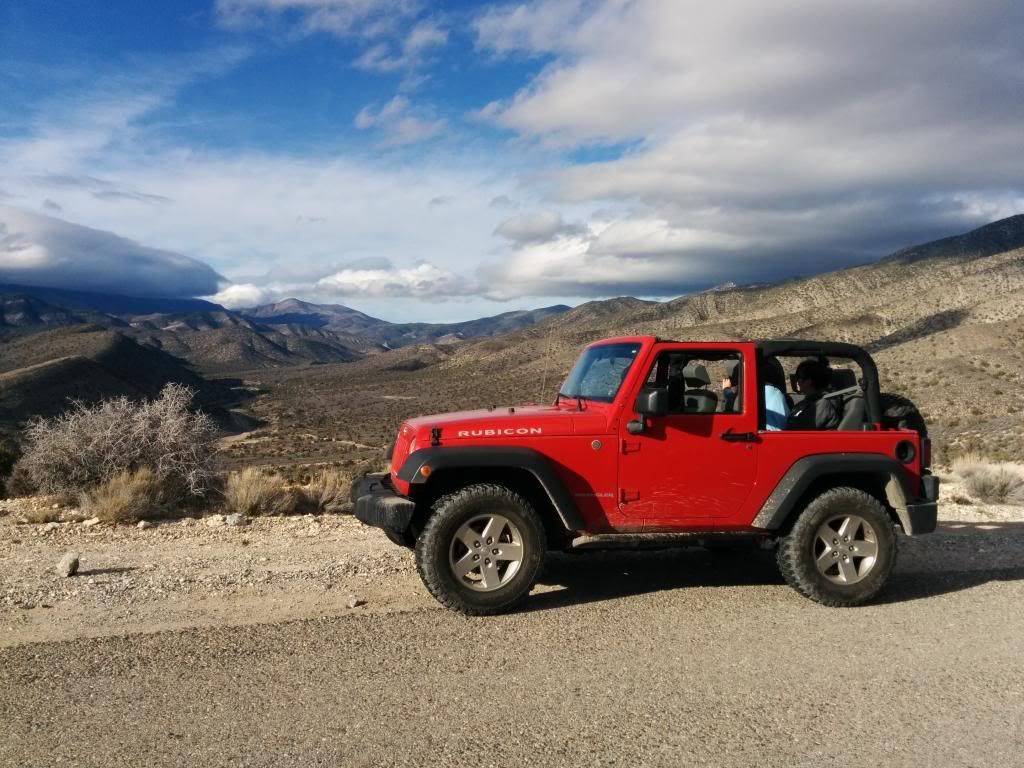 but I have placed orders for multiple items and hopefully it will look very different by next month!
HISTORY
My dad and I went to the Jeep Dealership here in henderson on February 18th 2012 and test drove a few of the Wranglers they had on the lot. We found this Rubicon and I instantly knew that's the one I wanted our family to have.
We were buying the vehicle to be shared amongst four people, and to take on family vacations. We were pretty new to the off-road world, but I was already taking 4-5 trips a year to a bunch of places where I knew having a 4x4 vehicle would make the experience much better. Some of those places included Death Valley, Zion, Yosemite and Pismo Beach.
The day after we bought the Jeep we took it to a very popular trail here in Las Vegas called Rocky Gap at Red Rock Canyon. It is a fairly challenging trail with lots of rock crawling involved, but the Rubicon handled it like it was absolutely nothing and I became hooked on the experience.
Since that time we took many vacations in the Rubicon and I believe it brought us closer together as a family.
Here's a picture from our Spring Break trip we took on our way to Pismo Beach: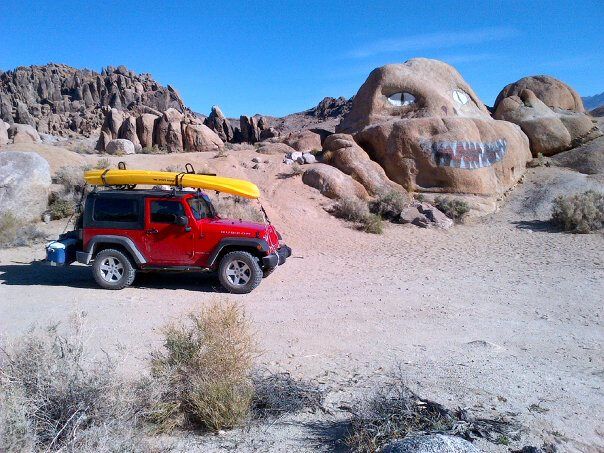 Since then, we had left it completely stock, mostly because we didn't need to upgrade anything and because my dad had no interest in changing anything about it.
My dad passed away in September of 2013 and around January I officially received the title for the Rubicon. Since it was his Jeep and we took so many trips in it, I decided to keep it. I went back and forth on the matter and lost a lot of sleep over it. I didn't think I could justify owning two vehicles at my age (21) and I know it's worth a considerable amount of money. Eventually though, I decided since all I have to pay for is the registration, gas and insurance, I can afford to keep it. And I will keep the memories I had with the Jeep. It means a lot to me and I don't think I can give it up.
I have sold a decent amount of possessions from my dad's house and I'm planning on selling some of my guns to finance this build.
PLANS
Ditch the third brake light
Tuffy Security Stuff
Bumper: Warn
Winch: Warn
Soft Top: Bestop
Snorkel: Rugged Ridge
Seat Covers: Coverking Black and Red
Locking Fuel Door
CB Radio
AEV Pintler Wheels
35" Goodyear MTRS (unless I find something better)
Genright Skid Plates
Possibly a new off-road gas tank
Lift: I don't know what height it currently sits as a Rubicon and I'm not sure what height I should have it at for the 35" tires.
Gears: I'm not sure what I need to do as far as gears go if I get a lift and 35" tires.
MODS SO FAR
The first thing I did was DITCH THE HARDTOP! Man I hated that thing! I feel so free now with the wind in my hair
I ordered half doors about a week ago and they just came in today!
Coming home (Daily Driver in the background):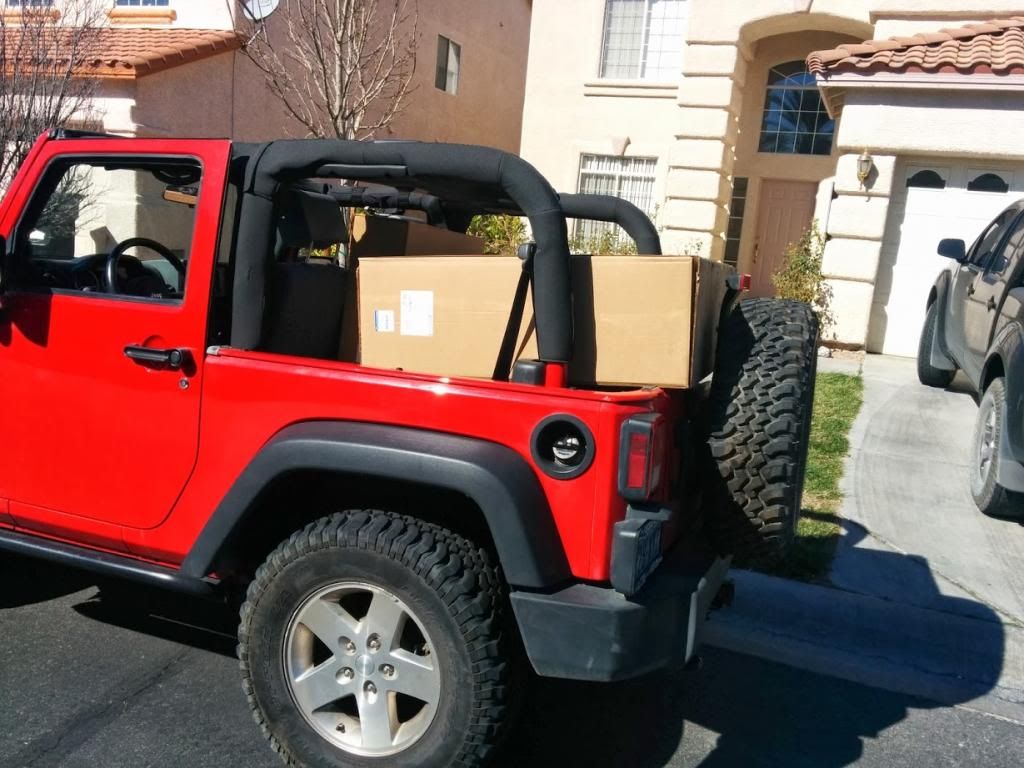 Mirrors, door handles and wiring: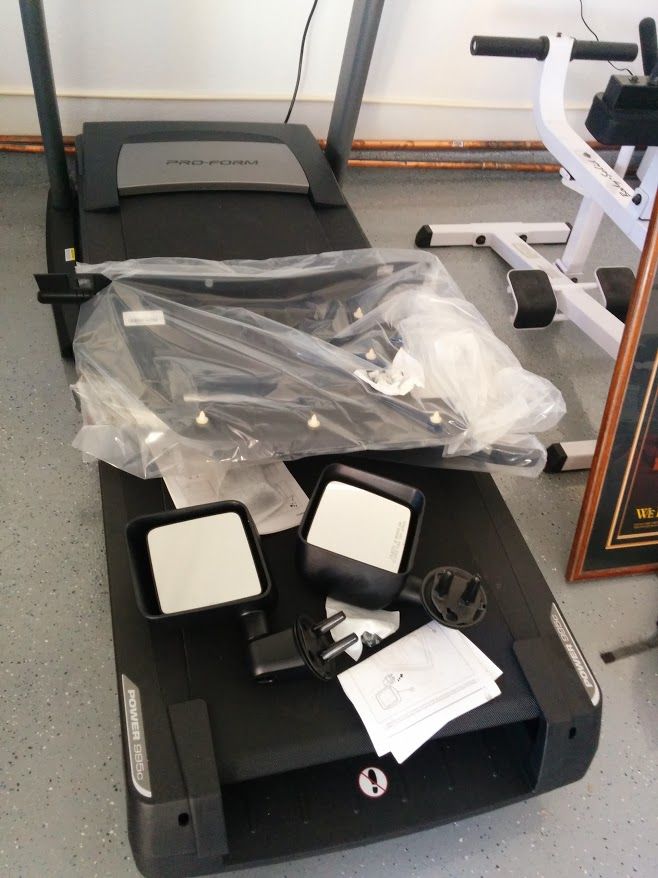 The doors: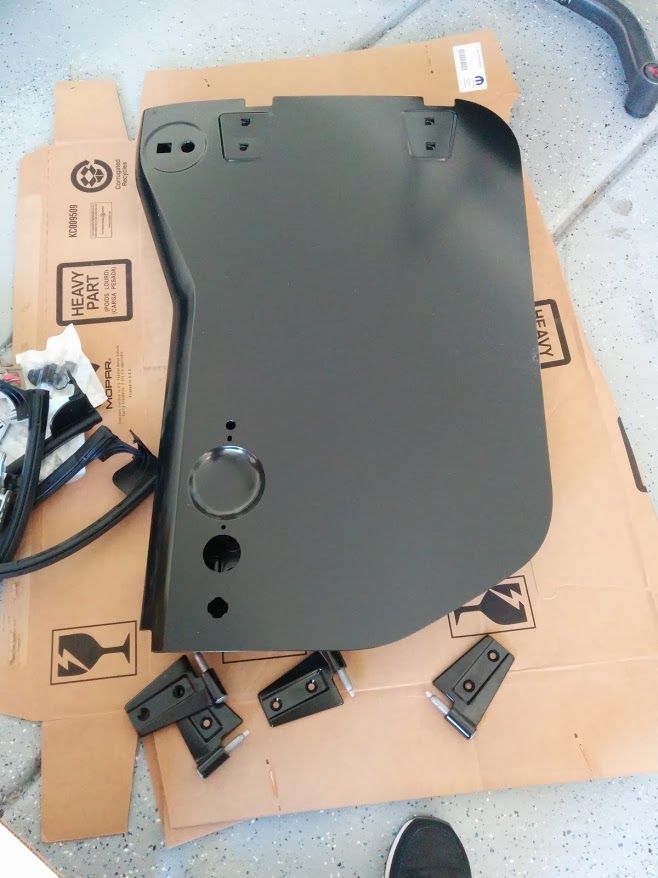 I'm planning on taking them to a body shop on Monday to have them matched to my Flame Red color. Then I will be installing them ASAP!
The only other mods I have are roll-bar grab handles and this dual battery setup. I didn't install this, it came with the Jeep from the dealer.
Is this stock or did the previous owner install it?
Will it affect the installation of my Rugged Ridge Snorkel?
Sorry for the EXTREMELY long first build post! I have a lot of plans for this Jeep and I thought some history on the vehicle was necessary. It's a member of my family after all!
I'm hoping to make this a killer off-road rig as it is not my daily driver (even though it gets better gas mileage than my DD
.)