2004 TJ X Build/Update Thread
---
Hey all, this is a thread designed for others to follow the progress on my Jeep. I will include a bit of a back story on how I got into Jeeps also. Do not expect a huge, rock crawler/trail only Jeep. This vehicle is my only car that needs to remain reliable, comfortable, and capable for moderate trail use. If something breaks, or needs replacing it will be upgraded. I do any work I can myself, or with help from friends. That is not to say I will not take it to a shop if needed though.
Let me know if you have any questions or offer advice as needed. Thanks for all of the information and great build threads on here! Here we go...
Drove it, then kept it for a couple of days to see how I liked it. I was sold. I figured it was a vehicle I could drive everyday, and not modify (LOL, I know).
Ended up buying it, and left it alone. I do not have a pic of it in 100% stock form (wish I did). A friend of mine and I started to wheel some and I quickly realized this was going to get interesting...
On to the mods:
-First up was a set of 31" Pro Comp All Terrains, the tires on the Jeep were starting to wear.
-Set of fog lights
-Remove milk jugs
After this I left the Jeep alone, other than oil changes, air filters, and painting the headlight bezels. The Jeep was a great daily driver, and capable for my uses. Around 75k miles I performed a lot of maintenance,
-Transfer case fluid
-Front and rear axle fluid
-Spark plugs
-Front brakes
I got bored with the stock speakers, and the stock CD player stopped working. So I upgraded,
Pioneer head unit:
Apline Type S front and rear speakers:
Painted the fenders. Added front tow hooks, rear tow hook (no pic), and some recovery gear (in the trunk area):
After this I wanted a small lift, a Rubicon Express Budget Boost was installed by Moab Off Road in Louisville, KY. Great guys! Yes, I also refinished that old fuel tank: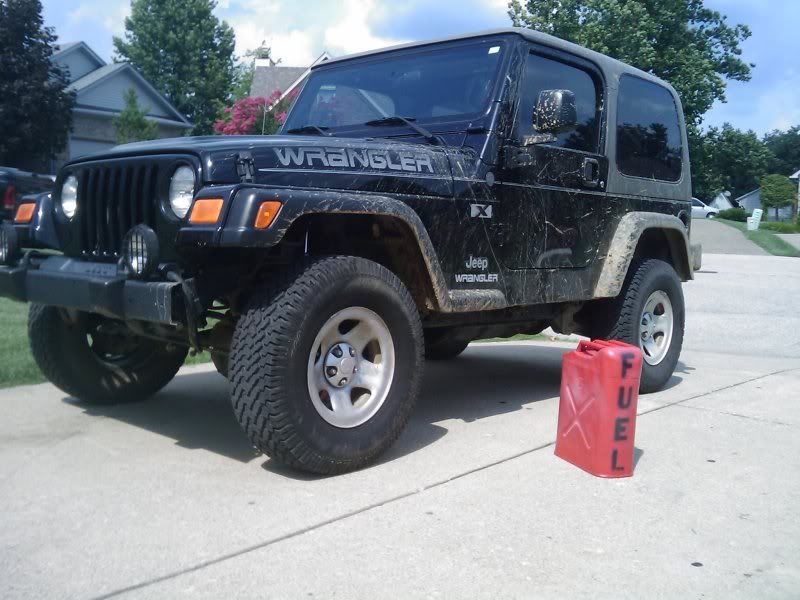 Needed a way to communicate with others when off road, CB radio:
Antenna mounted to stock tire carrier: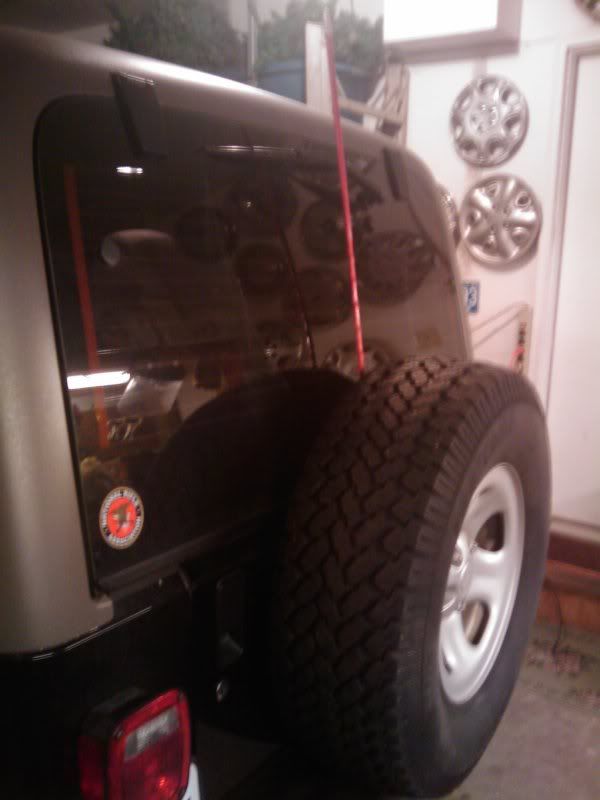 Skid Row off road power steering skid (hard to see), fog lights broke, and getting dirty:
That is how the Jeep stayed for quite some time.