I already have a thread about this build in the TJ section but there is quite a bit of tech stuff and a lot of talking in it so I thought I would make a thread here to showcase the build with slightly less chat. Hopefully it isn't a problem.
Background:
I bought the TJ new in 2002 and immediately began wheeling it on a newly wed, full time college student budget, ie...no money. It ended up with a thrown together, half assed 4inch lift and 35 inch tires. I wheeled it for a while and realized I was tearing it up too fast and broke down and bought a wrecked but wheelable 1998 TJ which I eventually backhalved. The 2002 TJ was retired to basically DD duty where it served me well for years. Eventually I sold the 1998 TJ to buy a 4 wheeler (regret) and over the last or so I've began to slowly wheel the 2002 again.
Finally, last summer I graduated college after going on and off for several years and earlier this year landed a good job. That leaves me with more money and a better schedule for making wheeling trips. Not that I am rolling in dough but I finally have a little extra money (between the kid and a pregnant wife who really wants to build a new house) to where I finally decided I was tired of being the smallest jeep at every run. Also, after purchasing my wife a new to us Tahoe I took "ownership" of our 2008 Chevy truck as a DD and now the jeep is merely an offroad and weekend toy.
Before the build:
Jeep: 2002 TJ Sport
Engine: 4.0
Trans: Stock auto (3pd)
Xfer: NP 231 w/ SS SYE
Front: D30, 3.73, Lockright
Rear: D44, 3.73, Trackloc
Lift: 4" RC
Shocks: 4" RC
Tires/Wheels: 35" KM2s, 15x8 American Eagle
Battery: Exide Orbital
Armor: Sun Performance rockers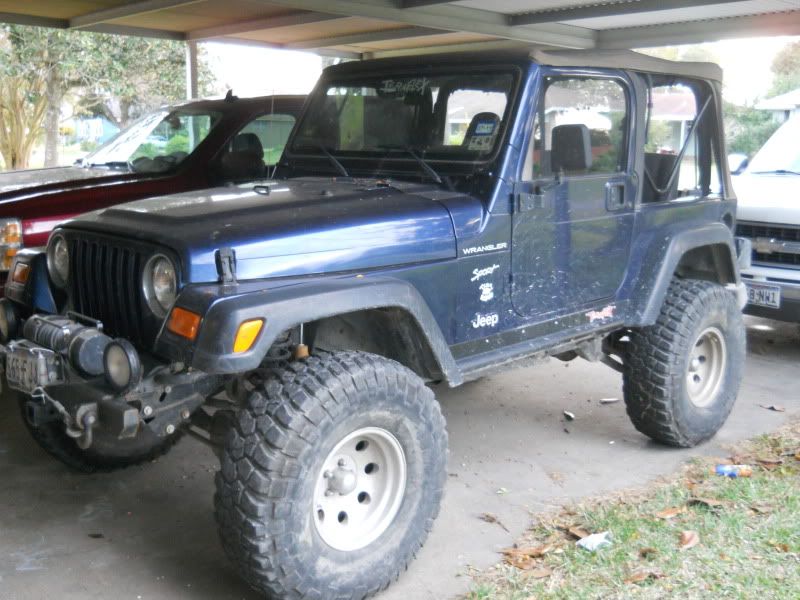 Plans:
Engine: 4.0 (upgrade intake)
Trans: Stock auto (3pd)
Xfer: NP 231 w/ SS SYE (Atlas upgrade next season)
Front: CUCV D60, 4.56, Detroit, swapped long/short side
Rear: CUCV 14b, 4.56, Detroit, disc brake swap
Lift: 4" RC front coils, undecided rear coils, 10-12" stretch
Arms: Custom 3/4 link, 1.75" .120 uppers and 2.0 .250 lowers all DOM
w/Johnny Joints at all ends
Shocks: undecided, maybe Poly BBCS or Bilstein
Tires/Wheels: 40" MTRs new style/stock H2 hummer wheels
Armor: Genright Stretch Corners, Genright Mini-boatside Rockers, WRF tube
fenders w/new inner fender
Battery: Optima
Cage: Undecided, through the dash full cage
Fuel tank: RCI cell, KORE ring (probably getting sunk into floor)
Steering: 1.5 .250 DOM, 3/4" Chromo heims, Redneck Ram Hydro Assist
I found a decent deal on a running CUCV military truck. The plan was to buy the truck, beat it until the engine, tranny, xfer case crapped out then part it out and keep the axles. Unfortunately when it came time to pick it up it wouldn't fit on my trailer so I made a deal for just the axles. OMFG, a fully decked 14b weighs A LOT! My back was jacked for weeks.
Tear down was.......interesting. There weren't many miles on them but they were hard miles. I was praying I wouldn't have to change the king pins themselves after hearing horror stories. Turns out they are usable, I will be changing everything but the actual kingpin.