Hi. I am a first time Jeep owner and auto novice. I'm mainly creating this "build" thread to keep track of what I've done to the Jeep and record what I'm learning about automotives and Jeeps in general. I'll probably be posing questions here and there. Definitely will be pointing out my lessons learned!
Current Pic: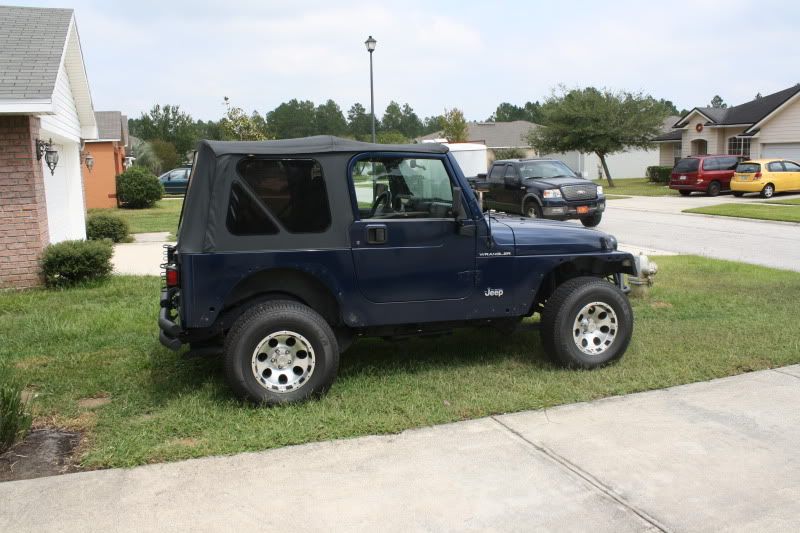 The Jeep was purchased because I have always wanted one. I liked the classic CJ look, but wanted a few modern features (A/C). YJs were out due to the square headlights. The Jeep is basically a third vehicle for my wife and I. It will see mostly street use. I'll put very little mileage on it. The truck I traded in for the Jeep only had about 12K miles in the last 3.5 years. I would like to do some off roading, but again, I am a novice with this stuff. My off roading will be typical Florida stuff; sand, mud, flat terrain.
My biggest goal with this Jeep is a modest lift and 33" tires. I'd like to do as much of the work as I can by myself. I'll be buying or borrowing tools along the way. I understand the impact of lifts, bigger tires on a 2.5l engine and gearing. From what I understand, I'll probably be ok, keeping it small and not doing any major wheeling. I'll be open to additional upgrades as necessary though.
The purchase of this Jeep was a big lesson learned. Long story, short… I should have researched more (even though I spent a few weeks reading on the forums before the purchase), and haggled more on the price. I didn't get completely raked over the coals, but I could have done better with price and feature selection. Anywho…
Here's the general scoop on what I bought…
-2001 TJ SE.
-98k-ish Miles.
-2.5L Manual.
-Patriot blue.
-Stock suspension.
-Aftermarket tube bumpers.
-Aftermarket tow hooks.
-Side step bars.
-Chrome grill cover.
-Brand new 31x10.5x15" Mastercraft Coursier LT (Original spare tire).
-15x8 Motorsport rims (chrome, UK model).
-Black extended fender flares.
-Hard doors.
-Black Besttop Soft Top (ReplaceATop?).
-Tail light guards.
-UK brand sound bar.
-Hurst brand shift T knob.
-All other options are stock….
At the stealership: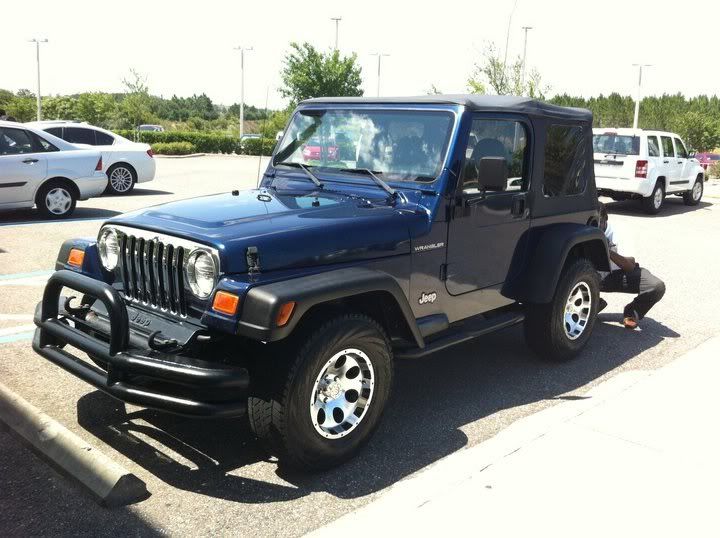 At home: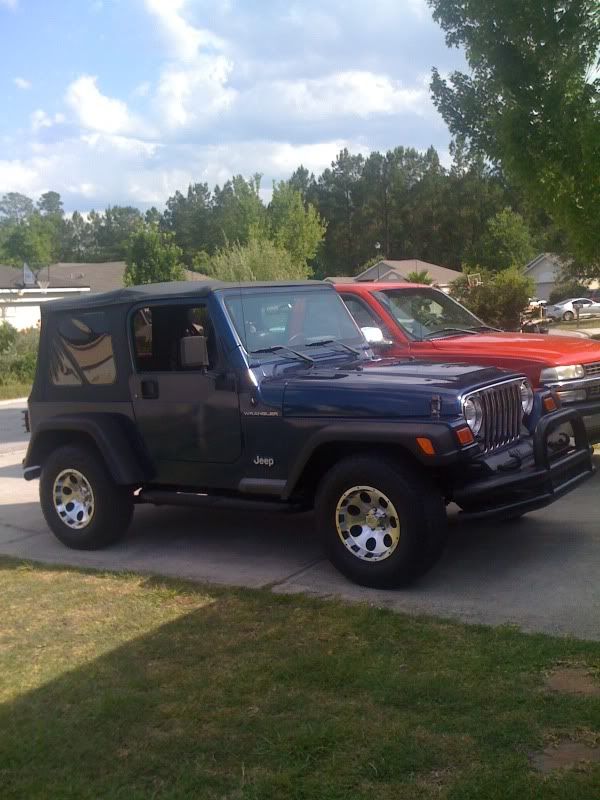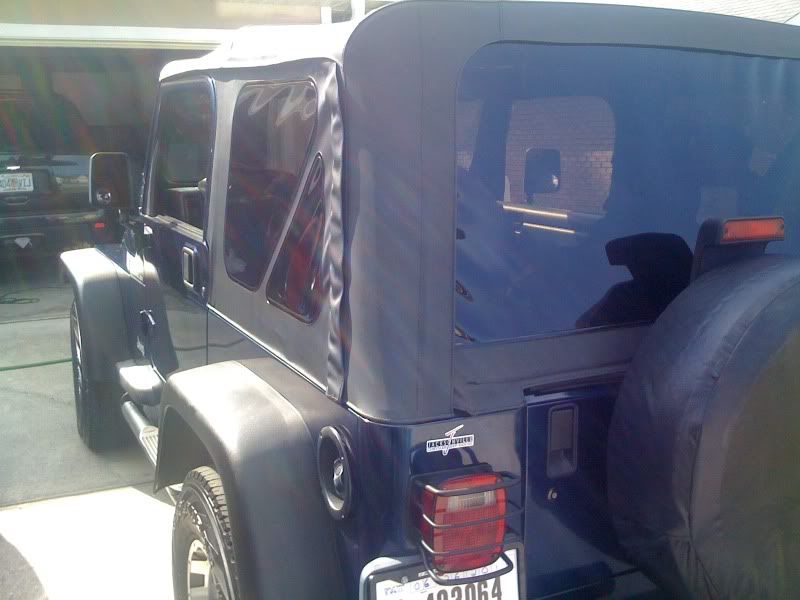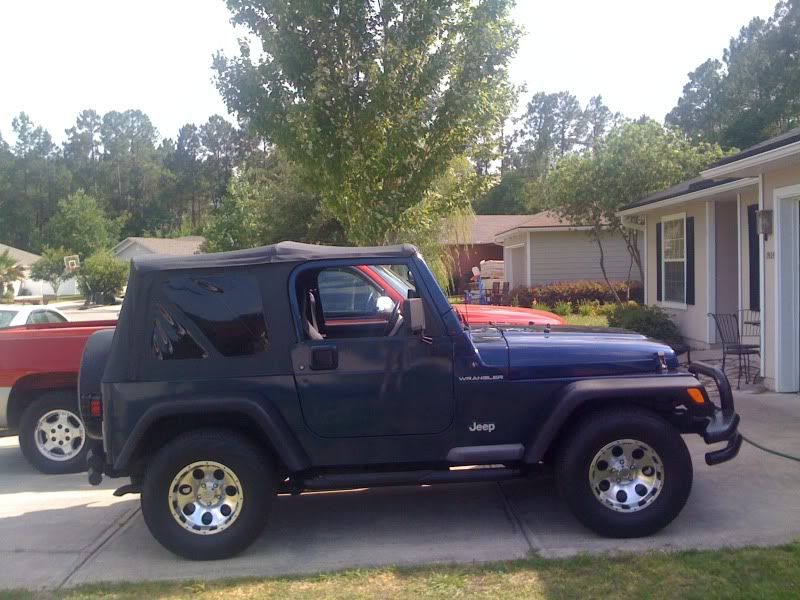 A few observations…
-The front bumper was crap. It was either broken and welded/repaired, or was never meant for the TJ and was welded to fit. It was held on by only four of the six bolts. Aftermarket tow hooks were in place. The bumper "felt" solid, but I didn't trust it, and it was uuuugly.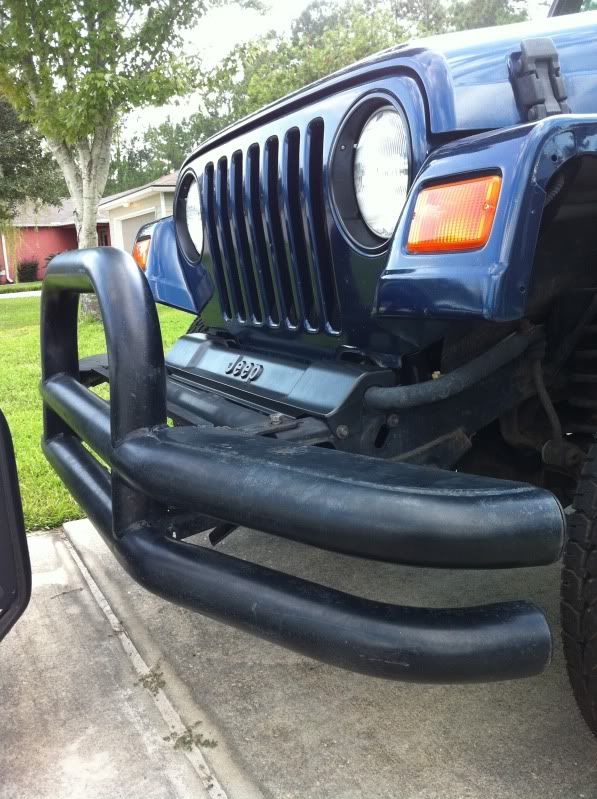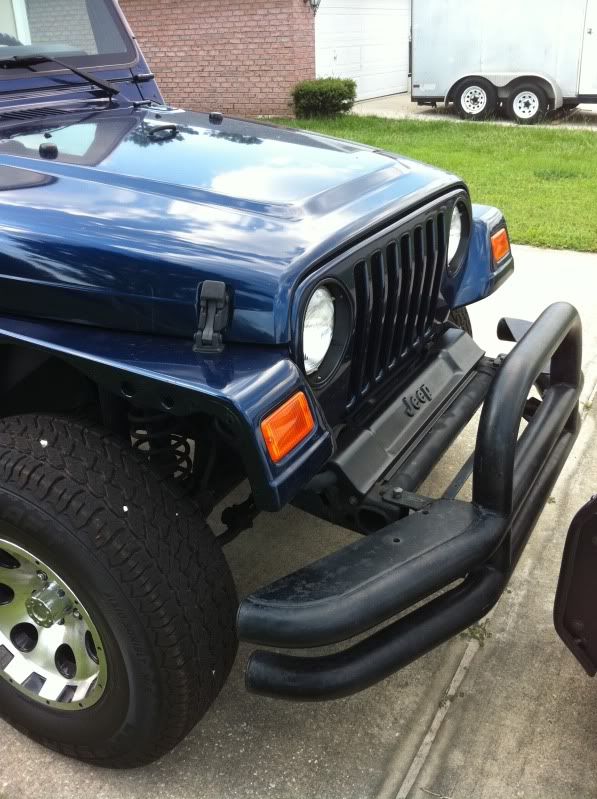 -The driver's side front speaker was not working.
-The flares, especially the flare extensions, were turning white.
-The exterior isn't bad. There is some surface rust up underneath. There is some knicks and scratches in the paint.
-The soft top is in pretty good shape. All zippers run smoothly. No leaks. The tailgate/rear window seals look a bit worn. Might need to replace them in the future, but no leaking seen so far.
Tailgate/rear window issues: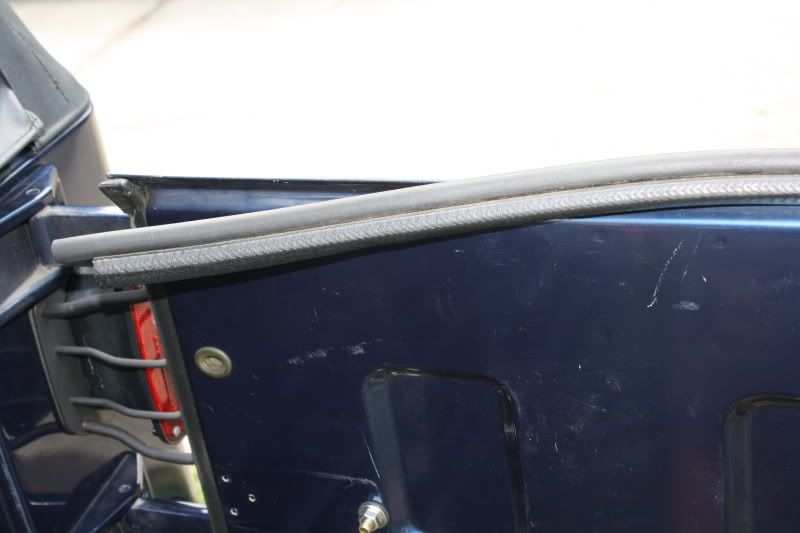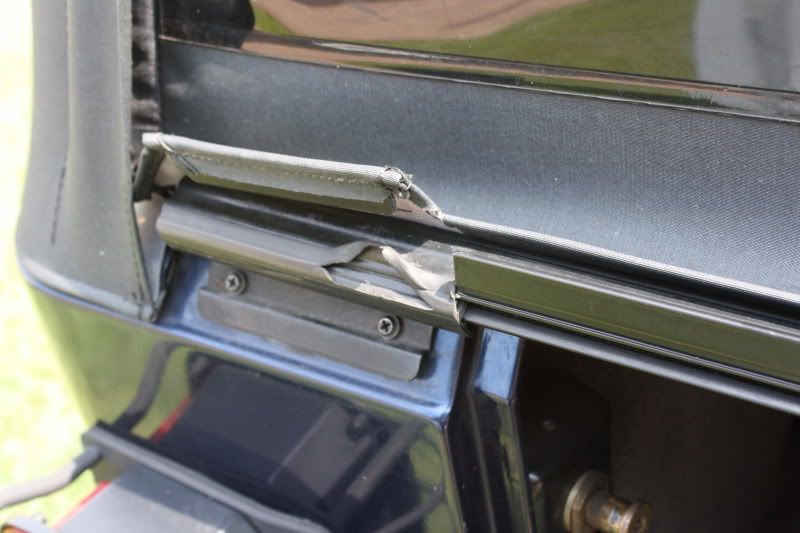 -The interior was great. Carpet looked fine. Cloth seats look great. The tub looked fine under the carpet.
-No center console. No brackets or signs that the carpet had relief cuts for one.
-The inside panel of the driver's side door has a vertical crack coming down from the window.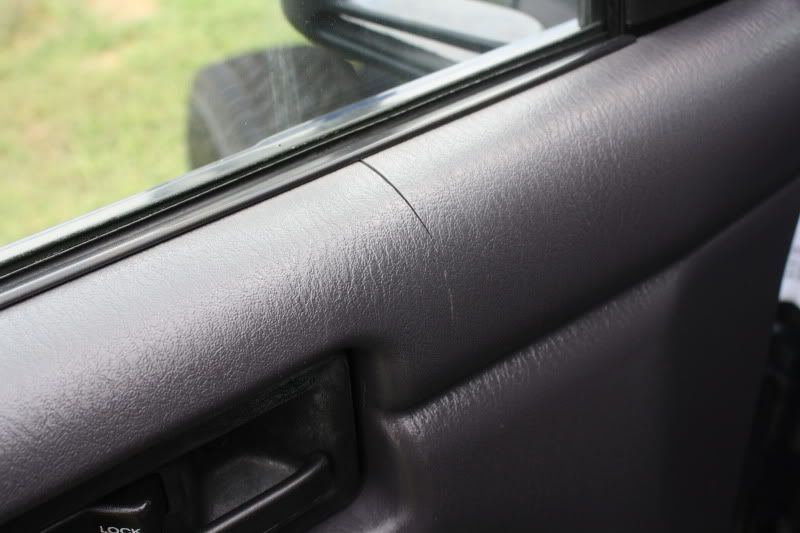 -I have a small leak in the top of my windshield. It appears to drip a little down the inside of the windshield, and I believe it is running a little water to the sides and back behind the dash. Nothing major, but definitely will replace the seals on the windshield and see if I can get it stopped.
-Outside latch on driver's door is showing some of the worst rust on the vehicle. Works fine, but probably a future maintenance task.