2000 tj
---
Just introducing myself, I'm a college student who delivers pizzas in mid-Michigan. Going to ADI for a degree in Diesel Tech and am about 6 months away from graduating and joining the workforce. My first car was a 93 honda, great on gas and did well as long as there was concrete. Dirt, not so well =/. Old age and wear and tear did a number on that old bird, and after 180k, I decided to retire her and grab a new car. I've always wanted a Jeep and figured now was better time than any to pick one up. So I got myself a 2000 TJ second hand up here in the good ol state of Michigan. Bought it stock in March 2011, and have done an upgrade already. I got a locking gas cap from Quadratec, cause a lot of people around town have been getting their gas siphoned, so I bought that pretty much right away. I plan on a lot of modifications in the future, but delivering pizzas isn't the greatest gig, but it pays the bills, but doesn't let me have a whole lot of fun. So this forum is going to be one that takes a while to come to complete fruition.
The Jeep
2000 TJ, dark green, 2.5L 5 spd manual, just rolled 100k a week ago, and everything is stock right now. Both of my bumpers are bent to hell, the front looks like someone tried to tow someone by the milk jug, and its all bent out, and the rear bumper looks like the previous owner backed into something. Michigan winters wreak havoc on steel, so there is quite a bit of rust, all of it surface, and will be an easy fix, and the driver seat looks like it got in a fight with a cougar, and not the good kind ;]
The Plan
-Suspension upgrade, I'm looking for about 4 inches lift.
-Wheels and tires, I want to look into beadlocks and not too picky about tires
-Body, new front and rear bumpers, touch up the paint, new flares, light bars and the works.
-Engine, I plan on keeping it original, haven't had any trouble with power, except speeds above 70mph tend to kill mileage =/ I do want a snorkel, had a buddy drive his cherokee through about a foot of water, then watch his engine spit its guts out, dumb bastard hydrolocked it.
-Trans, same, keeping it stock
-Axles, probably going to have to change them up when I upgrade the wheels and tiers, right now I have 4.11.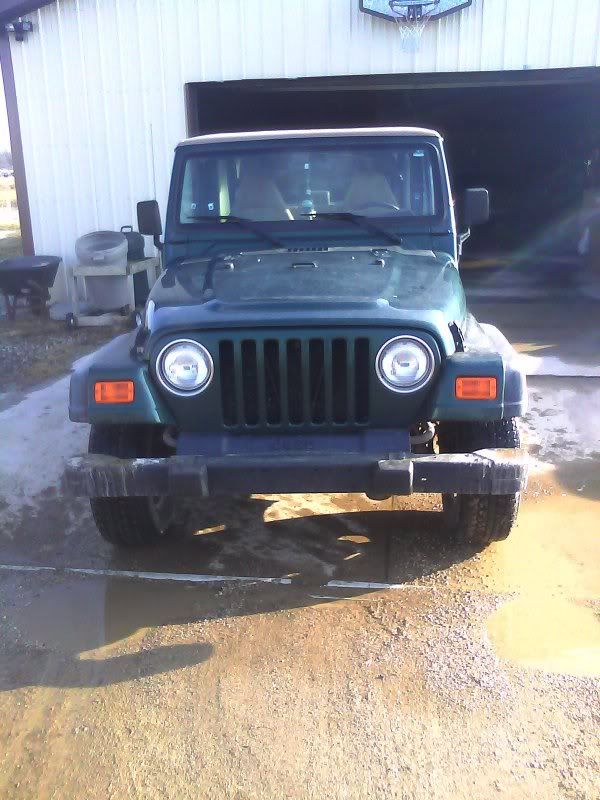 Hard to see, but the driver side of the bumper is bent forward just slightly enough to annoy me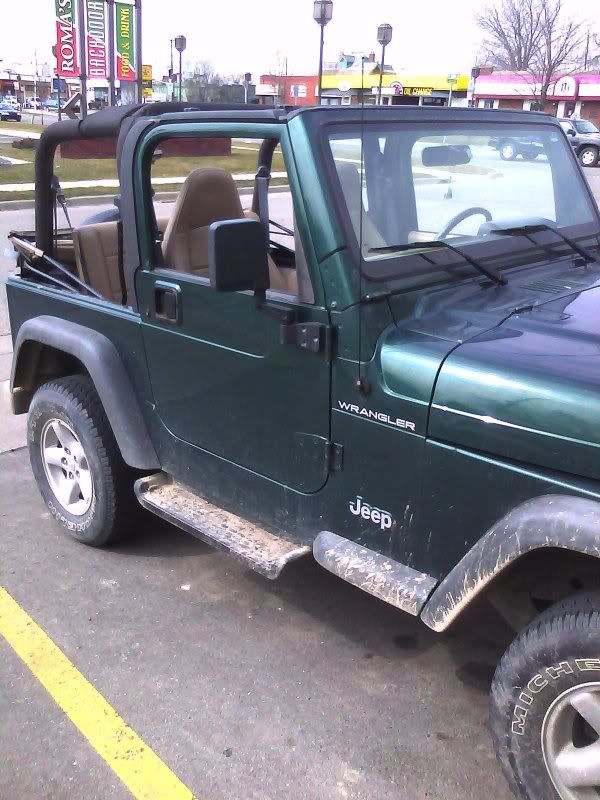 The snow melted and I dropped the top. Cold as hell though.
---
Lost Dog. Info on Facebook, search Bring Ty Home. Spread the word. $5000 reward, lots of parts for your Jeep =]

http://www.facebook.com/BringTyHome