Registered User
Join Date: Sep 2005
Location: Pacific
Posts: 2,781
2000 Cherokee: Project Northwest Explorer
---
Surfing craigslist the other day looking for deals on Jeep stuff the other day I ran across a nice looking Chili Pepper Red 99 XJ for sale for $1500 with a blown engine. I thought it would make a great flip to help finance the winter build of my TJ.
A picture of when I drug it home.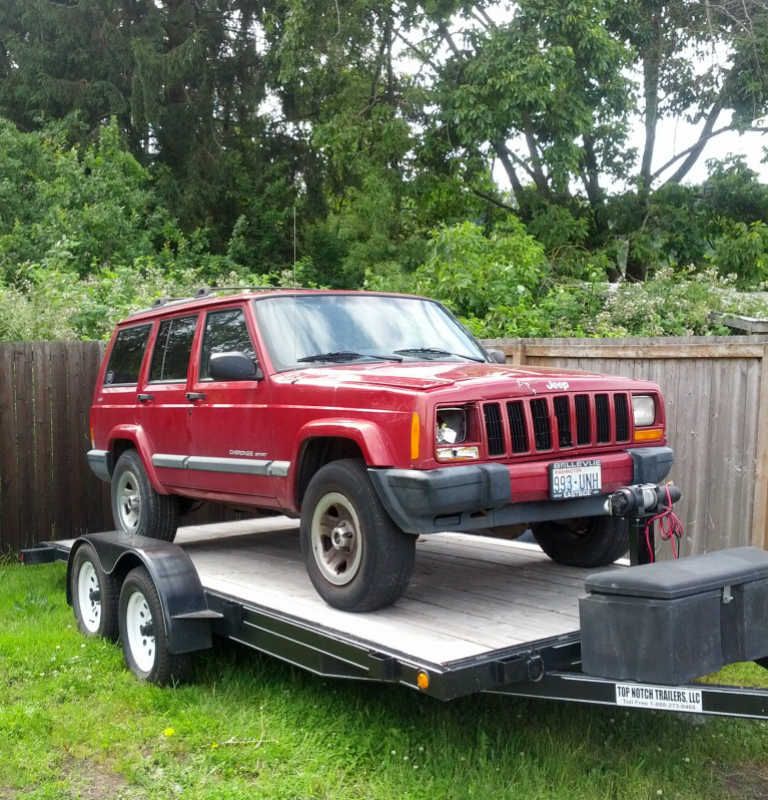 I actually drove it on to the trailer with a seriously warped head gasket and cylinder 3 had no compression.
The interior was perfect and the damage was limited to the front. Found a low millage 4.0 out of a 94 for $300. Found some 30 X 9.5 tires on steelies with over 50% tread for FREE. Put a new header panel kit and ended up with this.
Drove it around a few days and started to miss my old Cherokee. Now to be fair, I've had a total of 4 XJ's, 2 ZJ's (including a nice 5.9), 4 WJ's, 1 YJ, and 2 TJ's. My favorite all around vehicle has been the XJ.
So I sold the flipper XJ for $3500 and decided I would find a 97+ CHEAP XJ and put it on 30's or 31's as inexpensively as possible to explore logging roads and take pictures of stuff, plus as a DD for rainy weather and when I'm working on the TJ.
Searched craigslist for a couple of weeks. Found a 2000 for $1500 OBO. 240K miles, front end damage, overall ugly on the outside. Drove down with the trailer and took it for a test drive. Engine ran strong, transmission shifted nice. Brakes are about as warped as brakes can be, also a low pedal. I also noticed some knocking in the front of the engine that I'm pretty sure is the timing chain. Front end damage looks to be superficial. The PO said she drove it across the country twice and had a long commute. (mostly highway miles) I gave her $900 and drug it home.
Here it is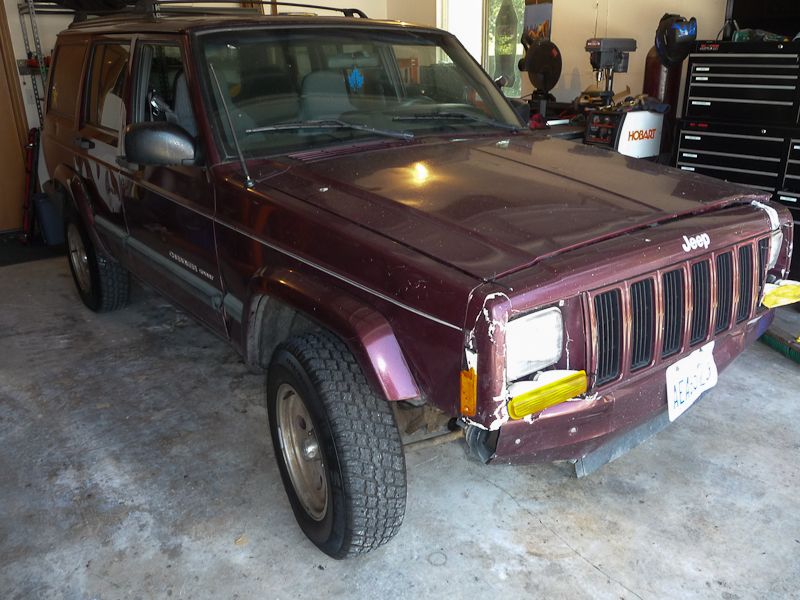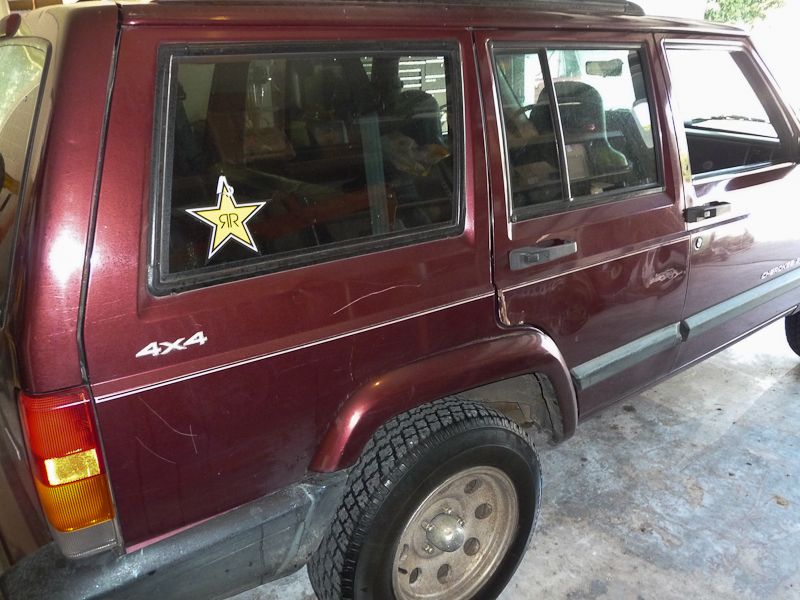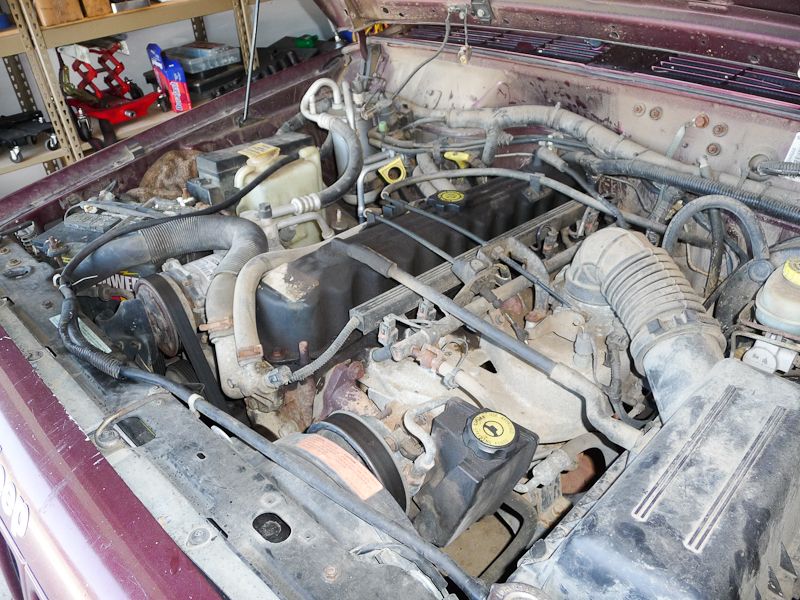 ---
To view links or images in signatures your post count must be 10 or greater. You currently have 0 posts.
Build Plan 1.0
Replace all maintenance items: Water pump, timing chain, RMS, oil filter orings, valve cover gasket, thermostat, hoses, etc
Transmission service
Fix accident damage: new header panel, grill, A/C condenser, etc
3" lift. Probably rough country with AAL
30 x 9.5 or 31 x 10.5 tires
Rear lunchbox locker. (has dana 35 so maybe swap to a 8.25 at the same time)
Home made front winch bumper with a cheap winch.
Home made sliders.
Fix cosmetic issues.
Possible laptap mount for GPS
Better lighting
Color change? I loved the 99's Chili Pepper Red. I hate the color on the 2000.
All of this will be done on the very cheap as possible / practical. I will spend money where it makes sense and go cheap / craigslist on everything else.
---
To view links or images in signatures your post count must be 10 or greater. You currently have 0 posts.
Registered User
Join Date: Jun 2012
Location: Claremore
Posts: 65
Soon as I figure out how to subscribe to a thread I'm doing it on this one. I'm sure you'll get done with yours a lot quicker than me. Sounds like we have some of the same ideas.
Once you post to a thread it automatically shows up in your subscribed threads. So basically, you are good to go.
---
To view links or images in signatures your post count must be 10 or greater. You currently have 0 posts.
Made a bit more progress. Pulled all the broken garbage off the front end. The tabs for the "bumper" were bent a little, and the headlight bucket was tweaked, but no structural damage to the unibody.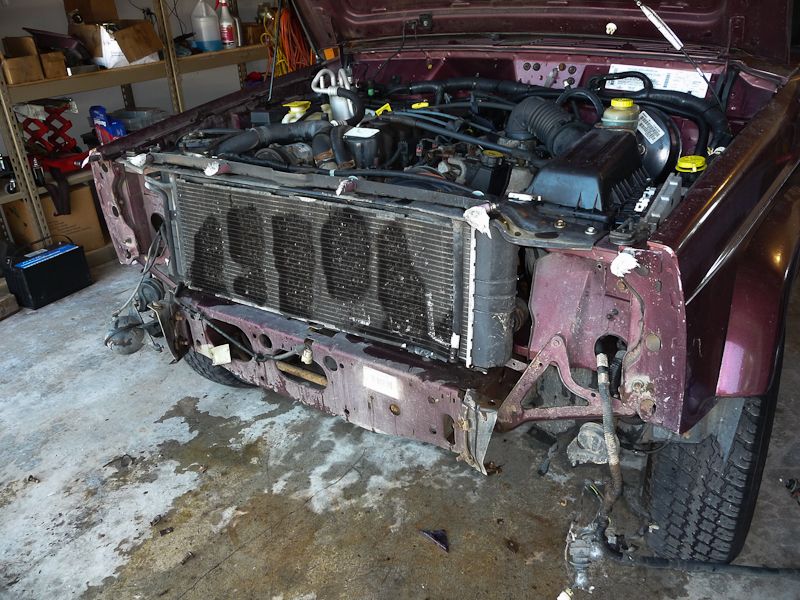 Pulled more off and the A/C condenser didn't want to separate at the connection. Looked it over and it appeared damaged so I pulled the sawsall out and cut the line.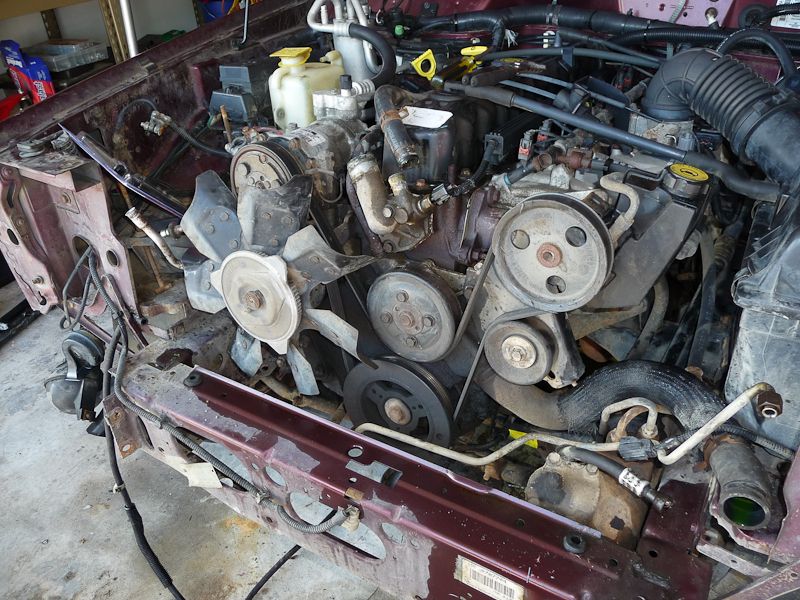 More removal and I got to the timing chain. It is so easy to work on these motors, especially when the radiator and condenser is out of the way. The chain had a little over 5/8" of play. FSM states to replace at 1/2" so this is probably the sound I was hearing.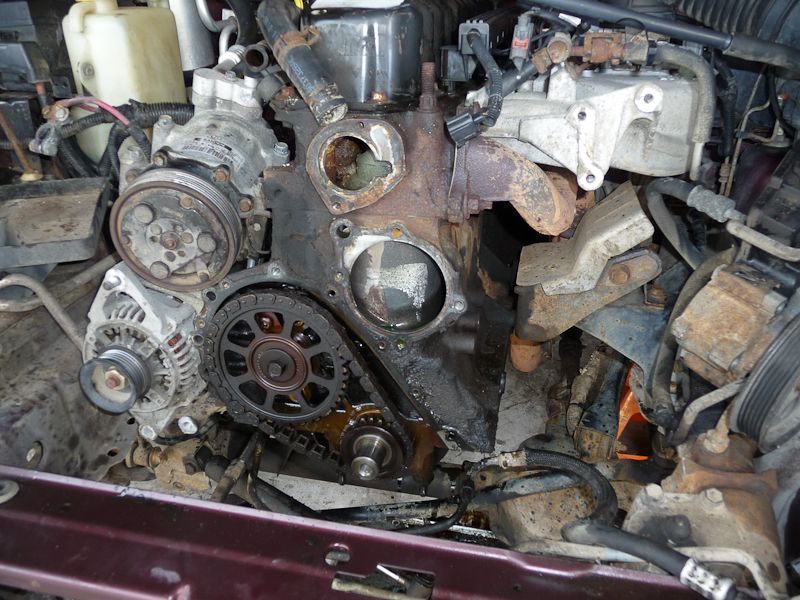 I pulled the oil pan off. Looked really clean inside. No sludge or anything suspect. No up and down play on the rod bearings. Pulled the rear cap off and the bearing looked better than most of the ones I've seen. Shows that it pays to change the oil often! I also noticed the difference in the RMS on 2000+ 4.0's.
I pulled the wheels off and went poking around the brakes. I knew I needed to turn the rotors from the test drive, and also knew from the low pedal that either the rear shoes were worn or out of adjustment.
Yup. Well worn. Also notice something else? That's right. No shock on this side! I thought it rode a little soft on the test drive!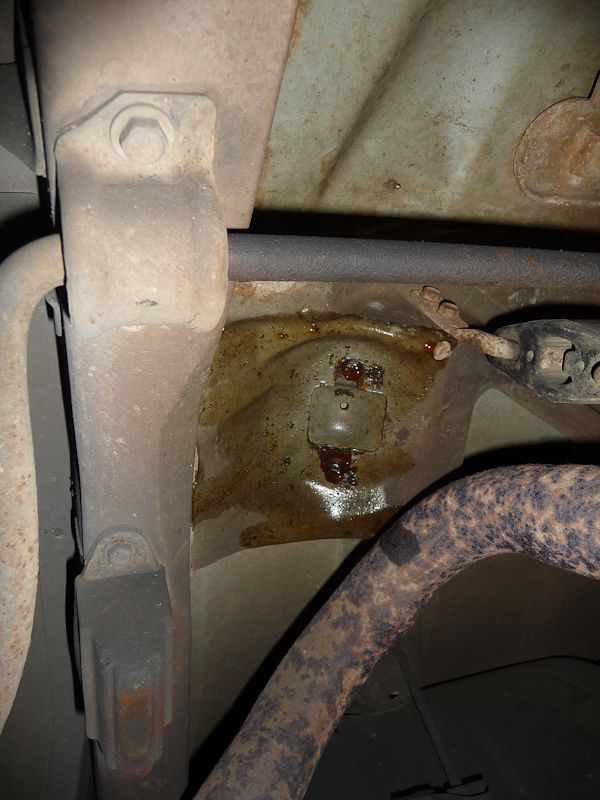 Looks like the bar pin rusted though. This Jeep originally came from Michigan, so I wasn't surprised with the rust. No serious signs of rot anywhere though.
I originally thought I had a D35 from the rubber fill plug, but it's clearly a 8.25 since it has the flat bottom. It's also open, so a lunchbox locker will be easy to install.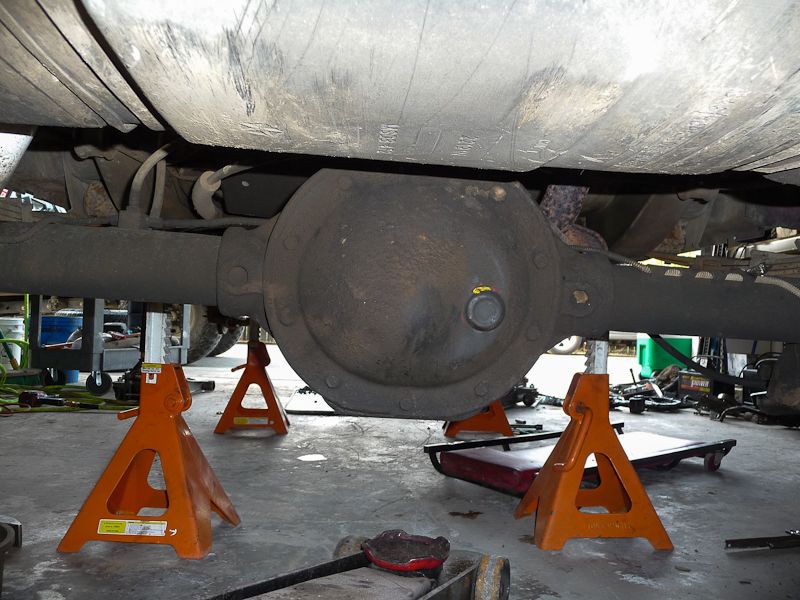 I bought my oil filter O-rings today and replaced them. The underside of the Jeep is completely covered in oil. If there is a gasket on the engine that could leak oil, it is.
I also placed an order with Rockauto for $450 for parts and ordered a new header panel and grill from ebay.
Hopefully everything will be here for install on Saturday!
---
To view links or images in signatures your post count must be 10 or greater. You currently have 0 posts.
I've been busy working on the Jeep and lazy posting progress. Here's some updates.
Installed a new Cloyes timing chain and gears. The new chain has way less slack than my old one. Engine runs better and is quieter. There is still a slight knocking sound - only when cold. Sounds like piston slap. I'm not too worried about it, I'll just run it till it flies apart.
My old harmonic balancer had a pretty big groove in it from the front cover seal, so I decided to get the front cover gasket kit that comes with the repair sleeve.
Harmonic balancer before:
This is what the sleeve looks like:
After:
Installed new rear brake pads and full hardware, along with front U joints and brake rotors and pads.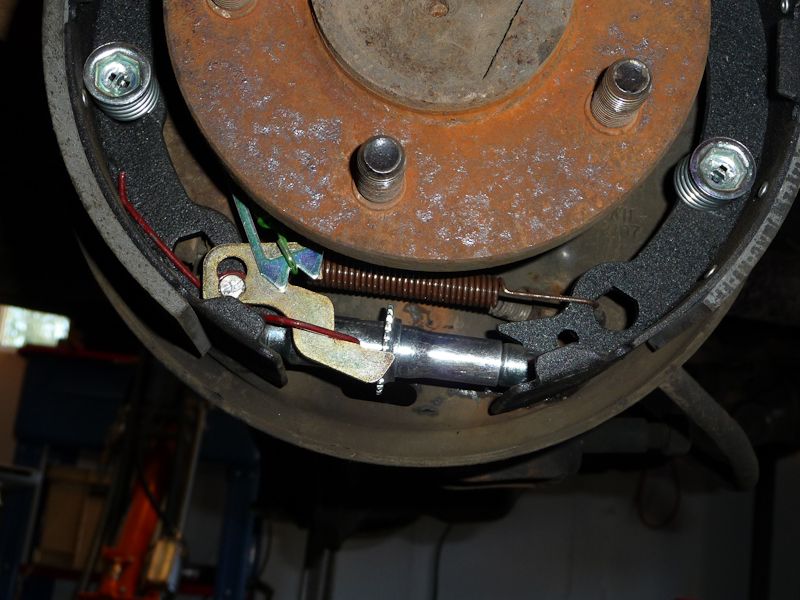 ---
To view links or images in signatures your post count must be 10 or greater. You currently have 0 posts.
Engine put back together and 100% cleaner.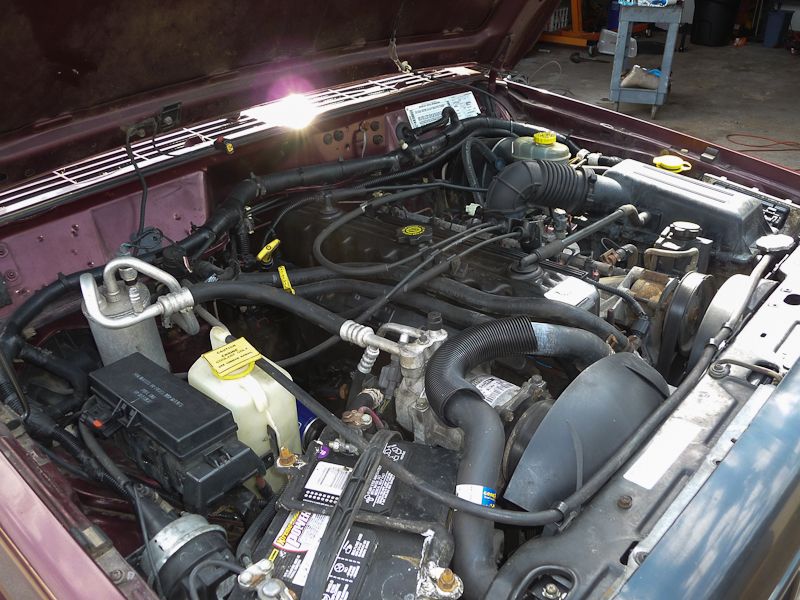 My drivers door was sagging pretty badly from worn out hinge pins, so I bought two sets of doorman repair kits and went to work.
Started out with this.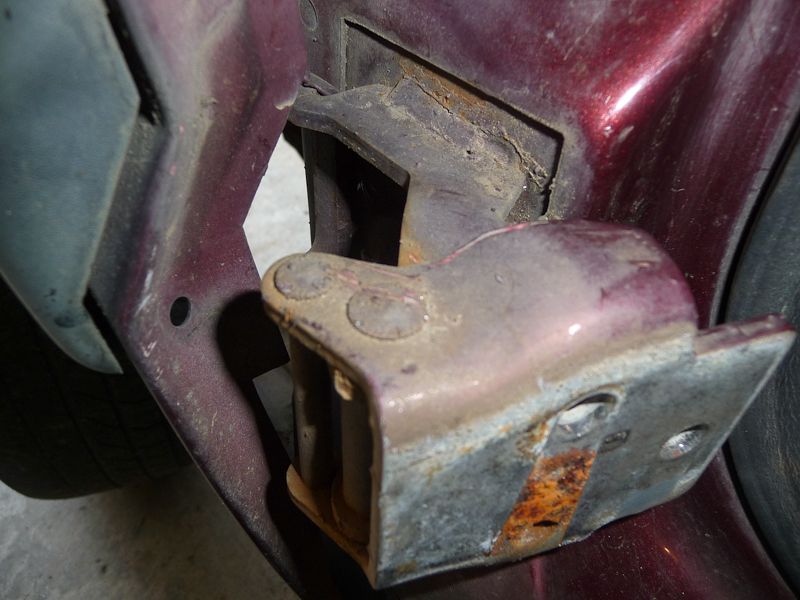 Used my carbide burr and grinded the top of the pin off and pushed the pin through with my air hammer.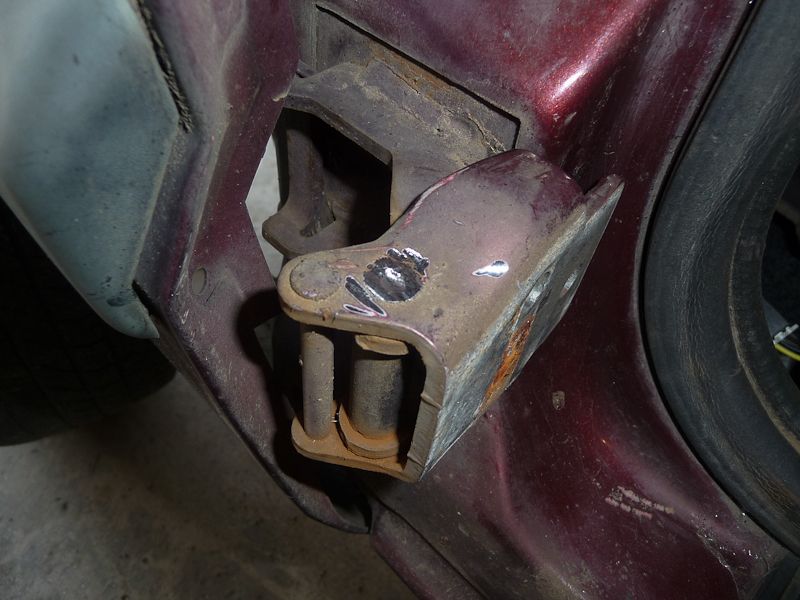 That left me with this
Everything went smoothly except no matter how hard I pounded on the pin, it wouldn't seat into the knurled part of the pin. No problem, I ground the knurl down a little and it worked like a champ.
I also picked up a new door check mechanism at the junk yard. See if you can tell a difference between the old one and the new one.
Put a new hood release cable in. Old one was about gone.
Moving to the back of the Jeep, it looked like the moron before me used the safety chain hookups for an extraction point, and tore them off in the process. I'm familiar with northwest cars, and surprisingly even with the rain we get there is usually not a problem with rust. Unfortunately, this Jeep spent some time in Michigan, and those a holes use salt on the roads.
So pulling the hitch off took a normal 5 minute job into a 2 hour job. Breaking bolts, cutting, removing the bumper, more broken bolts...
Here's the carnage.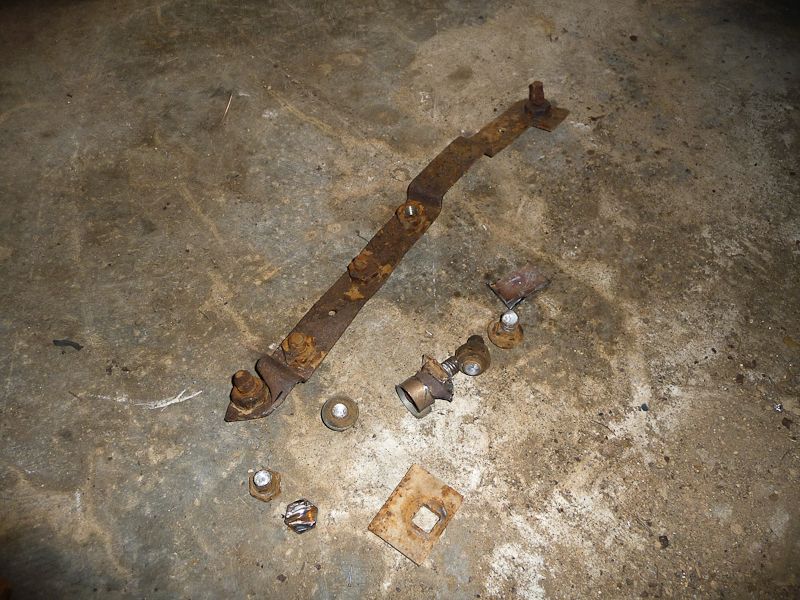 And here's the hitch finally removed
Access holes I had to cut to get the nut strips out. I ordered a pair of new nut strips from Quadratec, hopefully the will be here next week.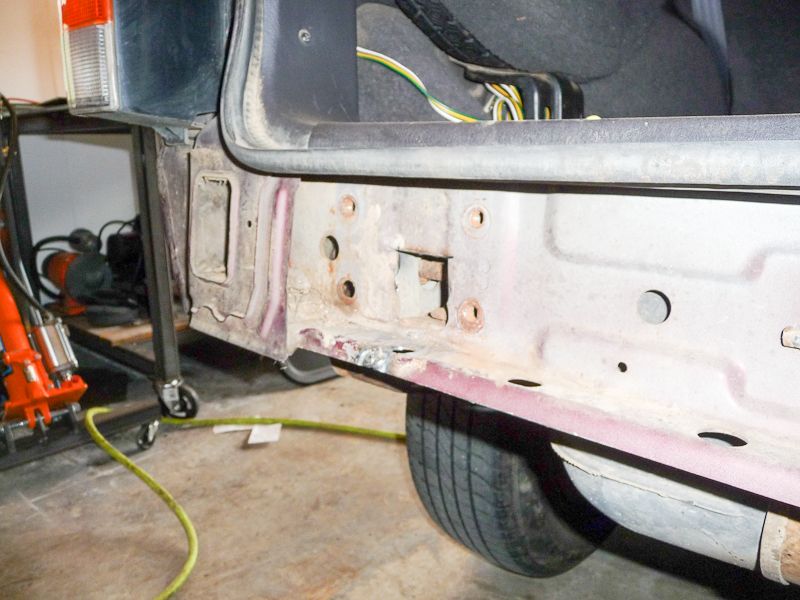 I also wanted to drop the hitch to replace the rear exhaust hanger. The PO rigged the exhaust up and it was hitting the heat shield and irritating the hell out of me.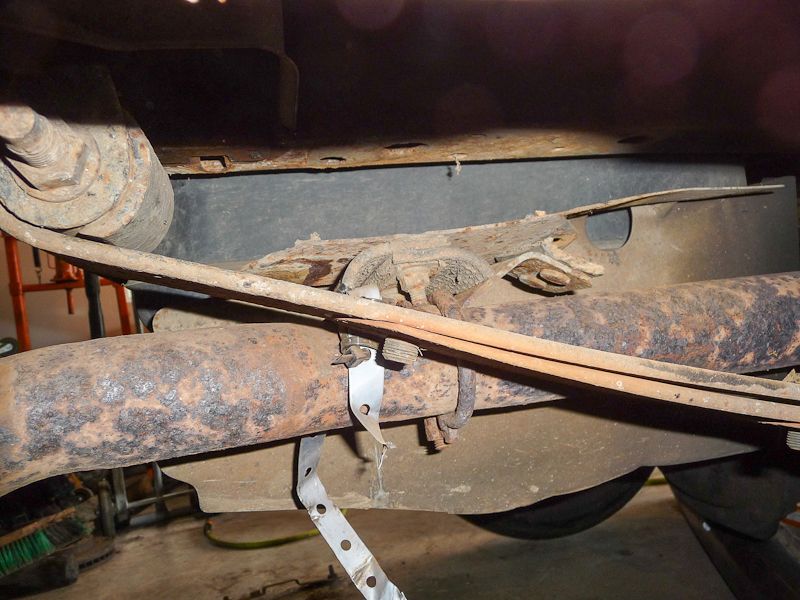 I pulled all the fenders off and the rear plastic bumper corners.
---
To view links or images in signatures your post count must be 10 or greater. You currently have 0 posts.
A couple of weeks ago I scored a Warn M8000 off craigslist for $150.
A little surface rust, but it worked fine. I decided that I would tear it down and re-grease the thing and paint it.
Here's how it looks before tear down.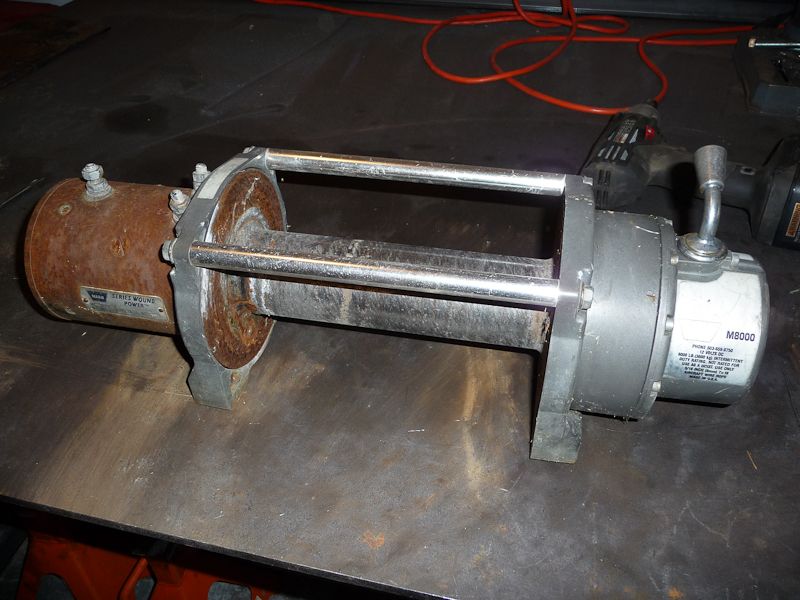 ---
To view links or images in signatures your post count must be 10 or greater. You currently have 0 posts.
The nut strips from Quadratec showed up and I installed my repainted hitch.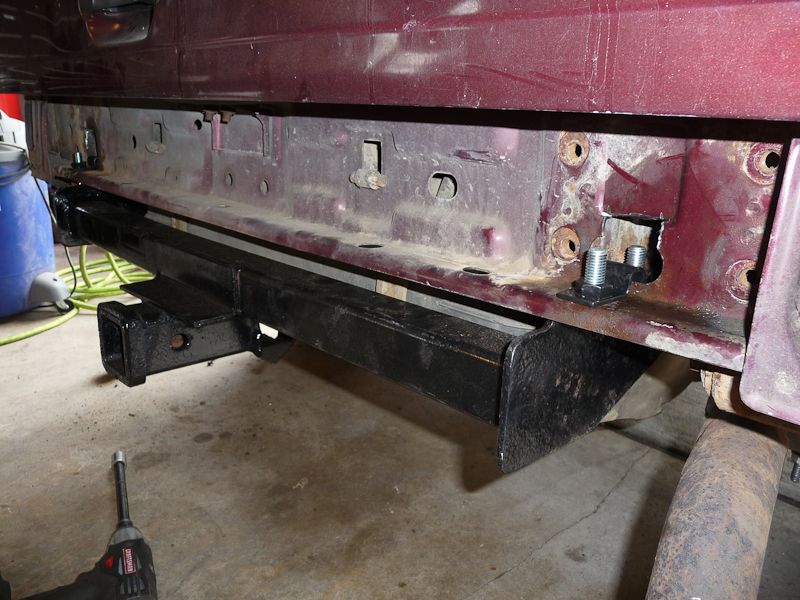 Put a new exhaust hanger on. Didn't have the right size exhaust clamp so this one is just temporary.
I helped install a lift on my brother in law's new to him TJ. I decided to steal his old back shocks to run on my Jeep till I get new ones. Of course all the upper shock bolts were broken and one lower one broke off. So I fished some new bolts and hardware into place.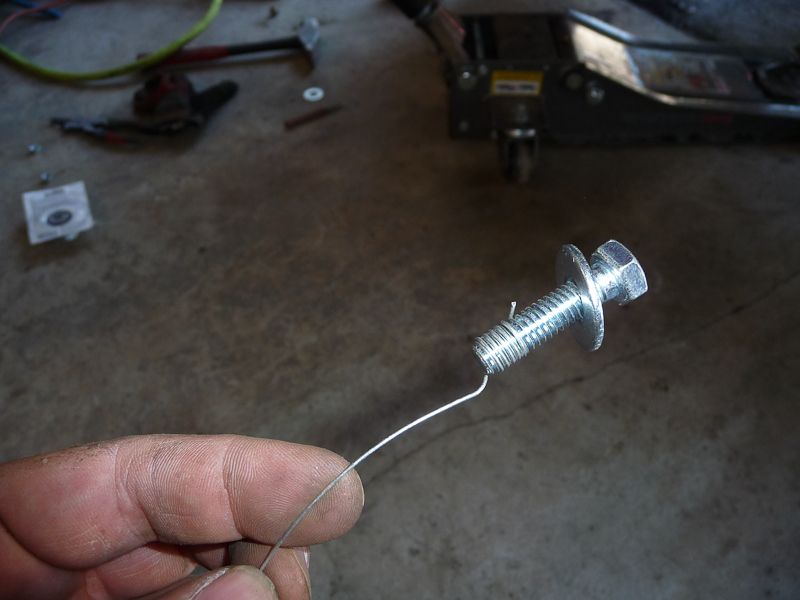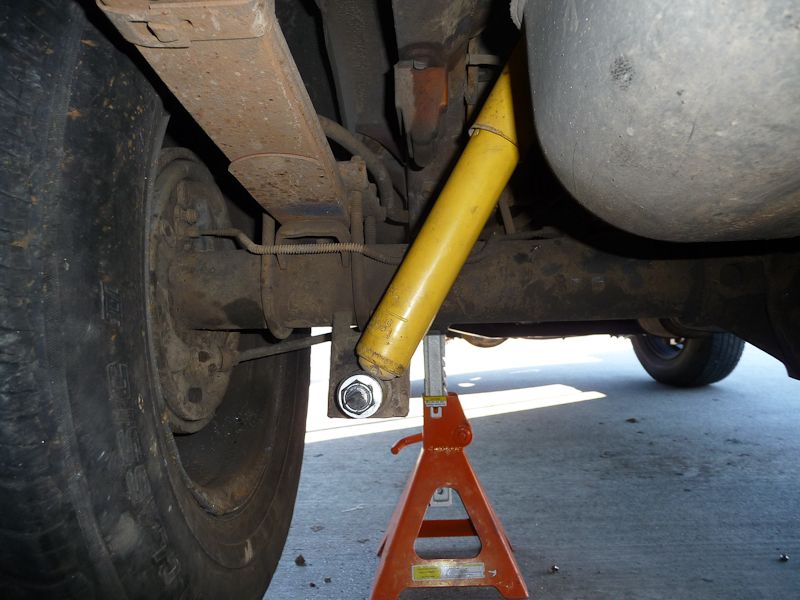 New timken unit bearings up front.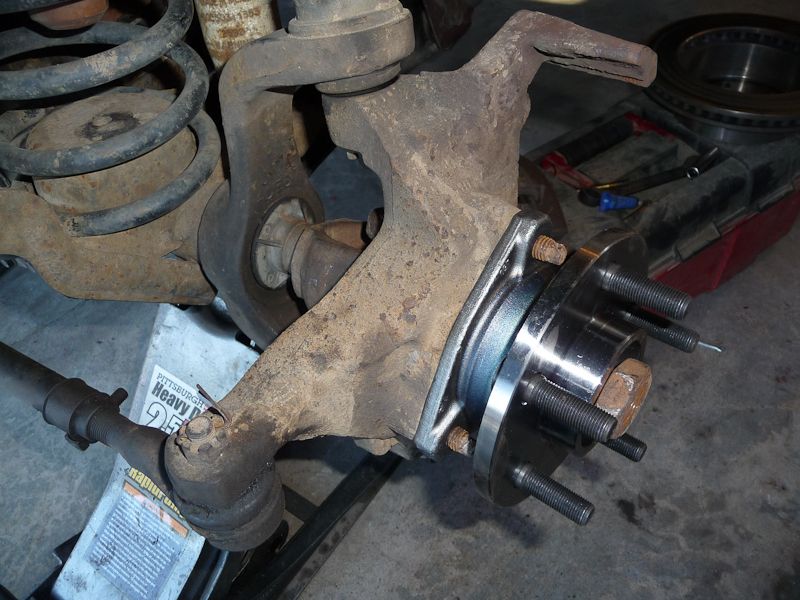 Started on my winch bumper. The front of the unibody is slightly tweaked, so this should help strengthen the front end back up. My buddy cut some bumper plates out at his work and I started with that and some 1/4" steel.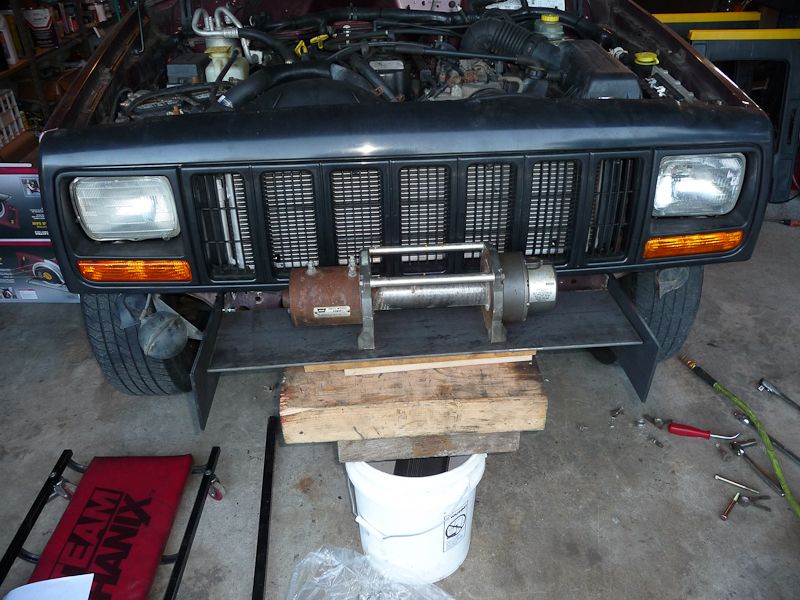 And here is some cardboard mockup of one side. I think I'm ok with it.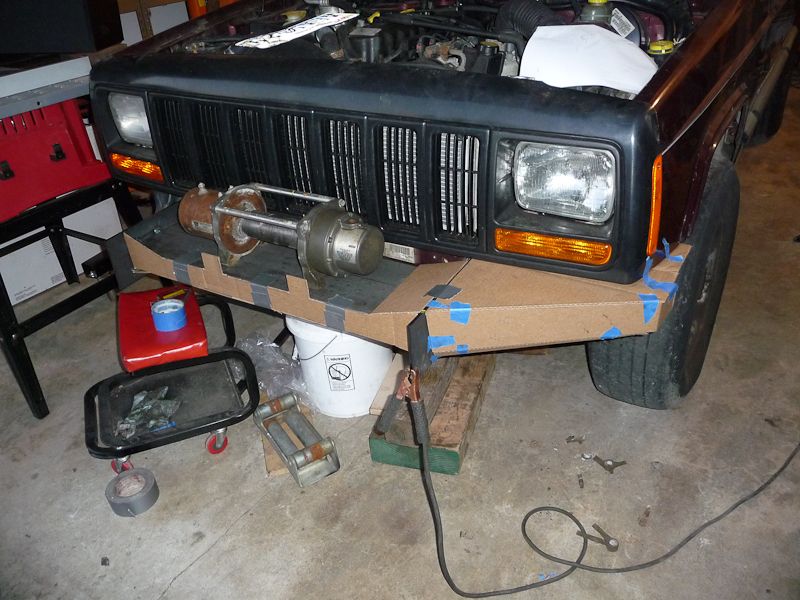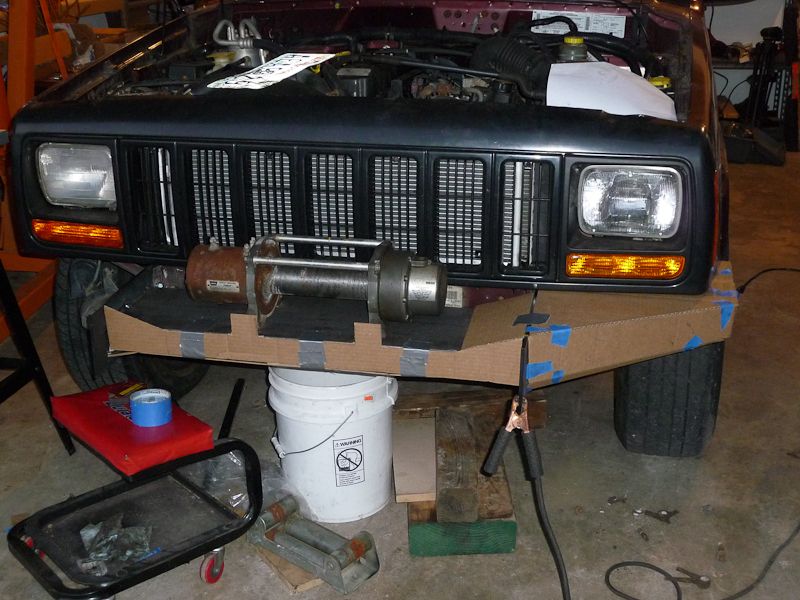 ---
To view links or images in signatures your post count must be 10 or greater. You currently have 0 posts.
Currently Active Users Viewing This Thread: 1

(0 members and 1 guests)