2000 Cherokee: Project Northwest Explorer
---
Surfing craigslist the other day looking for deals on Jeep stuff the other day I ran across a nice looking Chili Pepper Red 99 XJ for sale for $1500 with a blown engine. I thought it would make a great flip to help finance the winter build of my TJ.
A picture of when I drug it home.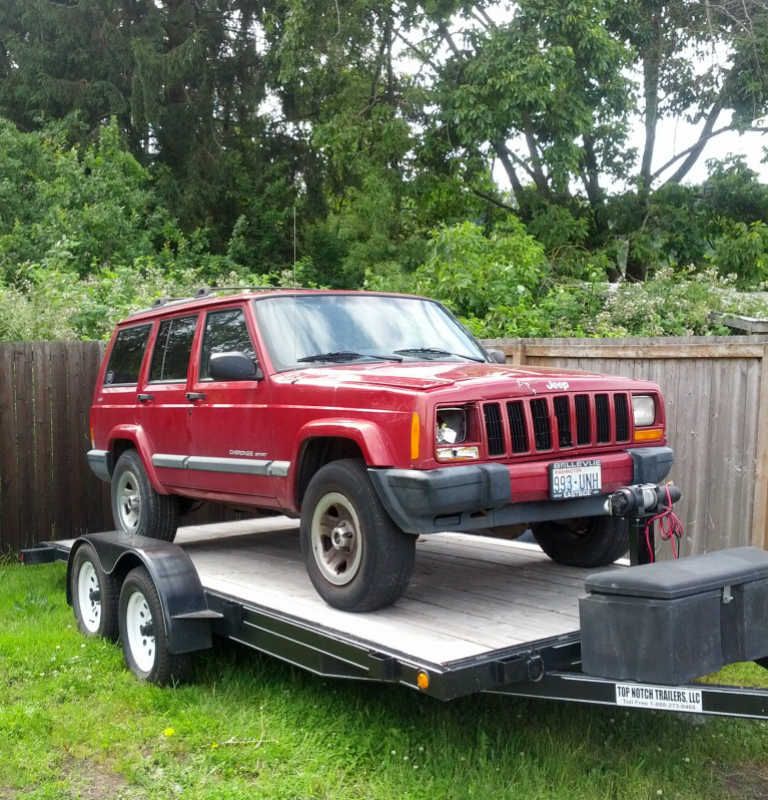 I actually drove it on to the trailer with a seriously warped head gasket and cylinder 3 had no compression.
The interior was perfect and the damage was limited to the front. Found a low millage 4.0 out of a 94 for $300. Found some 30 X 9.5 tires on steelies with over 50% tread for FREE. Put a new header panel kit and ended up with this.
Drove it around a few days and started to miss my old Cherokee. Now to be fair, I've had a total of 4 XJ's, 2 ZJ's (including a nice 5.9), 4 WJ's, 1 YJ, and 2 TJ's. My favorite all around vehicle has been the XJ.
So I sold the flipper XJ for $3500 and decided I would find a 97+ CHEAP XJ and put it on 30's or 31's as inexpensively as possible to explore logging roads and take pictures of stuff, plus as a DD for rainy weather and when I'm working on the TJ.
Searched craigslist for a couple of weeks. Found a 2000 for $1500 OBO. 240K miles, front end damage, overall ugly on the outside. Drove down with the trailer and took it for a test drive. Engine ran strong, transmission shifted nice. Brakes are about as warped as brakes can be, also a low pedal. I also noticed some knocking in the front of the engine that I'm pretty sure is the timing chain. Front end damage looks to be superficial. The PO said she drove it across the country twice and had a long commute. (mostly highway miles) I gave her $900 and drug it home.
Here it is