Registered User
Join Date: Dec 2009
Location: PA
Posts: 56
1999 TJ build
---
Let's start out by saying I am not mechanic. I bought this jeep from a family member. $2500 was a pretty good deal. It is a 1999 TJ with the 4.0 and a/c. It was a mess, 3 different tires same size but all worn a little diff. Had not had a bath in years and was pretty bad on the inside. Spent some time cleaning her up and fixing a lot of unhooked wires. Sorry I don't have the first day pics but here we go.
---
Last edited by kooter1; 06-25-2010 at

08:53 AM

.
Did a few small repairs and additions.....
Heater AC controls did not work saw had to get a new swich panel
Replaced the power steering pump ( made a weird rubbing noise)
Charged the AC
New belt (squealed a bit)
Wiper motor (did not work)
New 31inch Good year wrangler ( Wal-mart tires but work well)
Sony head unit
Sony 6.5 in sound bar and pioneer 5.25 in dash
Rockford amp and pioneer 12 inch sub in small truck box
[IMG]
[/IMG]
Sony head unit
[IMG]
[/IMG]
6.5 in sound bar
[IMG]
[/IMG]
Homemade 5.25 brackets copied someone's idea from this forum just wish I could give credit but not sure where I saw them first
[IMG]
[/IMG]
12 inch sub and amp.
---
Last edited by kooter1; 06-16-2010 at

04:17 PM

.
Ordered some new bumpers.
[IMG]
[/IMG][IMG]
Old Front bumper and homemade tow hooks
[/IMG]
New Front Bumper and winch plate ( just need to mount the lights)
New Rear bumper side view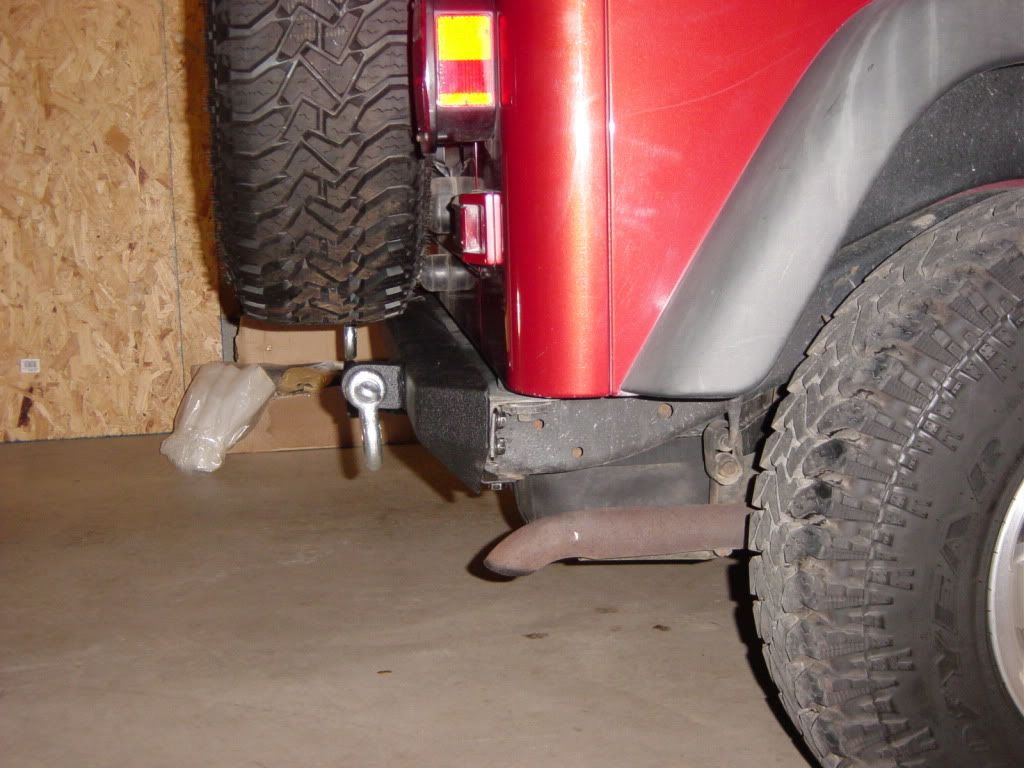 ---
Last edited by kooter1; 06-25-2010 at

08:55 AM

.
Registered User
Join Date: Feb 2010
Location: Louisville Kentucky
Posts: 17
nice bumpers... what kind are those?
Winch just showed up.
Installed
[IMG]
[/IMG]
Registered User
Join Date: Aug 2009
Location: Reno
Posts: 45
It looks good so far! I love those bumpers, Whats the brand?
Smittybilt XRC classic front and rear with d rings
Smittybilt winch plate (raised one)
Had a load thumping sound coming from the front end when going over a bump. So to find out it was the front swaybar links.
Pass side top side ball pocket broke
[IMG]
[/IMG]
New part
Lift kit arrived last night and I had some time with my father to put it on. Sorry no picks of the kit going on, I was to excited I did not even think about it until it was to late.
The lift was the Rough Country 2.5 for around 300 bucks. I also ordered the steering stab. The kit was pretty easy except for the front shocks, had a hard time with the top nut, I ended up cutting them off with a torch. I would say I ended up with about 2.75-3 inch in the rear and about 2.5 in the front.
Over all the lift rides nice and I am pretty happy with it. I have not had a chance to take it to the mountains but will soon. I did install the transfer drop kit that came with the lift but I think I am going to take it off and see if has any vibs. With the transfer drop installed I can not keep it in 2,4 and rev. It seem the upper shifter boot will not let the stick back far enough. When I pull the upper boot up it all works fine.
Before
[IMG]
[/IMG]
After
[IMG]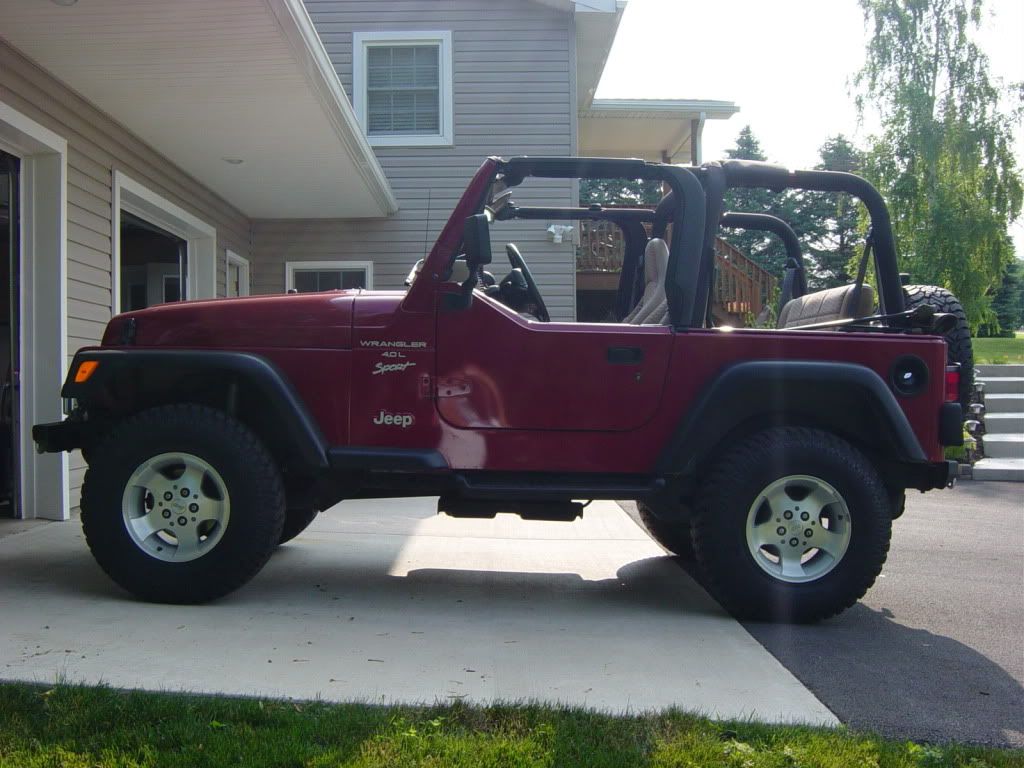 [/IMG]
Before
[IMG]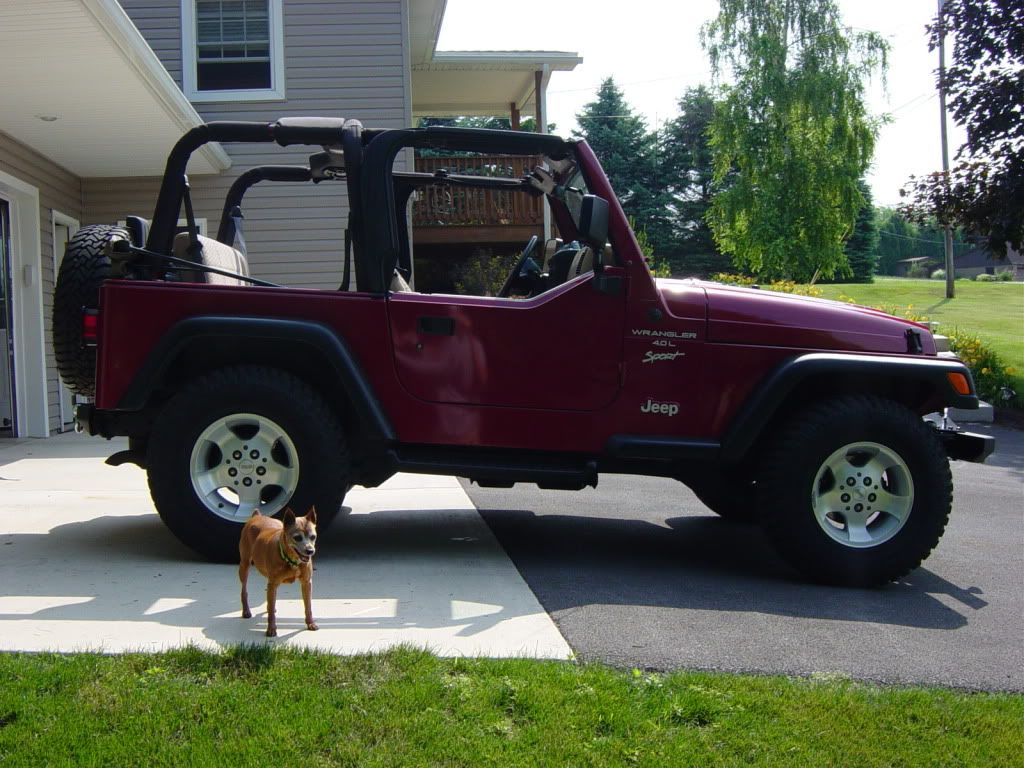 [/IMG]
After
[IMG]
[/IMG]
Before
[IMG]
[/IMG]
After
[IMG]
[/IMG]
Just did the transfer case shifter linkage rebuilt because there was this annoying clatter when wheeling. Everything went well and no noises.
I know most of you all aready know this but incase someone is looking. Here is the website for the info.
Jeep TJ Transfer Case Shifter Knocking TSB
Currently Active Users Viewing This Thread: 1

(0 members and 1 guests)