Registered User
Join Date: Sep 2012
Location: Edmonton
Posts: 3
1995 Jeep GC build
---
After owning the jeep for about a year, I figure its time to start a build thread! I'm a student taking EMT so funds and time are fairly limited, making this quite a long build. I purchased my 1995 ZJ Laredo 4.0L w/ NP231 completely stock, owned by a family that moved from the states and took it with them. I found the ad on kijiji 30 minutes after it was put up, it turned out the guy lived a block away from me. I went to look it right away, and ended up buying it for an EXTREMELY good price. It has zero rust anywhere, and when I bought it, just over 150 thousand miles (240k roughly). Anyways enough of the boring stuff!
Here is a couple of pictures of the jeep in stock form: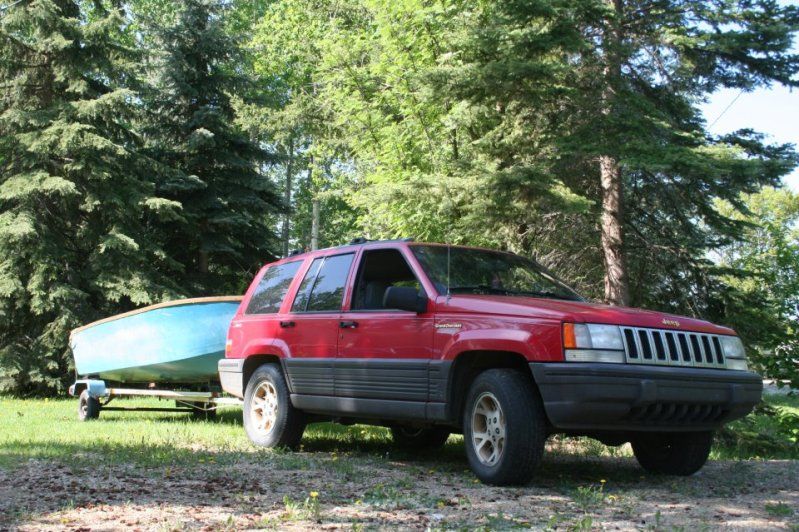 After a long cold winter I had saved up my pennies and decided to lift it. I did some research and decided on the OME 4.5" lift. I know a lot of people had bad experiences with Rocky Road, but I found their customer service to be fantastic. I took the risk because their lift was affordable and many people said it was comfortable on road yet flexed well.
Starting to tear out the old stuff:
Old vs. new:
Half way there!
And finally finished!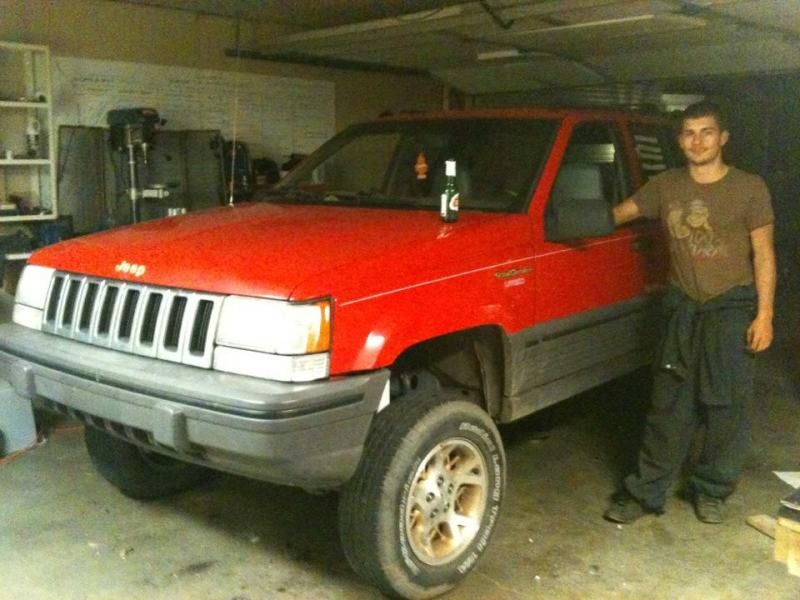 My original plan was to run 33s, so while I saved up for bigger tires and 15" rims I drove the jeep in the ugly state of this:
Instead of 33s, I ended up finding a wicked deal on kijiji on brand new 31" all terrains already mounted on white D window wheels. Upon test fitting I realized that the bolt pattern on the wheels was 5x5.5 rather than the 5x4.5 that my jeep is. I ended up buying a 1" 1/4 conversion spacer to be able to run the wheels, which out of sheer luck happened to give me perfect fitment when fully stuffed.
Again, old vs new:
This is the rear tire fitment fully stuffed into the fender (talk about close!)
Now that I got my wheels and tires, it was time to focus on my death wobble issue that I've had since I lifted it. I went over all my front suspension and noticed a little bit of play in the tie rods. I replaced the pitman arm, inner and drivers side outer tie rod. I also upgraded the steering stabilizer with a beefier Rancho version. This did help substantially, but if I hit a bunch of big bumps around 70kmh I'll still get it. I think I'll need to get adjustable control arms with fresh bushings in order to fully eliminate it. I plan on picking up some Rubicon Express adjustable arms this week. I also painted my ugly chrome grill flat black, and did a TJ gas bezel conversion (no pictures of that yet) and it looks much better in my opinion.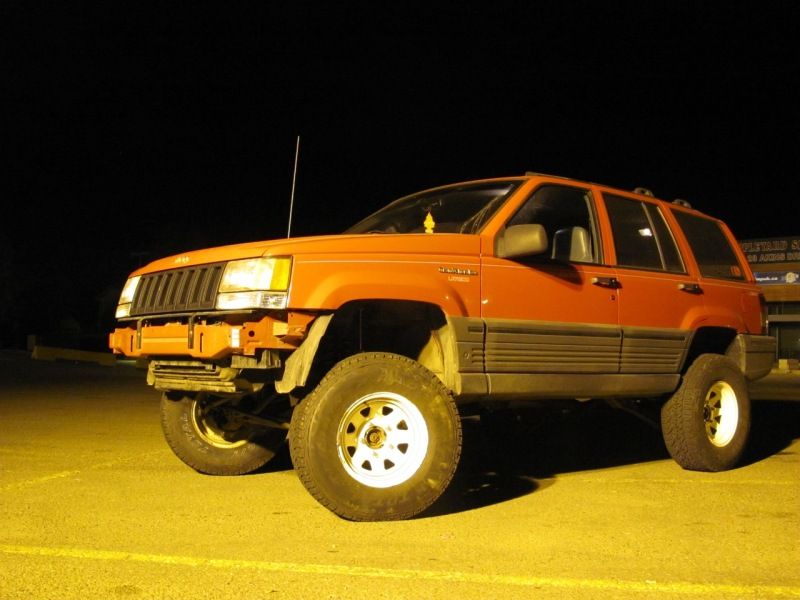 I'll slowly be updating this thread as I continue the build. I plan on welding my own tube bumper front and rear w/ tire carrier, rock sliders, roof rack and skids. I also intend to do an 8.8 and rear locker, but that will wait until I have the funds to do so.
And last but not least, a couple of flexing pictures and some other random cool ones I've taken of the jeep so far: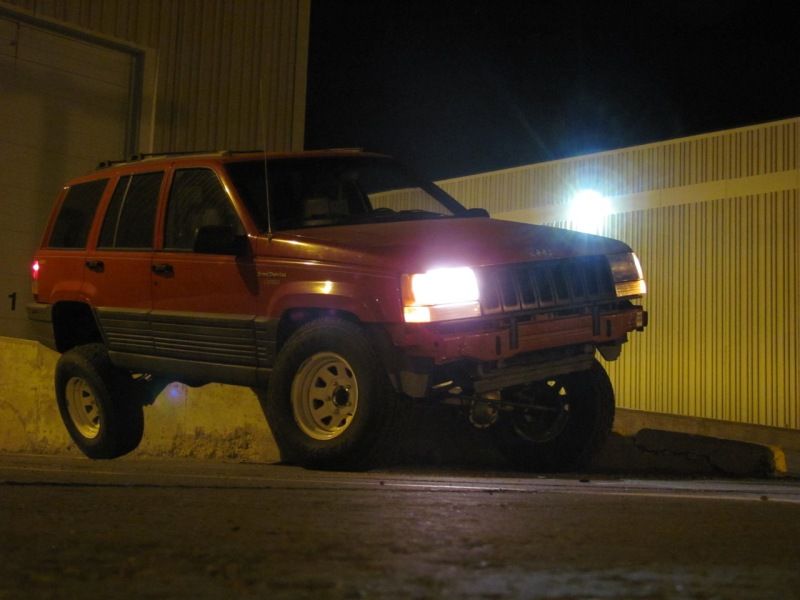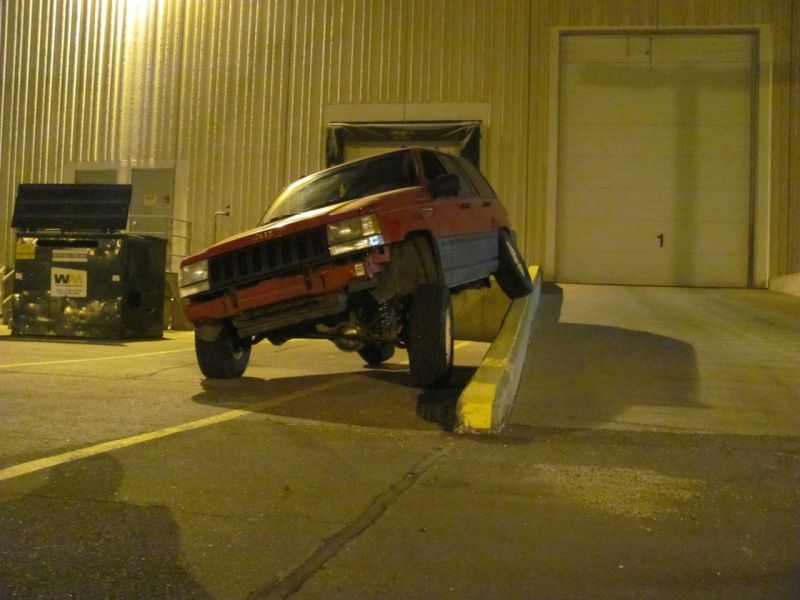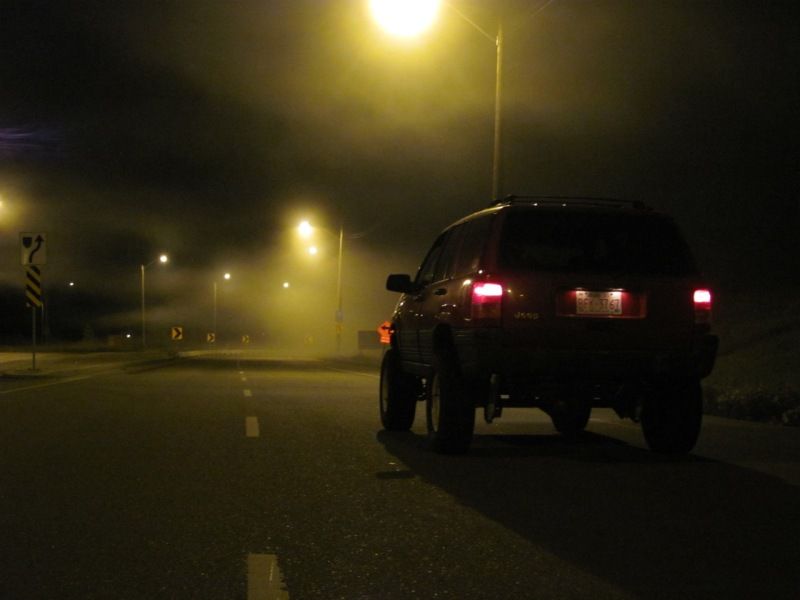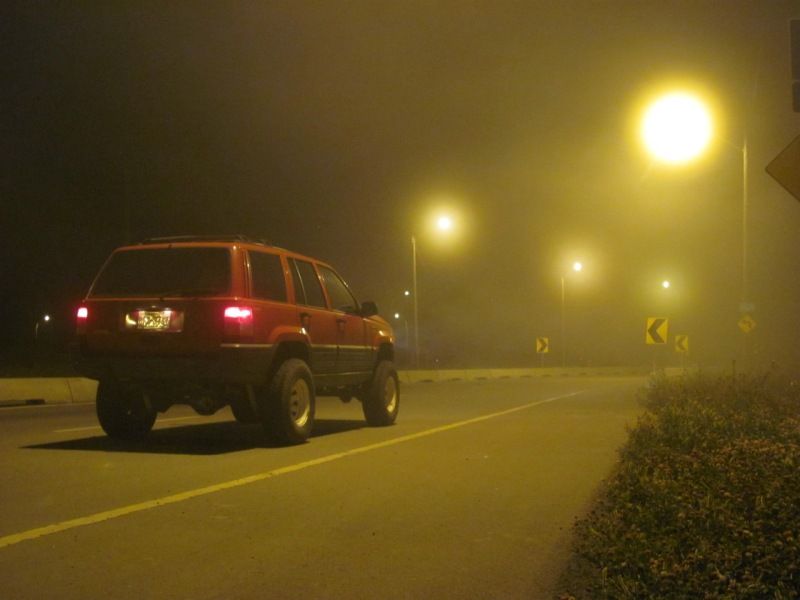 And from bone stock, to how it sits today.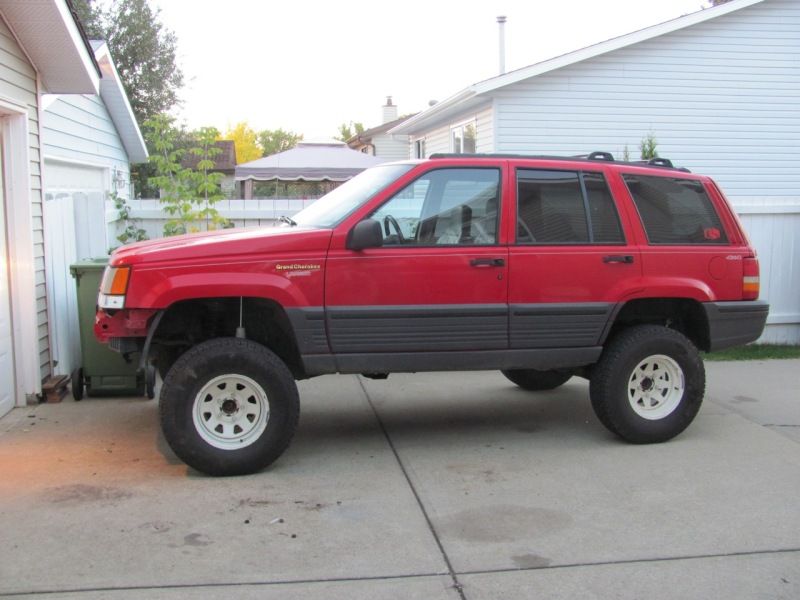 Registered User
Join Date: Feb 2012
Posts: 62
pretty good looking ZJ keep it up!
Registered User
Join Date: Aug 2013
Posts: 215
Looks great, and OME from the start...good decision
---
2000 Cherokee Classic

3" Zone lift, THULE roof rack, Hella 500 Black Magics
Registered User
Join Date: Jan 2014
Location: eht
Posts: 47
You were doing good until you put them ugly ace wheels and skinny tires on it. That totally ruins the jeep. Get with it and do it right.
---
If a tree falls in the woods then farts, Do the other trees smell it?
Currently Active Users Viewing This Thread: 1

(0 members and 1 guests)