Quote:
Originally Posted by
DNFJ
No I mean where to?

You need backing plates and unibody plates if you ever plan on using those d-rings safely.
.. normally the stock bumper mounts to the creases protruding from the "rails", perpendicular to the bumper face. Those were bent both to the drivers side. I bent the passenger side to an angle parallel to the bumper and mounted in all 4 of those holes on each side, and and the 4 bolt holes on the bottom of the new bumper on that same plane. I should have investigated further into my options but since I drive her everyday I bought my steel, drilled my holes and made it legal. Ill have to make some plates to tie into the side rails and where the sway bar mounts. I googled unibody plates and bam..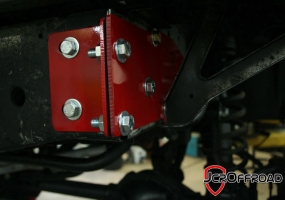 see the 2 bolts closest to us are at the 90 degree angle to the way they are in this picture. they follow the plane of the smaller bracket. Ill have to weld my plate in place of those...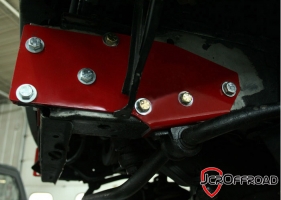 The picture at the bottom is of how I bent the tabs. The bolts for the D ring goes through both sides of the bumper, into the body. Large washers on each side. I thought that would do...
Now im nervous about going out with my cousins on memorial day. 75 Chevy Diesel on 38's, 95 Chevy on 31's, My jeep and all the ATVs that get hauled to the farm. Ill be about window deep in mud and the front has no places to hook on to except for my pins. I guess I cant get snatched out...
Thanks for pointing this out to me man. I wont be trying to pull anyone out with them until I weld in those ties..