Registered User
Join Date: May 2006
Location: under my jeep
Posts: 951
1989 Shake And Bake...half-built
---
I put this in the YJ section (it's the only place i ever go LOL), but i guess it belongs here.
I tried to do this all in one post but i couldn't make it happen. So, i've had my yj for over 3 years now and though i've never really done a build thread i've done alot to it. I just had back surgery and they tell me i'm gonna be out of commision for a while, that i will be doing nothing to my jeep, will not be aloud to ride mx with my son, in short, i can do nothing. So i decided that if i can't jeep that i can at least put together a jeepology. I can't tell you the help that i have received from the members here at jf but it's been tremendous. I have really enjoyed all of the build threads with pictures along the way of what our members have done.
I'll say in advance that i'm sorry i didn't take a bunch of pictures while modding the heep but thank you to all of you who have done so...it's the only way i've been able to mod mine!!
It's impossible to put everything in one post (though i will try) but here's my story and i would encourage those who have not done a build thread to tag onto this one it as i always find it interesting to see what folks do to their rides...so here goes nuthin'...
The first 2 pics are crappy ones from my cell phone the day i bought it...First thing i did was get rid of the sunset on the door. Within a week or 2 i got rid of all of the islander badging and picked up a set of 4 ar's for $150
i drove it this way for about a year and found that i wasn't a parking lot wheeler...i was gonna need some stuff to get me into deep trouble and even more stuff to get me out
I started with the black diamond lift, a DS 1" bl, some 33's, and then had a friend mod my front bumper like one i saw in JP mag (he did a pretty good job it think)
I sprung for a
little
coin and got a champion 8000# winch...so far has been
really
good to me though i will probably get a better one if/when this one dies... also had a friend put together a rear bumper with a swing away..
Decided to get rid of the carter bbd and all those vac lines...got the weber 38/38..set timing and jets and off to the rodeo
---
STUPID HURTS.......OUCH!@#$
---
Last edited by dbikers; 08-16-2009 at

09:01 AM

.
Then i wheeled the piss out of it more...
i even ran over a small car (he he)
Lots of fluid changes (
alot
) and fun teaching my son how to work on this pig and then knew it was time for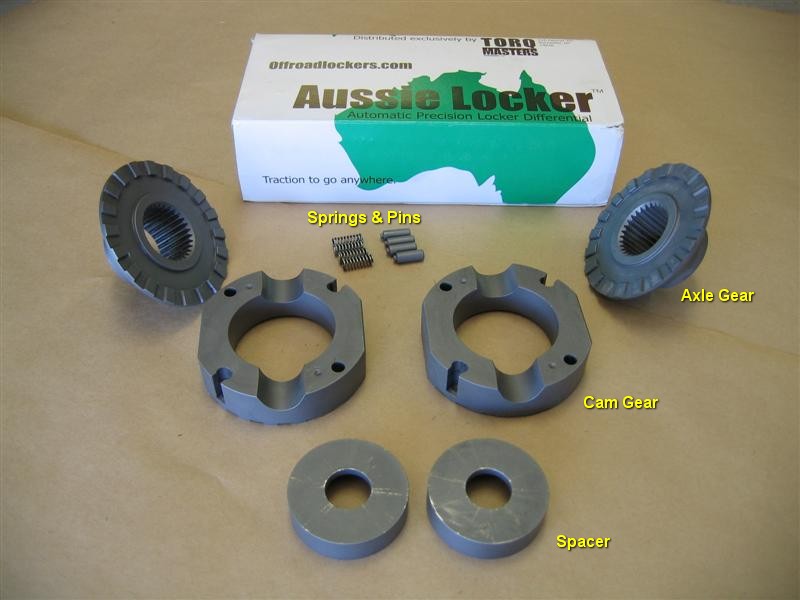 The difference of the front being open or "locked" with the aussie is night and day. I
can not
say enough about a $259(after shipping) modification. It certainly lets you get in alot more trouble than you'd ever thought about before. Only problem is with the aussie my front driveshaft (bent like a dog's leg) spins all the time....my jeep shook like a dog crappin' tacks, so would pull it off for DDin' and would put back on to wheel. My friend just found another front ds on the other side of the state for $10, says it's in good shape (not bent) and i'll get it balanced so i can leave it in all the time.
The aussie is so nice I will probably get one for the rear once i figure out what i am going to put in (the turdy-five is a time-bomb and i'm sure will not last forever).
i just got a new front ds but will get it balanced so that i can leave it in all the time. We'll have to see what breaks next.
---
STUPID HURTS.......OUCH!@#$
---
Last edited by dbikers; 08-16-2009 at

08:53 AM

.
Well, since i'd bought the jeep i'd always wanted to have round head lights...i know, i know, i'm a jerk, but that's just what i wanted since (before) day-one. One of my CJ buddies has 2 of everything you'd ever need for a CJ...i lucked into a real nice grille and decent hood and put got around to puttin it in....
Found a post here to put some new seats in the old girl...found some contour seats (reclining...horray) at the pick n pull for $20 each. Little work but worked out perfectly. Also found a decent head unit with CD and aux at Azone ($79 minus $20 loyalty discount) and some pyle 4x6's. Now it's just like jeeping in heaven with the bolsters, the firmness, and tunage tunage.
And just recently drilled/tapped my windshield hinges for CJ mirrors (both of the mirrors on my doors had been ripped off in the woods)
i really need to get some fenders and some paint to make it look good, but this is what it will look like until i get around to it.
So, long story short..
i bought it 3 1/2 years ago for $3500
it got 15 mpg
over time dumped another $3500 into it
after some jetting/tuning, still gets 15 mpg
value on open market about $3500
priceless
All, don't bother commenting on this heep...post your "non-builds", and sorry if it bored you...mod's sorry if you gotta put it somewhere eles...
Happy wheeling all
---
STUPID HURTS.......OUCH!@#$
---
Last edited by dbikers; 08-16-2009 at

09:03 AM

.
Registered User
Join Date: Aug 2006
Location: Gainesville/Radford VA
Posts: 1,004
Very nice. I love the CJ grille and hood
---
'95 YJ- 1.25" BL, 31" bfg's, black cragars, herc'd tub. sold
'99 TJ Sport- 35's, 8.8, 4.88s, 5" RC LA, JB SS SYE, UFC TT, HD steering
Registered User
Join Date: Nov 2008
Location: Essex
Posts: 4,372
Damn, its come along way man, looks really good.
And
for the cj hood and grill.
---
1997 TJ with some stuff done to it.
JF Administrator, eh?
Join Date: Nov 2000
Location: Calgary, AB
Posts: 6,879
I ain't movin' this thread - it is exactly where it needs to be ... love the story on your beastie. There might be a thread somewhere on here that my little lady wrote up about her '89 YJ as well ... ya, I did the work on it too
You can click her name in my signature and see if you can find it if you wanna ..
---
Hello, my name is Vance and I am a Jeepaholic.
Its better to be naked with your friends, than to be clothed with your enemies
Silver
To view links or images in signatures your post count must be 10 or greater. You currently have 0 posts.
, zombie ready as the daily-driver
- - - - - - -
To view links or images in signatures your post count must be 10 or greater. You currently have 0 posts.
- - - - - - -
ha, i went over to silver lake for the 4th of july...on my way home the slave started going out. made it home and since thein i could refill, bleed and it'd work for a while (end up shutting off at red lights, put in 1st to start it)....
this week was "back to the bricks" in flint mi....thurs night took the ride between gb and flint ...2 blocks south of the brickes and pedal was gone..nuthin' like layin on your back in flint mi with hot brake fluid running into your armpit...had to bleed 2 more times to get 'er home (gotta love an internal slave cyl.)
anyhow, i have a clutch in the garage but won't do a thing until i have an external bh...and a good back as i am still in recovery from back surgery.

BTW, has anyone ever taken an AX-15 and fabbed/attaced bell-crank for a mechanical pedal (like on a CJ)? I am sick of hydraulics and frankly, have better feel with mechanical...just a thought
---
STUPID HURTS.......OUCH!@#$
oh, and the hood-grille cost me just over $100 (i paid a little more than i should have as the grille unit was complete with bezels and blinkers (none of it worked though...lol). I fabbed a few rad mounts and kept my yj radiator..
will see if i can find a set and some paint sometime soon to make it look "decent" again....thanks
as for the future?
i want/need some fenders and paint so it's not so "red-neck" ...i have about 2 yrs until my son will be driving it to hs so there's a little time
i want a drop tailgate and different rear tire carrier
i want to put an SYE and an 8.8 in the back (get rid of the d35) and some 4.10s for the my front d30 as this is the "shake" of shake and bake
i need some heat-resistant carpet as the front floorboard is the "bake" of shake and bake
also need to get some rear speakers and try to overcome the road/wind noise...this is optional of course
---
STUPID HURTS.......OUCH!@#$
Currently Active Users Viewing This Thread: 1

(0 members and 1 guests)