Here's a couple pics of the mostly finished build. What I have left to do is to sand down some of the floor and paint it. Install the seats, console, driveshaft, grind down the roll bar welds and shoot some paint on them. Also need to drop the panels off for powdercoat. Oh and fix the leaky fuel line, and bleed the brakes. paint the frame. All little stuff, but time consuming when you work out of town.
Here's a few pics of the way its almost gonna look. The aluminum panels will be red to match the paint. Otherwise here she sits.
Sits a bit high in the back. Once the bumper and spare are back on and i get some gas back in it, it'll drop down an inch and level out
Wheelbase comparison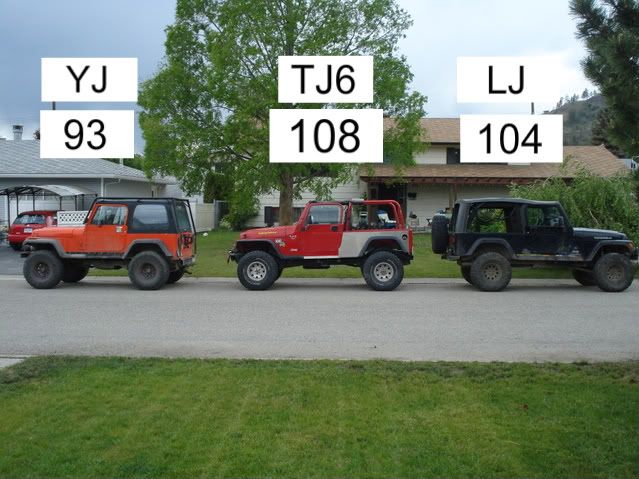 Here's a comparison between the LJ and the TJ departure angle. Its not exactly a good comparison, cause i need to attach the rear bumper to mine which is the same as Justins. I will try to set up another pic then.
Looking at all the numbers, for those who asked. Here is a basic breakdown of the cost involved.
Frame rails $100 (cut from scrap frame at Gary's Auto wrecking)
side top rails $75 (also from Gary's)
Side Aluminum panels $75 ( metal fab shop cut to basic 22 x 54 )
Floor steel $30 (same as above )
Driveshaft $180
Brake and fuel line's + fittings $30
flare tool $30
misc supplies $250 (primer, paint, sealer, Undercoat, etc)
discs and cutting wheels $60
Jig Saw blades $15
wiring and electrical fittings $10
Argon gas $80
Total cash output = $905.00
I may be forgetting something, maybe Rod can chime in if he remembers.
you could also count on spending more on body filler and sand paper and chemicals that Rod had on hand. Also the tube for the roll bar we had on hand. Also had a couple spare body mounts and spacers. I picked up a bunch of free square metal tube on a job site that was necessary as well. Probly $100 worth. The list of tools required is quite substantial as well. we used a 110, and a 220 welder, sanders, drills, die grinders, punches, an air jig saw was very handy, but you could use a quality electric one. 4 or 5 different grinders, a bench grinder for sharpening drill bits etc. A quality heavy duty vice, a sheet metal bender. Rod has a multitude of fancy tools that weren't necessary, but came in very handy
The time in would probably be close to 200 hours if i were to add up all the man hours in on the build.
Having a ticketed welder/auto body tech to buddy up with is a definite plus on something like this. the frame obviously being the biggest part of the job, required a lot of finesse, but is definitely doable. the project took a bit longer than originally expected. because the frame is not perfectly uniform rectangle, I don't really see a way around doing it the way we did. I originally thought we could pre build the frame extensions, but Rod disagreed and was right in the end. Each of the 8 openings were slightly different, if even by 100's of an inch, but enough that each sleeve had to be ground to a precise fit. you could build the sleeves before hand to fit in the extensions and then finesse them into the frame cuts. this would be a good preparation, other than the fact that you wouldn't have the benefit of being able to make the slightest mistake when cutting the frame, if you had already committed to an exactly 15" section.
I have lots more pictures if anyone wants to see specifics. I'll post up some finals when the panels are painted.