Got my first jeep this summer.. 04 Wrangler X. Got the jeep craze after two of my friends got wranglers, and I wanted to mod theirs more than they did.
Luck struck when my family's boat got fixed. Living in costal Alabama, we had our boat running for BP after the oil spill incident and it ended up blowing the motor. When our BP claim finally came through, boat was fixed and the truck I was driving was needed back at home to haul it. Looks like I needed a new vehicle
After the search, we found a local TJ some family friends owned and were selling.
Here's the specs when I picked it up Day 1:
2004 Jeep Wrangler X, the beige/brown/tan color (Still don't know factory color name)
5 speed tranny
109,xxx miles, mostly highway. PO bought with <20k on it, so probably only one other owner.
Came with cruise control from factory
Bone stock, no mods other than 31" tires.
Day I brought it home: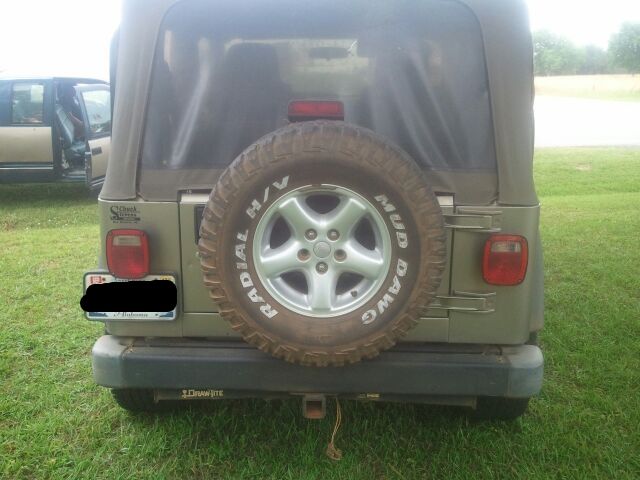 First order of business was the soft top. Rear window zippers were in tatters so bought a Bestop Trektop NX. I was under the impression that Spice was close to the factory top color at the time, so I went with that. Also removed the back seat and belt, painted factory headlight bezels.
And so it remained that summer. Had some issues with the battery dying randomly, found out that the ignition key lock was bad and left something on that drew from the battery. New ignition.
Found out that my radiator was leaking pretty bad when I checked the fluid one day. Replaced fairly painlessly.
A few weeks ago a car pulled out in front of me, had to slam the brakes. Rear cylinders went. Probably would have wrecked it into the same car that pulled out in front of me, were it and automatic transmission. New rear brakes.
Had be planning a lift and decided for 33"s. Almost went for the Zone 4.25" combo, ended up talking to Kolak and getting Bilstein 5100's, and 2.5 OME springs (HD front, Med/light in back).Threw on some Black Friday 15x8 Pro Comp alloy wheels, 33x12.5 BFG All Terrains. May still add in a body lift and mml for tummy tuck down the road. After saving up, being at home for the holidays was the perfect time to install:
At a friend's place installing. He has a ton of tools and a hoist that made it 10x easier than it would have been. We had to disconnect nearly everything to get the springs in there:
You can see I cut the front bumper.. Did that with a cutoff wheel while I was bored and wanted something to do. Had been wanting to do it for a while. You can see the finished product later.
Took off the flares to paint them before this. Front done: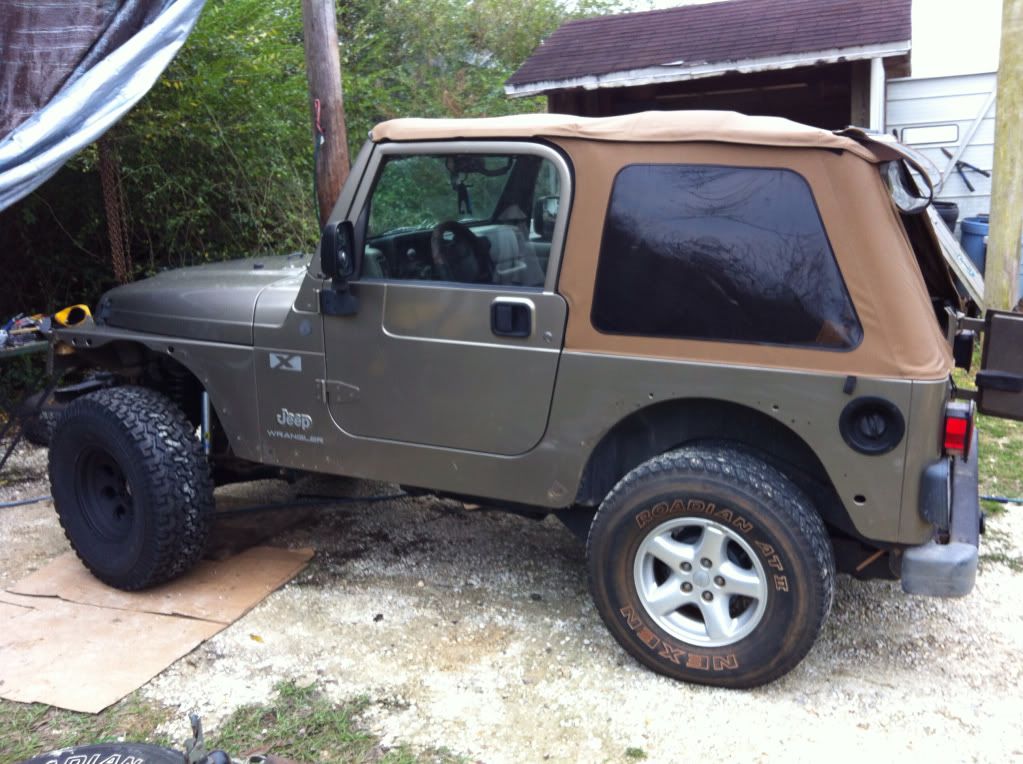 Started on the back the next day because it was getting dark (and cold, if you believe that):
With the flares bedlined and back on. The last coat came out a little funky because it was too cold, but it doesnt look bad:
Finished!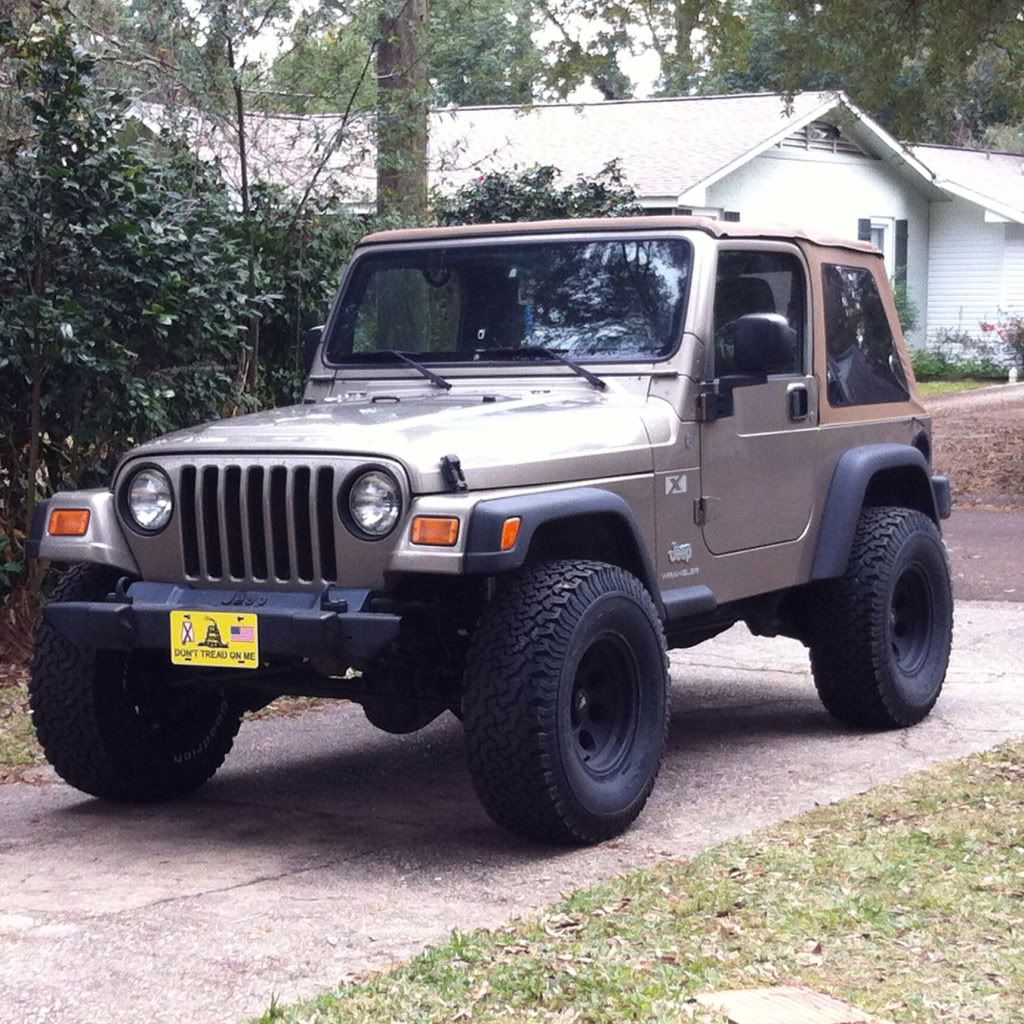 I love the added height that the jeep now has. Being 6'6", it was a tad short before. Amazing now. The thing drives like a dream. Much better than the sagging springs and worn out shocks. Steering feels better than before as well. Very satisfied with all components.
I also installed a tuffy underseat 'conceal carry' security drawer. I love it. Was a pain to get installed a lined up correctly, but I feel much safer now, leaving my jeep unlocked knowing my stuff is safe. Will get a pic of it soon.
Funny story, after installing and taking for a drive, of course the alignment was less than perfect. Took the shop an hour to align because 'it kept popping out of place'. Got back home and heard a clunking on bumps and accel/decel. Take a look, drivers side front axle lower control arm is missing the bolt that holds it to the body mount. Holy crap. My friend that helped me install it just happened to have a grade 8 bolt laying around that fit well enough. No clue how the bolt got out, but took it back to shop and they did the alignment free this time. I doubt they took it out or even touched it, but it is a mystery. Anyway, fixed now.